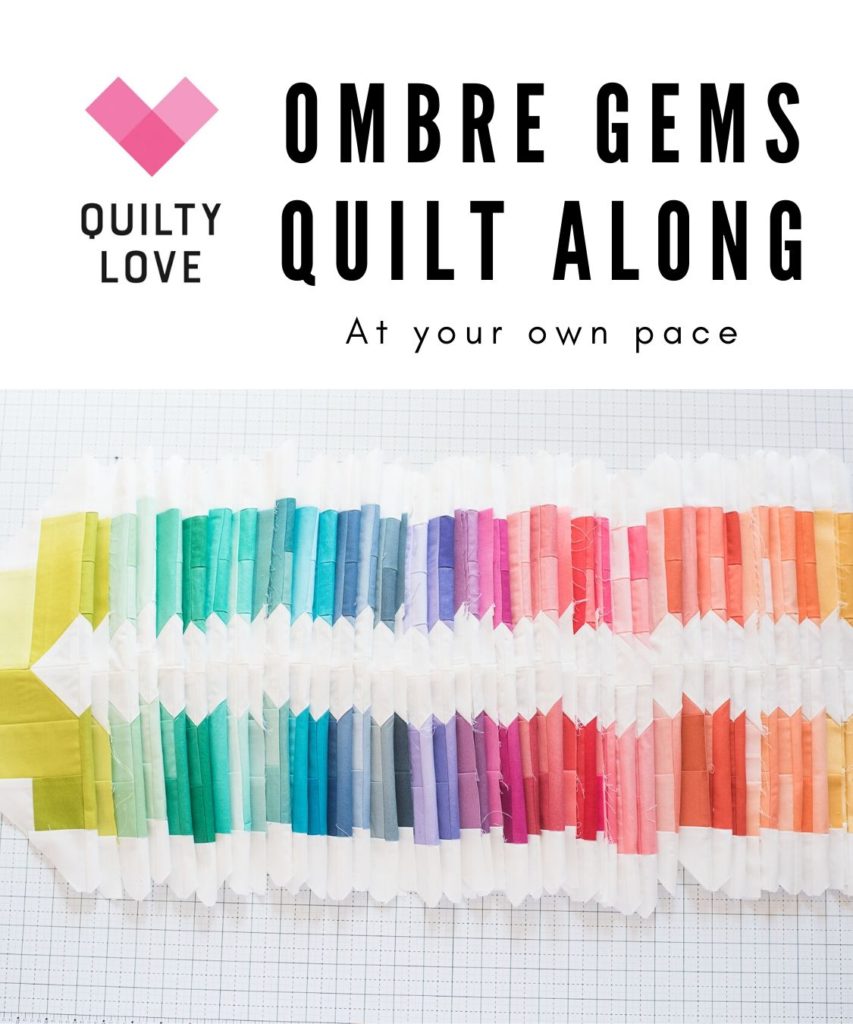 Ombre Gems Quilt Along
This is a self paced QAL.
We have had three Ombre Gems Quilt alongs over here at Quilty Love so now I'm turning it over to a self paced version for anyone to participate in at anytime!
Ombre Gems is such a rewarding quilt to make! I held the very first quilt along to help hundreds of quilters sew through this quilt together. Since that first quilt along we have held two others and thousands of quilters have joined in. Sewing together has always been more fun!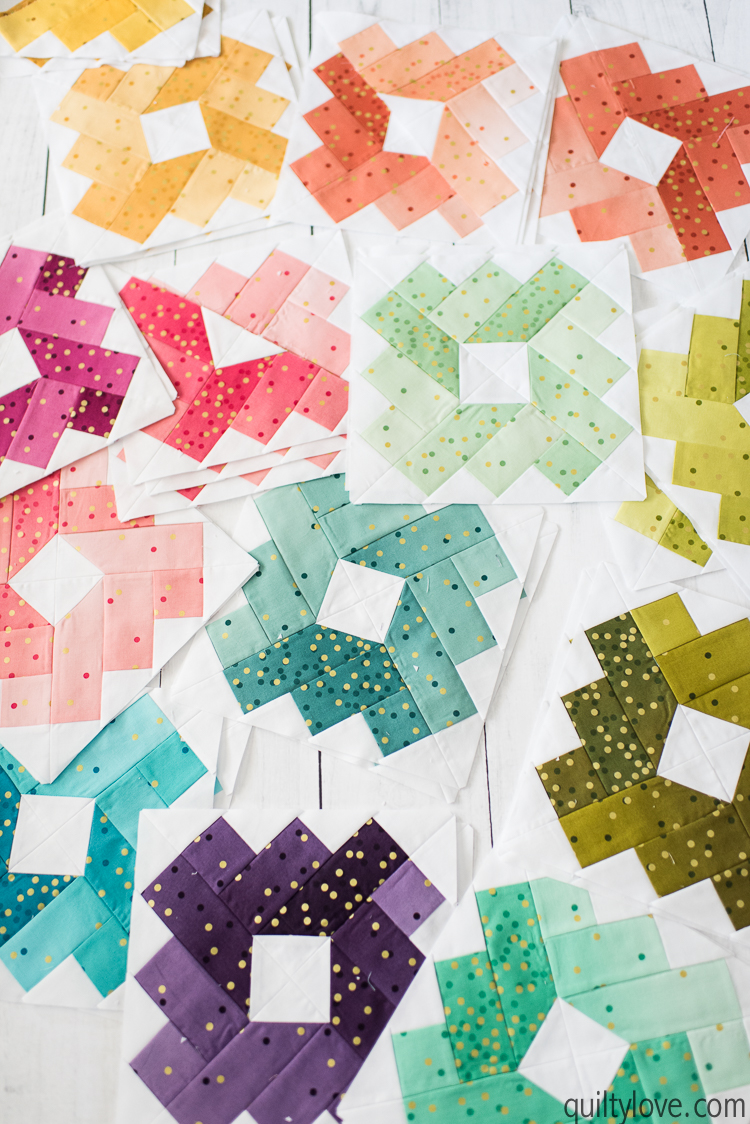 Use the hashtag to join the Ombre Gems quilt along community:
#OmbreGemsQuiltAlong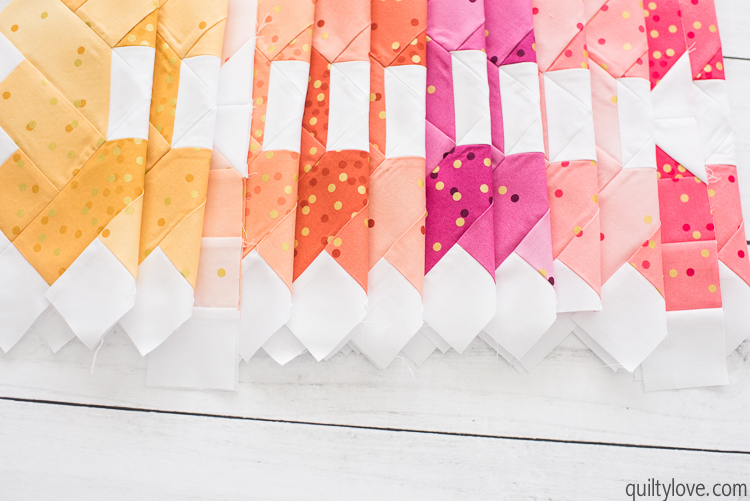 Here's what you need to sew along:
The Ombre Gems Quilt Pattern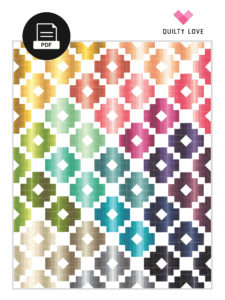 Ombre Fabrics
Ombre Gems is designed around the VandCo Ombres by Moda Fabrics.
– 20 fat quarters or 20-1/4 yard cuts
The exact layout is provided for the twenty original colors and the twenty colors shown below (I call them the 2019 colors).
Those color placement layouts will be emailed to you when you sign up!
Find the Ombre fabrics at the Fat Quarter Shop:
Original Ombres
Confetti Ombres
Ombre Blooms
Ombre Metallic Fairy Dust
Buy a ready to sew kit:
Handmade is Heartmade Ombre Gems Kits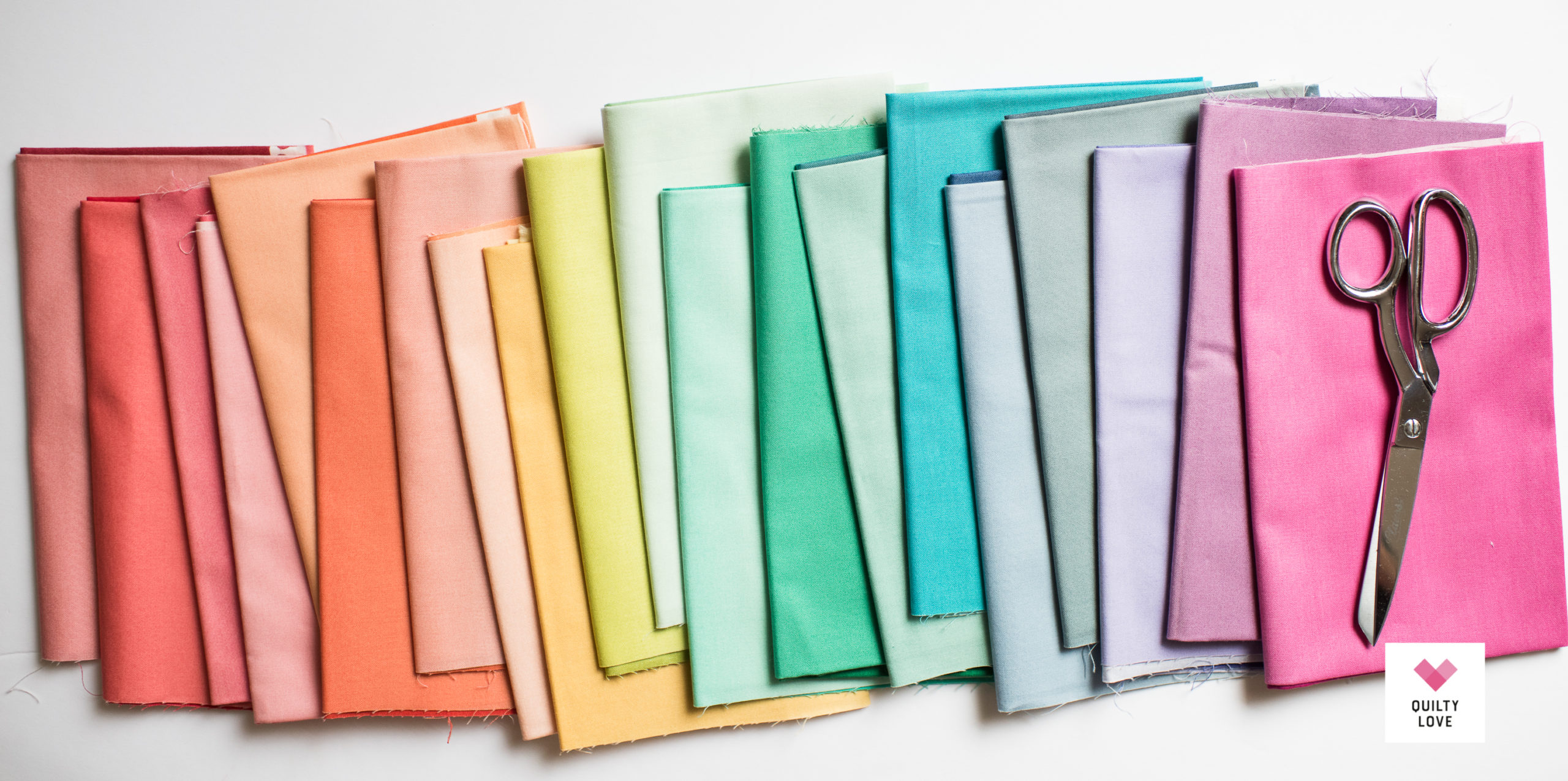 2019 Colors
Cherry, Cranberry, Hot Pink, Popsicle Pink, Tangerine, Cayenne, Coral, Persimmon, Honey, Teal, Mint, Lagoon, Kelly, Turquoise, Nantucket, Slate, Mauve, Magenta, Plum, Lime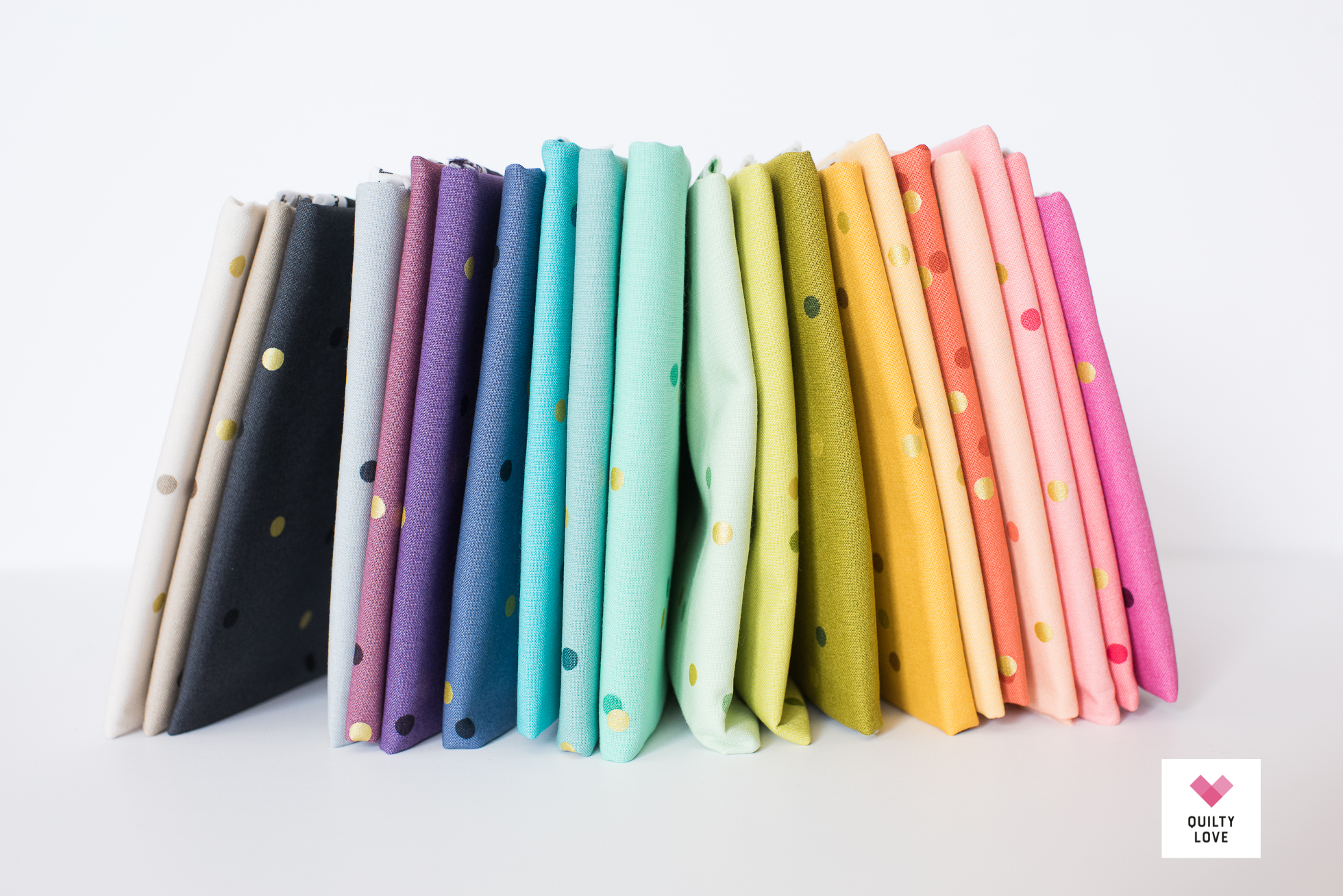 Original 20 Colors
Sand, Taupe, Onyx, Graphite, Aubergine, Plum, Indigo, Turquoise, Lagoon, Teal, Mint, Lime, Avocado, Mustard, Honey, Persimmon, Coral, Popsicle Pink, Hot Pink, Magenta
What you will get
All of the coloring and planning pages from the quilt along are included in the newsletters. Follow along for the exact color placement or plan out your own with the blank coloring page.
And of course all of the extra tips and tricks and videos are included.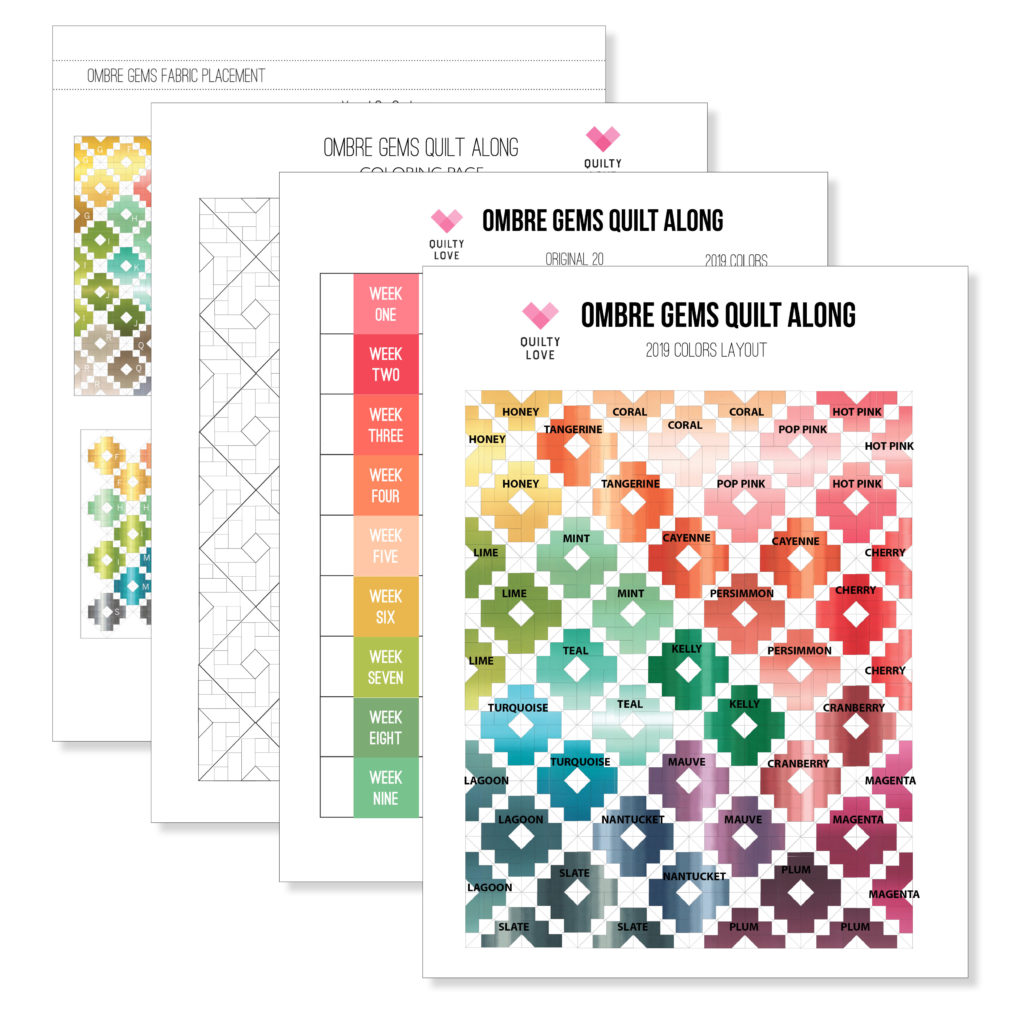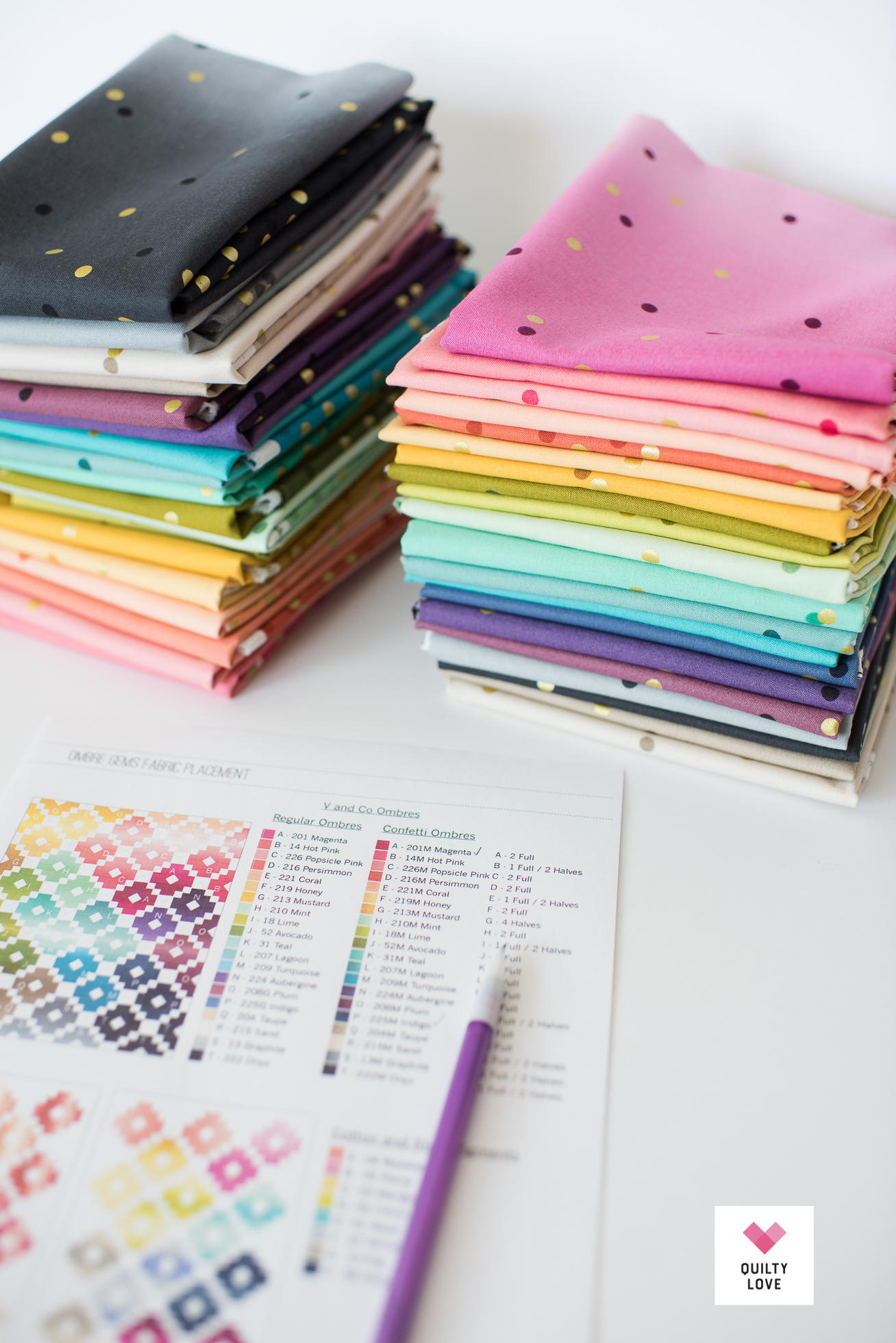 This self paced quilt along is hosted by Emily of Quilty Love.
I've been hosting quilt alongs since the original Ombre Gems QAL all the way back in 2017.
You can see all of my quilts here or follow along on Instagram to see what I'm working on right now.