The Rebel Quilt
The Rebel Quilt by Libs Elliot was such a fun and unique one to make.   It went together completely differently than any other quilt I've made and I loved that!   It's such a great modern quilt and is perfect for the guys.   I delivered this one to my nephew who is a big Detroit Tigers fan.  I choose their team colors but kept it a bit more subtle.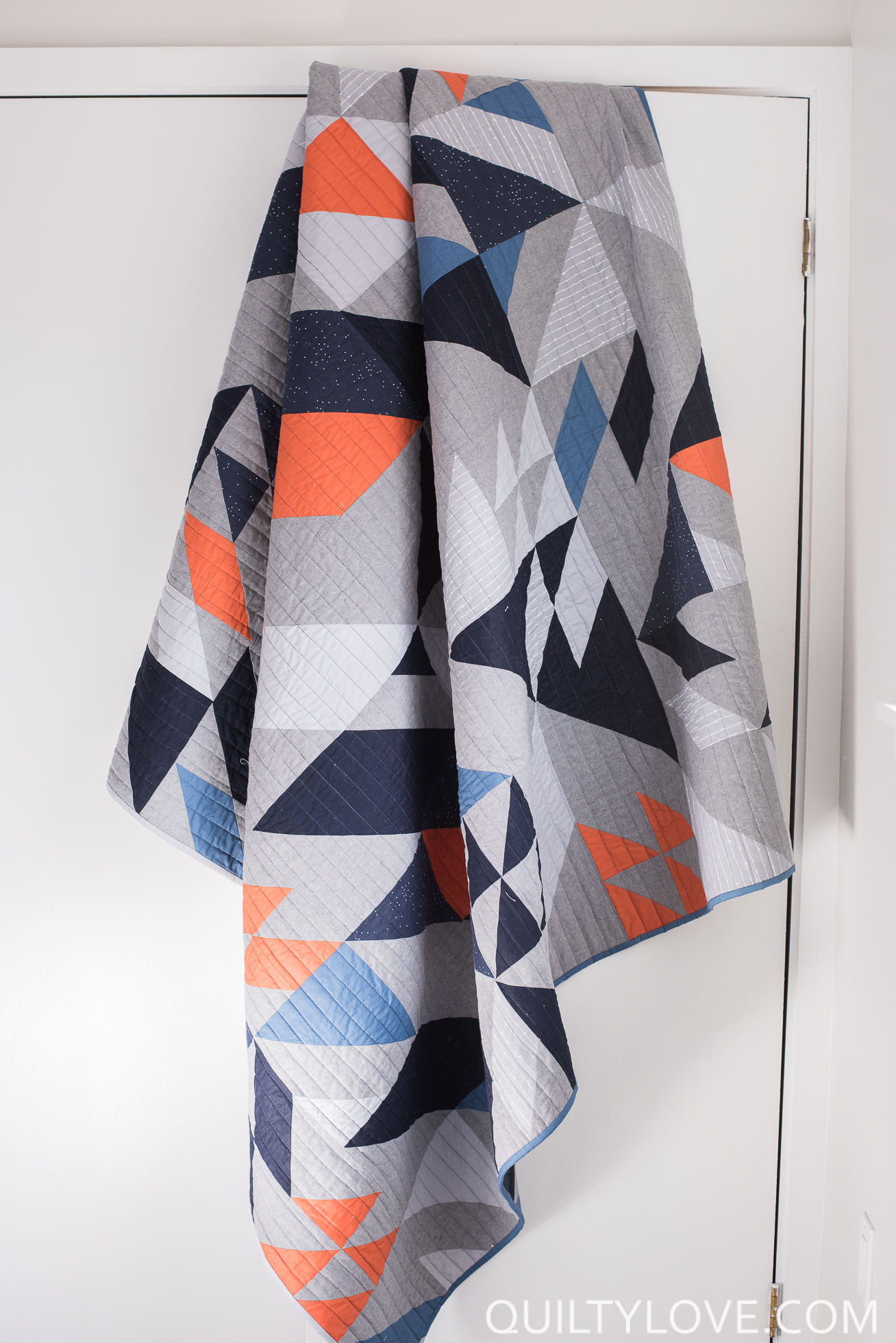 I started this quilt at a retreat at Stitch Supply Co.   I picked out all of my fabrics from Anne's shop.   I went with my favorite background of Yarn Dyed Essex Linen by Robert Kaufman and used mainly Michael Miller Cotton Couture solids along with a sprinkling of Cotton and Steel and Blueberry Park by Robert Kaufman.
I saw someone else make their fabric key on Instagram using actual swatches and I thought that was genius.  Made it so much easier to keep everything straight. 
I loved that you didn't actually have to lay the blocks out and arrange.   The pattern tells you exactly where each block goes.   I have a confession though..  I didn't pay attention to which direction each block was supposed to go and sewed the top together with all blocks in the same direction.   Rotating the blocks is what gives the quilt such a unique look.   So I literally sewed it all together, then ripped it all apart and resewed it all together!   I knew I wouldn't ever be happy with it if I didn't.
I went with straight line quilting one inch apart to keep it sleek and modern.

I kind of surprised myself and went with the Tigers backing.   It matched so well and I thought my nephew would like it.   I also used my extra blocks on the back.   I don't know why I haven't pieced backings before!!??
I highly recommend this quilt pattern by Libs Elliot.  
Other supplies used:
Yarn Dyed Essex Linen in Black
Michael Miller Cotton Couture Solids
Cotton and Steel Sprinkles
Blueberry Park by Karen Lewis for Robert Kaufman