8 tips to Increase your Pinterest Traffic
This article will leave you with some simple Pinterest tips to help grow your Creative Business.
Why should you care about Pinterest as a Creative business owner or maker you may ask?
It is a powerful search engine
It will drive traffic to your website – lots of traffic
A large percentage of your sales could be coming from Pinterest
As I navigate this creative entrepreneur thing I'm finding it's basically trial and error.
Try something.    See if it works.     Repeat.
That's basically what I have been doing with Pinterest these past 6 months.  I know Pinterest is a powerful tool for the creative business owner.  It's a great way to drive readers to your website and buyers to your shop.
Over 50% of my website traffic came from Pinterest last month!   50%!!
I've been experimenting a lot with Pinterest lately and thought I would share some of the basics when it comes to that platform.  Consider this your Pinterest 101 post.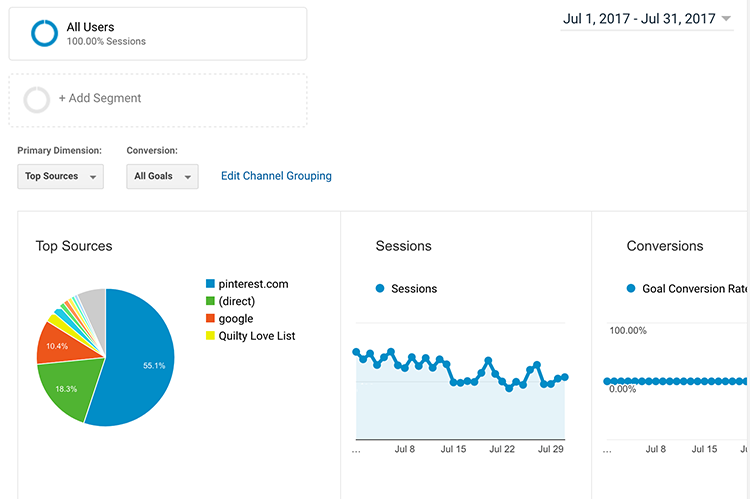 Curious how you can start making Pinterest work for you and drive more traffic to your website?!  Here are some simple tips to implement on Pinterest to help grow your creative business.
1.  Use Vertical Photos
Vertical Photos are statistically pinned much more than horizontal photos.   I make it a point to post majority of my blog photos in the vertical format.   That way whether I pin from my blog or a reader pins from my blog, they are already optimized for Pinterest.
The recommended resolution for Pinterest is about 735px x 1200px.   I love Blogstomp for creating Pinterest (and blog) images.  Another useful editing app is PicMonkey.   If you are an Adobe user, there is always Lightroom or Photoshop to prepare your images for Pinterest.
2.  Pin your own stuff
A good rule of thumb for pinning your own content is the 80/20 rule.   Pin 80% other peoples content and 20% your own content.
Don't assume someone else will put your content on Pinterest for you!   Put it out there and let the Pinterest fairies do their thing 😉  It's quite surprising how some pins can really take off.  I upload custom images that only I have access to so I can see exactly how well a pin that I placed on Pinterest is doing.
3.  Be active a little every day
This one can be a bit tough to do sometimes.   I started really focusing on Pinterest about 6 months ago.   Back then I had about 2000 followers and today over 15,000.  I credit that growth to slow and steady regular pinning.  I show up every day and pin.
There are apps that can automate some of this for you like Tailwind.   I'm a big fan of Tailwind since it's simplified my pinning process and saved a lot of time.  It schedules out pins in advance so I'm "showing up" on Pinterest every day even if I don't actually log in 😉
4.  Join Group Boards
Joining group boards on Pinterest is one of the best ways to widen your reach!   Group Boards are not always the easiest to get into and I've been ignored more times than accepted but the growth that's come from these boards is well worth it!   Find group boards in your niche and request to join.
Group boards usually have a set of rules that need to be followed so be sure to understand them.  You can schedule pins out to these group boards with Tailwind so you know you are not over spamming them by forgetting how often you are pinning.
I have a group board for Quilt bloggers!   Send me a message over there to join it.
5.  Use Keywords in your captions
Since Pinterest is a search engine, treat it as such!  Make sure your captions include relevant key words that users are searching for.  Take advantage of trending words such as "plus quilt" or "triangle quilt".   But use those trending words only if they actually apply!
It breaks my heart a little when I see really great pins on Pinterest but the captions are basically empty.   That's valuable space you can use to show up in searches!
I hear conflicting information about hashtags on Pinterest.   Some say to use them while others warn that Pinterest doesn't like them.   I personally don't use them and use descriptive captions instead.
6.  Switch to a Business Account
There is a lot of value in the Pinterest business account.   You have access to analytics and rich pins (See #7).
7.  Apply for Rich Pins
I'm not exactly sure why Pinterest came up with Rich Pins but I do know they place more stock in them.  Rich pins are more detailed pins.   A little more information shows up on these pins and they look prettier and more legit.
It's super easy to apply for rich pins and you can do it in about 15 minutes.   Pinterest walks you through the process here.
You can see in the image below what a rich pin looks like.   Anytime something is pinned from my website, my bio pic and name shows up beneath that pin.
8.  Add Pin buttons to your blog posts and photos
If you don't have a pin button on your blog posts or photos, drop everything and fix that this second!  Make it super easy for your readers to pin something they like on your site.  It's kind of neat to search my blog on Pinterest to see what images readers are pinning.
There are plenty of plugins to add this feature to your WordPress blog.   Pinterest even provides some options for you.
So there you have it… 8 ways to up your Pinterest game.
I think every creative business owner needs a blog and website but you can still use the power of Pinterest and most of these tips to drive traffic to your Craftsy shop or Etsy Shop.
I'm finding more and more that Pinterest is invaluable for creatives.  Are you active over there?  Try a few of these tips to increase the traffic to your content!