Why I switched to Shopify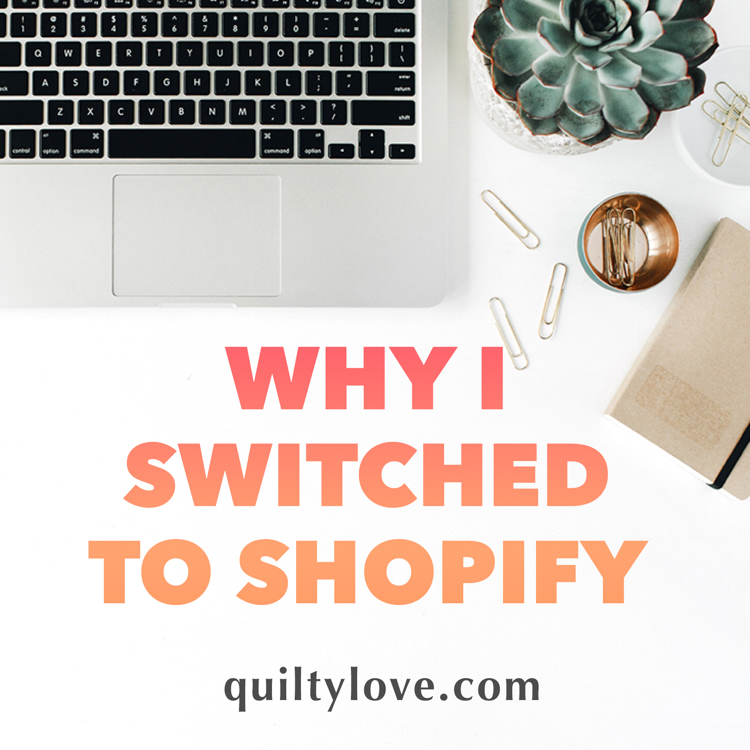 A few months back I switched my pattern shop to Shopify and couldn't be happier with it.  I wanted to take some time to tell you why I love Shopify over the other selling sites I've used and why I think you might like it too.
Before I invest in something or make a change like this I like to do some research about it so I'm hoping this post might help someone else who is on the fence about what selling site to use.
Big Cartel vs Shopify
When I first started selling quilt patterns back in 2015 I went with Big Cartel.  It was free so it was an easy choice to make.  Big Cartel was working out just fine to start with but I quickly out grew it and quickly outgrew the free option.
I had been hearing a lot of good things about Shopify and started looking into making the switch.   It was a bigger up front investment though and I was also worried about losing the links that were floating around on Pinterest.
I finally made the switch when I had to upgrade yet again on Big Cartel and the cost of the two shops was pretty much the same.
Looking back I wish I had just started with Shopify.
Why?
I pretty much lost all of my SEO juice from my Big Cartel shop.   While there is a Shopify app to transfer links I can't actually figure it out… 🙁
Shopify can collect e-mail addresses at checkout.   This is huge!   This feature more than pays for itself as about half of my pattern sales come from my e-mail newsletters.
I've been getting a lot of questions lately about what selling site I recommend and without hesitation I recommend Shopify.  They have a free trial so go give it a try!
I knew within days of switching to Shopify that it was a good choice.   It's so much more robust than Big Cartel and I'll try to explain what I mean by that.
Some of the features of Shopify that I enjoy are:
Provides an instant download at checkout – this one is huge for me!
Collects e-mail addresses at checkout
Connects to my mailchimp account – again pretty amazing!
Better reporting and analytics
Rich pins on pinterest
Buyable pins on Pinterest
Has the ability to provide one time per person coupon codes
Has an app for my phone and my phone cha-chings every time I have a sale 😉
Unlimited products so what I pay a month is what I pay a month.. period.
What are the drawbacks?
It's more expensive when starting out   (Eventually the pricing gap closes)
It does require upgrades to access all of the reporting… ETA:  They have included more reporting options now!
These are things I'm loving about Shopify
Instant downloads
I love this feature.  This one feature has saved me so much time.  Big Cartel did not provide an instant download.   You can add a paid app (pulley app) to Big Cartel and while the downloads became automatic they were not instant.
I was constantly fielding e-mails from customers that they did not receive their download.  I think half the time those e-mails went to spam and the other half the wrong e-mail address was entered.
With Shopify, the download is available on the payment confirmation screen.   So it's instant!   This is huge for me and even better for my customers!   They have their pattern download immediately.
Shopify collects e-mail addresses
This is the number one reason I looked into Shopify on an almost weekly basis 😉   I wanted the ability to collect those e-mail addresses and build my list.  These are valuable e-mail addresses to have.   If someone has purchased from you, there is an excellent chance they will want to hear from you and will want to purchase again in the future.
You can simply add a check box at checkout to add their e-mail to your list.  Make it opt in or opt out.  Mine is opt out.  The box is checked by default and the customer has the option to uncheck it.
This feature alone makes paying for Shopify (especially if you are a new shop) worth it!
Would you believe that almost half of my sales each month come directly from the e-mail newsletters I send out?
Here's how I know that….
Shopify connects with Mailchimp
This feature is so slick!   I use Mailchimp as my e-mail provider but I'm pretty sure Shopify connects with most of the other subscription e-mail providers also.
Mailchimp will track the exact amount of sales each e-mail campaign generates.  I know in an instant how effective a campaign is (or isn't).  The screenshot above is what I see when I log into Mailchimp.  I haven't sent out a e-mail in the past 7 days and the screenshot reflects that.
I know exactly how valuable sending out a newsletter is.  It's very motivating to know these numbers because it shows you the importance of connecting and staying active with your newsletter subscribers.
Better reporting and analytics
I really like Shopify's reporting and analytics.   You can actually add google analytics to your Shopify site and I recommend you do just that from day one.  So much valuable information comes from knowing how people are finding your shop and what they are doing once they get there.
Rich Pins
Shopify's pins automatically become rich pins on Pinterest.  Rich pins are favored by Pinterest and given more weight in searches and recommended posts.  They provide more detailed information than non-rich pins and are just good for being seen more on Pinterest.
Pinterest is a valuable business tool for creatives and I wrote a little more about it here.   So having a selling site that plays well with Pinterest is smart!
Buyable Pins
This is kind of a new feature on Pinterest.   Shopify gives you the option to set up buyable pins on Pinterest.   Buyable pins only work on actual products that get shipped (such as paper patterns).  I've been experimenting with this option and foresee it becoming more successful as people get used to buying items directly in Pinterest.
When someone clicks on a buyable pin, the check out process happens in Pinterest, not your site.   It's a quick simple purchase made directly on Pinterest.
This is more of a bonus feature that I hope to see take off in the future.
Custom Coupon Codes
This one is kind of big!  Big Cartels coupon code features are pretty limited.   Say you want to provide a one time use coupon code to your newsletter subscribers.  I couldn't do this with Big Cartel.  Either they could continue to use the code as many times as they wanted or I had to limit it to say 50 times total.  One person could still use it the 50 times.
Shopify will limit a code to one time per e-mail address.   Easy peasy.   It's basically a one time code.  I believe there are apps that can generate custom codes so each subscriber gets a different code.
So, Shopify has options when it comes to coupon codes.   Super handy.
The Shopify App
This one was handy when we were traveling this summer.  I could stay up to date on my orders and know what was going on easily through the app.   Plus, my phone cha-chings when an order comes in…lol.   My family all knows that sound and it's a pretty fun one! 😉
The nice thing about Shopify is they offer a free trial.  It's a good way to test the waters before committing.  I did the trial and committed to purchasing it before the trial was even up.
What about Etsy and Craftsy?
Starting out a creative business that sells digital products is soooo overwhelming and really there are a lot of choices that need to be made up front.  I'm a big fan of planning out your business for future sucess.  Doing the work up front or making the investment up front to make your life easier in the future.   Shopify is definitely one of those tools that makes my business easier to run.  It's integration with my other tools simplifies my life and frees up more time for being creative.
So what about the options like Etsy and Craftsy?   I actually still have pattern shops in both of those places.   I highly recommend having your own shop such as Big Cartel or Shopify or Woo Commerce so you have complete control over growing your business.
Etsy and Craftsy are great places to set up shop but don't make them the only source of your business income!  I keep shops open in both places and just rely on their own searches for sales.   I don't link to them and I don't promote them.   The one I do promote is my Shopify site since it's the one I'm most interested in growing.
Let me know if you found this article helpful!  Hit me with your questions about selling sites in the comments!