Baby Size Cozy Season Heart Gems quilt
Today I'm sharing the baby size Cozy Season Heart Gems quilt. Heart Gems is the newest Quilty Love heart pattern and now in the shop.
Heart Gems comes in lots of size options and I wanted to sew up a baby size as a sample. This baby size Heart Gems quilt is made up using my Cozy Season mammoth flannel bundle with Robert Kaufman. I thought this would be a fun one with this bundle because I love how it looks all scrappy and mixed like this.
A nice contrasting background really helps the busy plaid flannel hearts pop. The background is a navy flannel by Robert Kaufman.
The Heart Gems quilt pattern is in the Quilty Love pattern shop.
Heart Gems quilt pattern
Heart Gems is the 5th annual heart quilt in the Quilty Love heart quilt series. Each year it's a fun challenge to come up with a new heart design. I really love how this year's heart quilt came together.
Heart Gems is a block based quilt that is set on point. The hearts themselves use quarter square triangles and create some really great movement and dimension.
Lots of quilt sizes included
The Heart Gems quilt pattern includes instructions for 5 different quilt sizes. The pattern includes the following:
Baby size quilt – 46″ x 54″
Square throw size quilt – 61″ x 61″
Large throw size quilt – 61″ x 76″
Twin size bed quilt – 66″ x 91″
Bed size quilt – 81″ x 91″
Stash friendly heart quilt pattern
Each year I try to make these heart quilts super stash friendly. This one does use yardage for the background but the hearts themselves are nice and stash friendly. Use 5.5 inch squares cut from your fabric stash or choose some fat quarters for the hearts.
So that means your scrap stash might work, random fat eighths in your stash will work or assorted fabric cuts will work.
The accent fabric is just a fat eighth or less size so find something in your stash for that!
I've made quite a few samples of Heart Gems and it works with a wide variety of fabric options. In fact, most of my sample quilts were made by pulling fabrics already in my stash.
Block Based quilt pattern
I would call Heart Gems an ambitious beginner – Intermediate quilt pattern. Skills in this quilt pattern included making quarter square triangles and blocks set on point with setting triangles. The pattern walks you through each step with clear instructions.
The pattern also gives allowance for newer quilters or quilters that don't quite have a perfect 1/4″ seam allowance (that's me!). The setting triangles are oversized in this pattern which means you have plenty of extra room for your seams to be off. The oversized setting triangles allow lots of extra space for your quilt top to be trimmed square in the end if needed.
Cozy Season Mammoth Flannel bundle for Robert Kaufman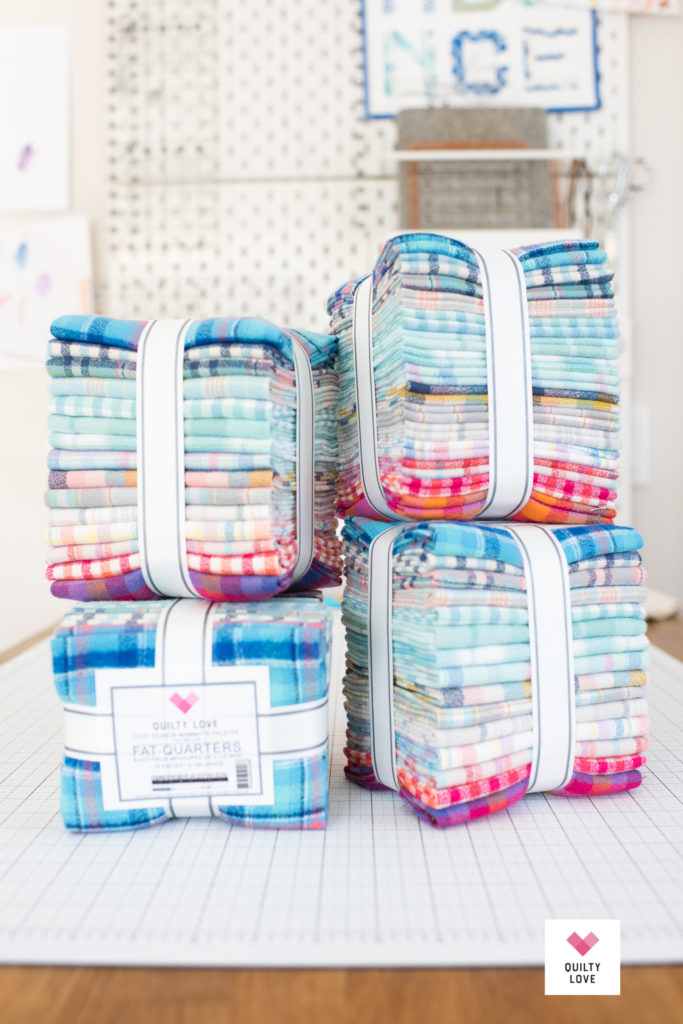 This baby sized Heart Gems quilt is sewn up using my latest palette picks bundle with Robert Kaufman. This is the Cozy Season mammoth bundle available in quilt shops now.
It was sold out with the manufacturer for a little while but I'm happy to report it is available for quilts shops to order again. So it might be a little hard to find but should be back in stores around May.
Cozy Season is a curated collection of 15 mammoth flannel prints. I chose a combination of aquas and pinks for this flannel bundle. I think it's kind of unexpected to mix and match all of these plaids but when the colors flow nicely it creates this happy mix of prints.
Cozy Season pairs really well with a deep contrasting background. I really love it with this Robert Kaufman Shetland Speckle flannel in navy. The speckle flannel is so good because it adds another layer of texture rather than just being a solid.
Long Arm Quilting
I sent this baby size Heart Gems flannel quilt off to Modern Textiles for quilting.
I usually quilt baby size quilts myself but I made up a ton of Heart Gems samples and due to time constraints it was sent off. Plus, long arm quilting is just so magical no matter the quilt size. Look how cute this quilting pantograph is. This quilt design is called Sweet marmalade and I love the added hearts in it. Perfect for a heart quilt.
Grid Flannel backing by Robert Kaufman
This flannel baby size Heart Gems quilt is finished off with a white flannel grid fabric from Robert Kaufman. I love this flannel print as a backing but it is really light so you do need to be careful of fabric bleeding with it. I have had the reds in the Cozy Season bundle bleed into this white backing.
Prevent fabric bleeding
So use it at your own risk! You can help prevent bleeding by pre-washing the flannel and washing the quilt with color catchers the first few times. Over the years I've had so few problems with bleeding fabric. But the few times I have had quilts bleed, it's usually flannel. Admittedly I rarely pre-wash and that alone can really help prevent bleeding quilts in the future.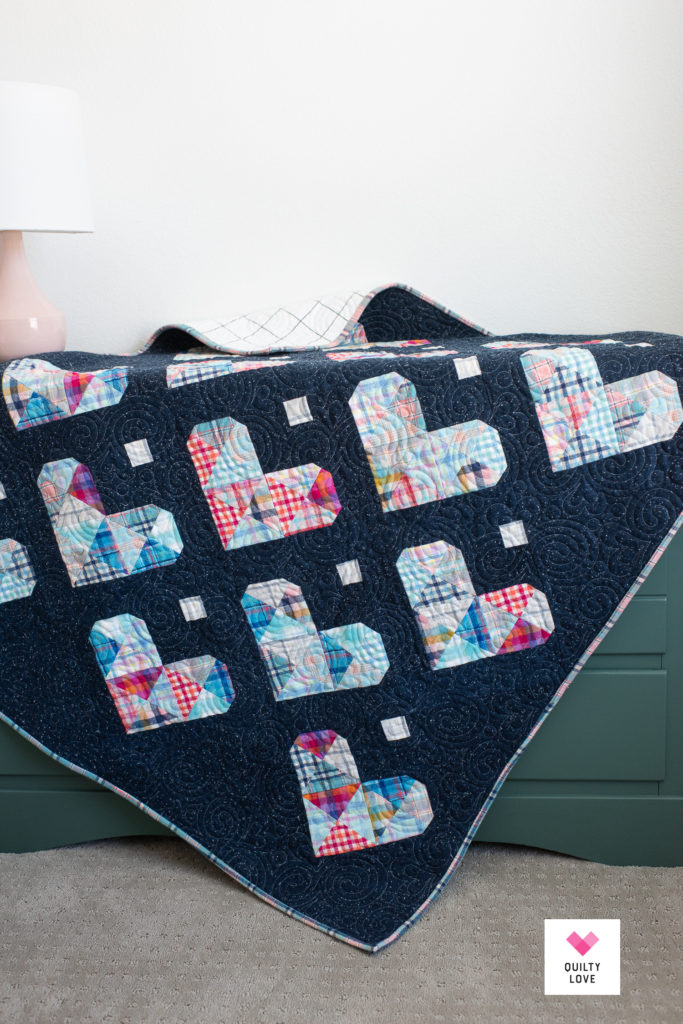 Baby Size Cozy Season Heart Gems Quilt Materials
Quilt Pattern: Heart Gems quilt pattern by Quilty Love
Hearts: Cozy Season flannel bundle by Quilty Love for Robert Kaufman
Background: Shetland Speckle Flannel in Navy by Robert Kaufman
Backing: Framework Grid flannel by Robert Kaufman
Pieced on my Juki 2010q
Long Arm quilted by Modern Textiles
Check out all of the Heart Gems quilts on the blog here.