Cargo Duffle Bags plus a tutorial to sew in a lining
I am completely hooked on these Cargo Duffle Bags. Anna of Noodlehead designed this bag for Robert Kaufman. You can find the free pattern download on their site.
I've been too scared to try a bag for a long time now. I've had this pattern downloaded for over a year and finally worked up the courage to give it a try. I couldn't believe how easy it was to make! I've been reading on other peoples sites that they don't recommend this for a beginner or even a first time bag maker.
I'm not sure I agree with that as this was my first bag. There were a few places that I didn't understand but a quick google search will bring up someone's tutorial who explained in more detail. And once you make one, the rest go together much quicker.
I followed the pattern exactly for the first bag (the blue plus one) and then had more confidence to make modifications to the second one.
I widened my bag to 9 inches.
I added a bunch of pockets.
I added a lining.
I also gave the bags more structure by using this instead of quilt batting.
I followed Skirt as a Top's Cargo Duffle Lining tutorial to make the lining. Her instructions have you sewing the lining in after you complete the bag. I took this one step further and sewed the lining right into the bag construction so there is no sagging! There's a video tutorial showing you how to do this at the bottom of this post.
These side pockets took some to time figure out but were worth the extra effort. I love the added organization they provide and since these bags are for traveling they will really come in handy as a place to add plane tickets or to stash your phone or things you need to get to quickly.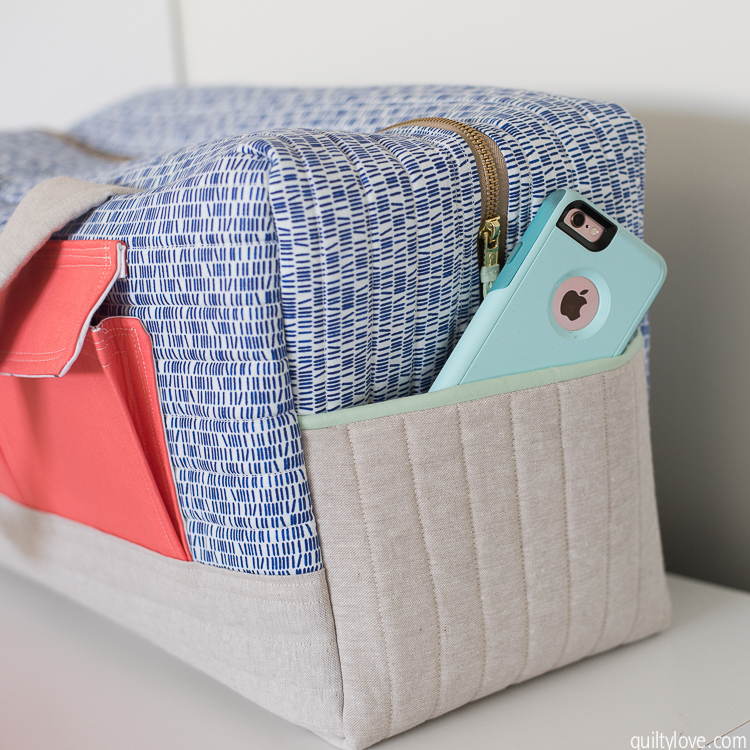 I also added a zipper pocket to the back of my Cargo Duffle. I really love the colorful detail it adds along with the practicality of having yet another pocket.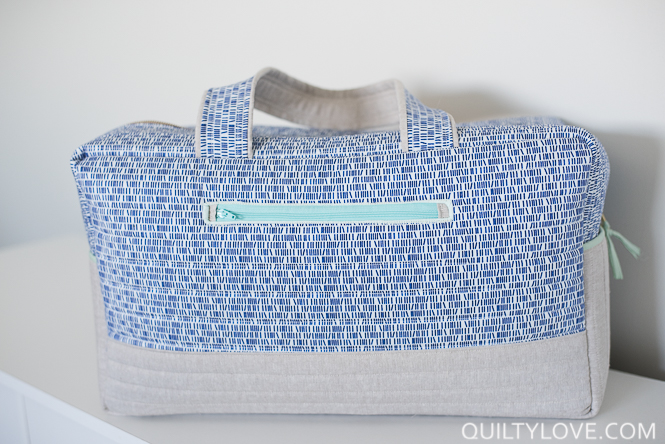 And of course I added pockets to the lining also.
I love the detail the gold metal zipper adds. I used this one.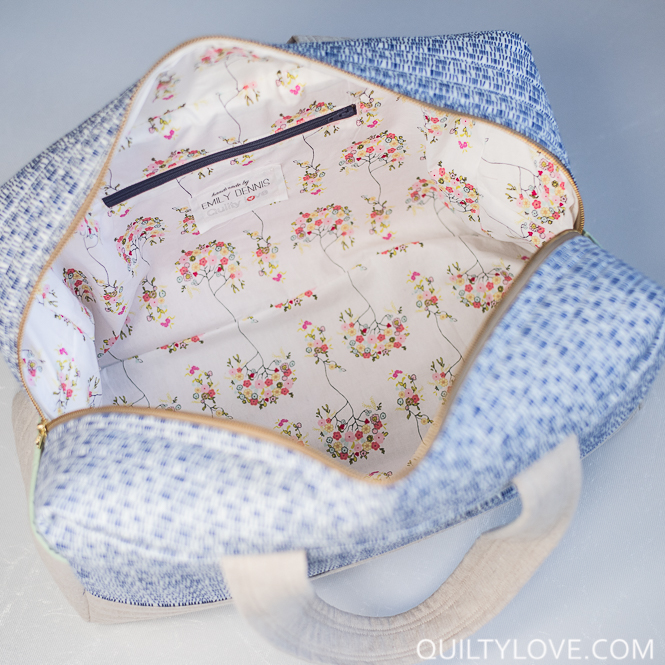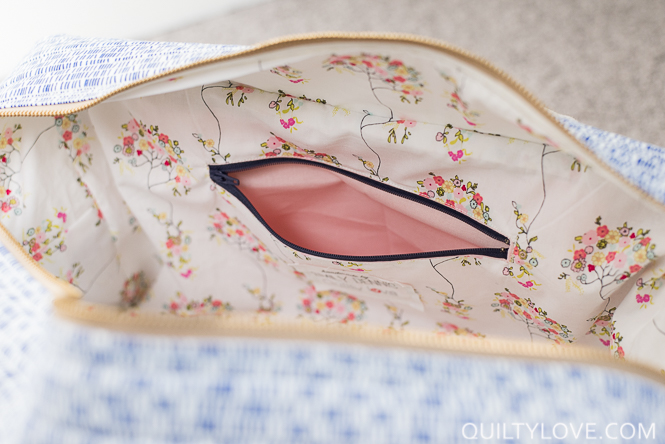 Click on the video tutorial below to see how I added the lining into the bag's construction. This screen shot shows you the final result. I hope that helps you guys make this awesome bag even prettier 🙂
Here are my tips for successfully creating your own bag:
Use a larger needle!!
Add the pocket snaps before you sew them onto the front panel
Make sure your zipper has a stopper at the end like this one.


Supplies used:
Art Gallery Solids fabrics
Yarn Dyed Essex Linen by Robert Kaufman
Coats and Clarks 26inch Zipper
Soft and Stable by Annie
Aurifil Thread
Size 16 Schmetz needle
Wonder Clips– Couldn't make a bag without these!