English Paper Pieced Hexagon Quilt Progress
Somehow I haven't blogged about my hexie quilt yet!   So here it is 🙂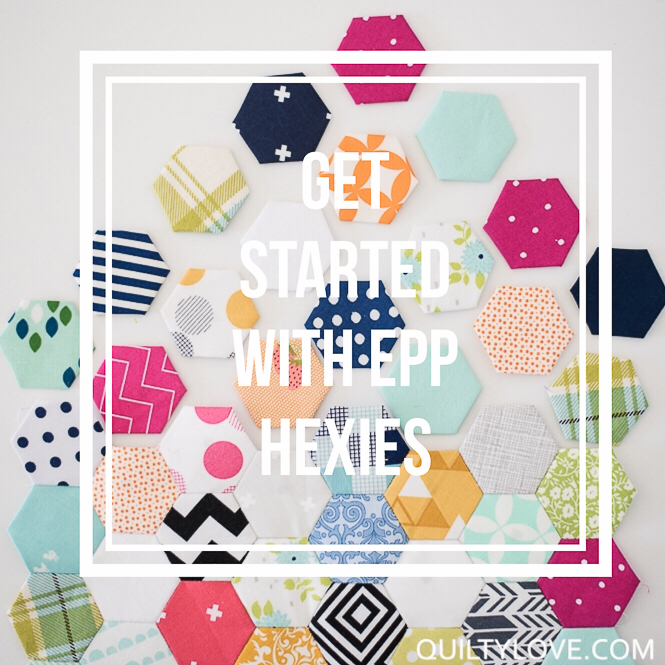 This is my never ending project.   Or at least it sometimes feels that way 😉   I started my hexies so I would have something to do in the evenings when I just want to sit down but keep my hands busy.  Plus we take a lot of road trips so the fact that I could take quilting on the go was pretty sweet.   It really is more about the process and less about the end result.
I started piecing my first hexagon for this quilt just over a year ago.   I'm aiming for a throw size quilt.
My hexagon template is 1″.  (That means each side is 1″.)

This quilt is made up entirely of 2.5″ scraps from other completed quilts.
You don't need much to get started with English Paper Pieced Hexies.   Here's what I recommend:
Hexagon Templates
I use Geta's templates from Geta's Quilting Studio
I know some people print on heavier card stock but I print on plain old copy paper.
Punch a hole in each one so they are easier to remove later on.
Needles and Thread
I've been using Hiroshima Tulip Sewing Needles
.  With a good needle you hardly need a thimble.  When I do use a thimble I use these flexible thimbles.
I used the 40wt thread pictured to baste some of my hexies and then switched over to Aurifil 50wt for the rest.
Fabric
I've seen others who cut their fabric to the shape of the hexagon template but I keep mine square since it's faster.  If you scroll down you can see the backs of my hexagons.   The backs are not the prettiest but you don't see that anyways 😉   For these 1″ hexagons, 2.5″ fabric squares work well.
Basting
I'm going with thread basting for my hexagons.   I baste on the backs so the thread doesn't have to be removed.  I briefly tried glue basting but didn't care for it as much even though it can go much faster.
I started out making flower shapes and then proceeded to connect the flowers into larger shapes.   Looking back it would be better to make square panels since I ended up with oddly shaped panels that I'm currently working on squaring up.
The back can be as fun to look at as the front 🙂
I currently have these two larger panels and a few smaller ones.  I'm working on connecting them together and making a larger rectangle.   I'll either continue to add to that or put a solid border around it so I can finish this project and move on to something else!

Have you joined the Hexie craze?   Any pointers or questions?