City Tiles Quilt Along Week Eight
Welcome to week eight of the City Tiles quilt along!
It's the last week of the City Tiles Quilt Along!
I can't believe this is the last of the eight weeks! This last week we will sew our blocks together into quilt tops. If you aren't quite there yet, keep sewing! And keep posting. I'm sure there will be plenty of other quilters right along side you.

Don't forget that Kaitlyn of Knot and Thread is offering 20% off quilting on any City Tiles quilt top! Take advantage of this before May 1st!
Be sure to browse through the quilt along posts!
Here we go on Week Eight….
WEEK EIGHT
---
Sew together your quilt top!! And then go ahead and start quilting 🙂 Or send it off to be quilted 🙂
---
My progress on the City Tiles Quilt Along
My City Tiles Quilt:
Large Block Version
Center tiles: I'm using mostly Cotton and Steel Bluebird fabrics.
Outlines: All the same in the navy Cotton and Steel Sprinkles
Accent squares: All the same in this SS bluebird fabric
Background: Essex Yarn Dyed Linen in Flax
I haven't sewn my quilt top together yet so I'll be doing that this week. I haven't ordered any backing fabric yet either so I need to do that. I think I'll pick a print from this Blue bird line and go with that.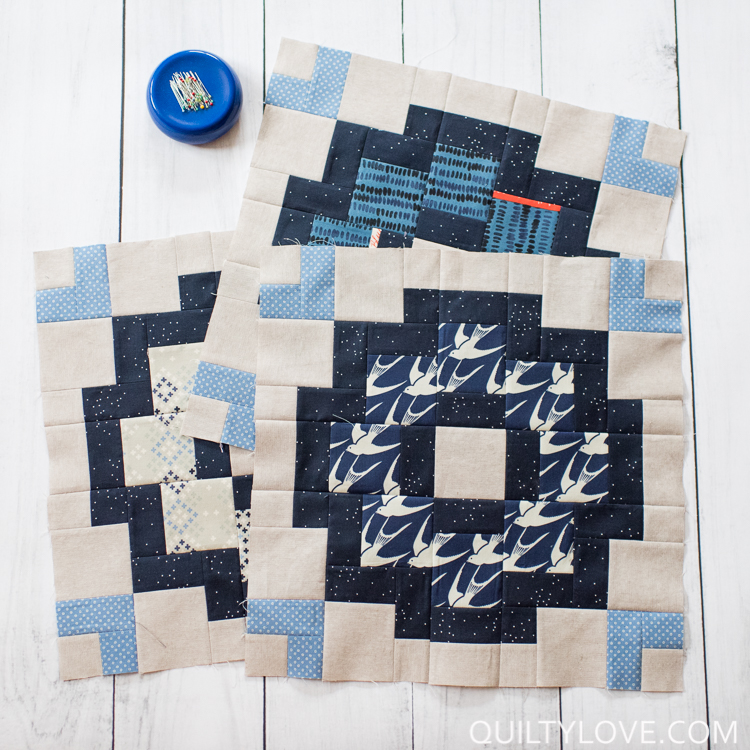 Prizes
The last prize of the quilt along is the $100 gift card to Bijou Lovely's shop! Be sure to post to the hashtag this week for a chance to win!
Holly's shop is such a beautifully curated collection of fabrics, notions and patterns. And it's a cozy space to hang out too 🙂
Official Quilt Along Blog Post
Week One
Week Two
Week Three
Week Four
Week Five
Week Six
Week Seven
Week Eight