Ombre Gems Quilt Along – Week 2
Welcome to Week 2 of the Ombre Gems quilt along!
Also known as the official starting week 😉   Because we are cutting!  And sewing!
---
Week 2 / 10
This week we will:
Cut the 2.5in white background squares
Make 2 full blocks and 2 half blocks
---
Cutting
You can either cut as you go on this quilt or cut everything up front.   You might consider cutting all of your background squares at once and then cutting your ombre fabrics as you go.   I highly recommend making a block or two before cutting everything.
Accuracy is key for this one.   So getting a feel for how the blocks go together before doing all of your cutting is a good idea.
The background squares are 2.5in but you might find 2.5in x 3in is so much easier to work with!   If your blocks are too small when you try to trim them, use the larger size background pieces.
Below is a video demonstration of the stripology ruler.  Guys, I didn't get this ruler for years so please don't feel like you need it!   I made my original Ombre Gems quilt before I got this ruler.   It is pretty amazing and such a time saver but a little on the spendy side.  I have no regrets of purchasing mine and have used it quite a bit since I got it.  (Sorry about the standard def video!   I uploaded quickly and didn't realize it wasn't high def and then deleted to make more room on my phone for more videos!)
I picked up my ruler from Craftsy.  
---
Make 2 Full Blocks and 2 Half Blocks
This week we are cutting into that fabric!   We will start out by making 2 full blocks and 2 half blocks.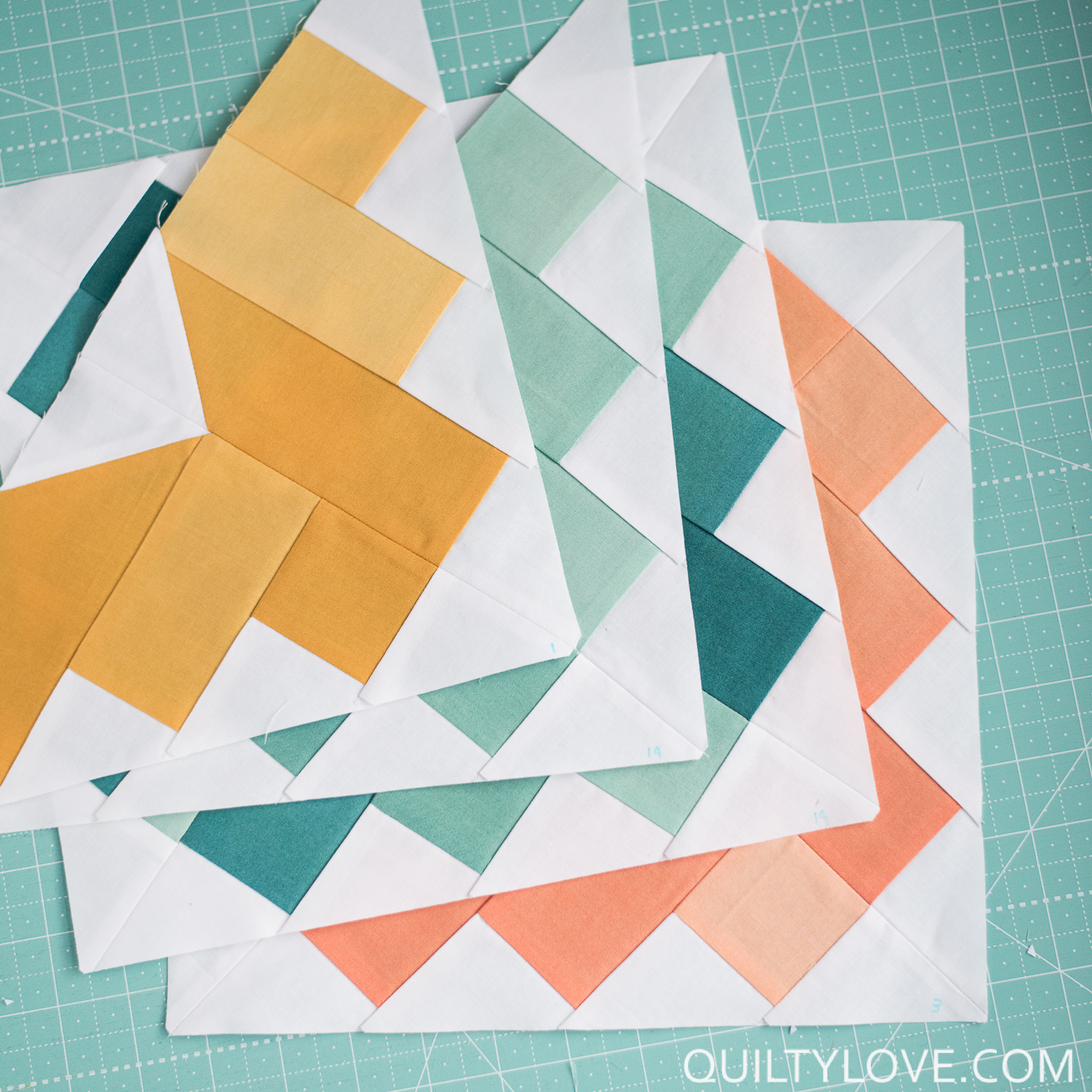 If at any time you feel inspired to keep making, I say go for it!   This quilt has a lot of blocks and there may be some weeks where you have less time to get them all done.
Keeping track of your progress
I'm attempting to keep these blocks organized and in order.   I started out by marking my fabrics with numbers 1-18.   As I make these blocks I'm also marking the blocks themselves so I know where they are on my coloring sheet.   My blocks this week are pretty random since I had a few random fat quarters pre-cut as I was planning out the quilt along.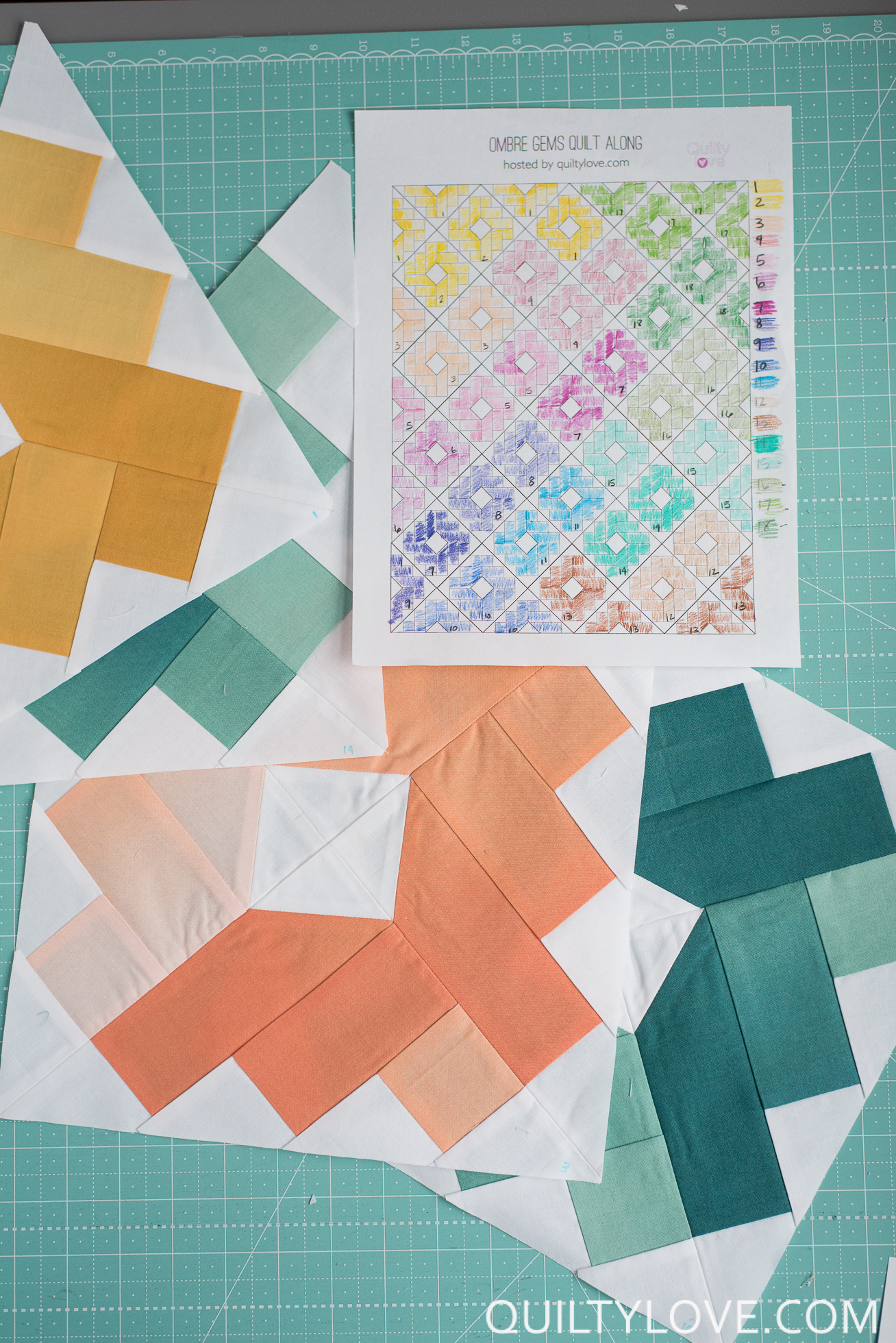 This quilt along lasts 10 weeks so there is plenty of time to join along!
Share your progress on Instagram with the hashtag:
---
Tips for Accuracy
Use Starch.  Lots of starch!
I've been using starch every step of the way.   First I starch the fat quarter before cutting.   Every time I press a seam, I use starch.   I finish off by starching the entire block.   So lots of starch!  I use this starch but buy it locally.
Cut consistently
Use a scant 1/4in seam
(This means sewing about a stitch length less than 1/4in.  This allows enough extra room to keep your measurements spot on when pressing your fabrics to the side.)
If using jelly roll strips, trim to 2.5in wide
(A lot are not an exact 2.5in wide!)
---
Ombre Gems Official Post
Ombre Gems Week One
Ombre Gems Week Two
Ombre Gems Week Three
Ombre Gems Week Four
Ombre Gems Week Five
Ombre Gems Week Six
Ombre Gems Week Seven
Ombre Gems Week Eight
Ombre Gems Week Nine
Ombre Gems Week Ten