Coming soon: City Tiles Quilt Along
I'm excited to announce the City Tiles quilt along!  I've been wanting to make another version of this quilt and a quilt along has been requested several times.  Soooo….. here it is!!
Join the 1,100+ others in this quilt along!
RSVP for the Quilt along
City Tiles is a fun throw quilt with a lot of different possibilities.  The pattern itself has two block options.  The City Tiles quilt above is the larger block option.
I gave away my original City Tiles quilt so I'll be making a similar version of the original using linen and maybe even a flannel backing.
This quilt along will take place virtually and have a relaxed pace.  Sewing along together is a very motivating way to finish a quilt.  These blocks are a little on the tedious side so breaking them up into an 8 week quilt along is helpful!
There will be a few prizes along the way from the #citytilesqal hashtag so be sure to jump on Instagram and post your progress each week!
Here are the quilt along details:
Dates
January 15th, 2018 – February 26th 2018

Duration: 8 weeks
How to follow along
Follow along on Instagram using the hashtag #citytilesqal.
Sign up to receive weekly e-mails (or just RSVP above) during the quilt a-long. (Check the city tiles box)
A new quilt a-long blog post will be up each Monday of the QAL.
Supplies Needed
City Tiles Quilt Pattern – PDF copy – Paper copy
I'll be using the following materials:
Yarn Dyed Essex Linen in Flax
Assorted Cotton and Steel Indigo colored fabrics
Tentative Schedule
Week one:  Prep, Order (plan) fabrics, Plan out the quilt top
Week two:  Cut all fabrics for the quilt top – Make a test block first! Make two additional blocks.  (Small blocks – Make 3 blocks this week)
Week three:  Make three blocks  (Small blocks – Make 6 blocks)
Week four:  Make three blocks  (Small blocks – Make 6 blocks)
Week five:  Make three blocks  (Small blocks – Make 6 blocks)
Week six:  Catch up week  (Small blocks – Make 3 blocks)
Week seven:  Finish the last four blocks  (Small blocks – Make last 6 blocks)
Week eight:  Sew your quilt top together!  And start quilting or send off to be quilted 🙂
RSVP for the Quilt along
Sponsors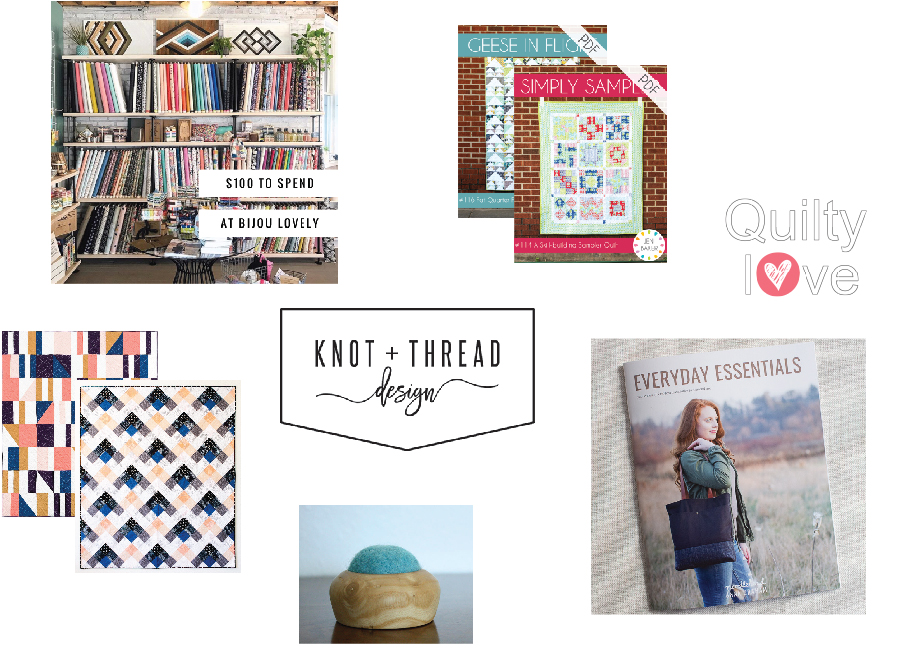 There are a few fun prizes lined up!  I'll try to do a weekly giveaway from the hashtag postings.
Knot and Thread – Kaitlyn of @knotandthread has offered 20% off all of your City Tiles quilts you send her!  AND…. get this… one lucky person will get FREE quilting.  I'll choose a winner at the end of the QAL.  The winner should have a mostly completed quilt top.
Bijou Lovely – Holly of @bijoulovely has a beautifully curated shop and one of you will receive a $100 gift certificate to spend there!
Mybricole – Deedee of @mybricole and her husband have supplied one of their gorgeous handmade pincushions.
Noodlehead – Anna of @noodlehead531 has provided one of her brand new Everyday Essentials booklets.  This is a printed magazine style booklet with three of her popular patterns.
In Color Order – One lucky participant will win a couple Jeni Baker @jenib320 PDF patterns.
Then Came June – I have a couple of Meghan's @thencamejune fun patterns to give away.
Quilty Love – Of course there will be some Quilty Love prizes throughout 🙂
City Tiles Quilt variations
Click on the link for the blog post and more details about each City Tiles quilt.
I hope you will be joining along!   Be sure to sign up for the e-mails so you don't miss a thing.
Take some time to browse through the #citytilesquilt hashtag for quilt ideas.