City Tiles Quilt Along – Week Three
Hello quilt alongers! It's week three of the City tiles quilt along! It's been fun to see so many gorgeous blocks showing up on the hashtag. I love that this quilt allows for so much variation. Thank you to everyone who is keeping this quilt along active and engaging and fun!
I've had a few questions this past week about how to participate in the quilt along. It's super simple! It takes place on Instagram. So anytime you post a City Tiles picture, just make sure this hashtag is somewhere in the caption and looks exactly like this: #citytilesqal
Be sure to browse through the quilt along posts!
Here we go on Week three….
WEEK THREE
---
Making Blocks
Large Block Version: Make 3 blocks. This week we will be making three blocks for a total of six.
Small block Version: Make 6 blocks. If you are making the small block version, make six blocks this week for a total of nine.
Post on Instagram: Who inspired you to start quilting? This week lets get the conversations going 🙂 Who inspired you, who taught you, who helped you start quilting?
---
Chain Piecing
While this quilt block has a lot of parts, it is a really good chain piecing quilt. Chain piecing is when you sew many pieces together without cutting the thread in between pieces. You just keep feeding the next fabrics through your machine one after the other. This saves time and thread.
The City Tiles block goes together in sections. The sections are all identical. Chain piecing those sections will really speed things up. Below is a video of a block being sewn together using chain piecing. I only made one block in this video but I would normally do all blocks at the same time for the week. Maybe I'll try to record that again next time and figure out how to get my phone to not flip the video like it did.
Starching your blocks
I'm a big fan of starch and really a big fan of starching the heck out of these City Tiles blocks. The steam on my iron is broken otherwise I'd probably use that too. I use this basic starch that I pick up from the big box store.
Pressing your seams open on these blocks will help them lay flatter since there are quite a few seams. There are only a few points that need to match up so just use a few pins in those areas. I use starch liberally throughout the block and then give it one good press when it's completed.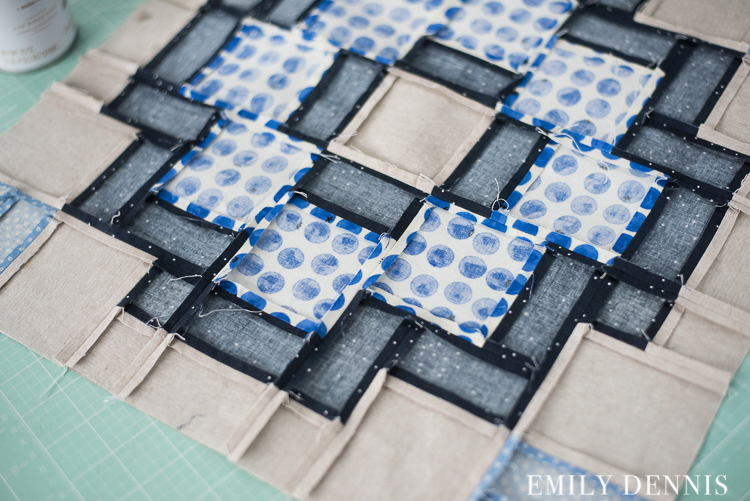 My progress on the City Tiles Quilt Along
My City Tiles Quilt:
Large Block Version
Center tiles: I'm using mostly Cotton and Steel Bluebird fabrics.
Outlines: All the same in the navy Cotton and Steel Sprinkles
Accent squares: All the same in this SS bluebird fabric
Background: Essex Yarn Dyed Linen in Flax
I'm caught up on my three blocks and working on this week's blocks.
From the hashtag last week:
Click here to view the quilt along posts on Instagram.

.

.

.

.

.

.

.

.
______
It's not too late to join!
And if you are kicking yourself for not joining the City Tiles Quilt Along…. do it! We would love to see you on the hashtag 🙂 Go ahead and RSVP below so you get the weekly e-mails.
See you next Monday!
Want to join the quilt along? Sign up below:
Official Quilt Along Blog Post
Week One
Week Two
Week Three
Week Four
Week Five
Week Six
Week Seven
Week Eight