Crossroads Quilt Pattern
Today I'm excited to announce this brand new Quilty Love Pattern:  The Crossroads Quilt Pattern!
Crossroads Quilt Pattern
Crossroads is a fun and modern quilt that I believe came from my Sunday sketches.  I've been looking forward to doing a solids quilt for some time now and was saving up this Kona solids bundle just for this reason.
Crossroads Quilt is available in the Quilty Love Pattern Shop.

Fat Quarter Friendly
Crossroads quilt is a fat quarter friendly quilt that has strip piecing shortcuts.  This quilt is a fun one to play with color values as different color layouts create different effects.   You can see how some of the blocks in the quilt vary as different colors stand out more.
I'll share the baby size version using print fabrics soon!
Multiple sizes
Crossroads quilt comes in Baby, Throw and Queen sizing. 
I recently visited a friend in Arizona and took this quilt along for it's photo shoot.  Having some new surroundings for photos was so much fun!  I didn't take this quilt far and just used her spare bedroom and backyard 🙂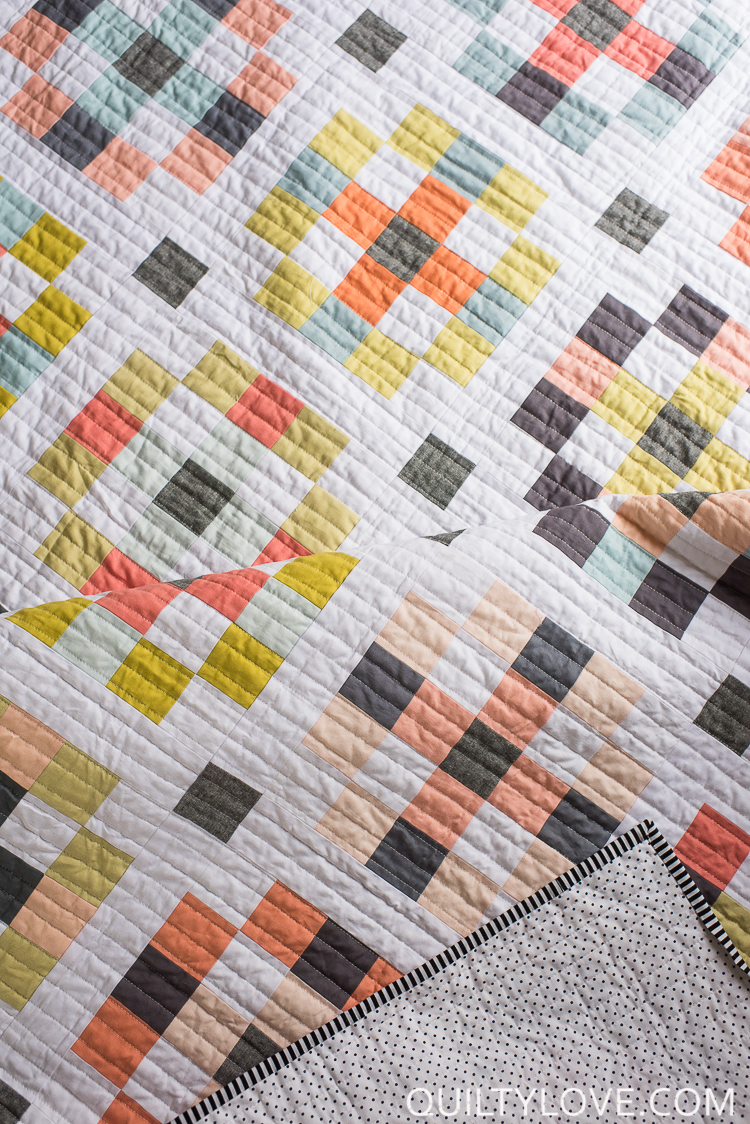 Crossroads is straight line quilted using the new Janome MC6700P.  Janome provided this dream machine so I could test it out and review it.  Quilting large quilts like this with it almost feels like cheating since it does it so easily!
I always love the modern simplicity of straight lines but in this case they were a necessity as I was in a hurry to finish this one up.  I finished quilting Crossroads the night before catching an early flight.   Don't look too closely because I didn't finish binding this quilt before the photos 😉  ha.
The backing is a Riley Blake Swiss dots in black.  I really love the simple backing with the bright colorful quilt top.  I used this fabric as the backing because it's what I had on hand 😉  Sometimes fabric decisions are made out of pure necessity!  It wasn't quite big enough for the back so I pieced the backing using a solid aqua also.   You can see it a bit in one of the photos. 
Crossroads quilt is bound in my favorite black and white striped binding.  This binding fabric never fails me and I'm sure it will make it's way on plenty of quilts in the future.  My binding go-to is this Timeless Treasures black and white striped fabric.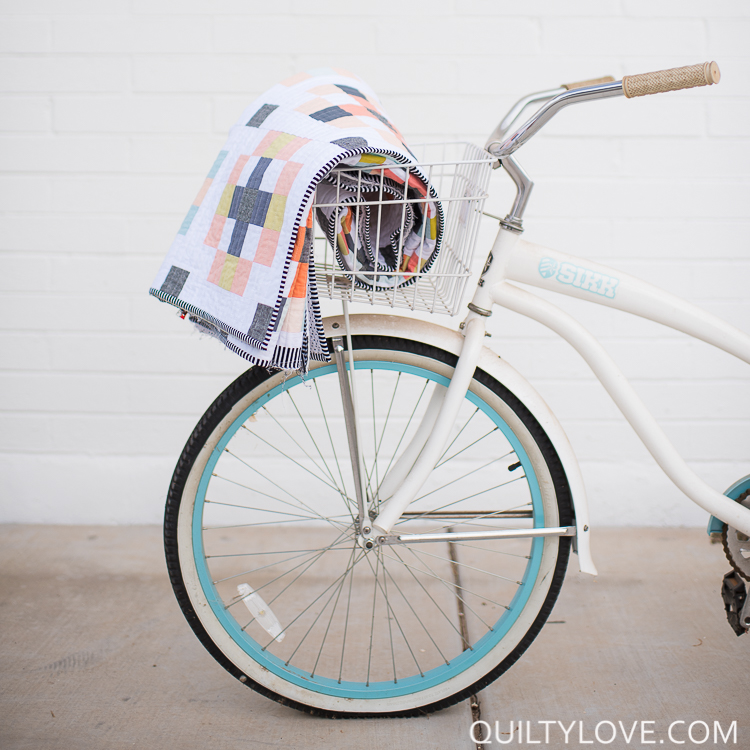 Grab your copy of Crossroads in the Pattern Shop!
Materials used:
Kona Cotton Solids bundle from Fabricbubb.com
Center of blocks are Essex Linen in Black
Kona Cotton White
Warm and White batting
Aurifil thread
Spray basted with this basting spray
Timeless treasures striped binding
Backing is Riley Blake Swiss dots
Pieced and quilted on the new Janome MC6700P