Quilty Stars Quilt – the happy scrappy one
This Scrappy Quilty Stars quilt may be a new favorite! I'm pretty sure I've claimed no less than 25 quilts as my favorite so far…ha.
This may be by far the most satisfying quilt I've made. The quilt top is 100% fabrics scraps!
Quilty Stars is available in the Quilty Love pattern shop.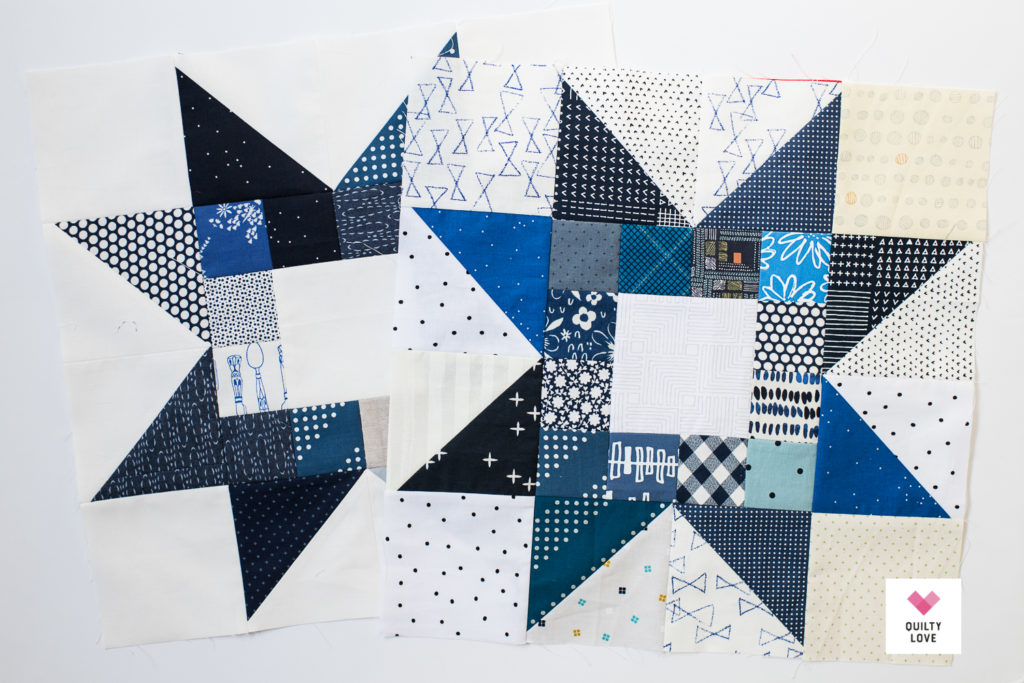 I made this scrappy version during the quilt along last summer. It really was an enjoyable one to make with all that scrappy goodness.
Scrap buster quilt pattern
I wrote the Quilty Stars quilt pattern with scraps in mind! I love using up my scrap stash every few quilts. This one is a really great scrap buster! Especially if you use low volume scraps as the background like this.
My low volume background is not always very subtle but it's one of my favorite scrap bins to dig through. It's usually just as full as my blue bin.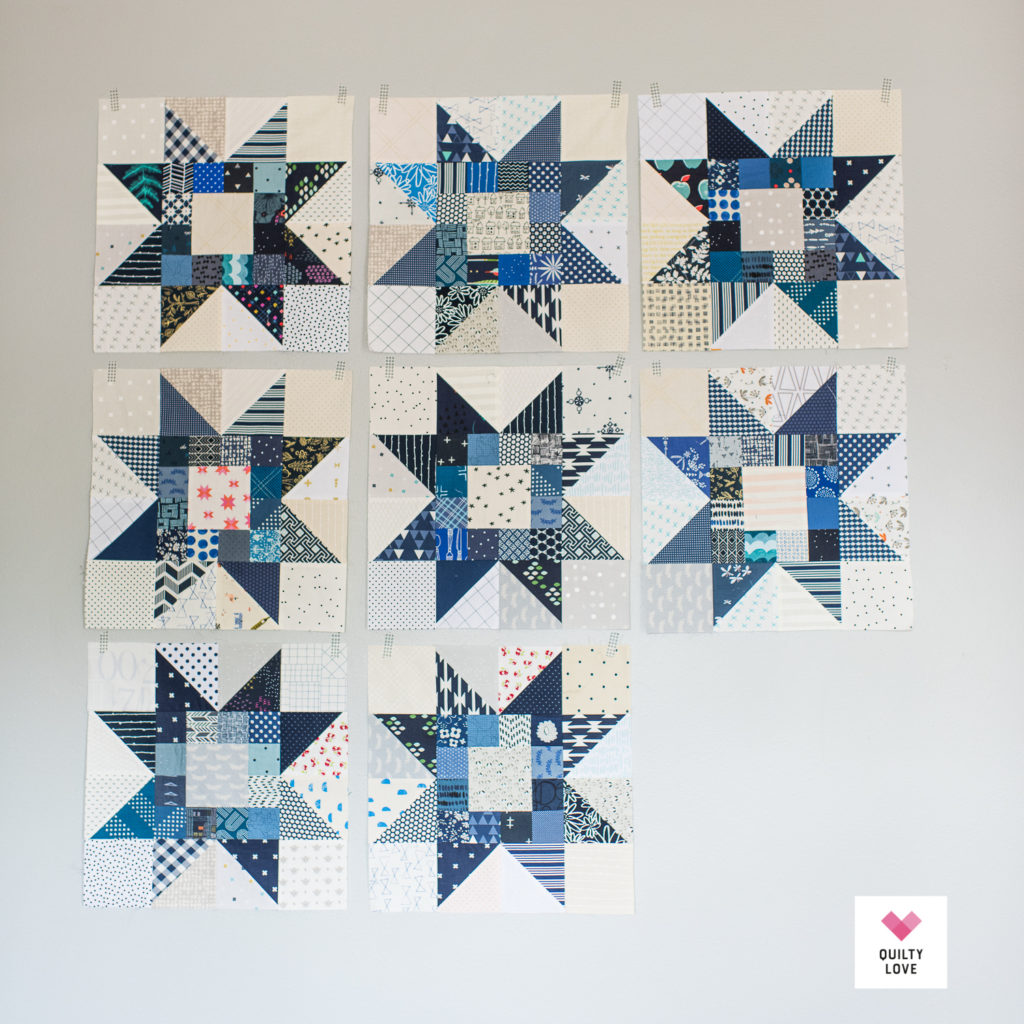 Quilty Stars quilt pattern
Quilty Stars is fat quarter and scrap friendly. The quilt pattern includes instructions for a baby size, throw size, twin size and a king size.
I would call Quilty Stars a confident beginner quilt pattern. This quilt uses squares and half square triangles. Majority of my patterns have you making the half square triangles too big and then trimming to size. That really helps keep them nice and precise and that's much easier on beginner quilters.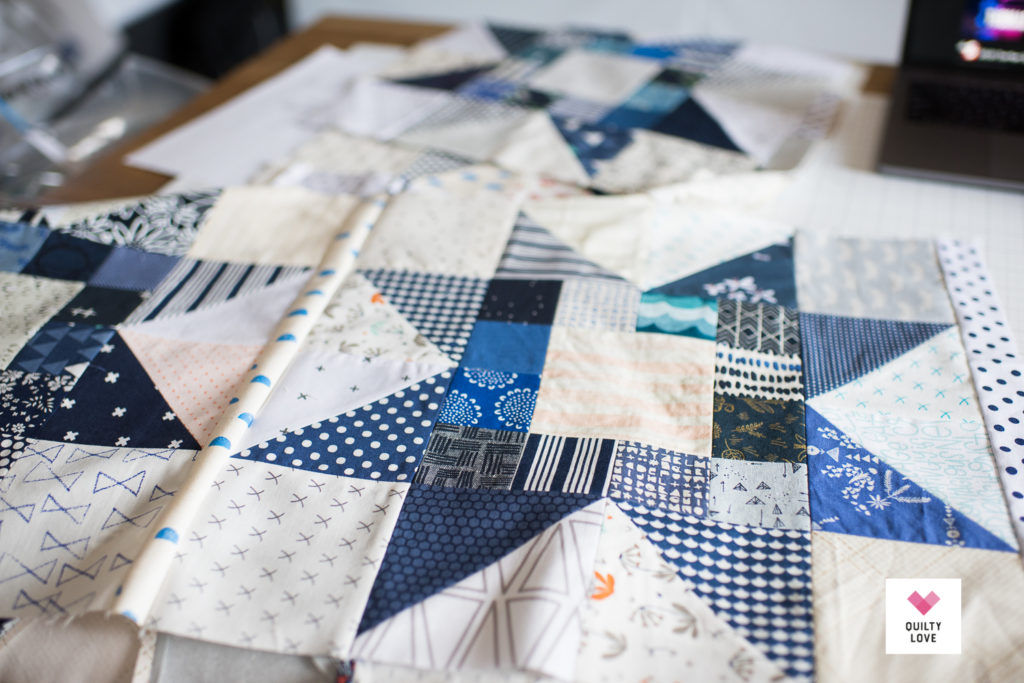 I somehow end up with more blue fabric scraps than any other color and so far I've made a couple of scrappy blue quilts. They are my favorite 🙂
Quilty Stars is perfect for those 2.5in square fabric scraps we all end up with.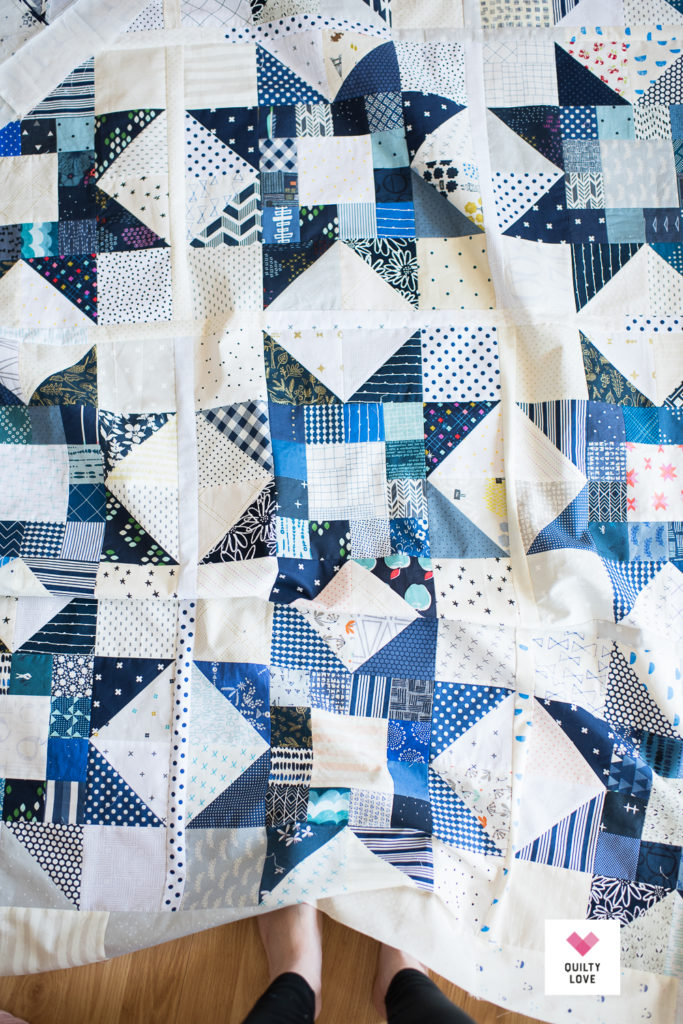 Free Motion stippling on the Janome MC6700p
This scrappy Quilty Stars quilt is quilted with a Janome MC6700p. I tried free motion quilting this one! I have only free motion quilted a handful of times but it sure is fun!
I sure could use the practice so this was a good practice quilt with it's busy scrappy fabrics. I just did stippling and let me tell you, it's not as easy as it looks! You will feel like you are doing a terrible job as you are in the thick of it but then when you step back it always looks better.
There really is only one way to get better… and that is by actually doing. So I say just jump in and don't be afraid to "ruin" a few quilts. I promise it will look better than you think in the end 🙂
Free motion quilting really is relaxing and actually pretty fast.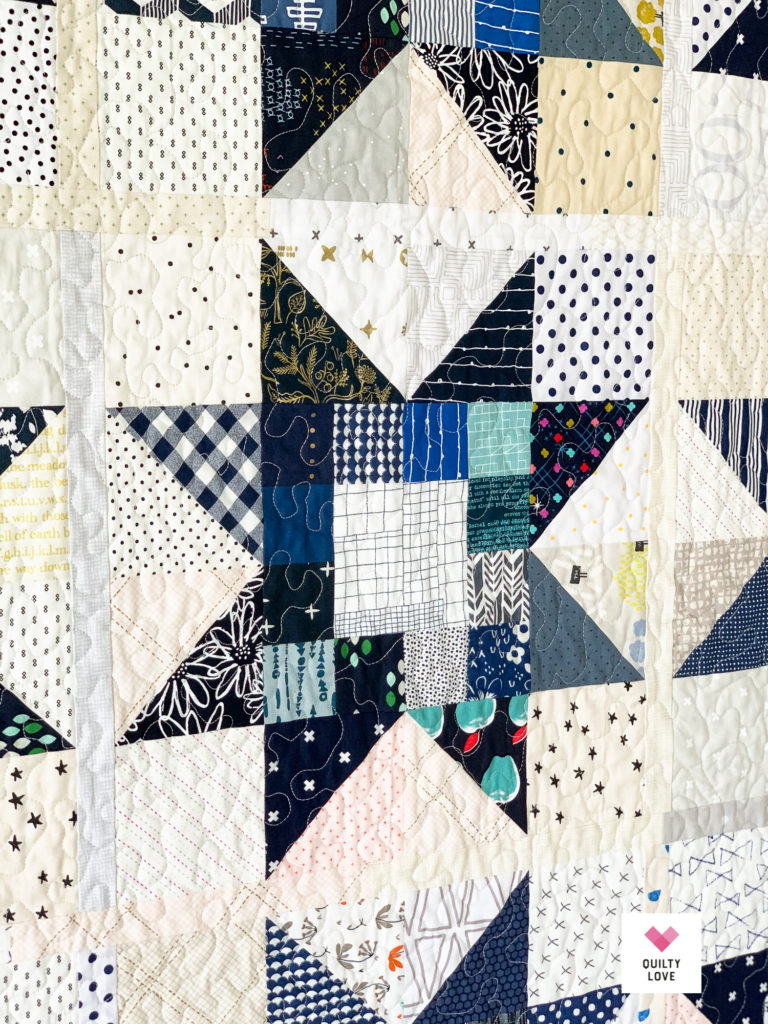 I finally got around to photographing this one a few days ago. These photos were all taken with my iphone! I used this quilt as an example in my Pinterest course, Pin it for Sales. The entire photo and photo editing process is included in the course.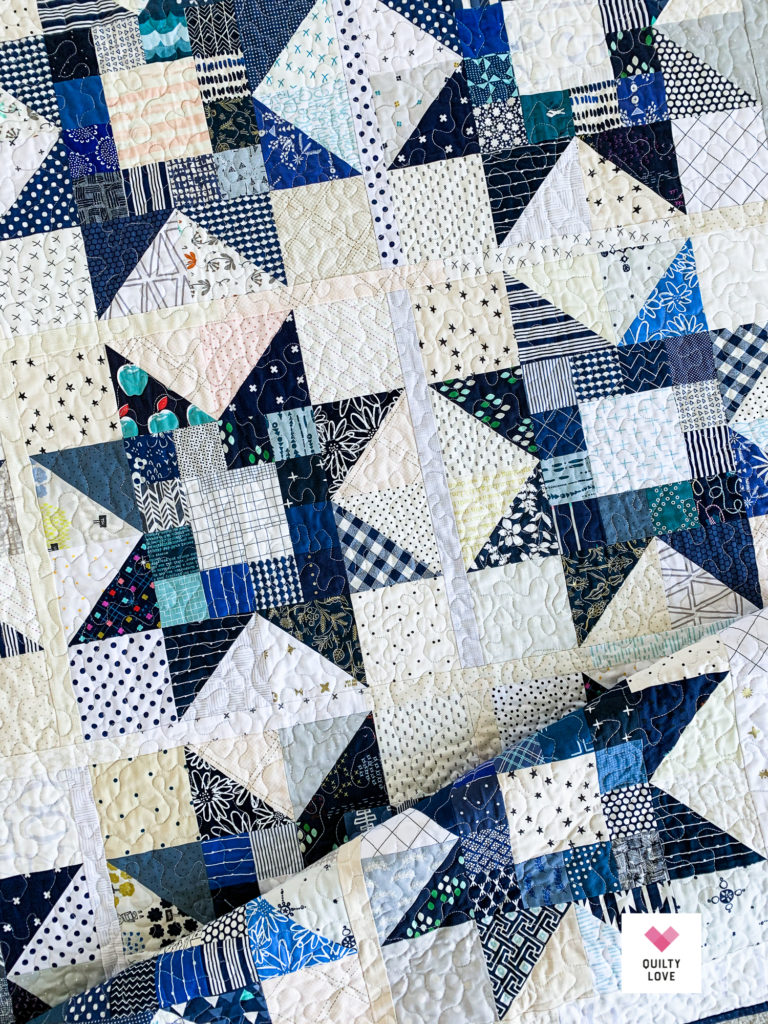 Free motion stippling quilting really gives a quilt some great texture.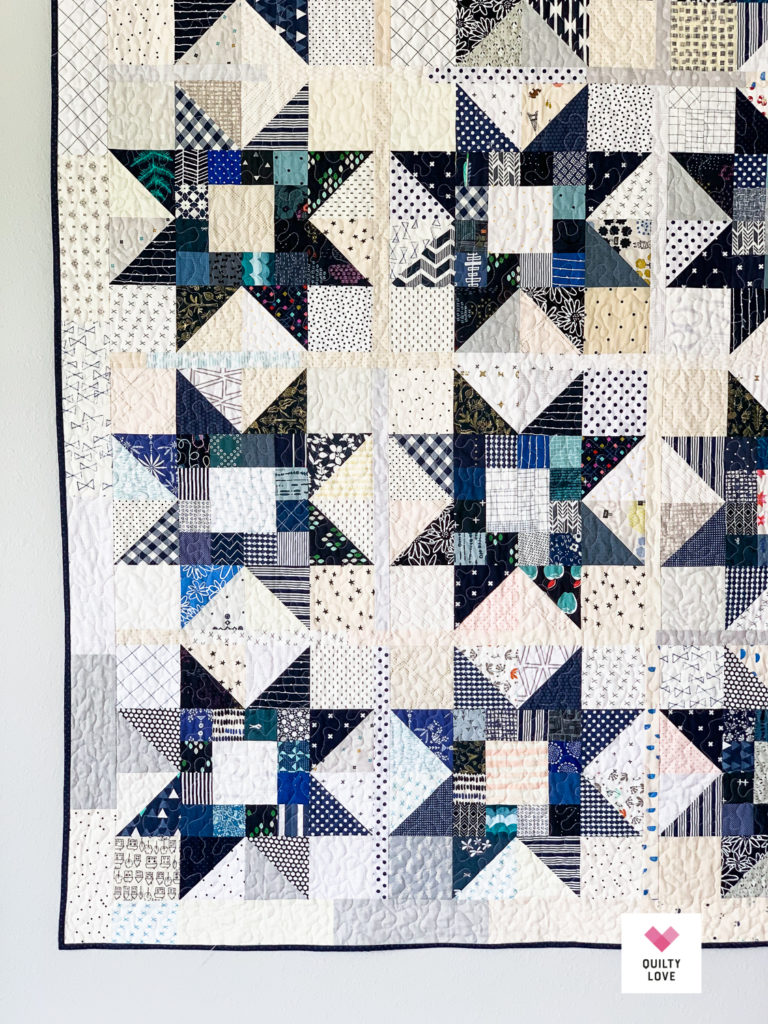 The binding on this scrappy quilt is an older Add it up print. The backing is a Bonnie and Camille gingham from my stash.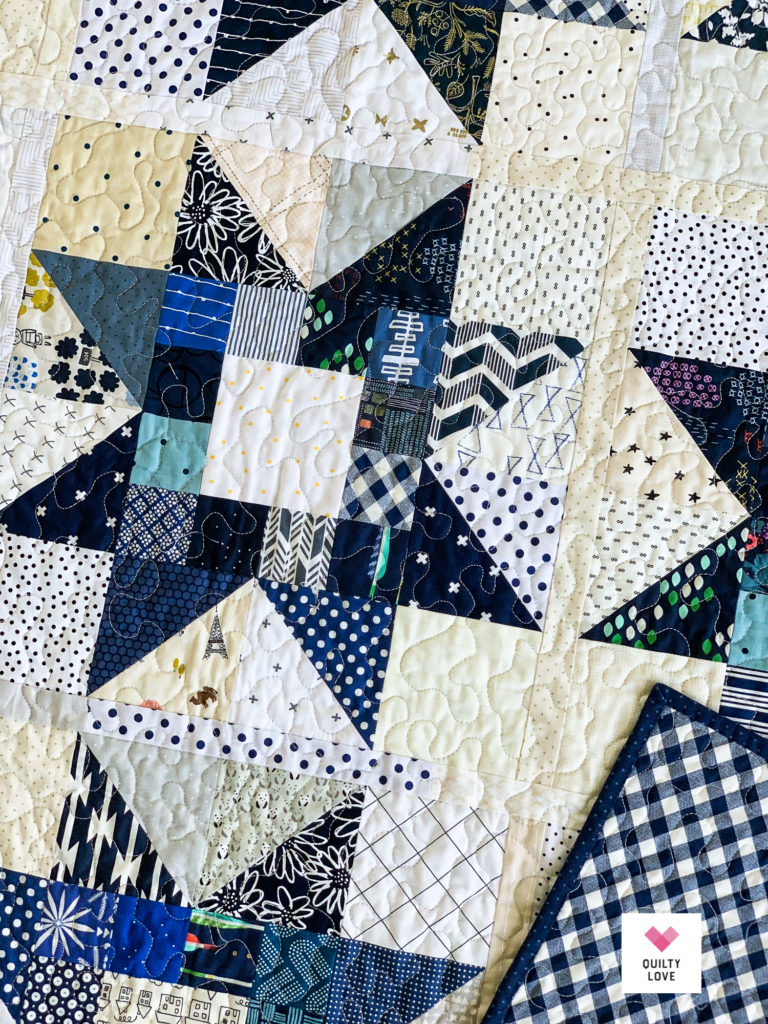 One of the things I love about scrappy quilts is the memories from all of the different fabrics. So many good fabrics all mixed together into one quilt!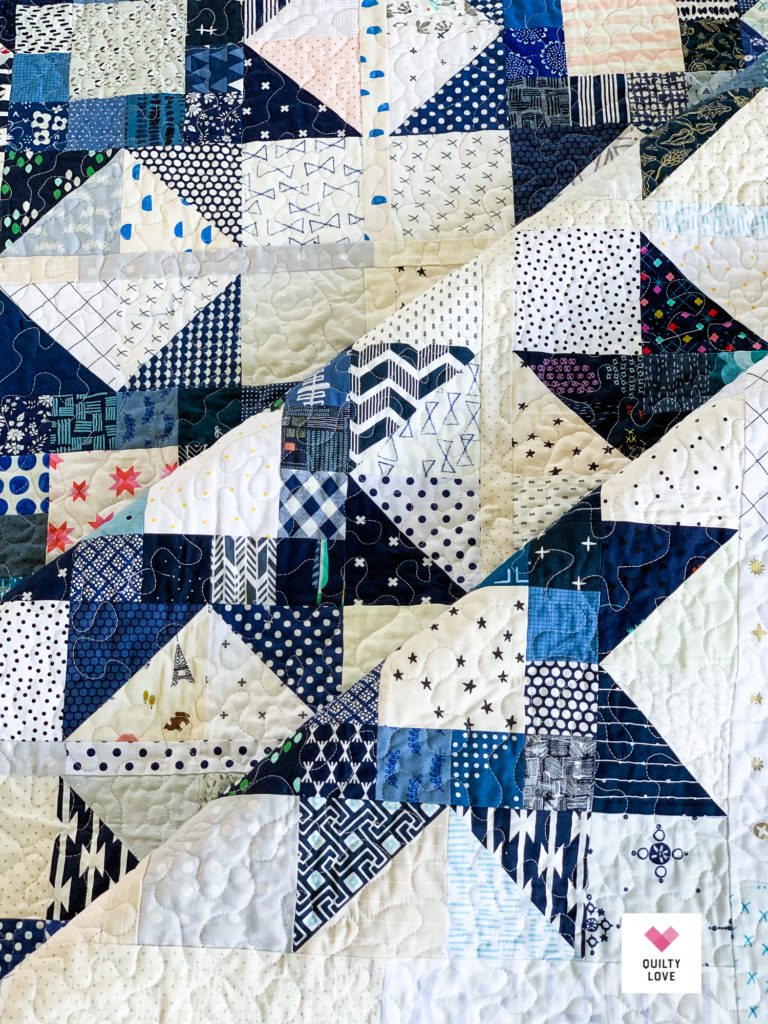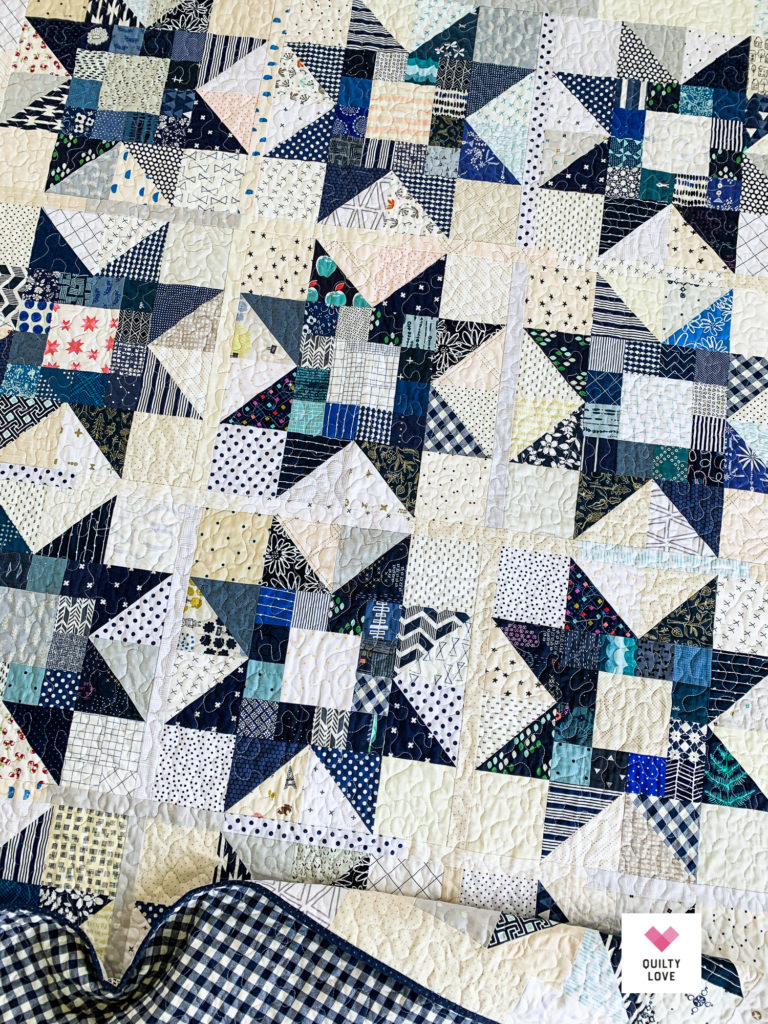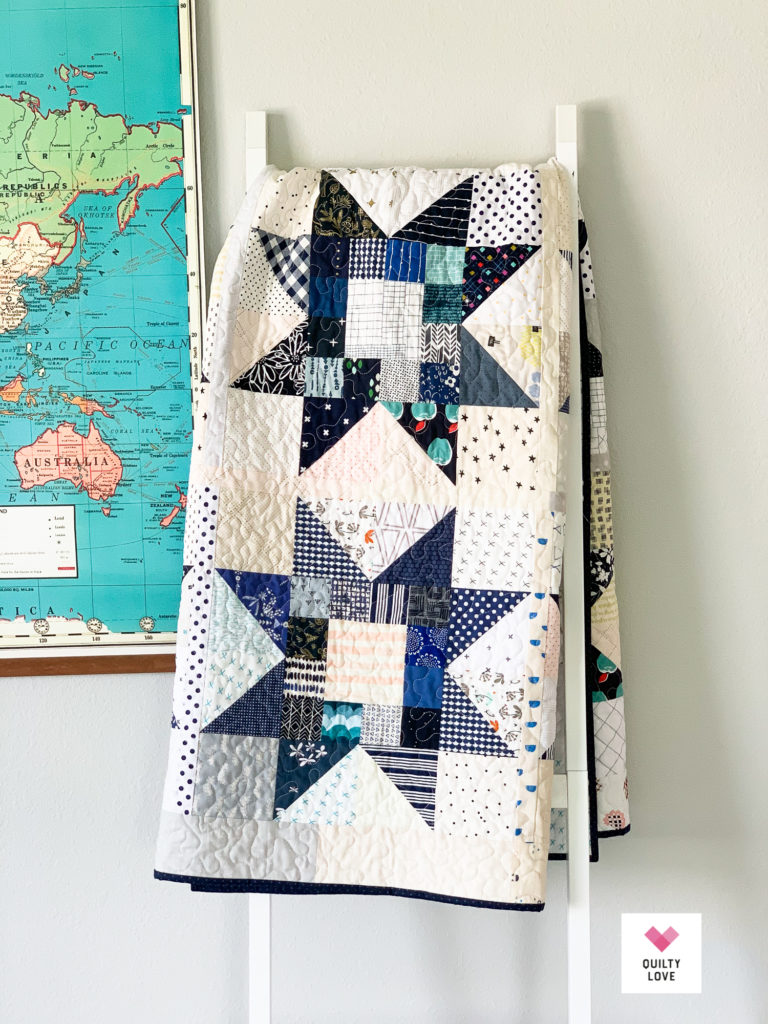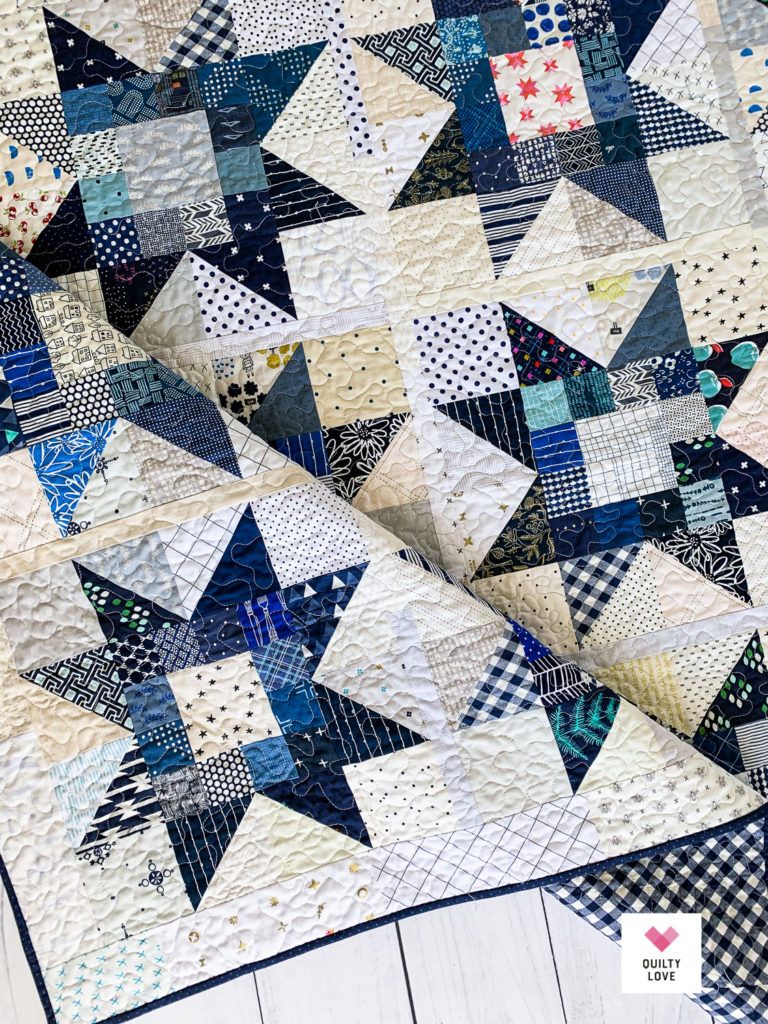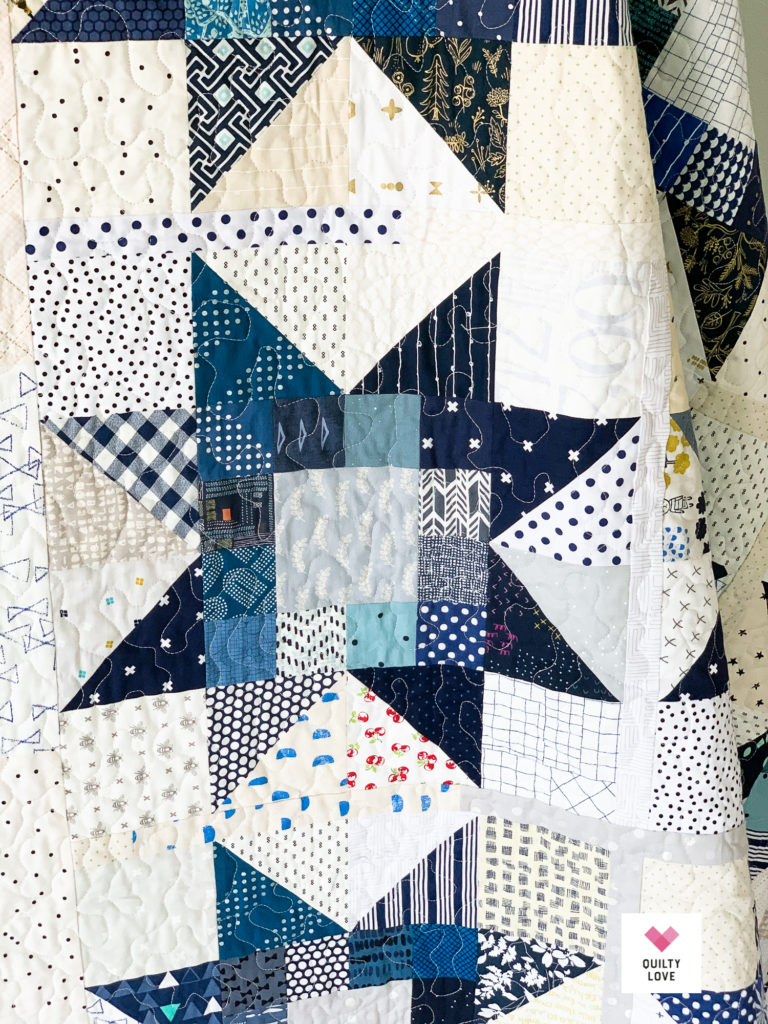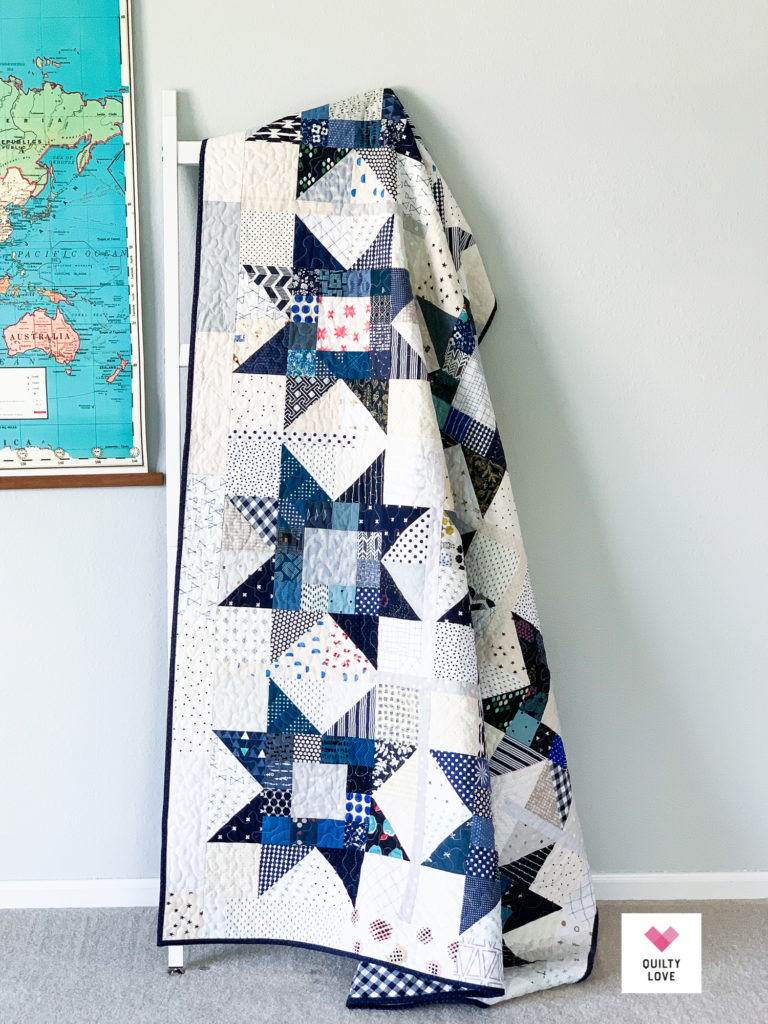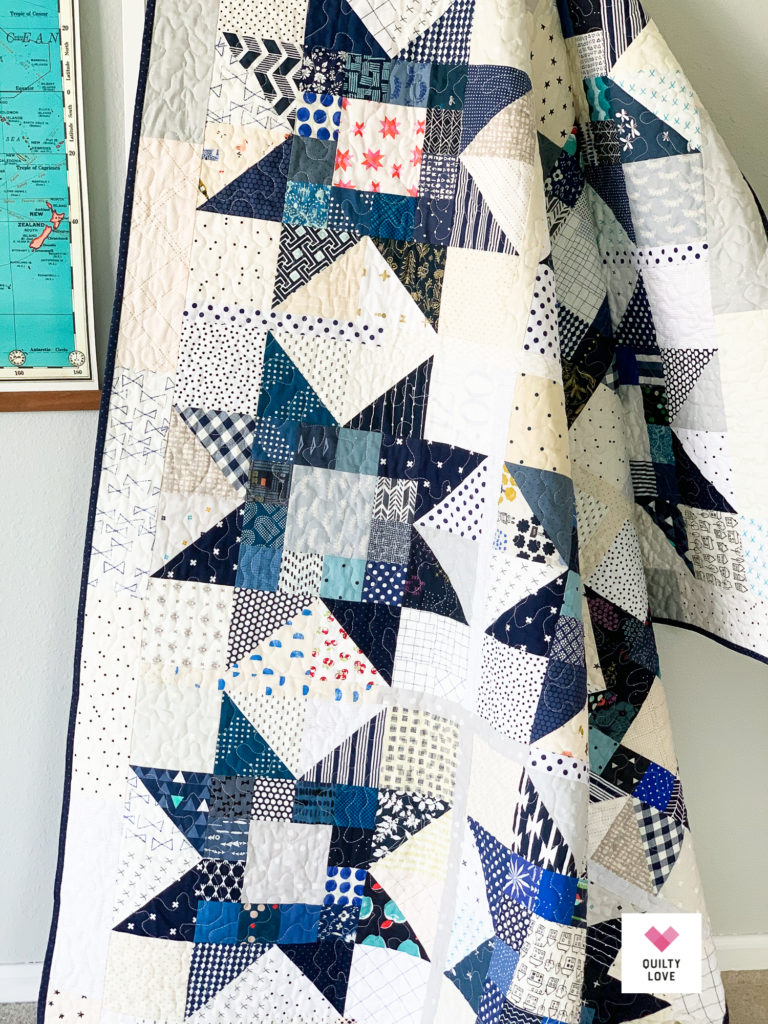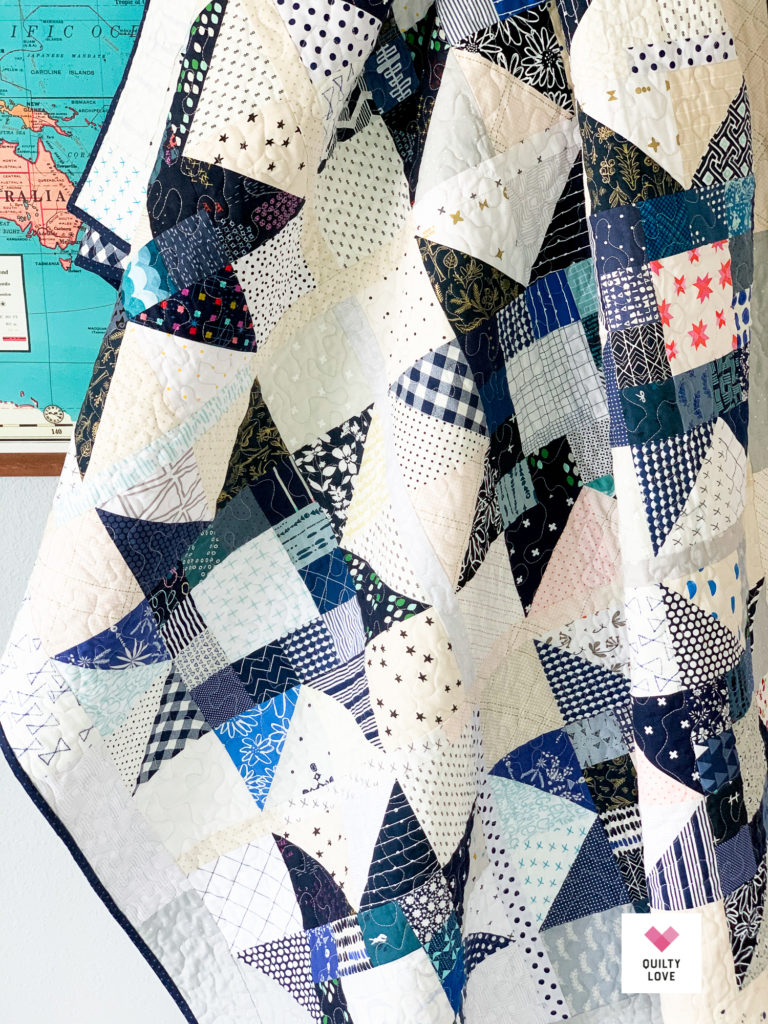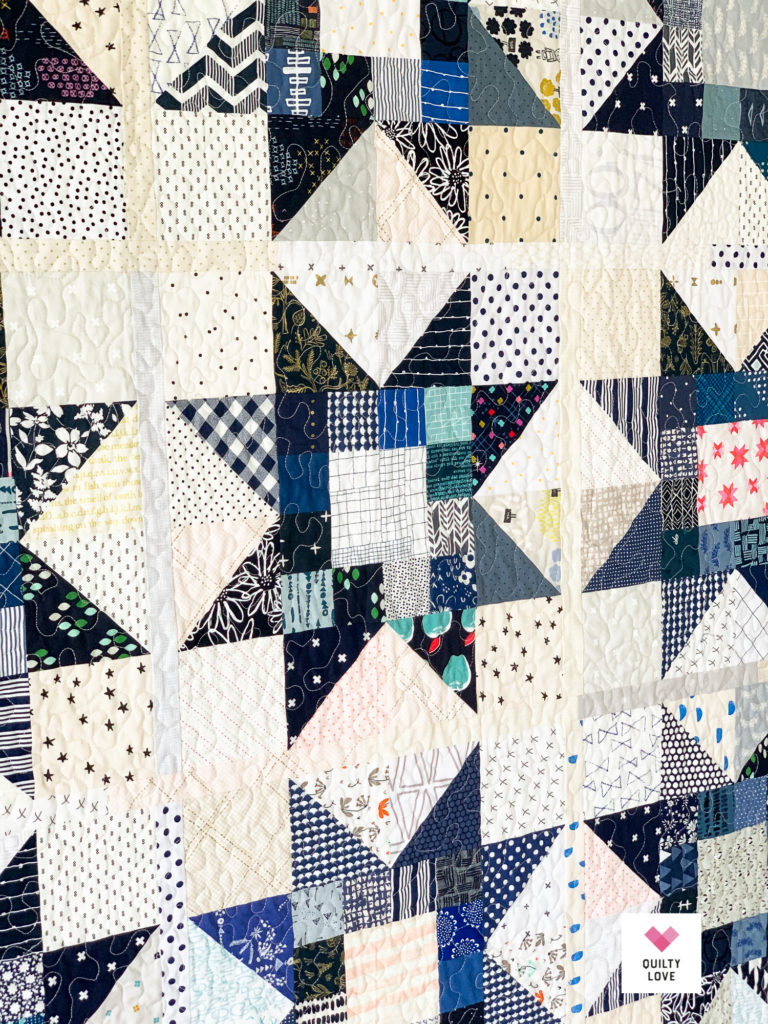 I made these sample blocks below in preparation for the quilt along. I really love this star quilt made up in one color but I'm tempted to use these blocks to make a multi color version.
You can make up your own Quilty Stars quilt using your scraps and the Quilty Stars quilt pattern.