Hand Pieced Hexie Quilt – the one that took over a year
Somehow my hand pieced hexie quilt hasn't made it up on the blog yet!   This quilt took just over a year to complete so it needs it's day in spotlight 😉
I started this quilt way back in January 2015.   I had never tried English paper piecing and I was loving all of the hexies I saw popping up on Pinterest and Instagram.   So I started without a plan and just started making hexies.   I used only scraps and sewed them together randomly.   The progress of this quilt is down below.
If you would like to make your own hexie quilt I recommend having a tiny bit of plan at least.   I ended up with a bunch of blobby pieces that were difficult to join.   So make flowers or squares all the same and then join those.
Measures:  55in x 65in
Total 1in hexies:  About 875
This quilt is the first and only quilt I've added borders to.   I added borders because I was soooo ready to be done with it so they are there to make the quilt bigger 😉  I had some yardage of this Riley Blake Gold swiss dots and thought it would make for the perfect border and backing 🙂
I have a few regrets with this quilt.   One is I used Warm and Plush batting which I'm not a big fan on.   I bought a roll of it though and since I had it on hand, I went ahead and used it.   It's just a higher loft than I like.   I am a big fan of Warm and White however.
Another regret is that my quilting lines are spaced too far apart.   I prefer these zig zag lines a little closer together.  It looks like I used the hexies as my guide though and went through every other seam line.   Should have run it back through between each line.  But yep, I was soooo ready to be done.   If you have been following along for a while you know I don't really have WIPs so I was pretty over this one after a year 😉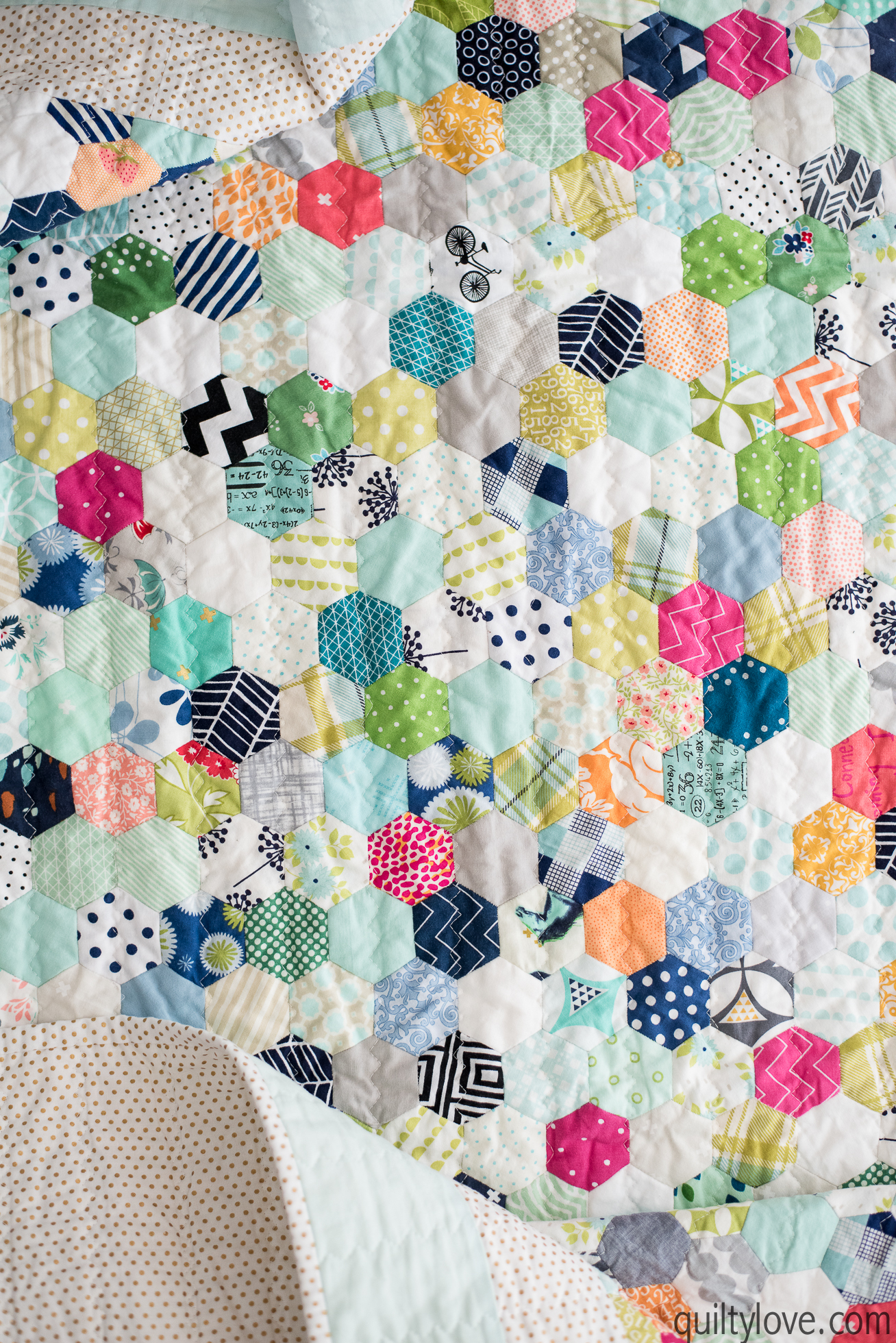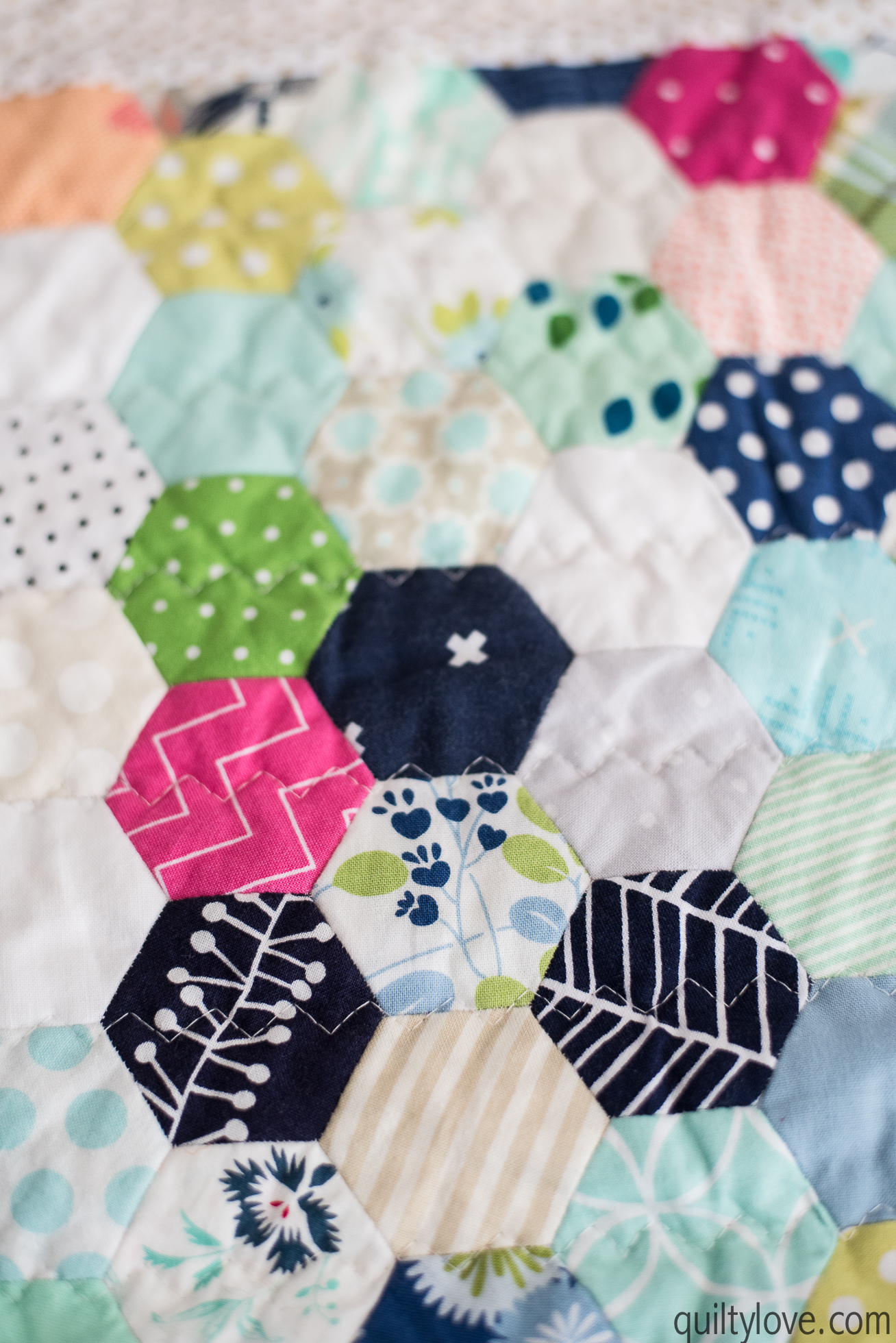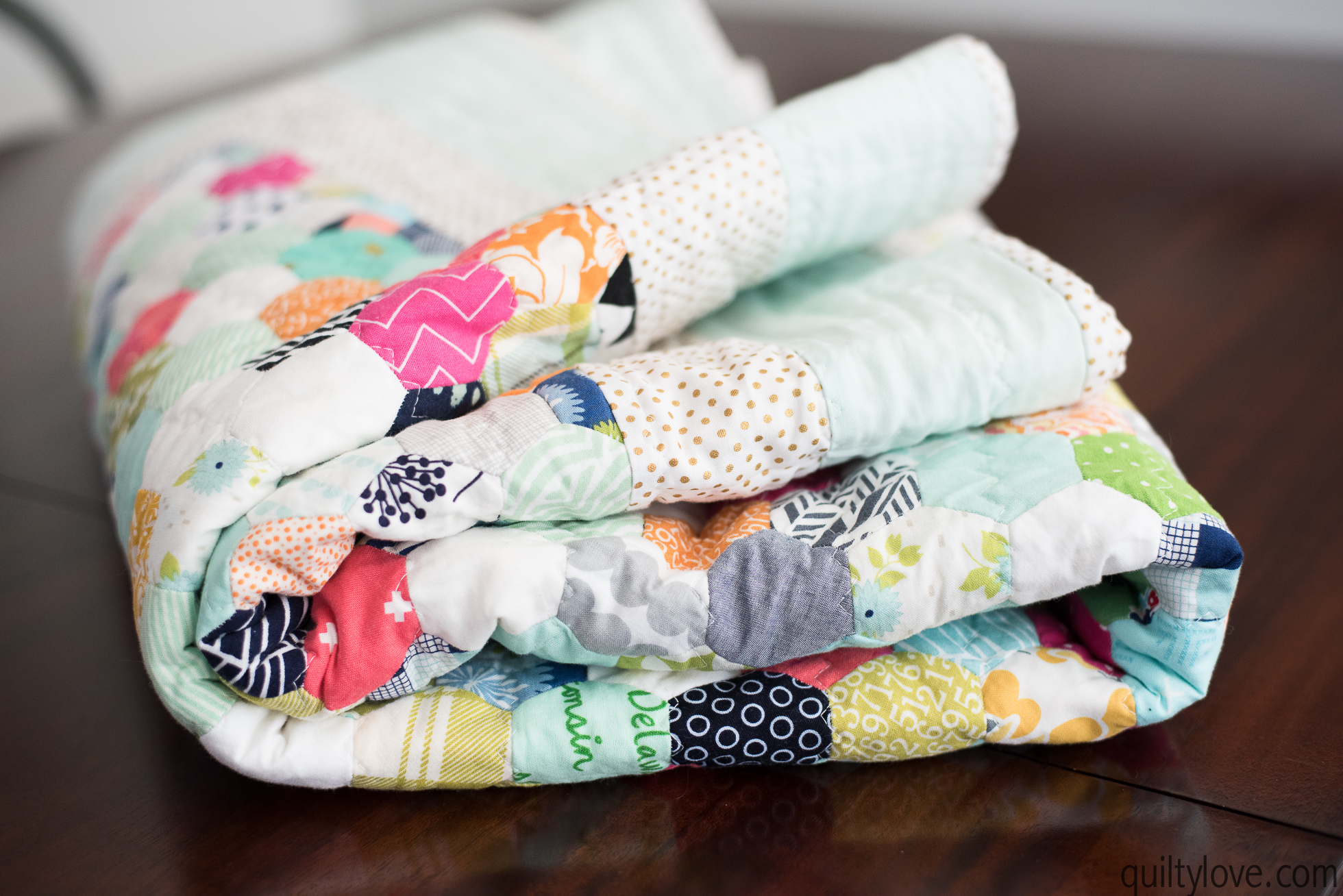 Favorite EPP Tools
I tried so many different needles and threads for this quilt.   I've settled on a few favorites!
My favorite thread is Superior Threads in Silver that I purchased on Amazon.  It's silky and smooth and doesn't tangle or break.   I had sooo much trouble with thread breaking using other brands.
My very favorite needles are this teeny tiny little #10 Tulip Needles.   I like small sharp needles because they just work so well.   I use these needles for binding also.   I purchased mine from Amazon.
The ThimblePads are actually a new additional.   I don't know how I went so long without them!  I hate thimbles and I would often use duct tape in the exact same way these little thimble pads work.
And of course every epp kit needs a nice (and cute) pair of snips.   A friend gave me these ones and I love them!
Progress Photos
Below is the progression of this quilt 🙂