How to Host a Quilt Along and Grow your Business
So here's a topic that you won't find much information about…. How to host a quilt along.  I know this because about a year ago I wanted to host a quilt along.   So I googled How to host a quilt along and there wasn't much to read.
I am now hosting my second quilt along and have learned a lot along the way.  Some really great unexpected things.  I'm writing this article to help any one else who might be thinking about hosting their own quilt along.
What is a quilt along
This is a valid question!  Unless you have been quilting for a while you may not even know what a quilt along is.
A quilt along is a group of quilters making the same quilt at the same time either virtually or in person.
Usually it's an event that has a host who is providing direction, community and a place for the quilters to gather.  I'll specifically be talking about virtual quilt alongs that are held online.
How to host a quilt along
Choose a pattern.  Choose a quilt pattern (your own or not) or quilt tutorial that everyone will follow.  I've seen plenty of specific purchased patterns used or free tutorials like the Scrappy Trip tutorial.
Choose a date and time span.  Decide how long the quilt along will last and choose a date to start.  I suggest planning at least 6-8 weeks in advance to give quilters time to commit and to give yourself time to promote it.
Write up a blog post article or an official Instagram post.  It's helpful to have one spot to send all interested participants to.  You can include all of the details in this post and links that are needed.  It's also a good place to answer questions that frequently come up.
Have participants RSVP.  Not only does this help participants feel more committed, it now gives you a way to communicate directly with them.  Plus, when you have a sign up like this you know how many people are participating!  Use your e-mail list as a place to RSVP or use a free form builder found online.  You just need a way to gather e-mail addresses.
Promote your quilt along.  Promote your quilt along by sharing it on social media, e-mailing your list and pinning out some good quality images.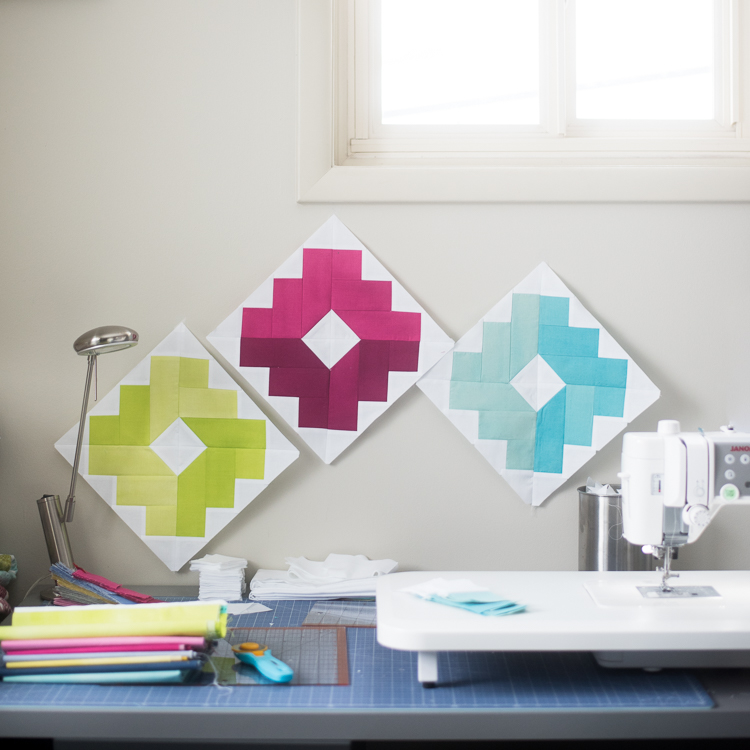 What to do when the quilt along starts
Post a weekly blog post.  Participants will appreciate a prompt and timely blog post every week.  Schedule it out ahead of time so it posts at 8:00am every Monday morning for example.
Send a weekly e-mail.  Coordinate this e-mail to go out just after the blog post goes live.  Sending out an e-mail is helpful so the participants don't have to go looking for the next prompt.
Post weekly to Instagram.  Don't forget to post and stay engaged on Instagram throughout the entire quilt along.  Choose an official quilt along hashtag and encourage the participants to follow it and engage with other participants.
Prizes and giveaways
No need to go crazy with giveaways and prizes.  Anything works here.  Whether you do a weekly prize or a grand prize at the end, most quilters are there for the community over the prizes.
Reach out to quilty friends who might want to donate a prize.  Gather some small fabric bundles from your own stash.
Find a Long Arm quilter to sponsor your quilt along.  A lot of long arm quilters are willing to provide a small discount to the participants who send in their quilt along quilts for quilting.  (That was a lot of quilts and quilting in one sentence..lol)
Benefits of hosting a quilt along
I was surprised by the fun benefits that came from hosting my first quilt along.  Not only does hosting a quilt along grow your audience and expand your reach it also brings in additional pattern sales.
My first quilt along was the Ombre Gems quilt along.  I hosted this quilt along because I wanted to help people navigate through this pattern.  I was afraid it was too complex to understand 😉   Turns out that was not the case at all but it sure was fun sewing along with everyone else.
Ombre Gems had about 300 participants by the time it ended and grew my audience and prompted a lot of pattern sales.
The benefits of hosting a quilt along continue on past the quilt along.  A quilt along provides a lot of exposure to the quilt pattern since so many people are making and sharing and linking to you.
How to grow your quilting business by hosting a quilt along
There is so much more to learn about  how to host a quilt along.  Quilt alongs are a powerful and effective way to grow your quilting business.  I've been amazed at the results they have provided.
My current City Tiles Quilt Along has grown my list by about 1000 and my Instagram following by several hundreds.
I have a new e-book for those of you really wanting to dive in deep with quilt alongs.  Implement just a few easy strategies for a seamless, profitable and successful quilt along.
I share all of my tips and tricks from my own quilts alongs in this class How to Host a Quilt along.
How to Host a Quilt Along covers:
The benefits of hosting a quilt along
How to generate sales
How to grow your e-mail list significantly along with your social media following
How to promote your quilt along
What to do during the quilt along
What key things to do once it ends
How to host a Quilt Along