Introducing The City Tiles Quilt Pattern
Today's post is all about my newest quilt pattern, The City Tiles Quilt.   I'm excited to share this fun and modern quilt pattern with you all.  The City Tiles quilt is super versatile and full of design options to customize and make your own.
This quilt has been such a fun one to design.   It started as a quilt block for Whimsy Quilts Indigo Tiled Club.  I evolved it into a full quilt pattern with a few different options.   I included the original 12 inch block and also an 18 inch block.
This cotton and steel version is the 18 inch block option.  This quilt is one of my new favorites around here.  The Yarn Dyed Essex Linen, the plush batting and the generous size all make it the one I grab first.
Pull out your favorite fabrics for this one!   It showcases them beautifully and each block requires a minimal amount of patterned fabric.   Go with similar patterned outlines or stick with a solid color.   I went with a variety of navy cotton and steel outlines on this version.  Most of the fabrics are from their new Bluebird line with a few others mixed in.
The quilting is my favorite zig zag.   Super easy and gives such a beautiful crinkle.  Find the zig zag walking foot quilting tutorial here.
I've realized I really love subtle backings especially when the front has a lot going on.   I chose this fun bowtie pattern from the Cotton and Steel Bluebird line.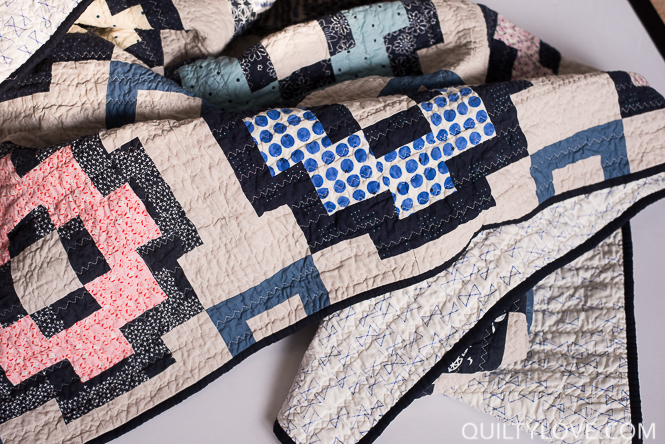 At 72inch x 72inch this quilt is a very generous throw.   Add rows to make it a bigger bed quilt or make less rows for a smaller quilt.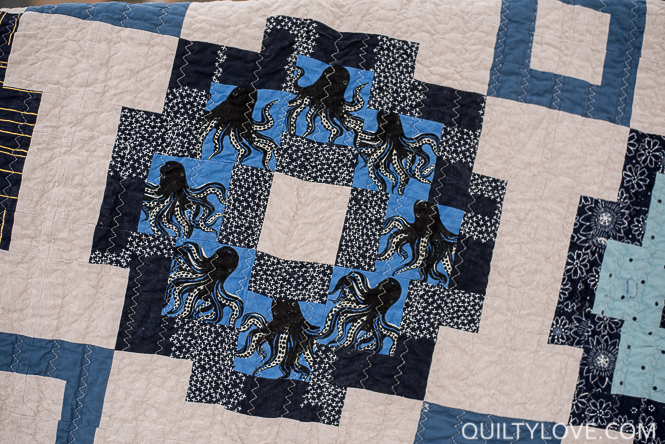 A coloring page is included in the pattern so you can plan out your design before you get started.
You can purchase your copy now in the shop.
I'll blog the 12inch vintage Picnic version after I get it quilted up 🙂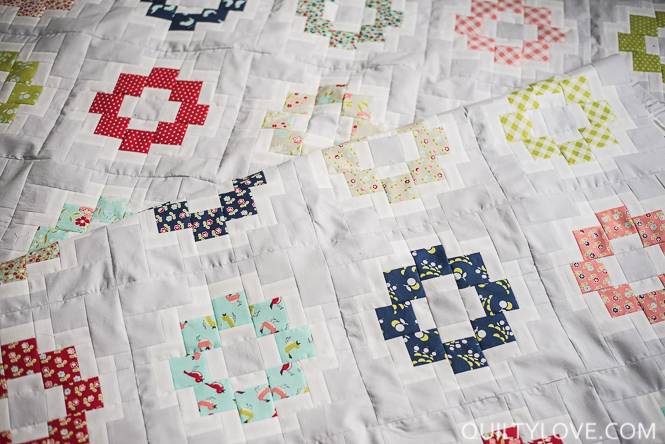 Materials Used:
Prints:  Assorted Cotton and Steel
Background:  Essex Linen in Flax
Backing:  Cotton and Steel Bluebird bowties
Batting:  Warm and Plush