Crossroads – The kona cotton solids one
I'm excited to share this bright and colorful Kona Cotton Solids Crossroads quilt today!
Crossroads is in the Quilty Love pattern shop here.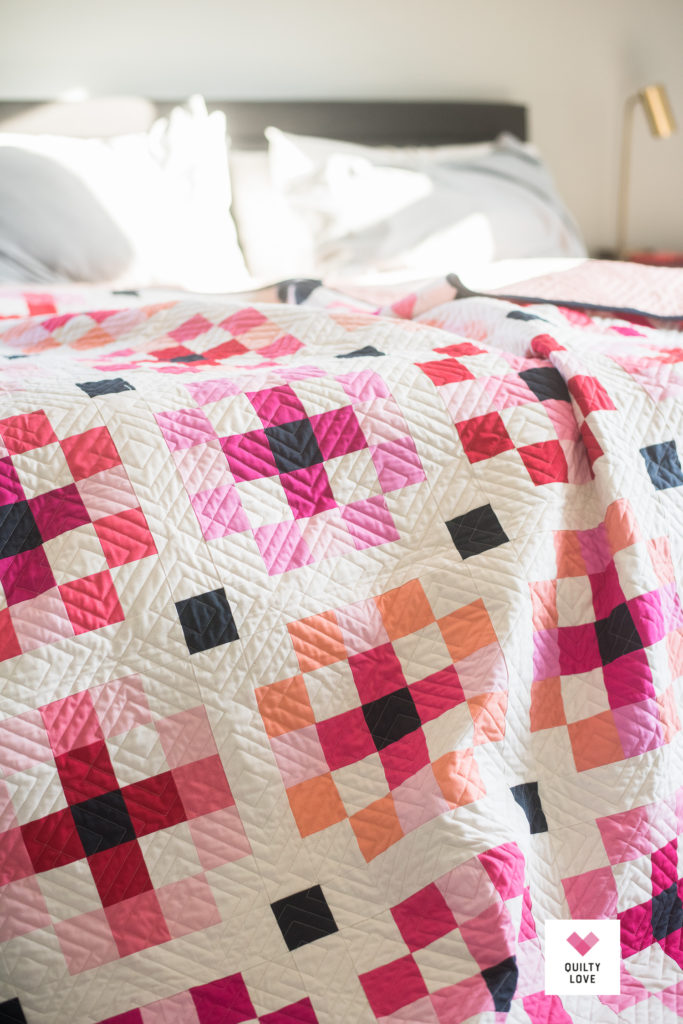 Kona Cotton 2021 Desk Calendar
Robert Kaufman is releasing their second annual Kona Cotton Calendar with each month featuring a different colorway from their popular solids fabric line.
This years Kona Calendar is a desk calendar rather than a wall calendar and each month features three different quilts made in that month's colorway. Two of the quilts are free quilt patterns and the third is a featured quilt by various quilt designers.
You can find a Kona Calendar in the Fat Quarter Shop.
My Crossroads quilt is the designer quilt featured in January!
January is all about those gorgeous pink and red Kona cotton solids. I immediately chose this colorway because I love working with pink and red fabrics.
I used most of the colors featured in January for a nice monochromatic color gradient. You can find the exact Kona colors I used in Crossroads on the swatches below.
Kona Cotton Solids used
Peony, Brt Pink, Melon, Camellia, Salmon, Coral, Peach, med Pink, Azalea, Pomegranate, Bubble Gum, Red, Creamsicle, Candy Pink, Punch, Baby Pink, Primrose, Valentine, Pink, Watermelon, Dusty Peach
Background: Natural, Binding and accent: Pepper, Backing: Peach
Fat quarter friendly quilt pattern
Isn't that a gorgeous gradient of color!! I almost didn't want to cut it up since it looked so pretty all stacked up like this. Since I used way more fat quarters than the pattern requires, I just cut strips from each one until I had enough strips. The pattern gives you a total number of strips so it was easy to convert.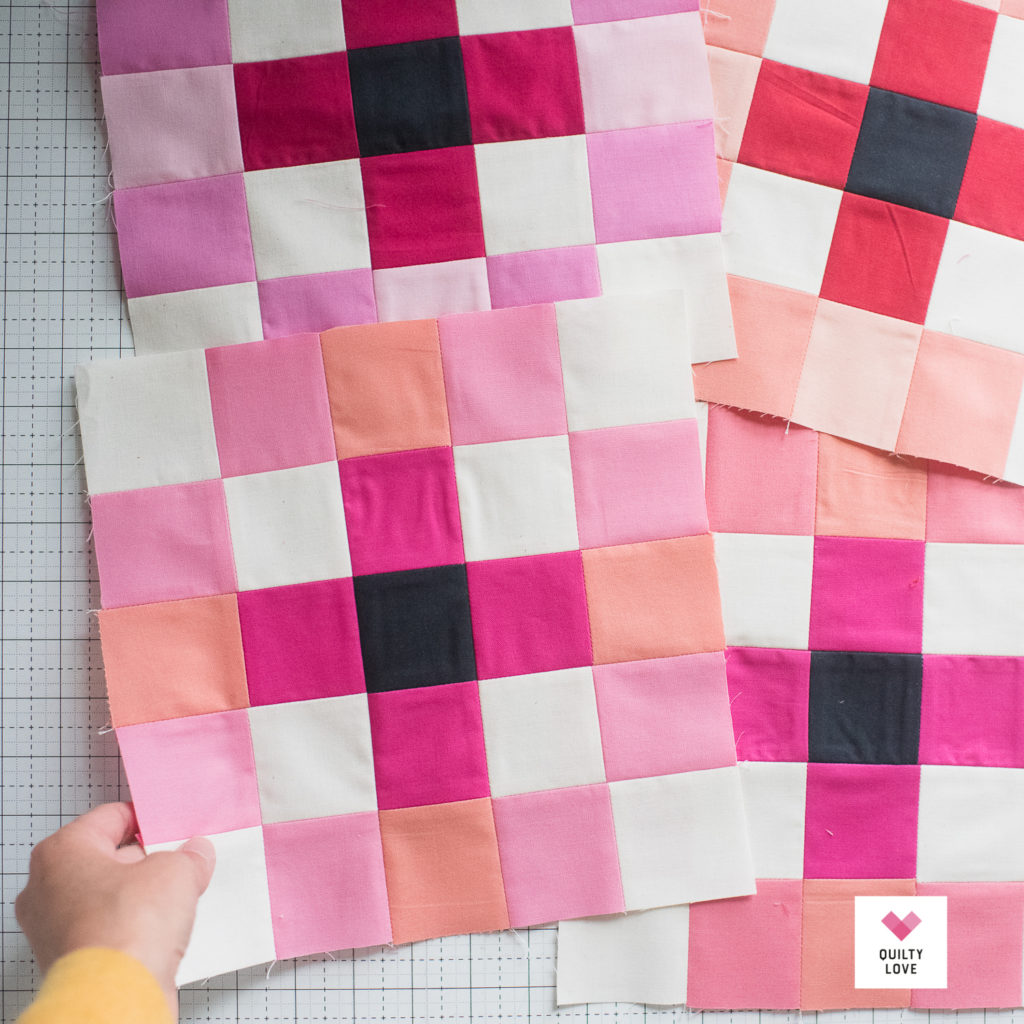 These Crossroads quilt blocks ended up being so colorful and vibrant with these solids. I used Kona Cotton Pepper as the accent color in this quilt. The near black color really helps give your eye a place to land as you view this brightly colored quilt.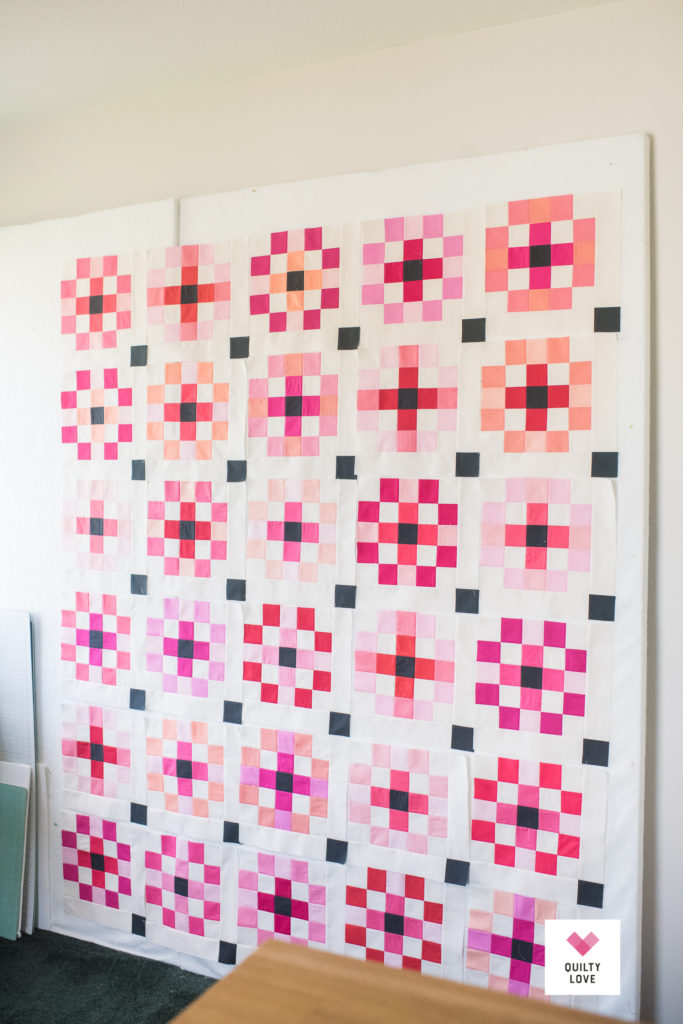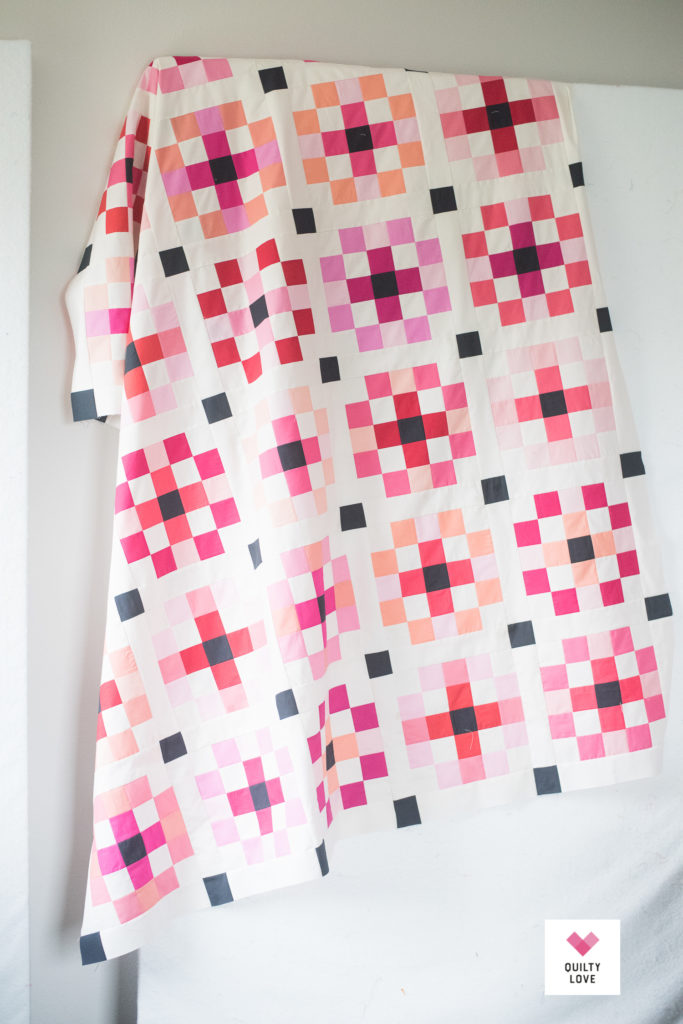 Kona Cotton Solids Crossroads quilt
It's been a while since I've made a Crossroads quilt so this was a fun one to revisit. The quilt blocks in this quilt are a little smaller which I kind of love in quilts! They take a little more time but don't worry, most of this quilt is strip pieced for quicker construction.
I like to place my bolder colors as the center plus in this quilt so they stand out but the blocks look interesting with any sort of color placement. Some of my blocks end up looking darker than others and I like the visual interest it all adds.
This Kona Cotton Solids Crossroads is pieced on my Janome MC6700p.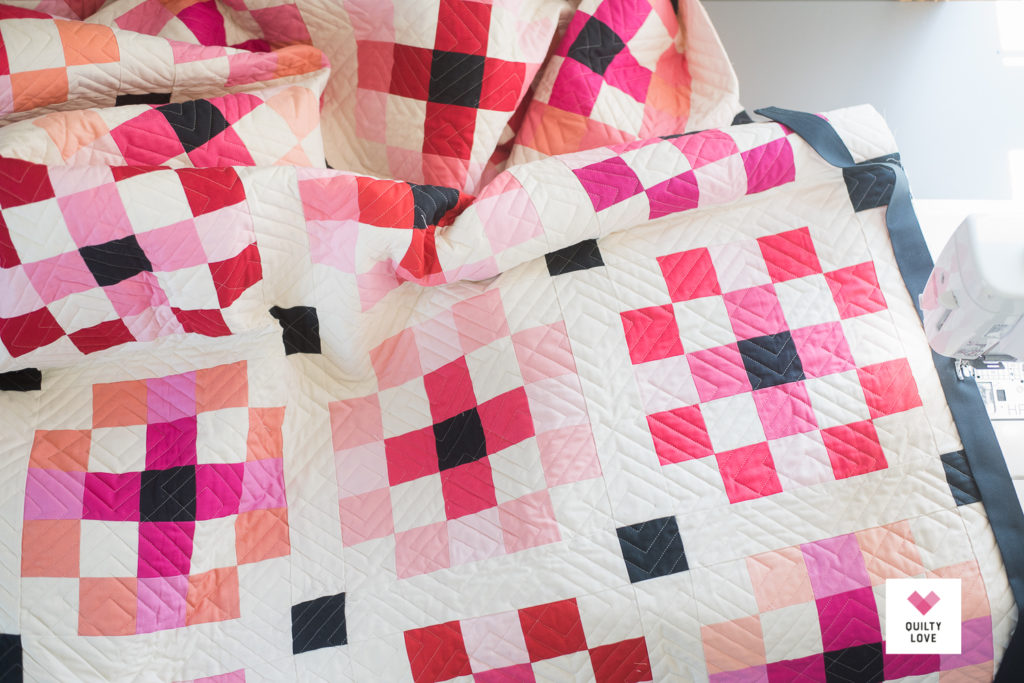 Geometric long arm quilting
I sent this quilt off to Kait of Knot and Thread for some really pretty geometric long arm quilting. I often have her pick something and surprise me since she is so good at pairing quilting designs with the quilt.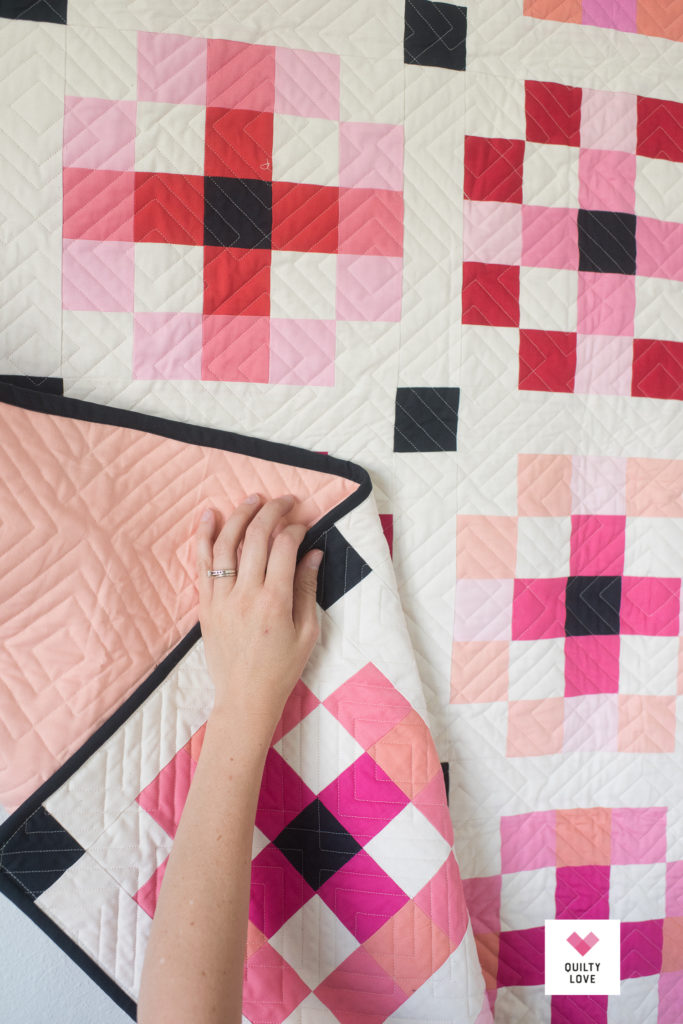 Quilt backing and binding
Crossroads is finished off with a solid peach backing and more pepper binding. Kona pepper is my new favorite black solid. It's reads more charcoal than black and is so pretty.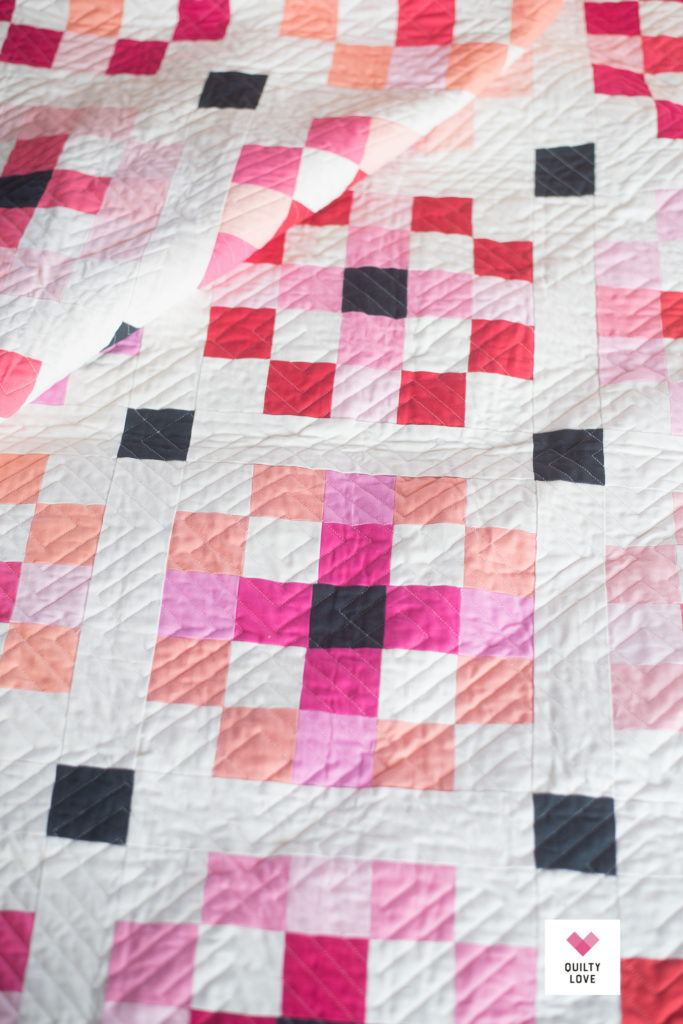 Of course the little miss jumped in some of these quilt photos. It's not as easy including her these days as she is so fast and busy..haha.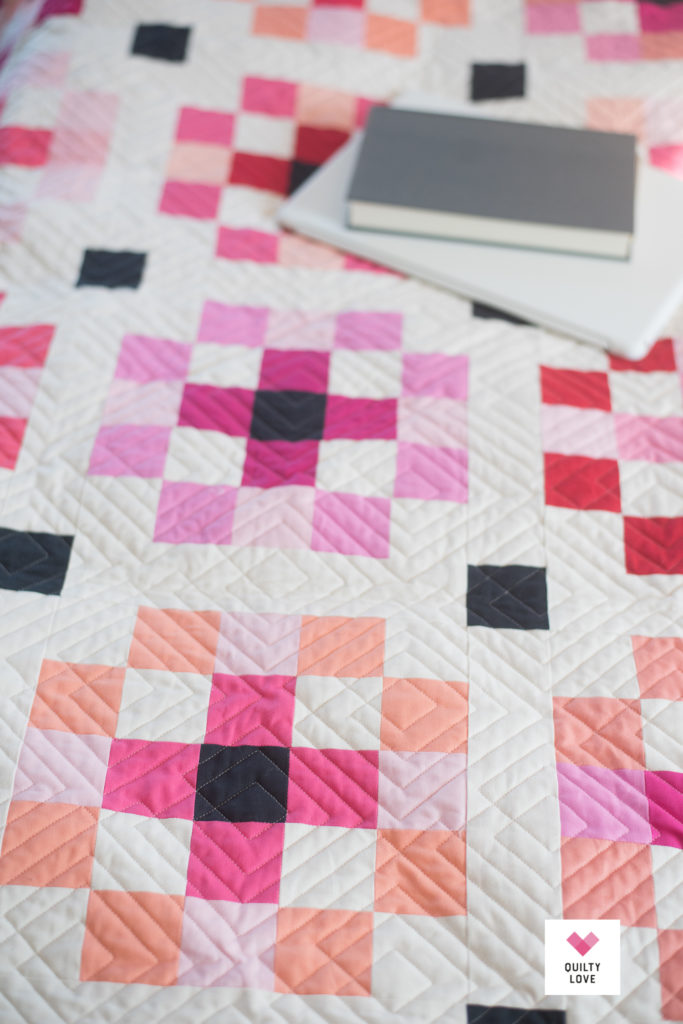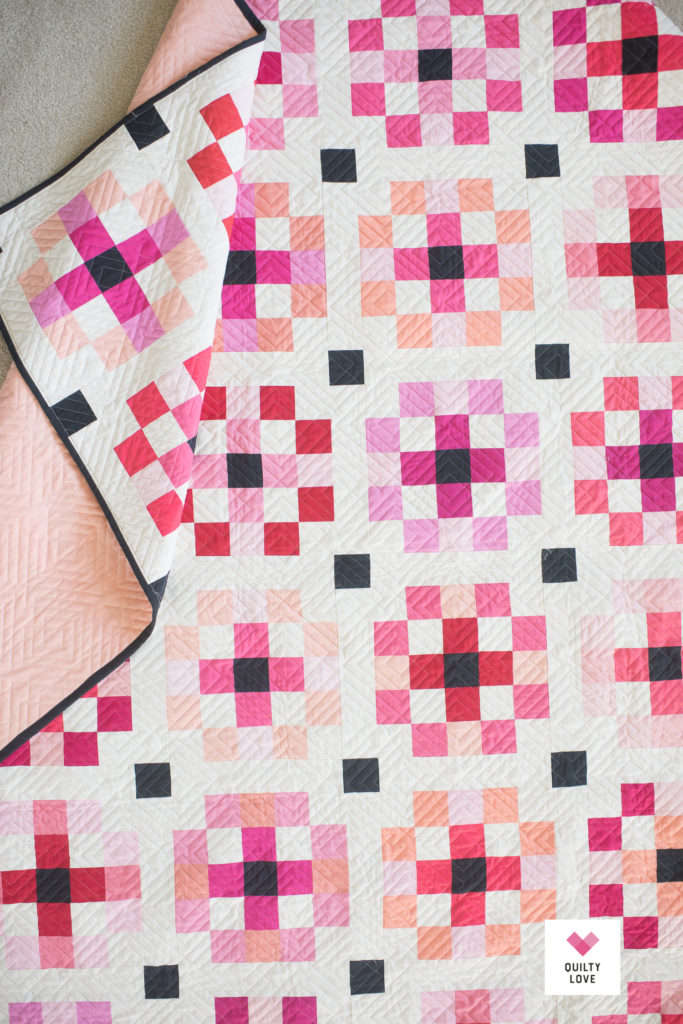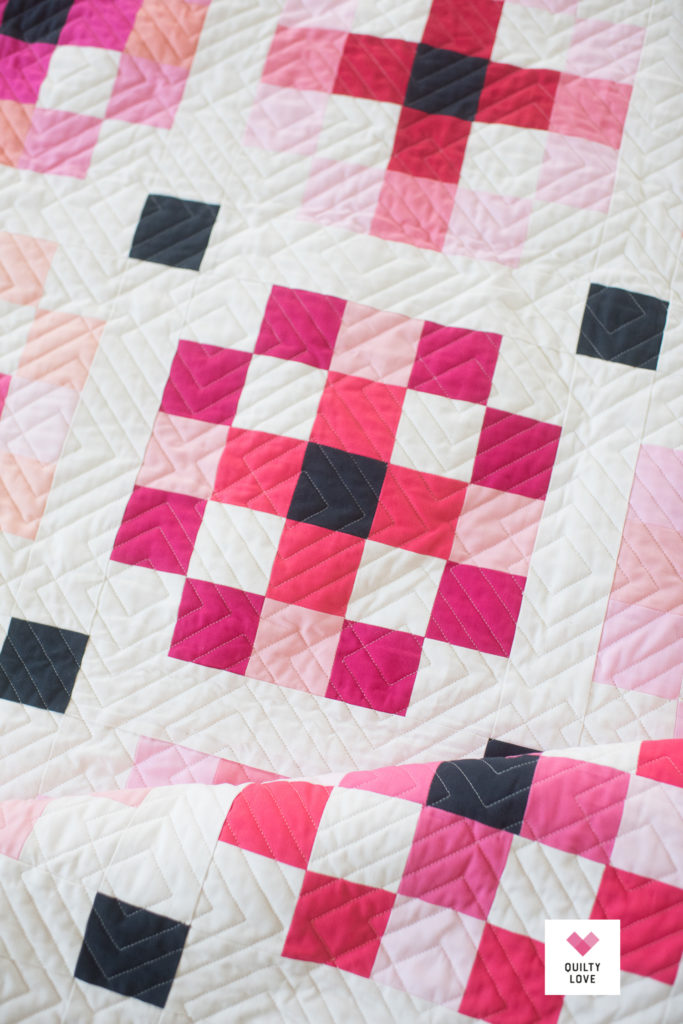 Here she is again…haha. With her Gatorade bottle sippy and her dad's socks on. This age is the best!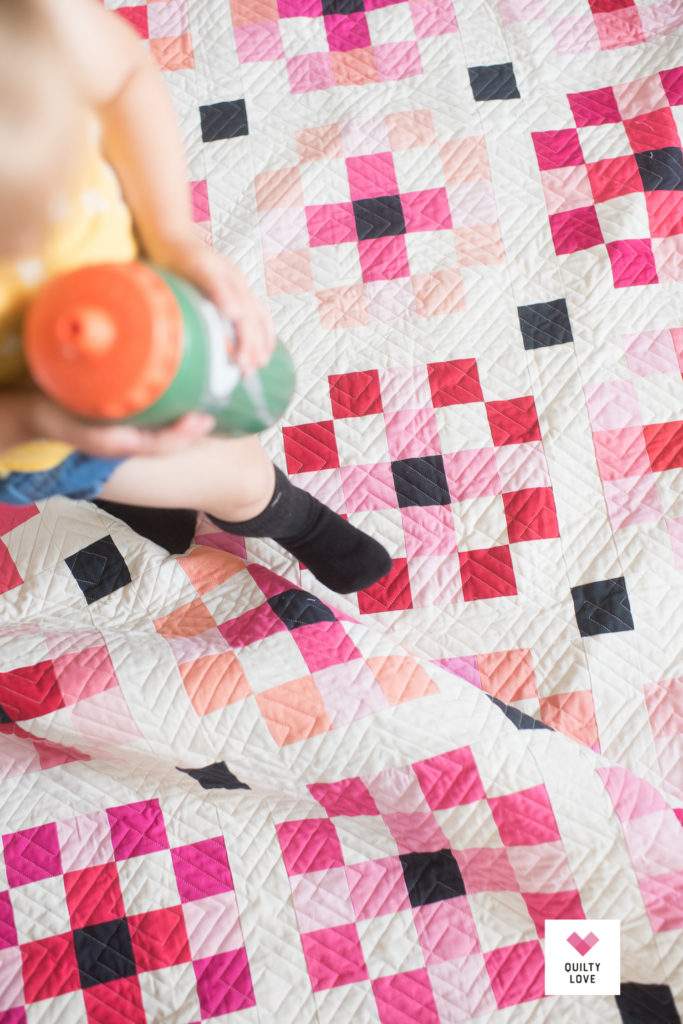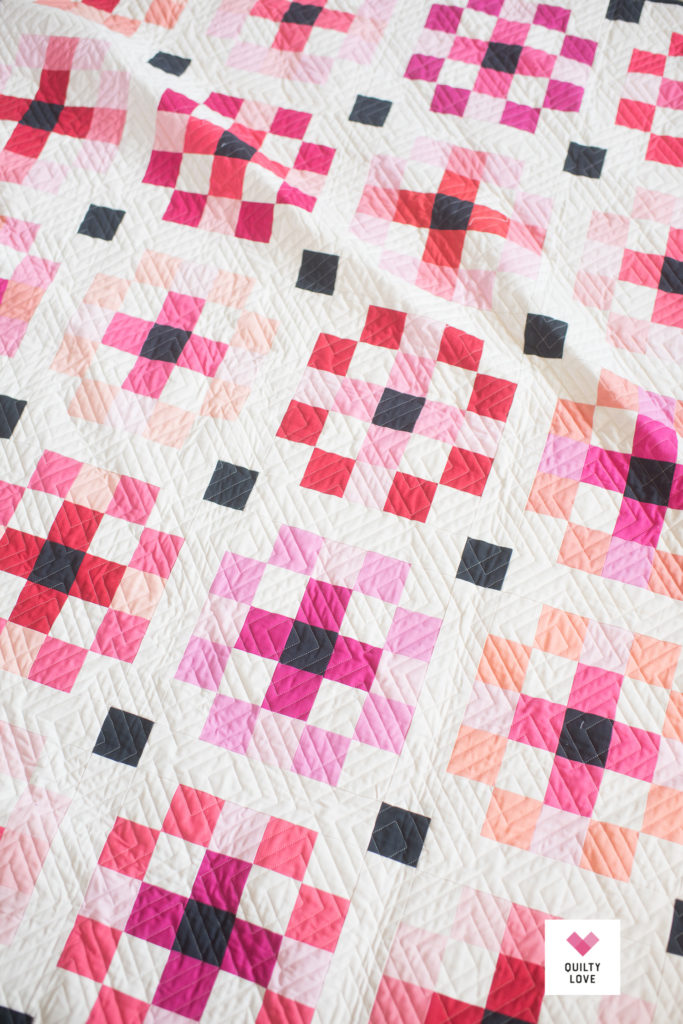 Kona cotton natural background
I need to tell you about this background fabric! My go to background is Kona Cotton Snow because it's a nice creamy white.
But this background is Kona natural. It's the most beautiful cream colored fabric with some natural texture in it. It has little flecks of natural color in it which just adds some extra texture. It may be a new favorite!
You can see some of the natural flecks in the close up below. This was the first time using Kona Natural but it won't be the last!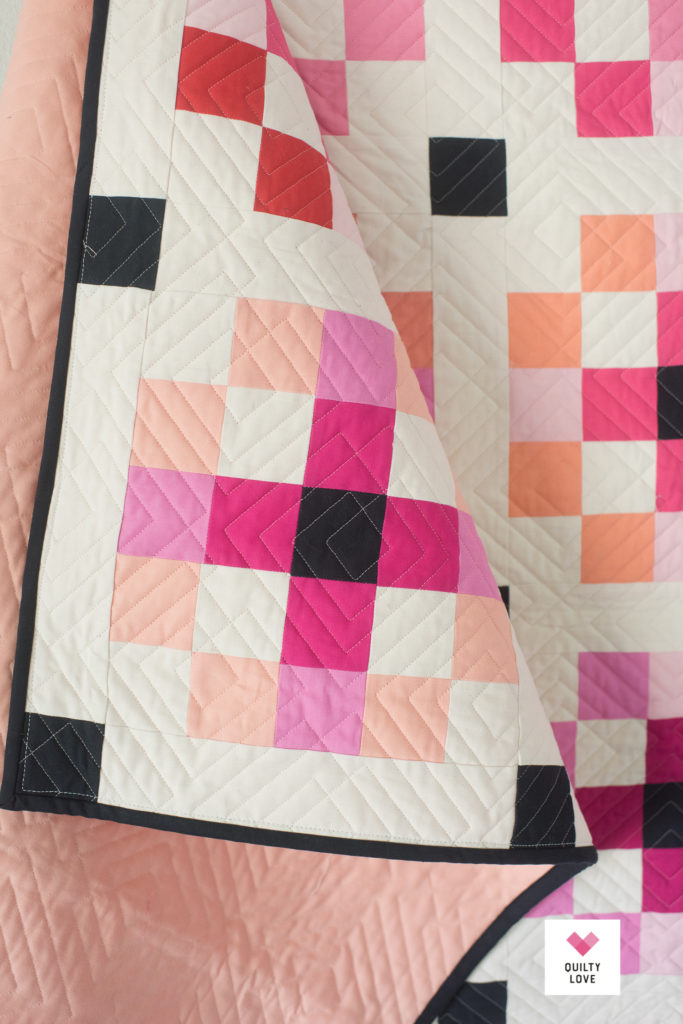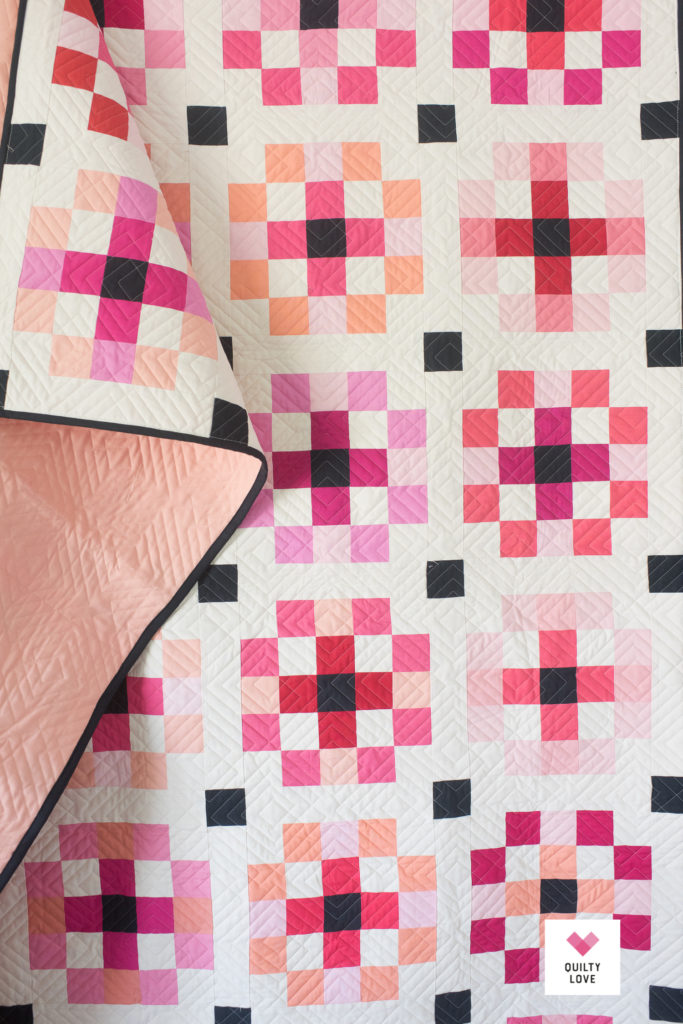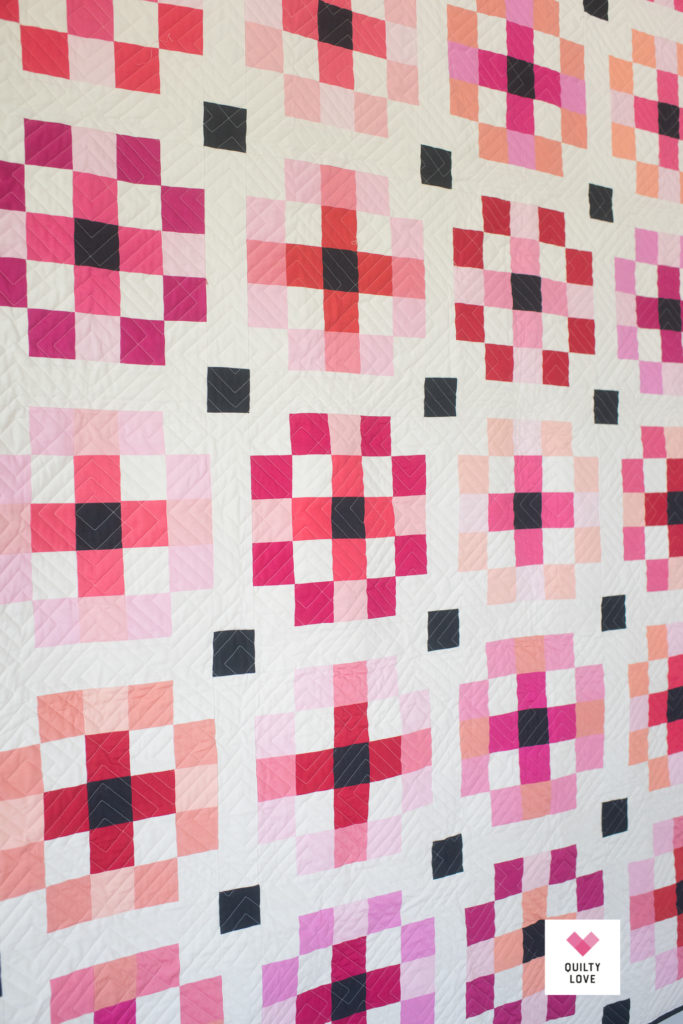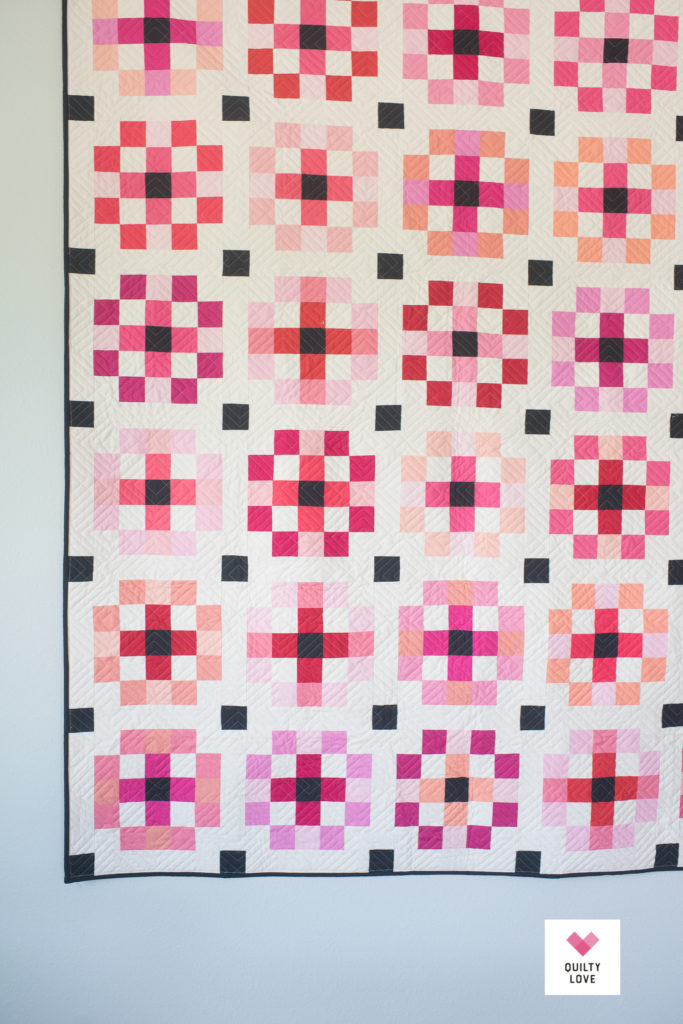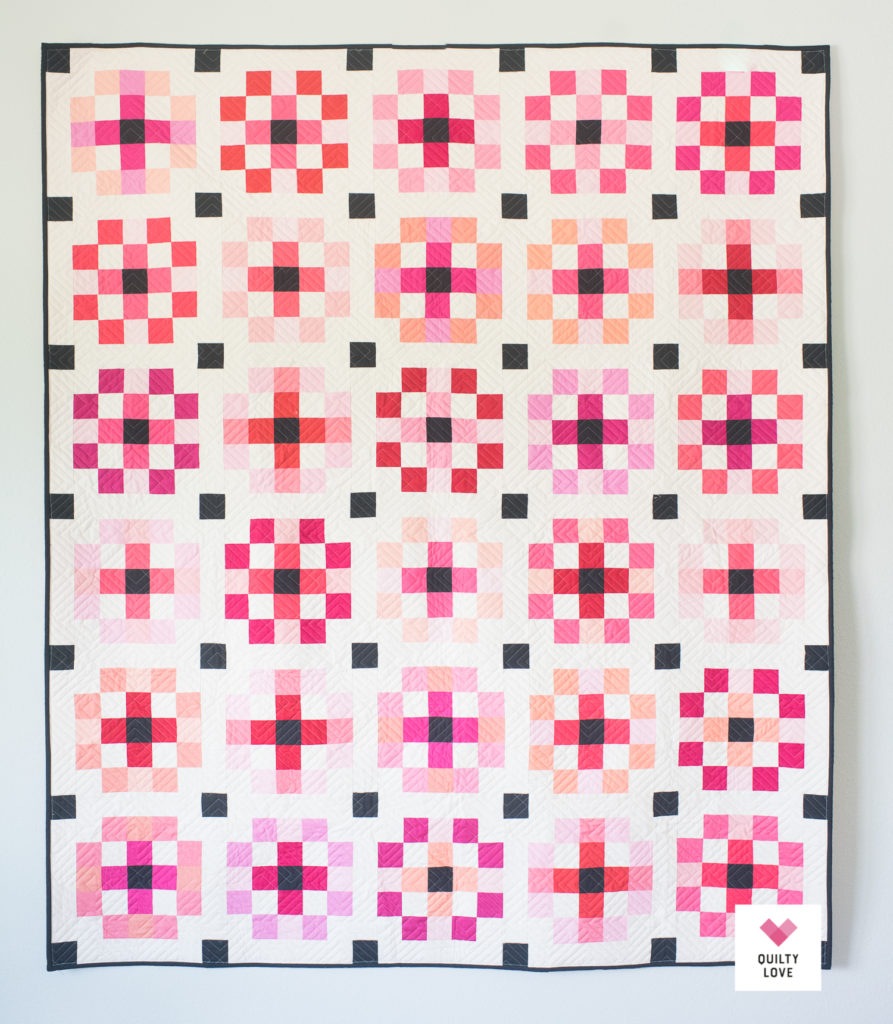 This is the first quilt photo on the new fence! (It's the Slipfence from Home Depot) I'm sure you will be seeing it quite a bit in the future..haha.
Grab your copy of Crossroads in the Quilty Love pattern shop:
PDF automatic download
Paper pattern
Supplies:
Kona Cotton Solids (Individually listed in the post)
Backing: Kona Cotton Peach
Binding: Kona Cotton Pepper
Background: Kona Cotton Natural