Ombre Gems Quilt Along – Week Seven
Welcome to week seven of the Ombre Gems quilt along!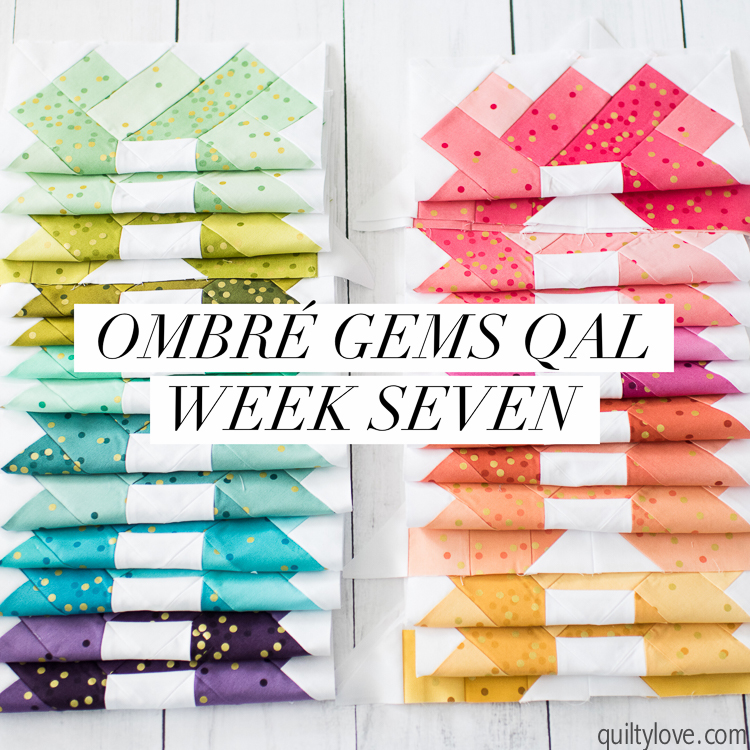 It's a catch up week for the Ombre Gems quilt along!  There are a ton of blocks in this quilt so I thought a catch up week might be a good idea for those of you falling a little behind.
If you are on schedule and have all of your blocks done up to this point… first of all.. nicely done!!  You can take this week week to trim all of your blocks if you haven't already.  Or feel free to keep cruising along so you have a completed quilt top at the end of the quilt along 🙂
The Quilt Along
Materials needed:
Ombre Gems Quilt Pattern
Ombre fabrics– The quilt along will use all 20 colors! (or feel free to use any other fabrics)
How to Participate: The quilt along takes place on Instagram using the hashtag: #ombregemsquiltalong
Include the hashtag in your captions so we can all see your posts. Browse the hashtag to see what everyone else is up to!
Stay up to date: An e-mail will show up in your inbox on Monday morning with the weeks prompts. A blog post will also go up on Monday morning. There may be a few extra videos and tips and tricks in the e-mails so be sure to be signed up! (Sign up here)
Grab the pattern: If you don't have the pattern already, grab your copy in the shop or below.
Fabrics are being restocked!  If you missed out last time since these fabrics sold like hotcakes they are available again!  Get them while you can.
Half yard bundle – Catching Stitches
Fat quarter bundle – Catching Stitches
---
Week Seven
Large throw: Catch up week!
Small throw: Catch up week!
---
Aren't these blocks just getting so colorful and fun!!??
---
Quilting
I want to remind you that Kaitlyn of Knot and Thread Design is offering 20% off of the quilting on all Ombre Gems quilt tops 🙂 I use Kaitlyn for all of my quilting and I highly recommend her.
Also, one lucky winner will receive free quilting from Kaityln on their Ombre Gems quilt! The winner will be drawn in a few weeks.
---
Official Ombre Gems Quilt Along post
Week One – Cutting and Prep
Week Two – Make Magenta, Hot Pink and Popsicle Pink
Week Three – Make Persimmon, Coral and Honey
Week Four – Make Mustard, Mint and Lime
Week Five – Make Avocado, Teal and Lagoon
Week Six – Make Turquoise and Aubergine
Week Seven – Catch up week
Week Eight
Week Nine
Week Ten