Ombre Gems Quilt Along Week Three
Welcome to week three of the Ombre Gems quilt along!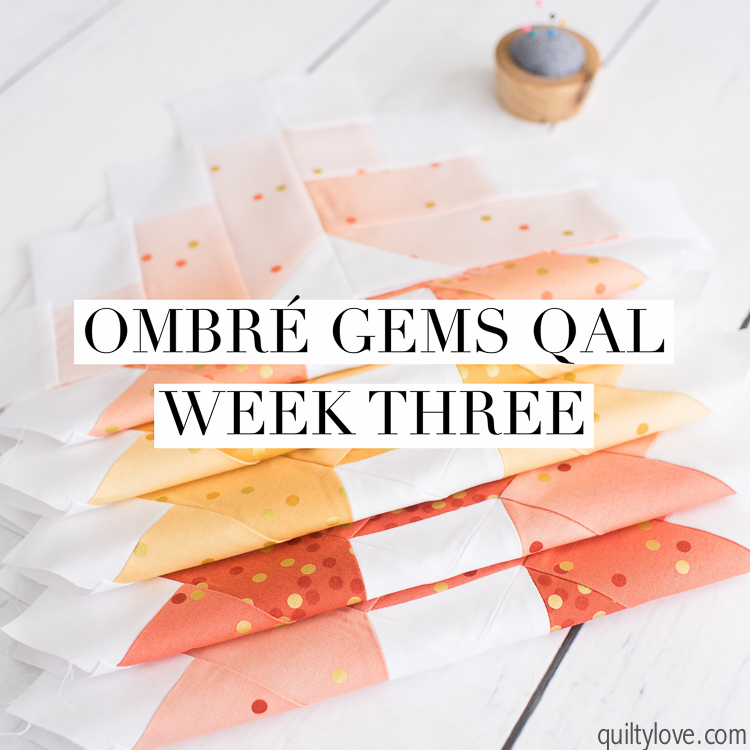 There are already so many pretty blocks showing up on Instagram!  I love seeing everyone's progress!
The Quilt Along
Materials needed:
Ombre Gems Quilt Pattern
Ombre fabrics– The quilt along will use all 20 colors! (or feel free to use any other fabrics)
Additional supplies that are helpful:
Stripology Ruler
Starch…lots of starch
How to Participate: The quilt along takes place on Instagram using the hashtag: #ombregemsquiltalong
Include the hashtag in your captions so we can all see your posts. Browse the hashtag to see what everyone else is up to!
Stay up to date: An e-mail will show up in your inbox on Monday morning with the weeks prompts. A blog post will also go up on Monday morning. There may be a few extra videos and tips and tricks in the e-mails so be sure to be signed up! (Sign up here)
Grab the pattern: If you don't have the pattern already, grab your copy in the shop or below.
Gather the fabrics
You can use either yardage of each color or a fat quarter of each color. Jelly roll strips work also but you might consider trimming them to 2.5in wide for better accuracy.
Find your fabrics:
Regular Ombres– Handmade is Heartmade
Confetti Ombres – Fat quarter bundle – Simply Love Fabrics
Confetti Ombres – Half yard bundle – Cates Sew Modern
---
Week Three
Large throw: Make six blocks for the week according to the schedule.
Small throw: Make 2 blocks each week.
---
This week we are making Persimmon, Coral and Honey blocks.
Chain piecing
These blocks have a lot of seams but chain piecing will help them go together faster.  I tend to chain piece all of the weeks blocks at once.
I start by adding the background squares to all of the Ombre pieces.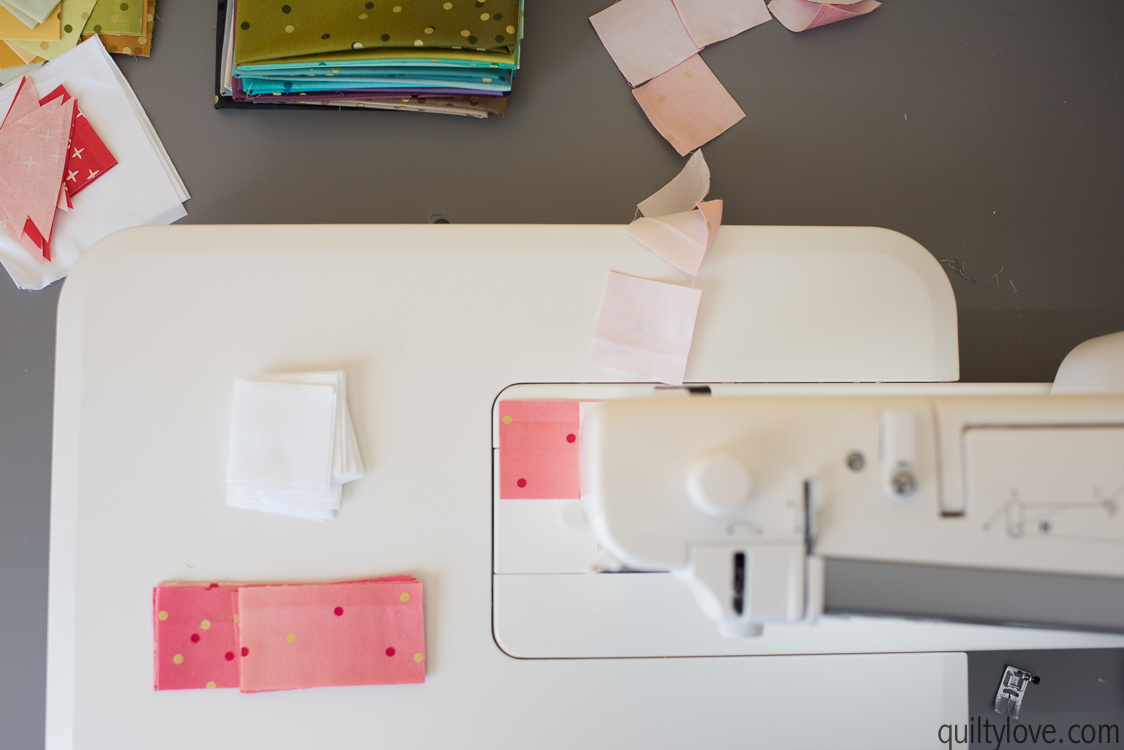 Press them open.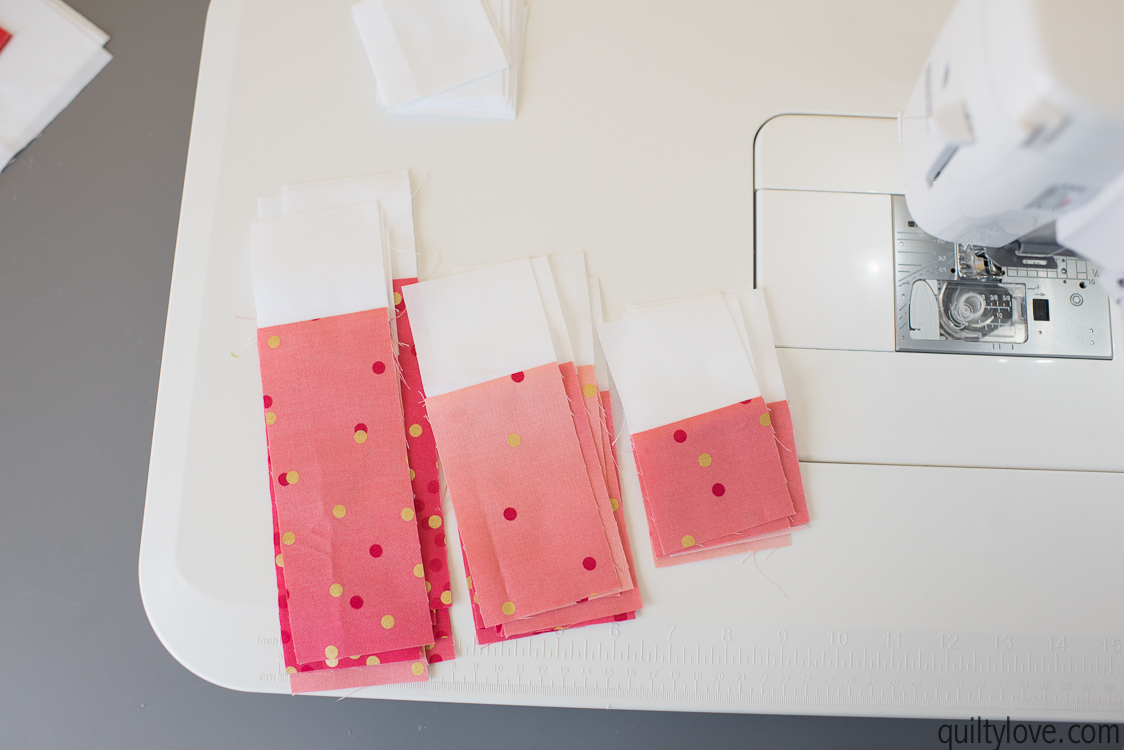 Arrange your quadrants until you like the gradients.  Then I'll just run these through my machine.  It's a little harder to chain piece at this point since the pieces don't all line up.
I'll make a quadrant at a time and even though they aren't being chain pieced they go together pretty quickly.  Don't forget to add that last background square and the center to the quadrant.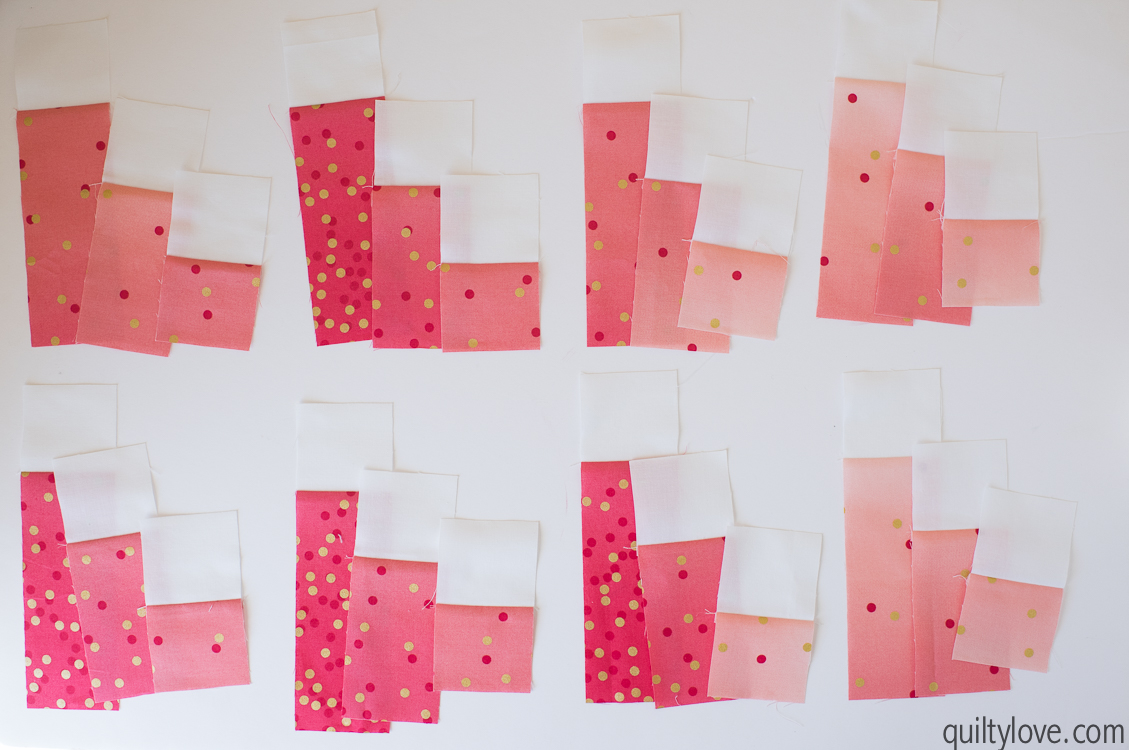 I find my blocks go together pretty quickly when I follow this process.
I'm looking forward to more colorful blocks popping up this week!  These blocks are so much fun to photograph so I'm including a few more pics of my blocks so far.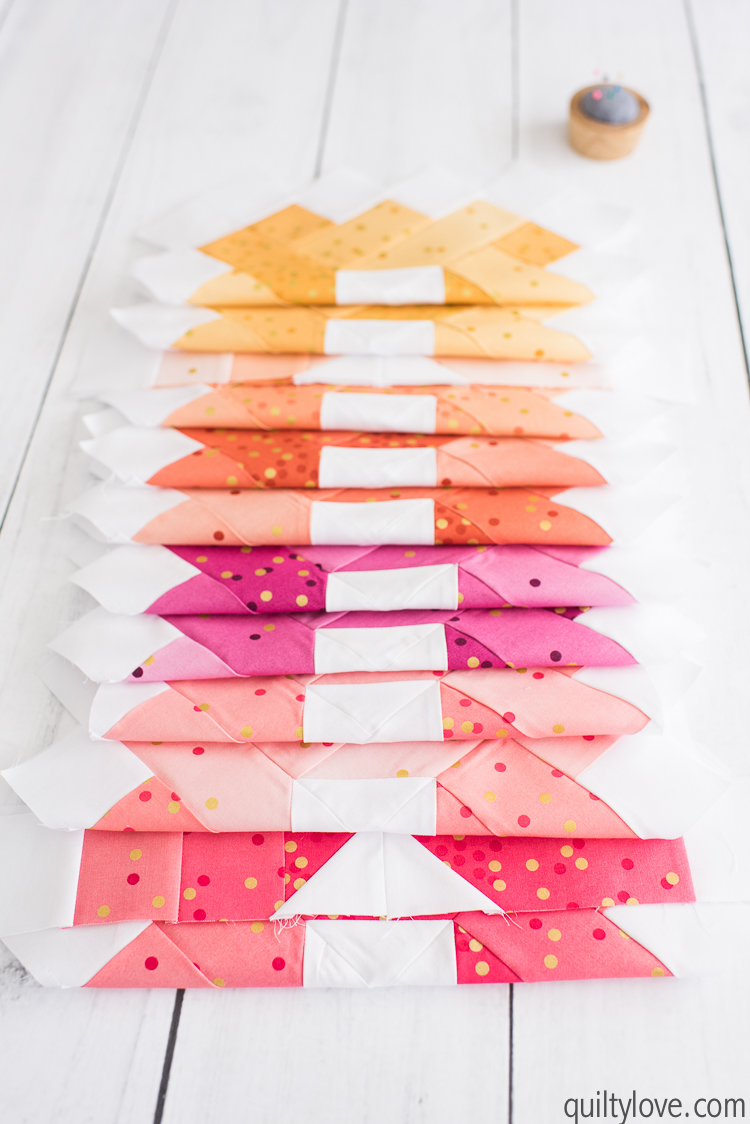 Official Ombre Gems Quilt Along post
Week One – Cutting and Prep
Week Two – Make Magenta, Hot Pink and Popsicle Pink
Week Three – Make Persimmon, Coral and Honey
Week Four
Week Five
Week Six
Week Seven
Week Eight
Week Nine
Week Ten