Quilty Beads Quilt- The Modern Solids quilt
I tried to hurry up and finish this quilt before the pattern came out but that didn't happen..ha.  So far I've made three of these quilts.  Quilty Beads Quilt is fast and easy!
Find Quilty Beads in the Quilty Love Pattern Shop.
Quilty Beads Quilt Pattern
This Quilty Beads version is probably my favorite one 🙂  It's a mix of Kona Cottons in masculine colors.  See the exact colors I used below.
Precut friendly
Quilty Beads is all the precut friendly.  I love when that happens!  And since I can never decide which way to go, it's full of options.  The quilt pattern instructions include a small 10in block version and a larger 15in block version.  This solids quilt is the larger block option.
The large quilt block version is fat quarter and fat eighth friendly.  The small quilt block version is jelly roll, layer cake, fat eighth or fat quarter friendly.  Cutting instructions are included for each precut.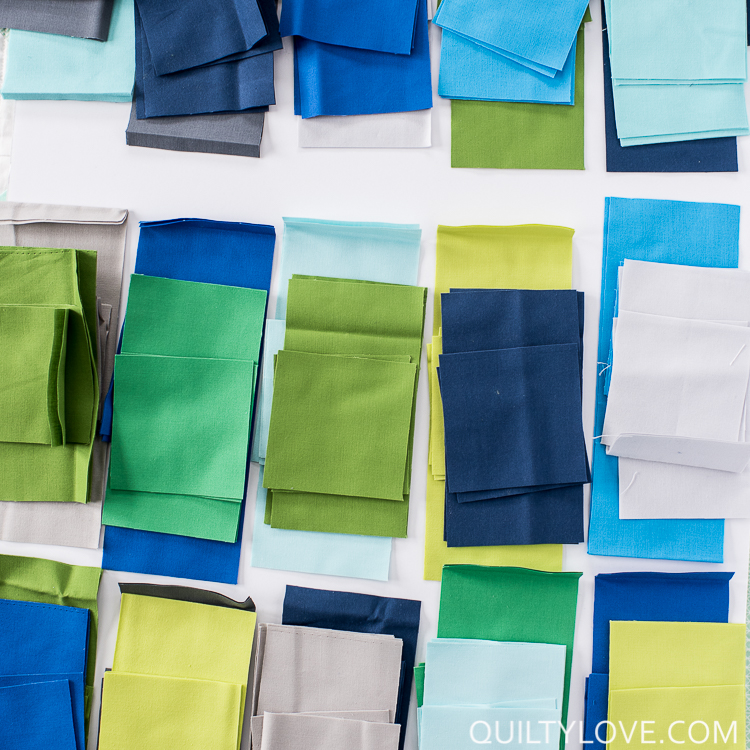 Solid fabrics used
Kona Cotton Azure
Kona Cotton Windsor
Kona Cotton Fern
Kona Cotton Graphite
Kona Cotton Cactus
Kona Cotton Silver
Kona Cotton Surf
Kona Cotton Water
Kona Cotton Green Grass
Kona Cotton Ash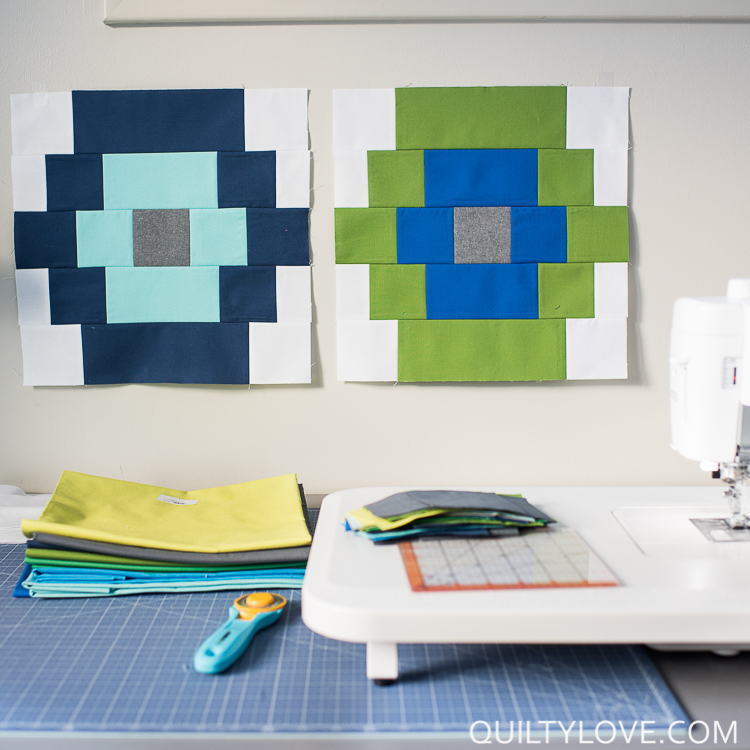 Quilty Beads quilt is a good beginner friendly quilt pattern!  It's fast and easy.  Sometimes you need a quick quilt finish and this modern quilt is just that.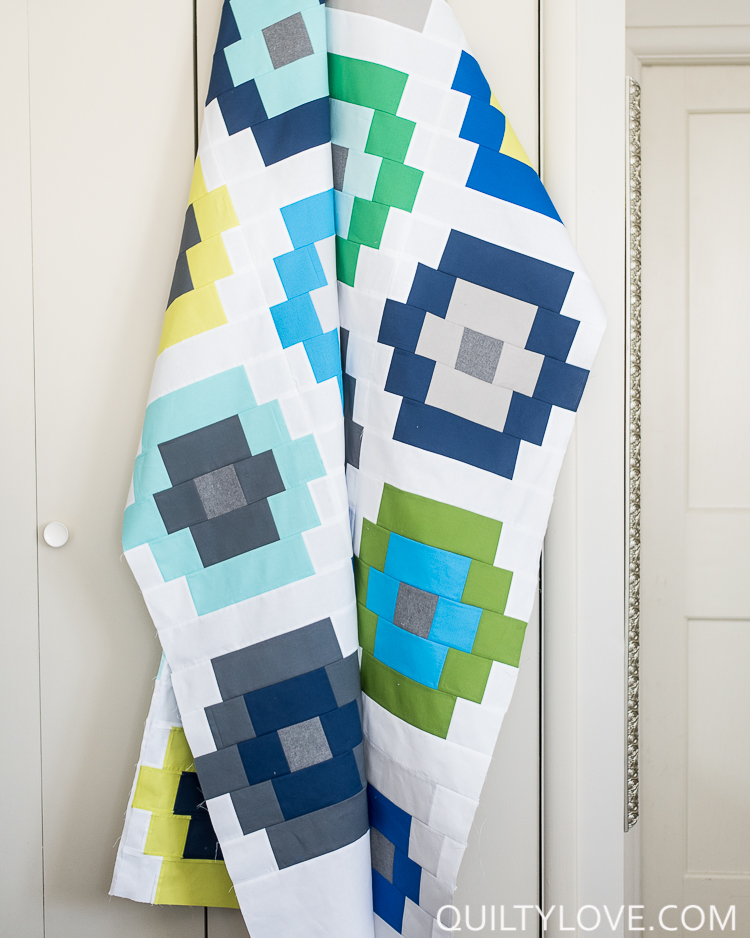 I love the masculine feel of this quilt.  It can be really hard to make boy quilts sometimes!  Especially when you love pink and corals 😉
Quilting
I sent this quilt off to Kaitlyn of Knot and Thread Design to be quilted.  The diagonal plaid quilting complements the geometric shape of this quilt perfectly.  I love how the long arm quilting turned out.  As I've gotten busier I've been sending out a few quilts to be quilted.  It's kind of a treat to get them back looking all pretty.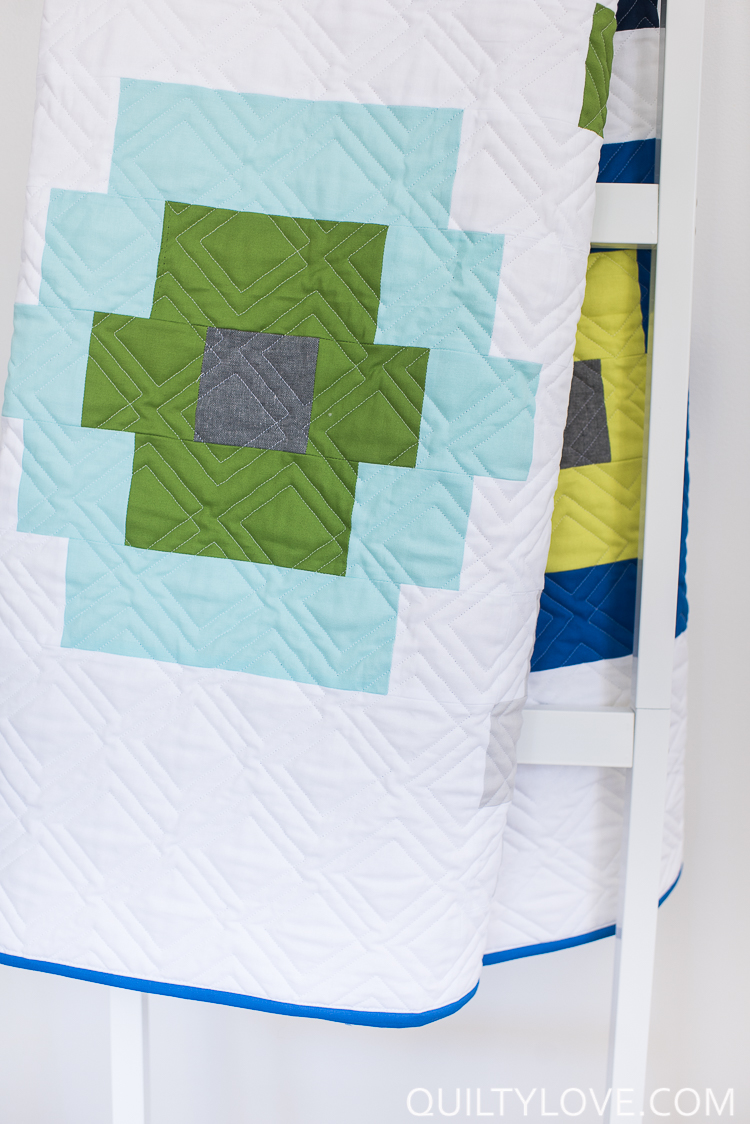 My quilt ladder has been in storage for 7 months so please forgive all of the photos on it…haha.  I'm excited to have it back now that we are getting settled in to your home.  I took these quilt photos in my daughters freshly painted room.  I am kind of glad she wanted white walls because they will make for a good quilt backdrop.  Yep, pretty much always thinking about things like that 😉
Backing
The backing of this quilt is one of my favorite basic prints.  It's Riley Blake Swiss dots in black.  I could buy bolts of this fabric.  I tend to use it for backings.  It's such a simple and fun backing fabric.  If you have seen a few of my quilts you know I tend to stick with neutral backings like this especially when the front is super colorful.
Binding
I was so tempted to go with the usual black and white striped binding but decided to stick with a solid from the quilt.  Quilty Beads is bound using the same Kona Cotton Surf color in the quilt itself.  I machine bound this quilt.  I wrote an easy to follow tutorial about machine binding here.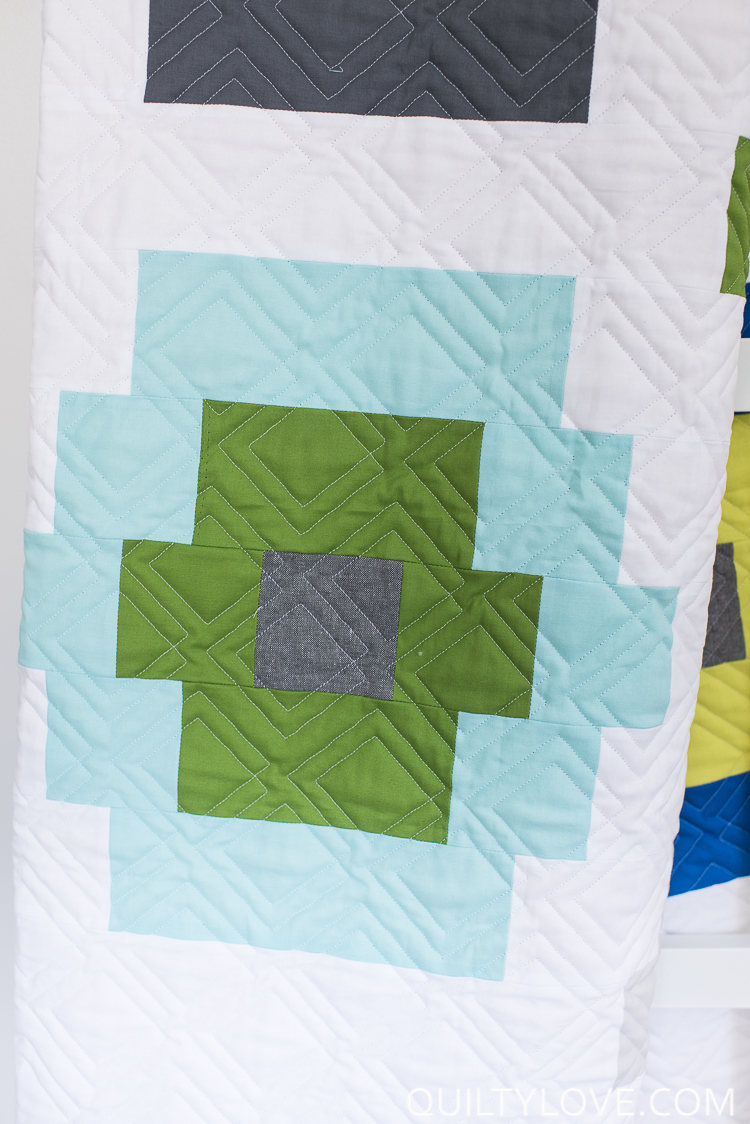 Accent Color
The larger version of Quilty Beads quilt has big bold blocks.  I really love how they stand out in the solid fabrics.  Pick an accent color for each of the centers.  My go to accent is always Essex Linen by Robert Kaufman.  In this case I used Essex Linen in Graphite.  Graphite is a little harder to find these days.  It's pretty close to black which is my other go-to essex linen color.

Find Quilty Beads in the Quilty Love Pattern Shop.  Pull from your fabric stash, use your favorite jelly roll or layer cake, or fat quarter bundle and make yours 🙂  Be sure to hashtag #quiltybeadsquilt on Instagram and tag me so I can see it!
Materials Used:
Kona Cotton Solids
Essex Linen for accent color
Kona Cotton Surf for binding
Riley Blake Swiss Dots for backing
Quilted by Knot and Thread Design
Pieced on a Janome MC6700p