Quilty Love Palette Picks Diamond Lanterns quilt
I'm working on getting all of my Quilty Love Palette Pick quilts up on the blog. So today I'm sharing the Quilty Love Palette Picks Diamond Lanterns quilt!
Diamond Lanterns was the perfect quilt pattern for my brand new Quilty Love Palette Picks bundle with Robert Kaufman because it uses all 20 fabrics in the bundle. It actually uses 20 fat eighths so technically it only uses half of the bundle! It worked out perfectly to sew up because I used the first part of the bundle for this Compass Star quilt.
That's two quilts using one of my Quilty Love Palette Picks bundles!
The Diamond Lanterns quilt pattern and the Quilty Love Palette Picks bundle are both available in the Quilty Love shop.
Quilty Love Palette Picks Bundle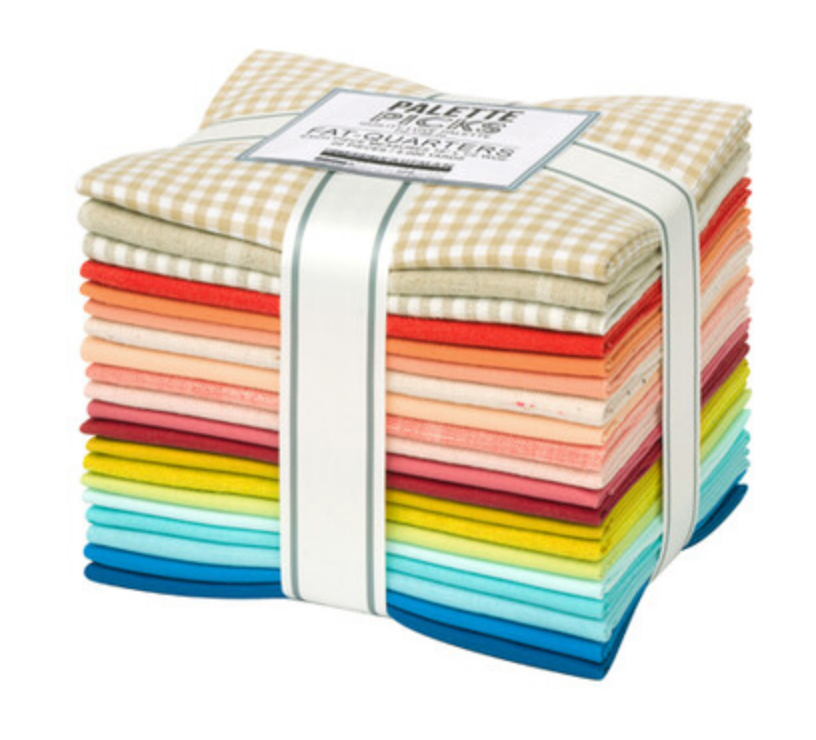 This Diamond Lanterns quilt is sewn up using the brand new Quilty Love Palette Picks bundle for Robert Kaufman. I curated this bundle for Robert Kaufman using their basics fabric lines. I curated the bundle last fall and it is showing up in quilt shops now!
Quilt shops can order from Robert Kaufman here or your distributors.
I have the Quilty Love Palette Picks bundle available in my shop here.
This was such a fun project to do and I really enjoyed the process of curating these fabrics and then making quilts using them. I ended up making five different quilts using the Palette Picks bundle. I designed a few new patterns around it too.
Quilty Love Stash Buster Series
This Palette Picks bundle actually inspired the Stash Buster quilt pattern series. So while it's not technically fabric in your stash it still inspired the series by challenging me to create quilt patterns that don't require background fabric.
I made a few of the stash buster quilt patterns using this bundle. You can see Lucky Log Cabins here and Fat Quater Dash here.
Diamond Lanterns isn't part of the stash buster series but is still a great stash quilt that also uses background fabric.
Quilty Love Palette Picks Diamond Lanterns
It's been a while since I've made a Diamond Lanterns quilt! In fact, I've only made one! And that is the original cover quilt here. Diamond Lanterns is an older Quilty Love Pattern and was long overdue for another version.
I've been wanting to make another one for a while so when I realized I had a fat eighth bundle of my Quilty Love Palette Picks bundle left it was the perfect option for it. I used the first part of this bundle for this Compass Star quilt.
Fat eighth quilt pattern
Diamond Lanterns is a fat eighth quilt pattern. Fat eighth quilt patterns are so versatile because you can use a fat quarter bundle from your stash (you will just use half of it) or you can pull fabric from your stash since a fat eighth is a pretty small cut of fabric.
A fat eighth measures 21″ x 9″ so it's basically half of a fat quarter or half of a quarter yard. Fat Eighth quilts are really great stash quilts. You can see all of the Quilty Love fat eighth friendly quilt patterns here.
Diamond Lanterns quilt sizes
The Diamond Lanterns quilt pattern includes four different size options. Use the quilt pattern to make any of these sizes:

Baby size – 47″ x 47″
Throw size – 62″ x 77″
Twin size – 62″ x 92″
Queen size – 92″ x 107″
Easy block based quilt pattern
Diamond Lanterns is a nice and easy quilt! The most challenging part of the quilt block is the diamond in a square in the center of the block. But I have you making your diamond in a square blocks too big and then trimmed down to size. By trimming down to size those blocks will end up nice and square. There are only 20 blocks in the large throw size so it's not a ton of of trimming. Just 20 little squares to trim.
I'm one of those quilters who actually enjoys trimming…haha I think it's the very square and very precise end result that I love so much.
I keep my quilting notions pretty minimal but one of the tools I have and love is the Fiskars rotating cutting mat. I've had this smaller one for years and it still works great! I would love to add the bigger one some day too for those larger blocks that need trimming.
This quilt pattern does have sashing keeping it looking fresh and modern. While I don't always love doing sashing, some quilts just look better with it.
Essex Linen background fabric
I used a white Essex Linen fabric as the background in this Quilty Love Palette Picks Diamond Lanterns quilt. Essex linen in white is a nice and bright white which worked well with some of the lighter fabrics in the Palette Picks bundle.
I've used this white Essex linen as a background in quite a few of my quilts recently because I love the added texture it gives. It's a little more unique than using just a plain quilting cotton.
The Essex linen also gives it a little more weight and warmth. I was surprised to find out how much warmer linen quilts are than cotton quilts. So now I use linen as a backing whenever I can on my quilts. That is until I discovered minky as quilt backings..haha. If you want a warm (and cozy) quilt, use minky! I juuuuust started using minky as backings and I'm hooked. But before I discovered minky, linen and flannel were my favorite quilt backings for added warmth.
I haven't posted any of the minky quilts yet but stay tuned for those!
Quilting with linen fabrics
I love quilting with linen! I'm not afraid to use various substrates in my quilts and will mix them all together. I haven't had any issues yet but admittedly, I don't actually use a lot of my quilts since I make so many of them.
But most of our favorite quilts do have linen in them because they are a little warmer. So they are getting used and getting washed more frequently.
Linen is more prone to shrinking and fraying so you want to use a smaller stitch length for it. It also never hurts to prewash! Get that shrinking out of the way with pre washing. Find more tips and tricks for quilting with linen in this blog post.
Long arm quilting
I sent this Quilty Love Palette Picks Diamond Lanterns off to Vintage Stitch for quilting. Isn't the design so cool!? This quilting pantograph is called Baptist Diamonds.
This looks like a design that you could mimic on your home machine. I might try it sometime. Start with the diamonds by sewing a 6 inch diagonal grid. Then fill in the little rainbows one inch spaced. I'd probably mark them first and use my free motion foot for that part.
Or just send your quilt to Jenae and she will quilt it up beautifully for you…lol.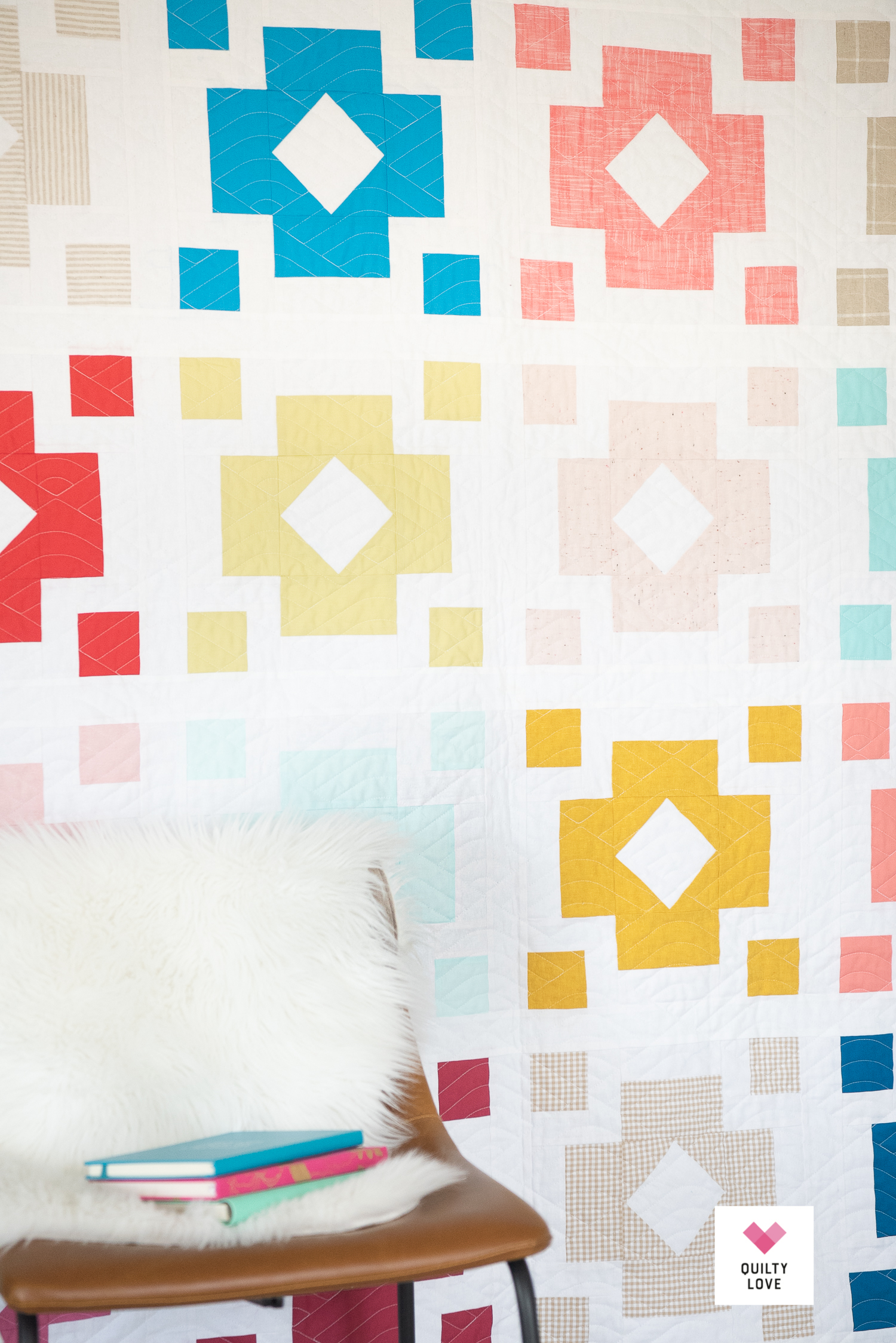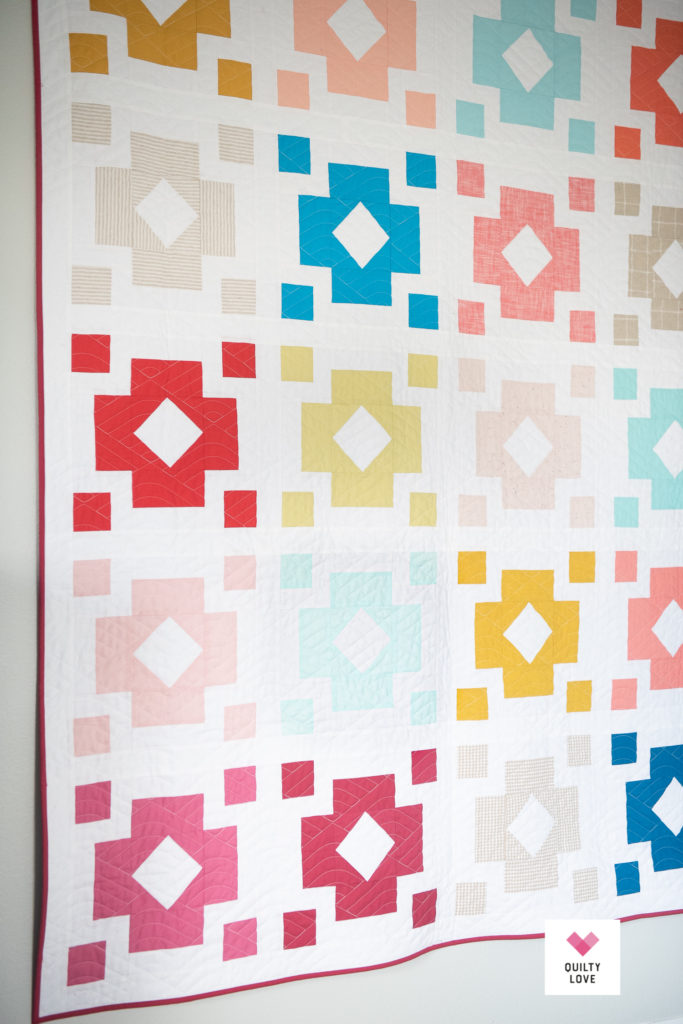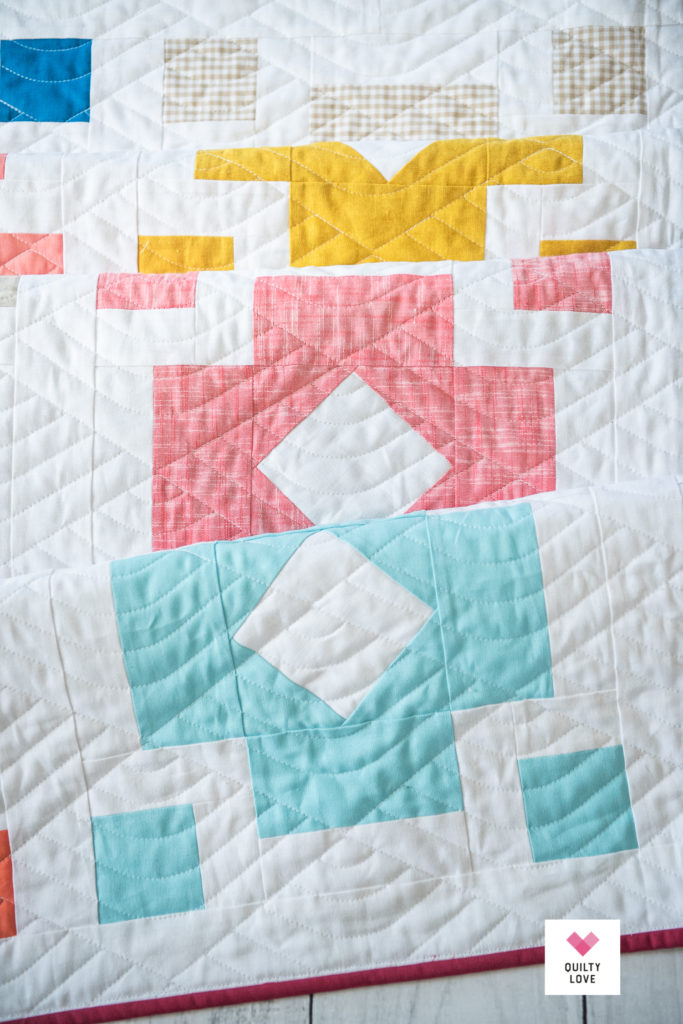 Black polka dot backing
I finished off this Diamond Lanterns quilt with a black polka dot fabric. I had a little lapse in judgement when I purchased this fabric. I usually always stick with quality quilting fabrics and stick with brands I know and trust.
Well, this fabric tempted me from one of the bigger online stores and I totally forgot about quality. I just thought it would make a cute backing. And it does! But when it showed up it was completely stiff and scratchy. I did throw it through the wash before using it and it did soften up a little but this one is all about looks not softness.
It was a reminder to stick with higher quality fabrics from brands you know and trust like these Riley Blake black and white polka dots.
Diamond Lanterns Binding
I used a fabric from the Quilty Love Palette Picks bundle for the binding. The binding is kona cotton in the color Deep Rose.
Materials Used:
Quilt Pattern: Diamond Lanterns by Quilty Love
Quilty Love Palette Picks fat quarter bundle for Robert Kaufman
White Essex Linen background
Black and White polka dot backing (similar here)
Deep Rose Kona Cotton binding
Pieced on my Janome MC6700p
Quilted by Vintage Stitch