SCRAPPY GEMS STASH BUSTER QUILT PATTERN
Today I'm sharing Scrappy Gems, the new stash buster quilt pattern! Scrappy Gems is next in the Quilty Love stash buster series. Scrappy Gems is a fun and modern mix of an irish chain quilt with a log cabin quilt.
This fast and fun stash buster is a quick one to sew together and very stash friendly. Pull assorted fat quarters or partial fat quarters from your stash, find an accent fabric and start sewing! Strip piecing and nested seams make this quilt a quick, easy and satisfying one.
The Scrappy Gems quilt pattern is in the Quilty Love pattern shop.
Scrappy Gems Quilt Pattern
I'm so excited about this new stash buster quilt pattern. I've been playing around with quilt designs for the past few months but nothing was making me excited enough to sew up until Scrappy Gems. Scrappy Gems is actually inspired by Ombre Gems. That's how it got its name. This is the original construction method of Ombre Gems but I ended up changing it for Ombre Gems to make more defined blocks.
Scrappy Gems is one of those quilts that you can grab a bundle of fabric from your stash and start sewing. I've made four Scrappy Gems samples now and I keep thinking of other versions I want to try.
Low volume Scrappy Gems quilt
This low volume version of Scrappy Gems is my first test quilt. I have a ton of low volume prints in my stash so it was easy to pull some together for a test quilt. I added in some light blues and yellows for a little variation and movement in the quilt. I went bold for the accent with a Ruby Star Society speckled print in black.
I think Scrappy Gems works really well in low volumes because you have a lot more options for the Irish chain accent. This one is best with a really nice contrast in the Irish chain and you can easily do that with low volume prints.
Quick and easy stash buster quilt pattern
Scrappy Gems is a quick and easy stash buster quilt pattern. This scrappy Irish chain quilt is assembled quickly with strip piecing shortcuts and nice nested seams. If you follow the pressing instructions in the pattern, the seams will nest throughout the quilt top assembly for crisp points and easy construction.
I think a beginner quilter would have no problem tackling Scrappy Gems.
Lots of quilt sizes
The Scrappy Gems quilt pattern includes lots of quilt sizes. The pattern instructions include the following quilt sizes:
Baby/ lap size quilt
Square throw size quilt
Large throw size quilt (featured here)
Bed size quilt (full size)
Queen size bed quilt
Scrappy Gems Material Requirements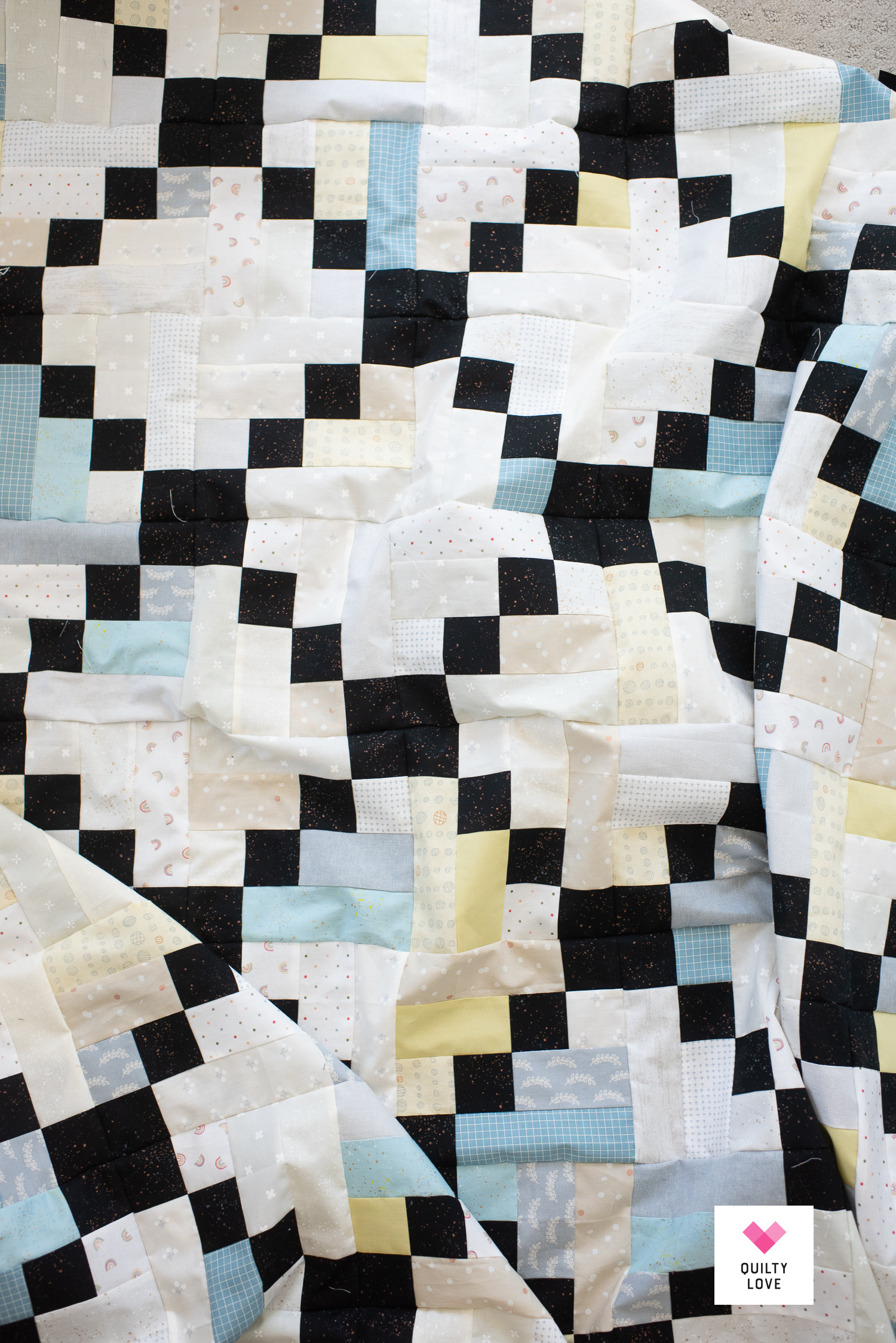 Big Stitch Hand quilting
I recently took up hand quilting and have quickly become obsessed with it. Specifically this big stitch hand quilting. You use a chunkier thread like size 8 for nice big stitches.
I've tried hand quilting in the past but did not enjoy it and ended up ripping out what I started. It's been many many years though and I started to get the itch to try it again. I guess I was ready this time because I sure am hooked!
There is a learning curve to hand quilting but once you find your rhythm and how you like to handle and hold the quilt, it is so fun!
This big stitch hand quilting provides the most beautiful texture and crinkle. I'm excited to see how these hand quilted quilts wash and crinkle up.
You can find all of my favorite hand quilting supplies below. I used the color Ecru thread for this quilt.
Favorite hand quilting supplies
Machine quilting + hand quilting
This Scrappy Gems quilt is the second quilt I hand quilted. I learned from the first one that spray basting doesn't work great with hand quilting. I love spray basting with machine quilting but there is too much handling during hand quilting and it doesn't stay together as well.
So for this Scrappy Gems quilt I decided to attempt pins and to also do some minimal machine quilting first to hold the layers in place. The machine quilting made it a lot easier to just focus on the hand quilting and to not have to worry about my layers staying put.
I will say, I don't love pin basting. I always resort to spray basting because I can do a MUCH better basting job. I have very little loose fabric when I spray baste but pins… yeah, I'm not great.
I do really want to get better at pin basting and hopefully can get to the point where there is no more loose fabric.
Anyways, I highly recommend some minimal machine quilting before hand quilting. For this Scrappy Gems I machine quilted right through all of the Irish chains and it created a nice grid. You can see the machine quilting in the upper left photo.
I thoroughly enjoyed handing quilting this Scrappy Gems quilt and I can get over how soft and pliable the quilt feels. I think it's a mix of not using spray baste, less dense quilting and lots of handling that fluffed up the batting that helped.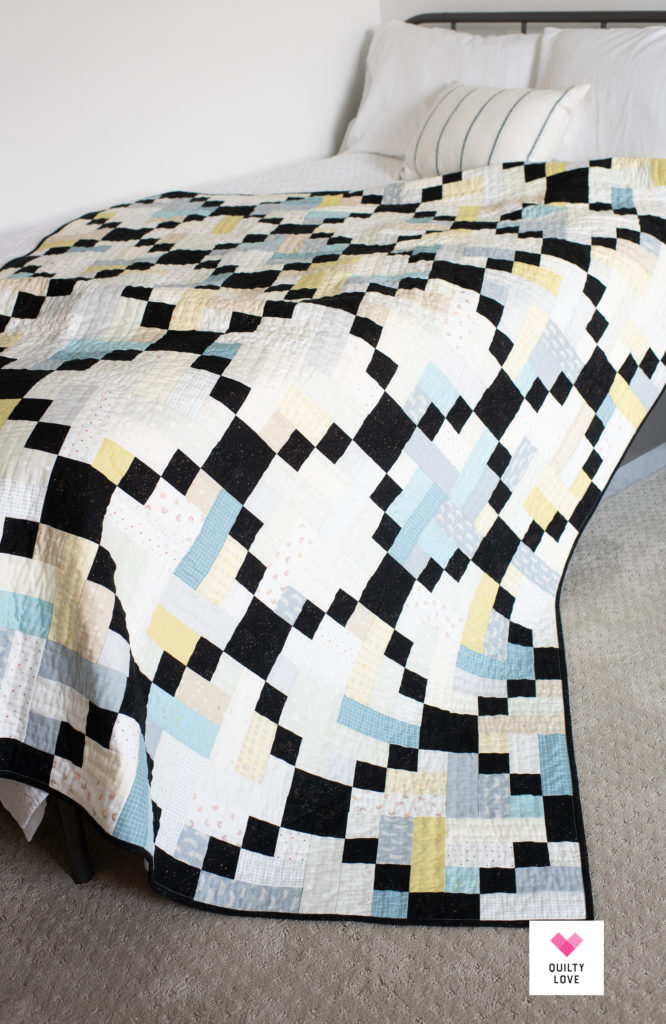 Scrappy Gems stash buster quilt materials
Quilt Pattern: Scrappy Gems by Quilty Love
Fabrics: Assorted low volume prints from my stash
Irish Chain accent: Ruby Star Society Speckled in black
Binding: Ruby Star Society Speckled in black
Backing: Ruby Star Society Sketchbook
Pieced on my Juki 2010q
Hand Quilted using Pearl Cotton in Ecru
Scrappy Gems Ideas
I mocked up a few Scrappy Gems using fabrics from my stash so I'll share them here.