The Fableism Arcade Wovens Heart Gems quilt
Today I'm sharing the Fableism Arcade Wovens Heart Gems quilt. I think this was the second Heart Gems quilt I sewed up. Fableism sent me a fat quarter bundle of their Arcade Wovens and I couldn't wait to cut them up into this quilt.
Heart Gems is a nice stash friendly modern heart quilt. Use fat quarters or assorted fabrics from your stash to make these dimensional heart blocks. I love a good mix of plaids like these and so I was excited to see how they would look as these scrappy heart blocks.
The Heart Gems quilt pattern is the newest in the Quilty Love pattern shop.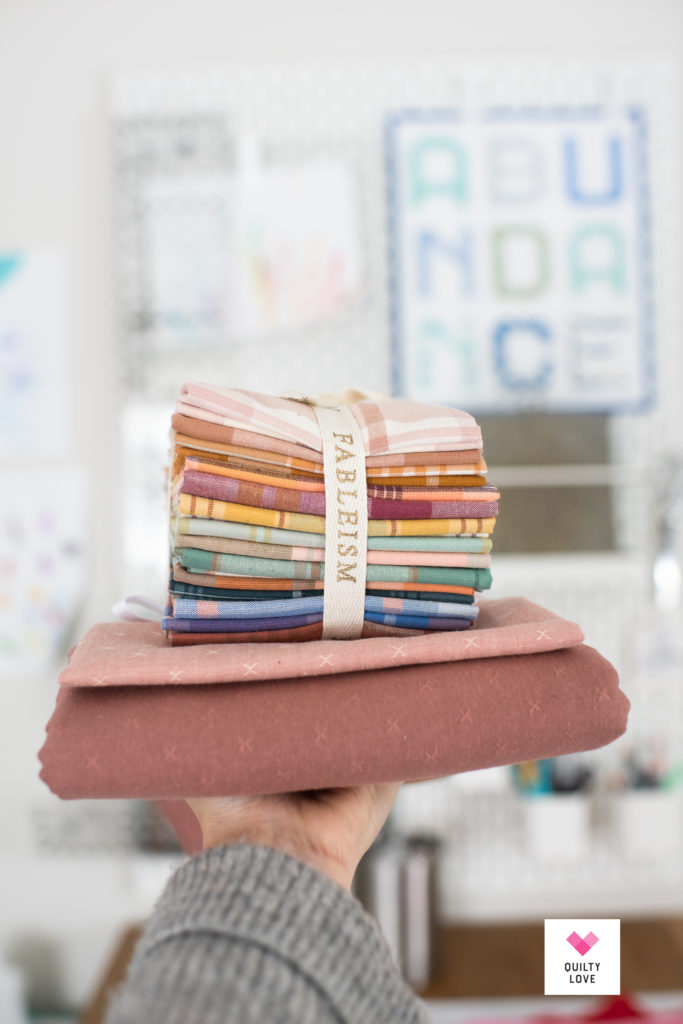 Heart Gems quilt pattern
The Heart Gems quilt pattern is the 5th annual Quilty Love heart quilt pattern! I really love how this year's heart quilt turned out and so far I'm liking it in a wide variety of fabrics. I've made quite a few samples so far and you can view them all here.
Heart Gems is a fun stash friendly heart quilt that uses quarter square triangles for lots of dimension and movement. Other techniques in this heart quilt pattern include setting blocks on point with setting triangles. I would call this one an ambitious or confident beginner – Intermediate since it is set on point. If you have never done a quilt set on point, it's constructed a little differently but the quilt pattern instructions walk you right through it all.
Lots of quilt sizes
Like most Quilty Love patterns, Heart Gems includes instructions for lots of quilt sizes. The pattern includes the following quilt sizes:
Baby size quilt – 46″ x 54″
Square throw size quilt – 61″ x 61″
Large Throw size quilt – 61″ x 76″ (featured here!)
Twin size bed quilt – 66″ x 91″
Bed size quilt – 81″ x 91″
Stash friendly heart quilt pattern
Heart Gems is stash friendly. It does require yardage for the background but the hearts themselves can me made from fat quarters or by cutting various squares from your fabric stash. Quite a few of my sample quilts were made using fabrics I already had in my stash.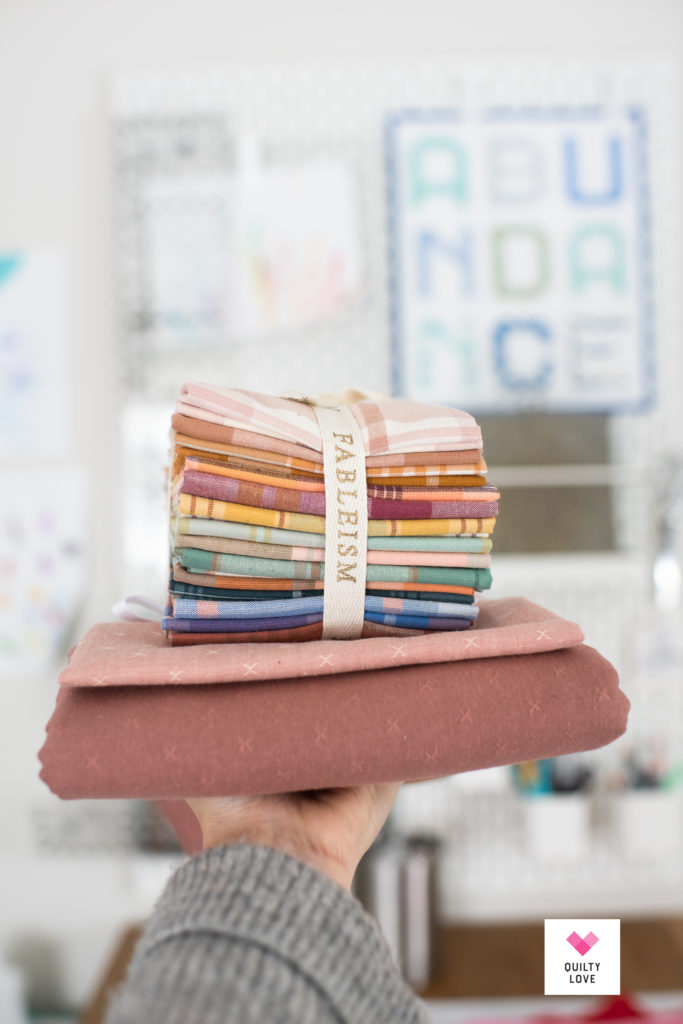 Fableism Sprout Wovens and Arcade Wovens
I need to tell you about these Fableism wovens! I stumbled upon them on Instagram a few months ago and was immediately smitten. I'm a huge fan of quilting fabric that offers a little extra texture. So I love wovens for this reason. Yes, they are a little more finicky to sew up but I don't mind because the end result is just so dang pretty and yummy.
So anyways, a few months ago I started noticing some vibrant wovens that quilters on my feed were using. It turns out they were these Fableism Sprout Wovens. Fableism is a fairly new fabric company that focuses on earthy natural tones. They are mostly all wovens and have this beautiful texture to them.
I really enjoyed sewing with them and found them pretty nice to use. They didn't fray a ton and overall behaved similar to a quilting cotton. Sometimes wovens fray and curl and both of that was pretty minimal. I can't wait to sew with these wovens again!
Aracade Wovens Fat Quarter Bundle
For the hearts in this Fableism Heart Gems quilt I used a fat quarter bundle of the Arcade Wovens. I used more fat quarters then the pattern calls for so I just cut equal squares from each fat quarter. These Arcade Woven plaids make me ridiculously happy because the colors are just so beautiful.
Fableism Sprout Wovens Background + Accent
The background of this Fableism Heart Gems quilt is a Sprout Wovens in Marsala. The accent is a Sprout Wovens in Wild Rose. These Sprout Wovens are getting harder to find but it looks like they will show up in shops again in April!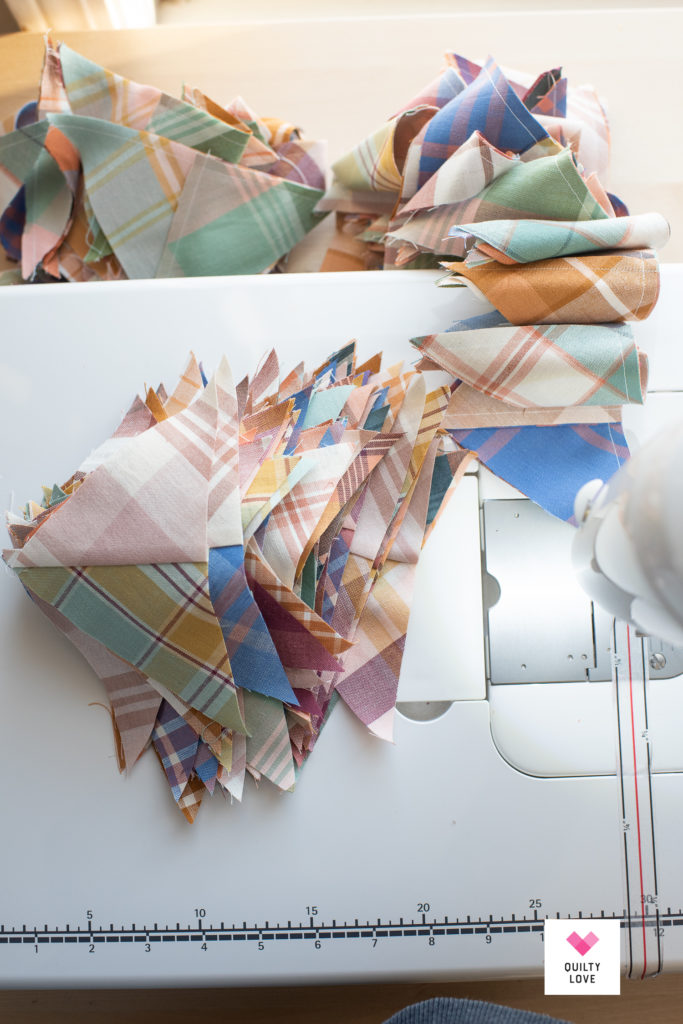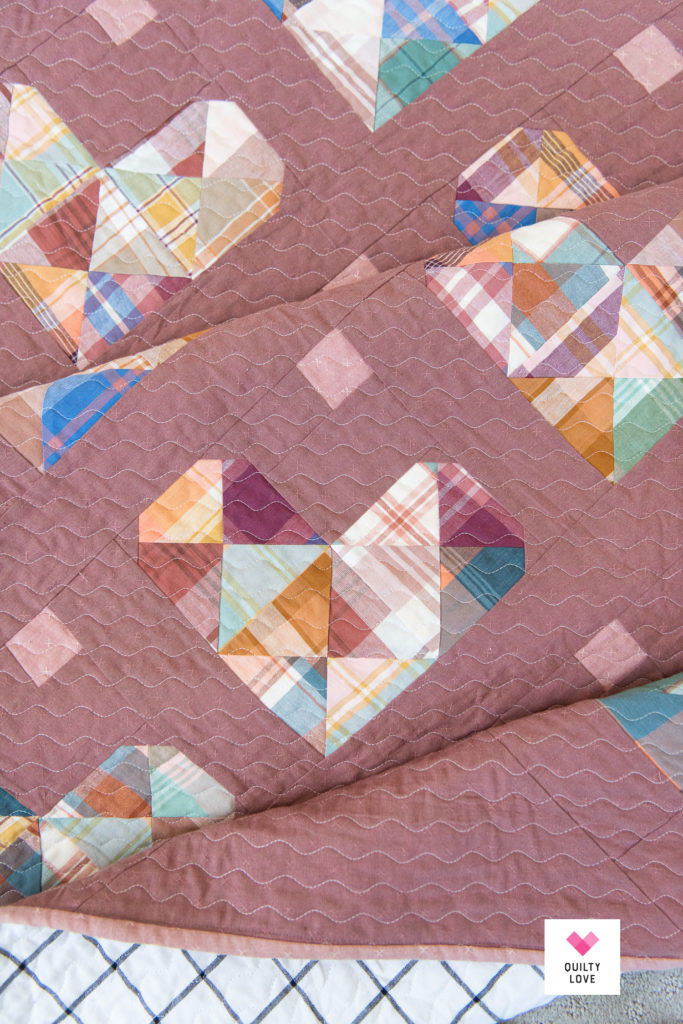 Wavy Stitch Quilting on the Fableism Arcade Wovens Heart Gems quilt
I quilted up this Fableism Arcade Wovens Heart Gems quilt myself using my favorite Wavy stitch. Lately I've been sending most of my quilts off to a long arm quilter to save time so it's fun to quilt up my own every once in a while.
And if I'm going to quilt something myself, it's probably going to be the wavy stitch! It's easy, it's forgiving and it always looks good.
I have a full Wavy Stitch quilting tutorial here.
Essex Linen Grid backing
This quilt is finished off with a woven backing to keep it all the same. I had some of this Robert Kaufman Essex Linen Yarn Dyed Classics Grid in Nautical in my stash.
I love how this quilt turned out! Plus, since it's made with linens it will really soften up over time with use. I love wovens and linens because they are warmer then a quilting cotton and end up being nice and soft.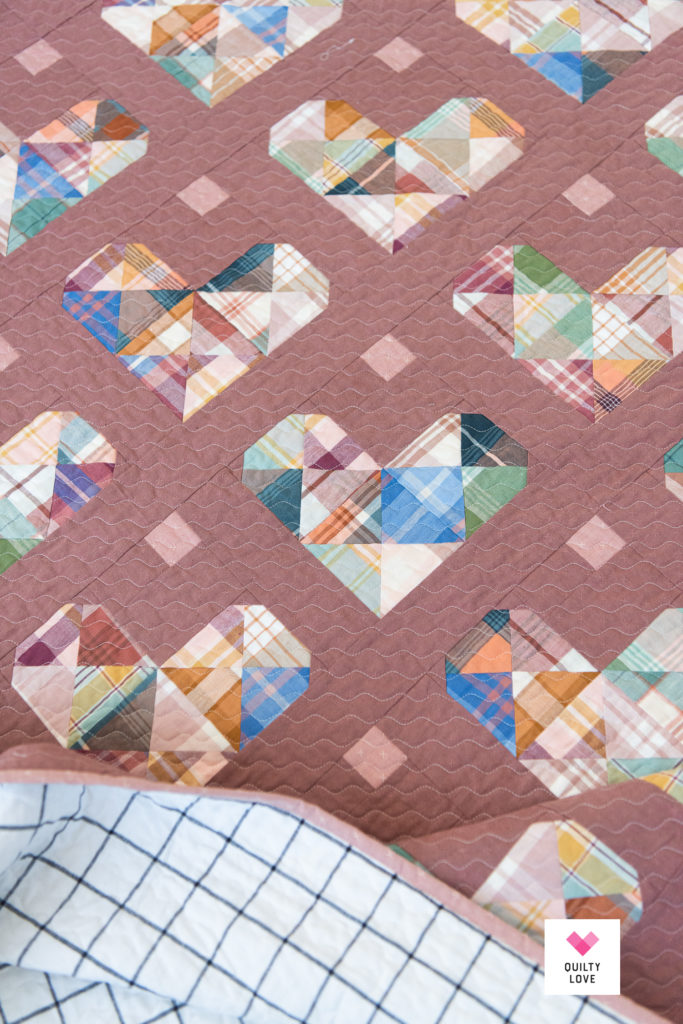 Fableism Arcade Wovens Heart Gems Quilt Materials
Quilt Pattern: Heart Gems quilt pattern by Quilty Love
Heart Fabrics: Arcade Wovens by Fableism
Background and Accent: Sprout Wovens by Fableism in Marsala and Wild Rose
Backing: Essex Linen yarn Dyed Classic by Robert Kaufman
Pieced and Quilted on my Janome MC6700P
Check out all of the Heart Gems quilts that are on the blog here!