Scrappy Indigo Log Cabin Quilt
This is the first completed quilt of 2017!   I feel like I'm kind of off to a slow start for 2017.   Have too many things going on or something.   Today I am sharing a scrappy Indigo Log Cabin Quilt with you!   This is one of two 😉   The other one still needs to be quilted.   I'll share more about that below.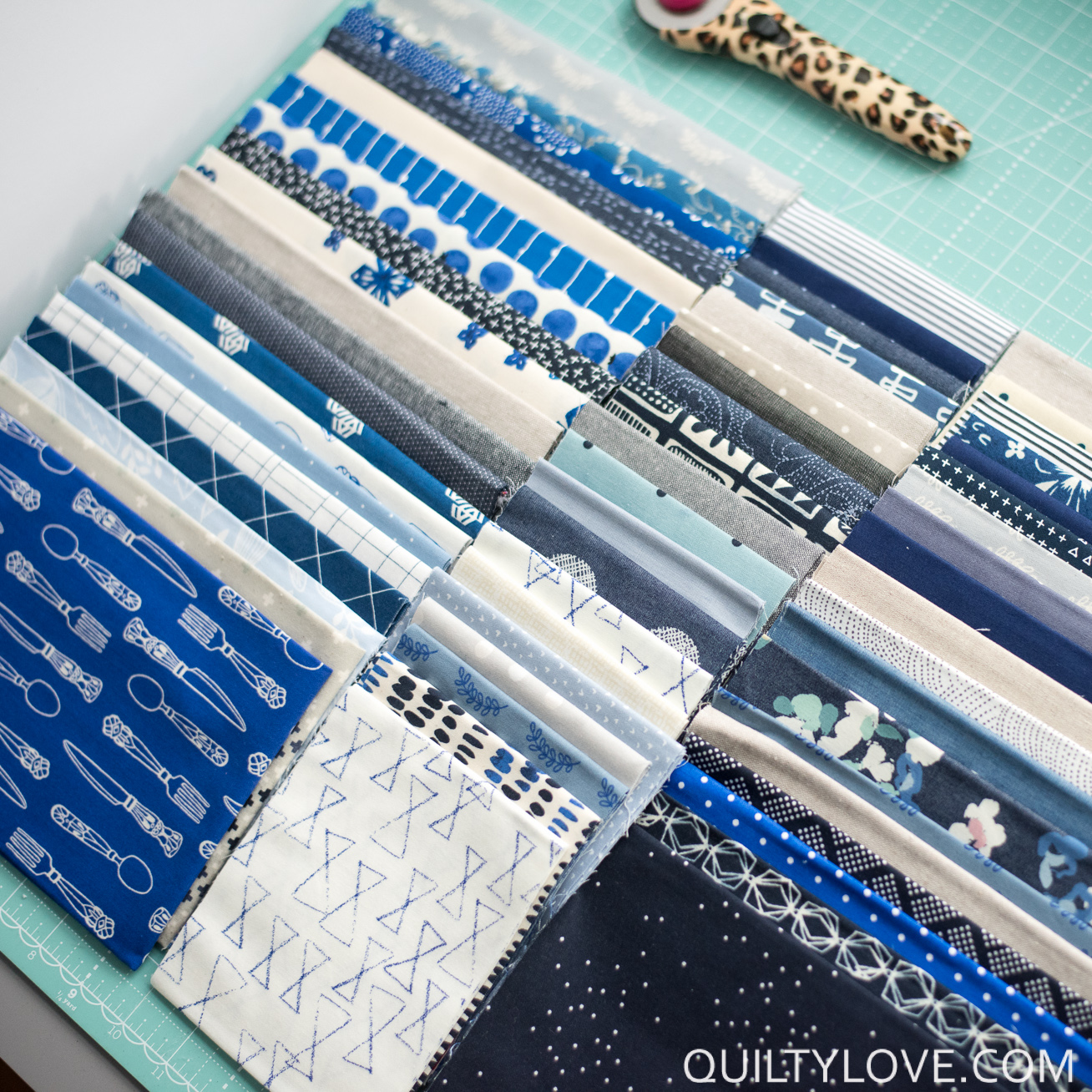 I signed up for Whimsy Quilts Tiled Indigo Club last year and received a full year of beautiful blue and indigo fabrics with a few others mixed in.   This was a block of the month club and I designed two of the blocks.   I had good intentions of doing the actual blocks but that never happened so instead I pulled the fabric to make my own quilt.
I decided to make a scrappy Log Cabin Quilt with all of these gorgeous shades of blue.   I used various widths of logs (Some are 2in, some 2.5in) to give it more variety and so I wouldn't have to worry about lining up seams later.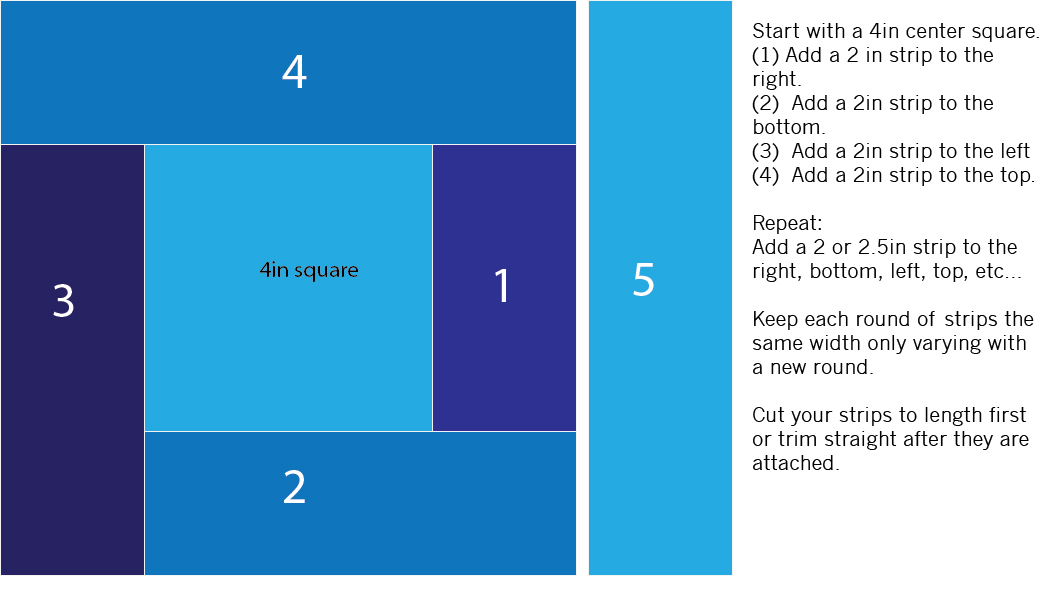 These blocks are quick to make and I ended up making 14 oversized blocks.   I wanted a large throw size.   Well I didn't quite work out the measurements and 14 ended up being way too many blocks!
My quilt ended up a large Twin Size.   So I ripped the bottom row off and made it a square throw.   And all the extra blocks… I ended up making a second throw 😉
I configured the blocks on point and I'll share that Log Cabin quilt when it's done.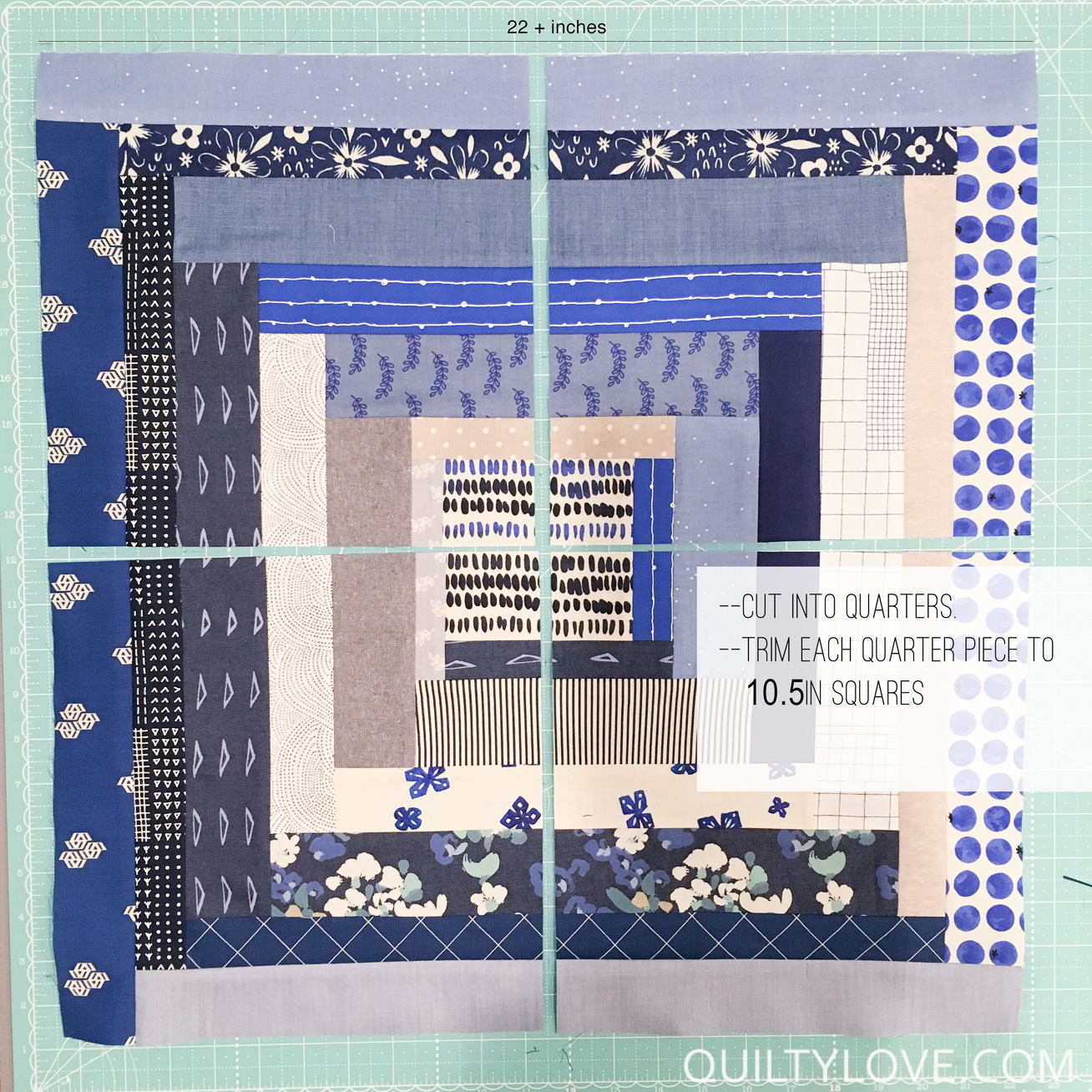 So 12 large blocks will make a huge twin 😉   Or 9 large blocks will make a large throw.
Since this quilt is not designated to go to anyone in particular I thought it would make a good free motion quilting practice quilt.  I've free motion quilted a handful of times and find it really fun and freeing to do.  I'm not that great at it but there is only one way to get better! 😉
I went with free motion scallops.   I've done them once before and really enjoyed it.  I didn't make any markings and just free handed it.   I wasn't concerned about perfection and don't mind the whimsical nature these free motioned scallops provide to this already scrappy quilt.
When free motion quilting a design like this that is rows, I tend to work right to left on the quilt.   I start on the right edge and continue to roll up the quilt in the throat of my machine as I go.
In this case I worked vertically.   So I started each row at the top of the quilt and basically quilted the scallops sideways as I went.
About 3/4 of the way through the quilt, I turned it around and finished the quilt to alleviate the bulk in my sewing machine throat space.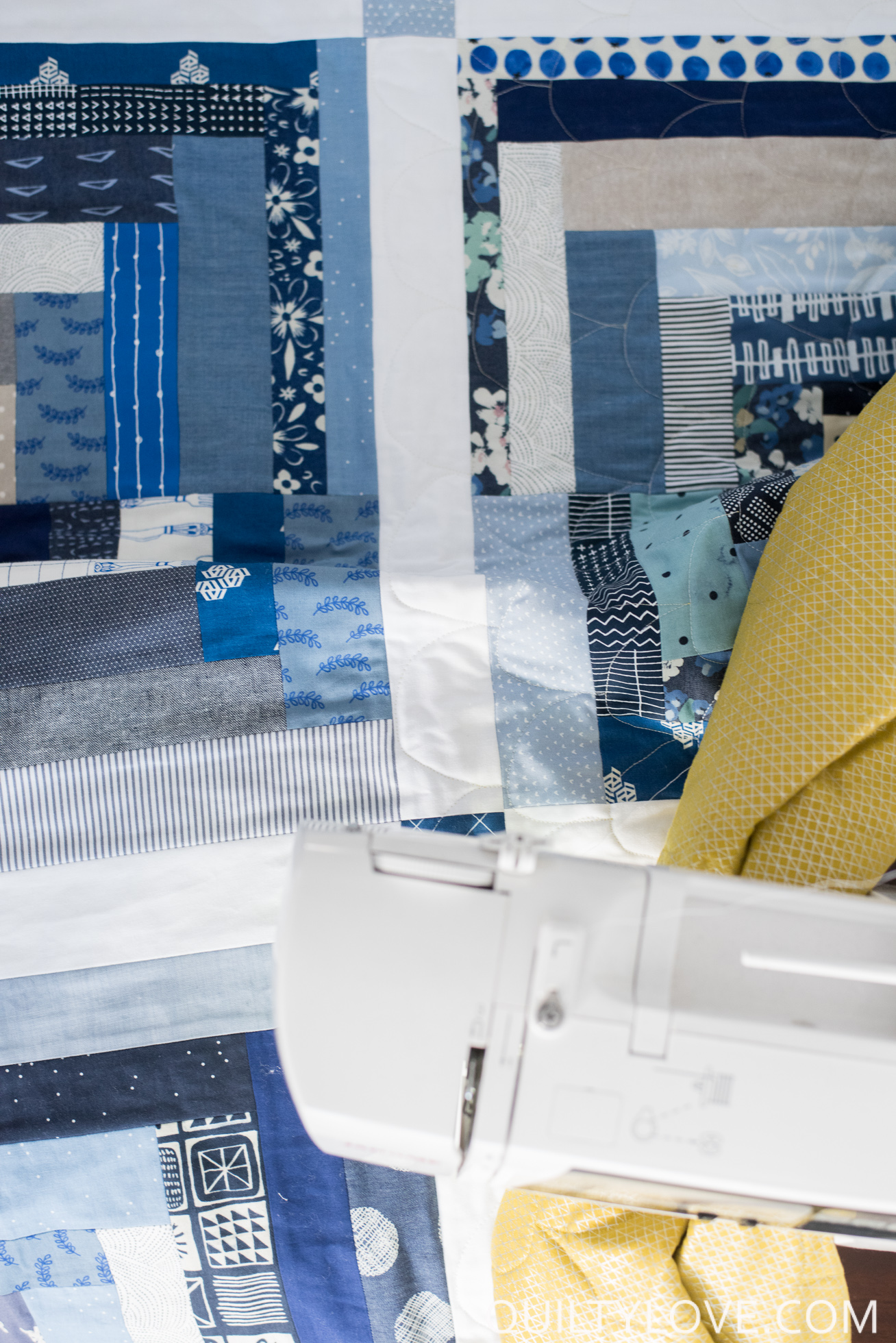 I added sashing with corner stones to give the eye a place to rest on this busy quilt top.   I added corner stones because I hate doing sashing and this way I could really just make a bunch of blocks to sew together instead of one long strip of sashing 😉
The textures of all of these different fabrics is so good!   There are a lot of cotton and steel, a lot of essex linen, and a lot of Art Gallery Denims.
I had this yellow shimmery Cotton and Steel fabric on hand so I used it as the backing.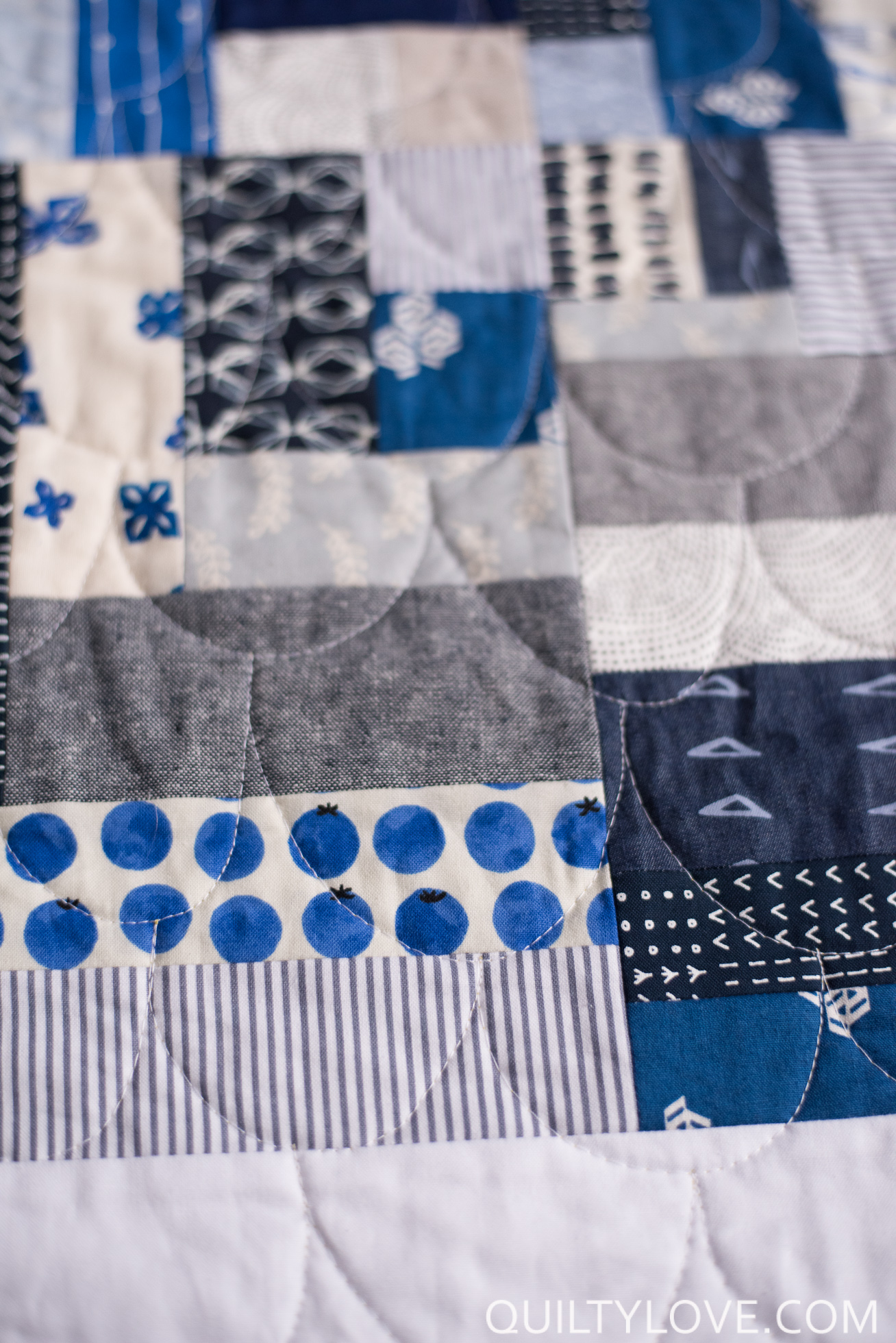 Free Motion scallops 🙂   Blueberries 🙂   Essex linen 🙂
Totally showing you guys my weaknesses here 😉   These scallops are FAR from perfect…lol.   But they do get easier with practice!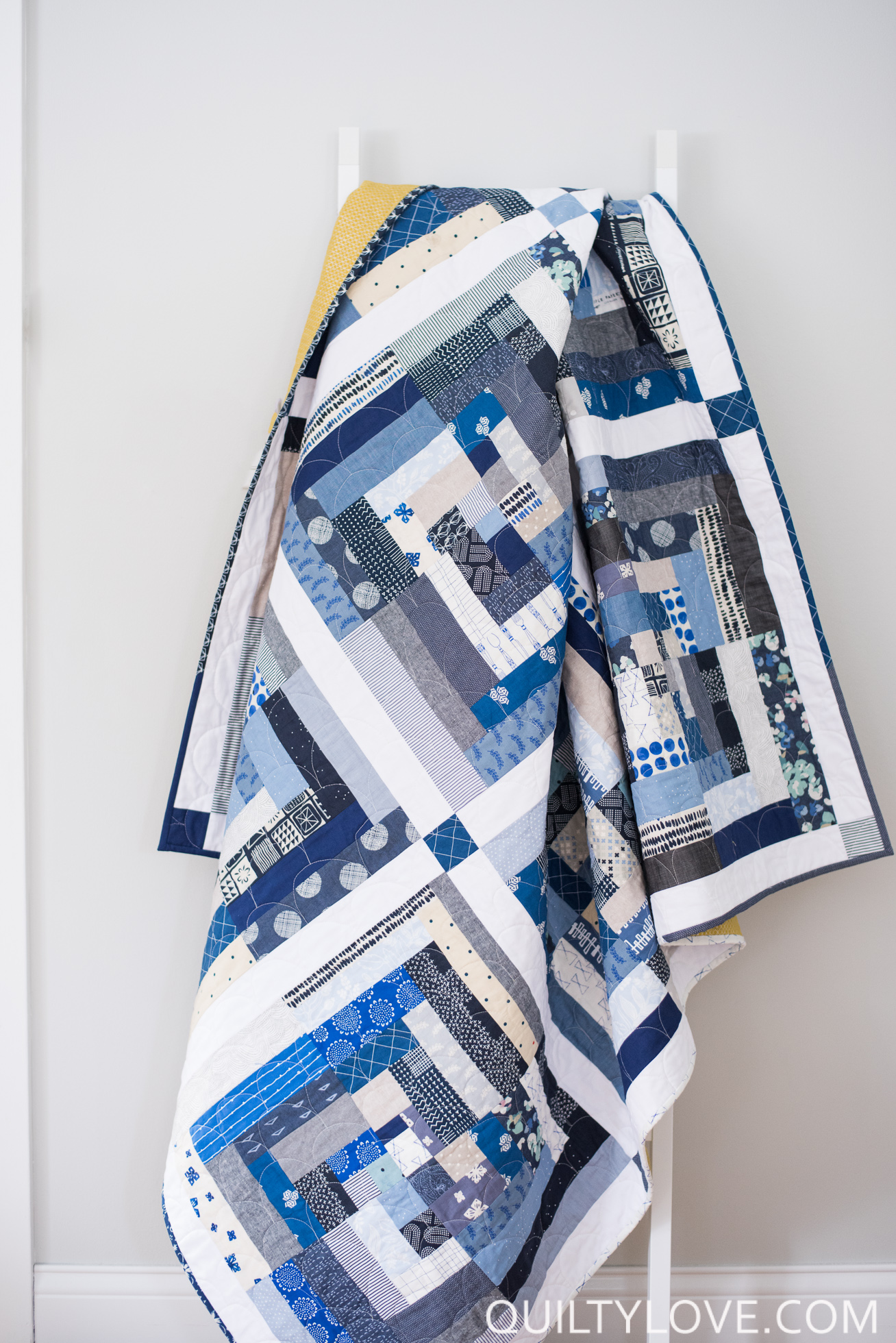 I hope if nothing else you feel encouraged to give free motion quilting a try!   You will notice every mistake as you go but like magic, you hardly notice those mistakes when it's done and you observe your quilt as a whole 🙂
Materials used:
A variety of Indigo fabrics
Robert Kaufman Kona in White
Backing is Cotton and Steel Netorious
Batting is Warm and White.
Thread is Auriful in White on top and Yellow on Bottom
Used my domestic Janome 4120 QDC for piecing and quilting.