Tiled Stars II quilt pattern
Today, it's launch day for the Tiled Stars II quilt pattern! Tiled Stars II is a fun and modern sawtooth star quilt pattern. Classic Stars never get old in quilts!
Tiled Stars II includes a few options and a few sizes. Use fat eighths or fat quarters to sew up a baby size, (multiple) throw sizes or a queen size. It even has optional borders.
Tiled Stars II is a spin off of a quilt pattern from my book Modern Quilts Block by Block.
The Tiled Stars II quilt pattern is available in the Quilty Love pattern shop.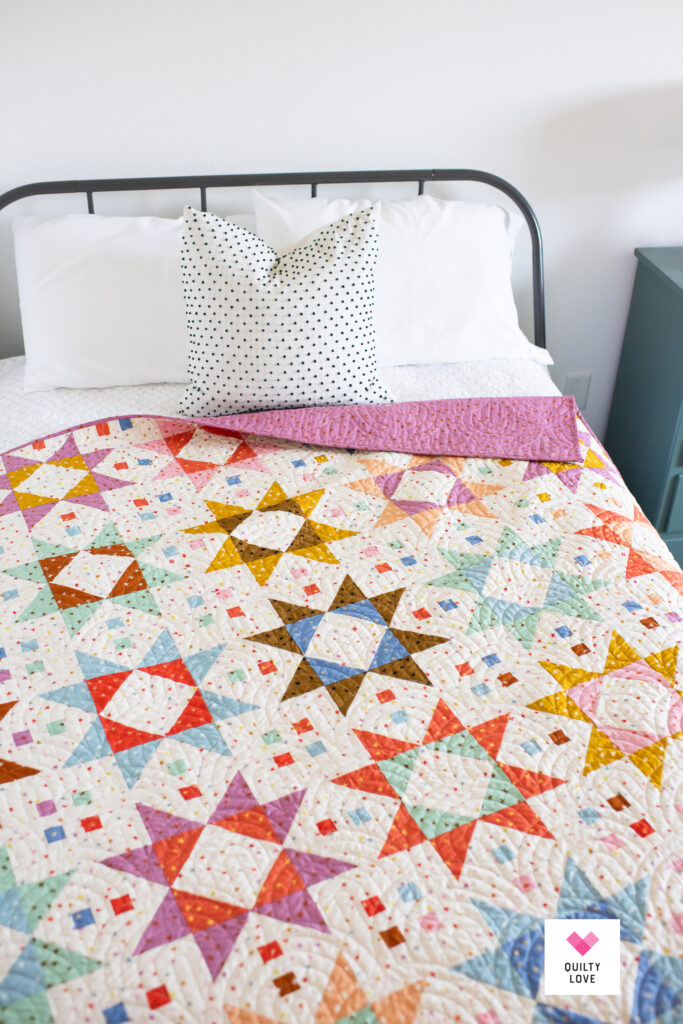 Tiled Stars II quilt pattern
I'm going to mix it up a little this time and add all three of my samples to this one blog post. I've been kind of bad about keeping up with blogging so this way I'll make sure to have all three Tiled Stars II quilts posted.
Tiled Stars II is no. 150 in the Quilty Love pattern library! I can hardly believe there are now over 50 quilt patterns completed over the last 6-7 years. It's been a fun ride and one that I don't see ending anytime soon.
The Tiled Stars quilt pattern includes a few fun techniques. It has strip piecing shortcuts (don't worry, you don't individually piece each of those small accent squares!), square in a square and flying geese. The pattern walks you through each step with clear instructions and graphics. I tend to draw out each and every step because I like the visuals myself.
Tiled Stars II – Art Gallery Pure Solids bundle by Suzy Quilts
First up, I'll share the cover quilt which is made from Art Gallery Pure Solids. This is a bundle curated by Suzy Quilts that goes with her Duval fabric line.
This was a fun one to make with these gorgeous solids! The accent fabric is the Tiny Moon Truffle from Suzy's Duval fabric line.
This Art Gallery Pure solids Tiled Stars II ended up being the cover quilt. This is the large throw size with the optional borders added.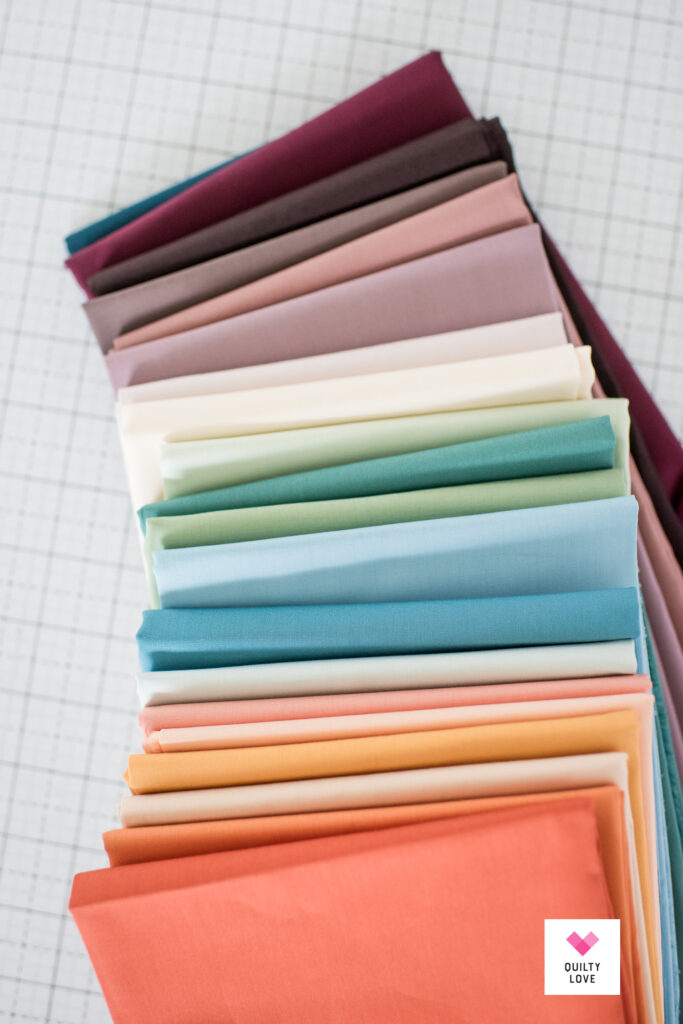 I decided to quilt this one myself! I've been loving the quilting stage lately, especially since I've finally mastered pin basting. I've always been a spray baster because I can get better results that way but recently I've decided to figure out pin basting. I discovered you can easily pin baste on a counter top like this so no more crawling around on the floor!
Check out my pin basting method over on Instagram here. I like to flip and smooth my quilts out a few times before pinning.
This one was quilted up using the wavy stitch. You can check out that tutorial here.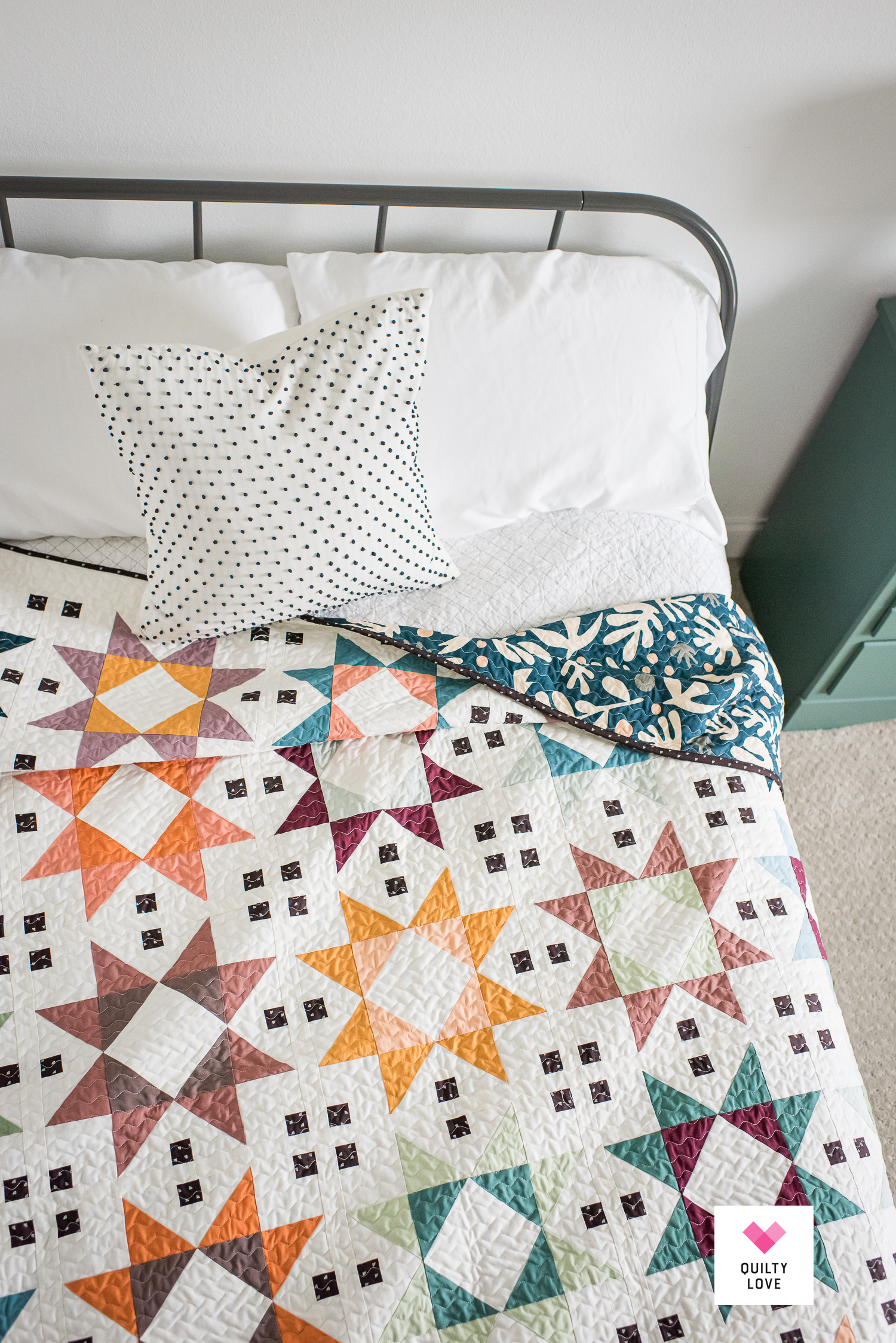 I was just shy of the binding fabric so I added an extra solid strip that I had leftover and placed it in the corner.
This is the large throw and it's a pretty generous size.
---
Tiled Stars II – Ruby Star Society Starry
Next up is the Starry Tiled Stars II! I absolutely love this quilt. It is just the happiest quilt ever. Starry is one of my favorite fabric lines so I'm thrilled that it's coming back! I should have some in the shop very soon.
This Starry quilt is the square throw size. I had juuusssst enough Starry fabrics in my stash to make this size.
This quilt has scrappy accent tiles. You can use strips from the star fabric for the accent like I show here or just choose one solid as the accent like the Art Gallery Solids version up above.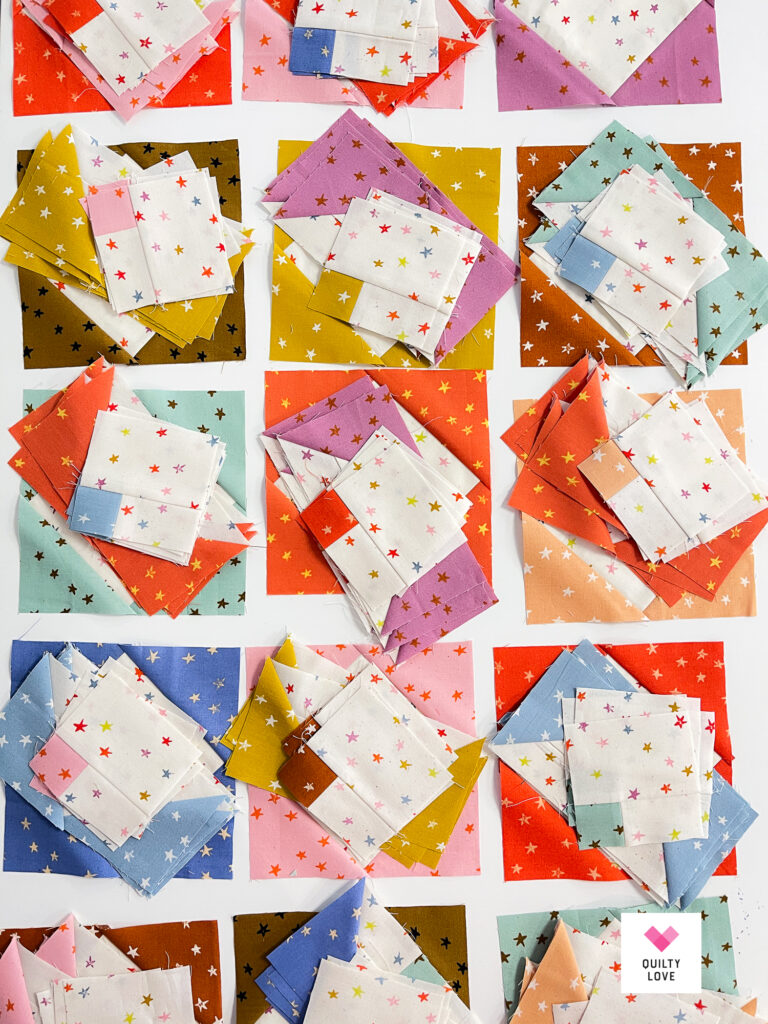 Modern Textiles did the long arm quilting on this one. We used the Mini City of Fountains pantograph. It's such a fun and playful design.
---
Tiled Stars II – Snowkissed Christmas
Last up is the Snowkissed quilt! This one uses a holiday line by Sweetwater for Moda and a nice and natural yarn dyed linen background. I love how soft and pretty this one turned out.
This one is the small throw size and I used a fat eighths for the stars.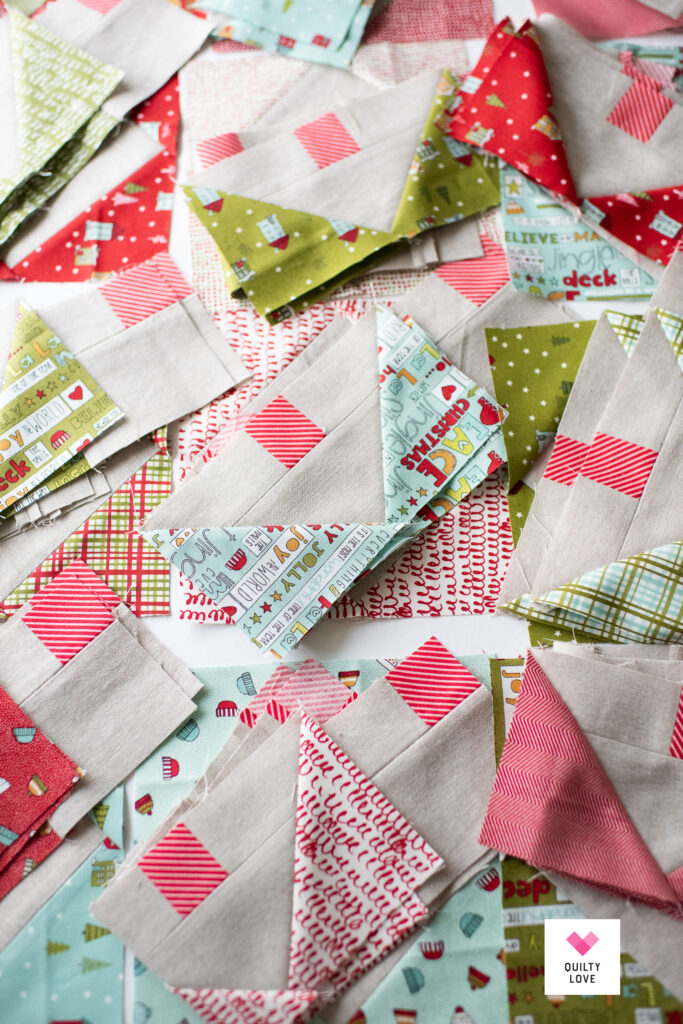 I opted to use yardage as the accent on this Snowkissed Tiled Stars II quilt. And then used the same fabric as the binding. It's an older Bonnie and Camille bias striped fabric.
The backing is a cozy flannel which is also an older Bonnie and Camille fabric.
Modern Textiles quilted this one up also. The pantograph is called Oh Tannenbaum. It's cute little trees in circles.
You can find both the PDF and the paper version of Tiled Stars II in the Quilty Love pattern shop:
Tiled Stars II printed paper booklet
IDEAS
Here are some mock ups of Tiled Stars II to give you some ideas and inspiration. All fabrics are listed below.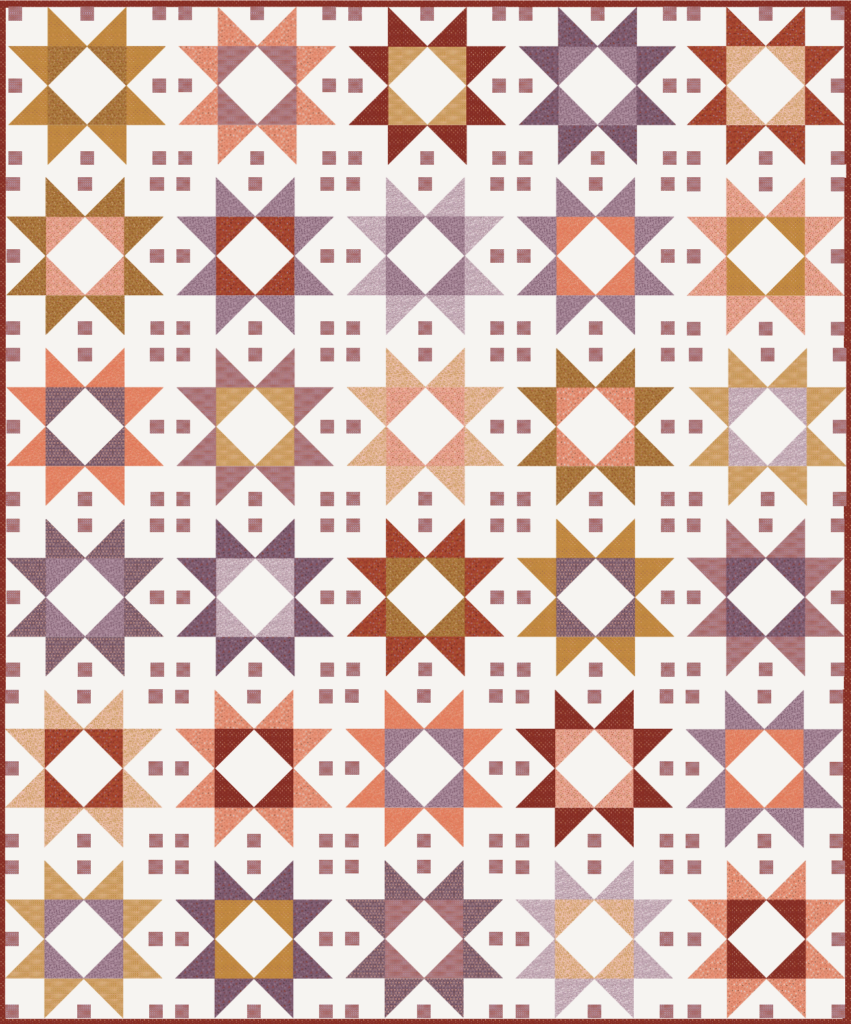 Fabrics:
Row 1: Maple by Riley Blake, Starry by Ruby Star Society, Rejoice by Then Came June for RK
Row 2: Duval by Suzy Quilts, Daybreak by Riley Blake, Daybreak by Riley Blake
Row 3: Nantucket by Camille for Moda, Natale by Guicy Guice for Andover, Sugar Maple by Ruby Star Society
Row 4: Sugar Maple by Ruby Star Society, RSS basics, Maple by Riley Blake