Modern Quilts Block by Block Book
My labor of love last year, aka my Modern Quilts Block by Block book is published and available. Most of 2018 was spent focused on making this book a reality. I haven't shared it here on the blog yet so it's time to tell you all about it.
You can purchase a copy in my shop or a copy on Amazon or ask your local quilt shop about it.
Quilt shops can purchase it wholesale at Checker.
Getting the publishing offer
I was approached by Tuva Publishing in December of 2017 about the idea of writing a quilt book. The crazy thing is the day before I heard from them I told my husband I wanted to do a book. I felt like the timing was right and I was ready. So with the offer in my inbox I accepted and got right to work designing and making quilts. Lots of quilts!
Modern Quilts Block by Block had a pretty quick turnaround which really appealed to me. I didn't want to drag out the process of this book. I like to take on a project, see it to completion and then take on something new. So the quick turnaround was good.
So while I thought the timing was good for this quilt book it did end up being a bit stressful with a move, a remodel and finding out I was pregnant towards the end of it. I lost an entire month of working on it to morning sickness.
Block based quilt designs
I had about 6 months to design and make 12 quilts or so. We settled on the idea of modern quilts (that was an easy one) and block based quilts.
So many of my quilts over the years are block based. I realized as I was getting ready to do this book that I gravitate towards block based quilt designs. I like the neat and orderly construction of block based quilts and I also like how they are an easy way to use up fat quarters and precuts. Fat quarters are my fabric size of choice so fat quarter mix and match quilts have always been my favorite type of quilts to make.
Designing the quilts for this book was surprisingly not as difficult as I imagined. I designated plenty of time for sketching and have a file full of sketches on my computer that I was able to pull from. Since each quilt is just one size it felt a lot quicker than my regular patterns which usually offer many quilt sizes.
Baby quilts to throw quilts
The quilts in Modern Quilts Block by Block range from baby size to large throw size with one mini quilt thrown in. Most of the quilts are my favorite size to make: throw size. Generous throw sizes. But of course, since these quilts are block based it's easy to add or subtract blocks to vary your sizes.
Quilting Techniques
Modern Quilts Block by Block is full of useful quilting techniques such as flying geese, square in squares and half square triangles.
These techniques are drawn out in clear and easy to follow graphics. Learn how to make flying geese four at a time, hourglass blocks, and multiple half square triangles just by following the various quilt patterns
Clear concise instructions and graphics
The book is written a lot like my patterns are written. The book is basically a book full of 12 Quilty Love quilt patterns. The patterns all include a TON of graphics and written instruction.
I did all of my own graphics and the photography for Modern Quilts Block by Block. The graphics were the easy part. The photography really stressed me out..lol. Which really is kind of funny since I am a photographer.
Clean simple photography
My photography style for my quilts is simple. The focus is always on the quilts. That's not exactly by choice but more so a result of what I have to work with. Our house was still a bit under construction when I took these photos so there is a LOT of creative cropping and fake floors 😉 I really had to get creative with how I took these photos by purchasing a few props and fake floors and making them work.
Several of the quilts are photographed in my daughters bedroom. I set up scenes in my studio for a few more. One is on our living room wall and another in my son's bedroom.
I even took the cover photo using a self timer and running back and forth..lol. I was about 5 months pregnant in this photo and tried to suck it in a bit since my non maternity shirt was a little tight;) I only took a handful of photos during this quick impromptu photo session with plans to redo when my hair was washed and I had something else to wear. Well I ran out of time and sunny days for that so we settled on the photo you see.
I had hopes of renting a beautiful modern home for the quilt photography but I ran out of time for that. In the end I'm happy with the photos because they really reflect my style and it was fun to be pushed to really get creative with how they would be photographed.
12 Modern quilt designs
Inside Modern Quilts Block by Block you will find 12 modern quilt projects. They are all shared below.
Hopscotch
Hopscotch is a baby size plus quilt in the book. It was one of the last quilts I sewed up. I was actually surprised how much this one instantly became everyone's favorite when I posted a few photos. Hopscotch is Fat Eighth friendly and a fast and easy quilt to make. This is a simple one to make bigger by making more blocks.
FABRICS Prints: Bakeshop by Michael Miller, Accent: Essex linen, background: Kona white
Sideways Arrows
Sideways Arrows is a modern throw size arrow quilt using flying geese. This quilt goes together super fast with minimal fabric.
FABRICS Prints: Cotton and Steel Sprinkles, Accent: Essex Linen, Background: Kona White
Kriss Cross
Kriss Cross is one of my favorite quilts in the book. It's a very generous throw size quilt. It would probably fit well on a twin size bed. Maybe add larger borders for that. Kriss Cross is fat quarter friendly. I love the movement the shapes in this quilt make. You can easily make this quilt smaller by leaving off a row.

Fabrics: Kona Cotton by Robert Kaufman (Wasabi, Mediterranean, Surf, Water, Cactus, Lemon, Goldfish, Salmon, Mango and white)
Ombre Squares
Ombre Squares is one of the first quilts I designed for the book and the first quilt I sewed up for the book. The funny thing is, I didn't think it would actually make it into the book because I wasn't sure it fit with the rest of the quilts. So I was so shocked that this quilt got so much love when I posted it on Instagram! It's a super simple quilt that looks great in ombre fabrics or non-ombre fabrics. I've fallen in love with it again and can't wait to make another.
FABRICS Ombre: Confetti Ombre by VandCo, Accent: Stripes by Timeless Treasures, Background: Kona White, Binding: Kona Silver

Figure Eights
Figure Eights is a fat quarter friendly throw size quilt. I had a lot of fun making this one up but I admit it it really threw me for a loop. There is a pattern correction for Figure Eights that you can find here.
Fabrics: Wink by Birch Fabrics

First Place
First Place is a throw size sawtooth star quilt pattern. This quilt uses fat eighths and an accent fabric. This is another favorite from the book and the one that made it on the cover.
FABRICS Prints: Yucatan by Moda fabrics, Accent: Bella Solid Aqua, Background: Kona white, Binding: Timeless Treasures Stripe
Churn Dash
Churn Dash was a fun quilt to make up. I've never made a Churn Dash block or quilt before so I wanted to come up with one for the book. This is a simple fat quarter mix and match quilt pattern.
FABRICS Prints: Various, Background: Kona White
Hourglass
Hourglass is a fat eighth or fat quarter friendly throw size quilt pattern. Hourglass blocks are a lot of fun to make and are the main accent of this quilt.
FABRICS Prints: Various, Hourglass accent and binding: Kona Mediterranean, Accent: Essex linen, Background: Kona white
Shine On
Shine on was such a fun quilt to design. It's bold and modern block design will look great in solids or prints. Shine on is a throw size square quilt.
FABRICS Prints: Cotton and Steel Sprinkles, Background: Kona white
Tiled Stars
Tiled Stars was inspired by floor tiles! This is the quilt I was most excited to sketch up and see in quilt form. This quilt has a few steps but they are easy to follow. Tiled Stars is a fat quarter friendly quilt but would also look really cool in one solid color. This star quilt is a generous throw size.
FABRICS Prints: Cotton and Steel Add It Up, Background: Kona white
Mini Medallion
Mini Medallion is the only mini quilt in the book. Truthfully I wanted to make this block a quilt block but it's a little more time intensive so I kept it a mini. But, it would definitely make an awesome quilt block.
FABRICS Prints: To Market by Cloud 9, Accent: Essex Linen, Background: Kona white
Block by Block Sampler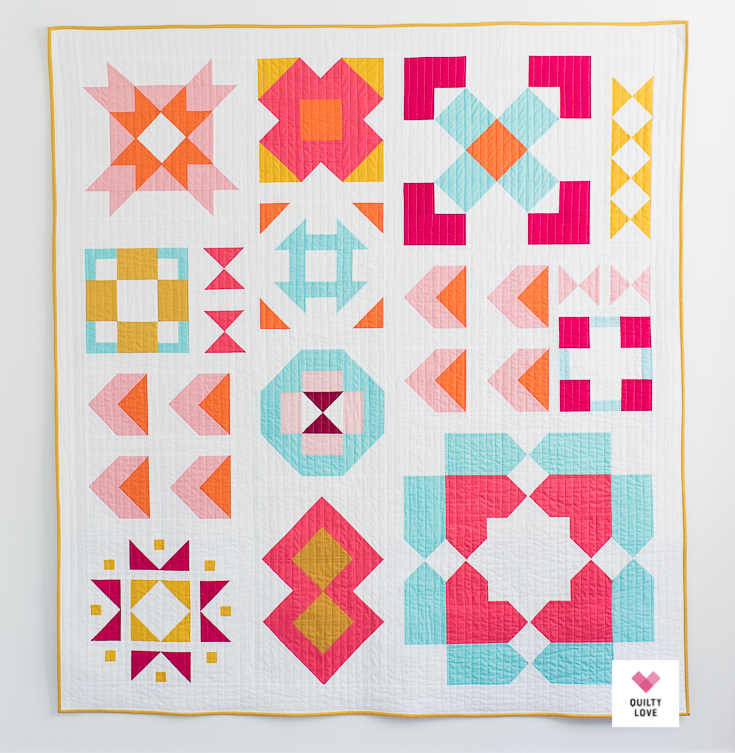 The block by block sampler is the last quilt project in Modern Quilts Block by Block! Since the quilts in this book are all block based, a sampler seemed fitting. Find this large throw size quilt at the end of the book.
FABRICS Kona Cotton Solids
All quilts were pieced on a Janome MC6700p. Long arm quilting by Kaitlyn of Knot and Thread.
Purchase a copy of Modern Quilts Block by Block
Purchase wholesale at Checker.

Special thanks to the following:
Cotton and Steel for providing fabrics
Moda for providing the Ombre fabric and the Yucatan fabric
Cloud 9 for providing fabrics
Birch Fabrics for providing fabrics
Janome for providing my sewing machine