Bounce Triangle Peaks quilt
Today I'm sharing this Bounce Triangle Peaks quilt. This one was made so long ago so I don't know how it hasn't made it up on the blog yet!
Triangle Peaks quilt pattern is available in the Quilty Love pattern shop.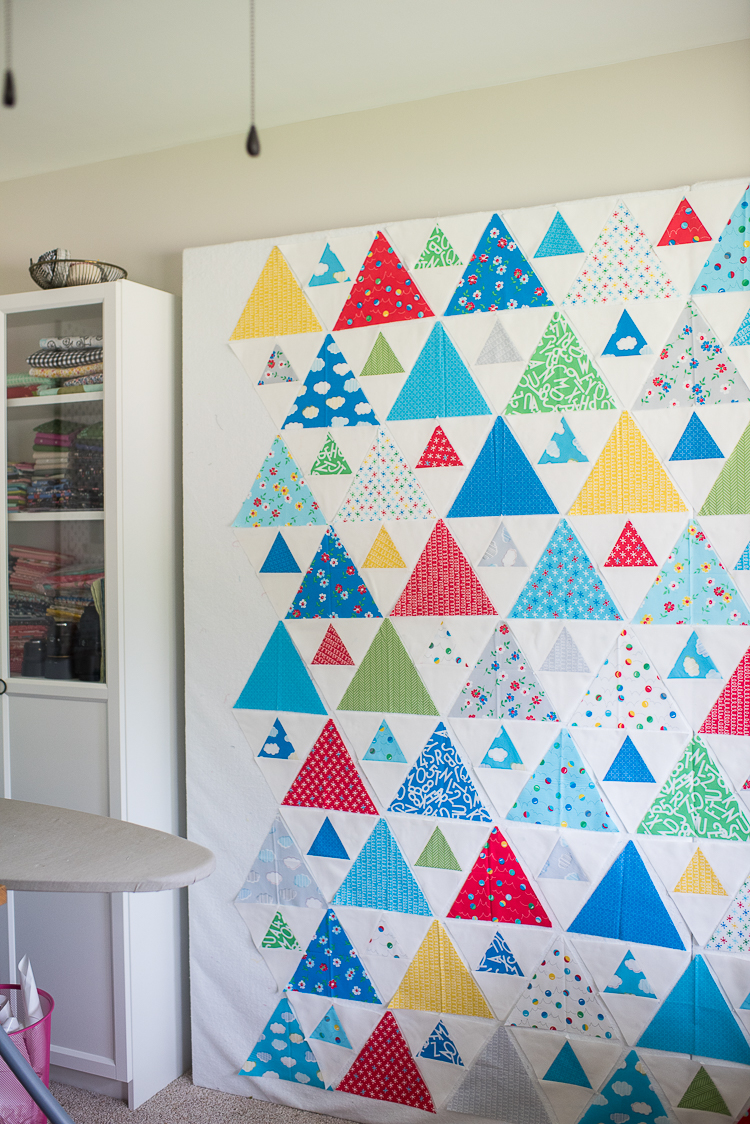 Bounce Triangle Peaks Quilt
Triangle Peaks is a quick and easy Triangle quilt pattern that is made up using fat quarters. Allison of Cluck Cluck Sew sent along her newest fabric line Bounce for Windham fabrics and I couldn't wait to cut into it.
I believe I had a fat eighth bundle and cut all of the triangles from those fat eighths. Instead of using an accent color for the smaller triangles, I used the extra fabric.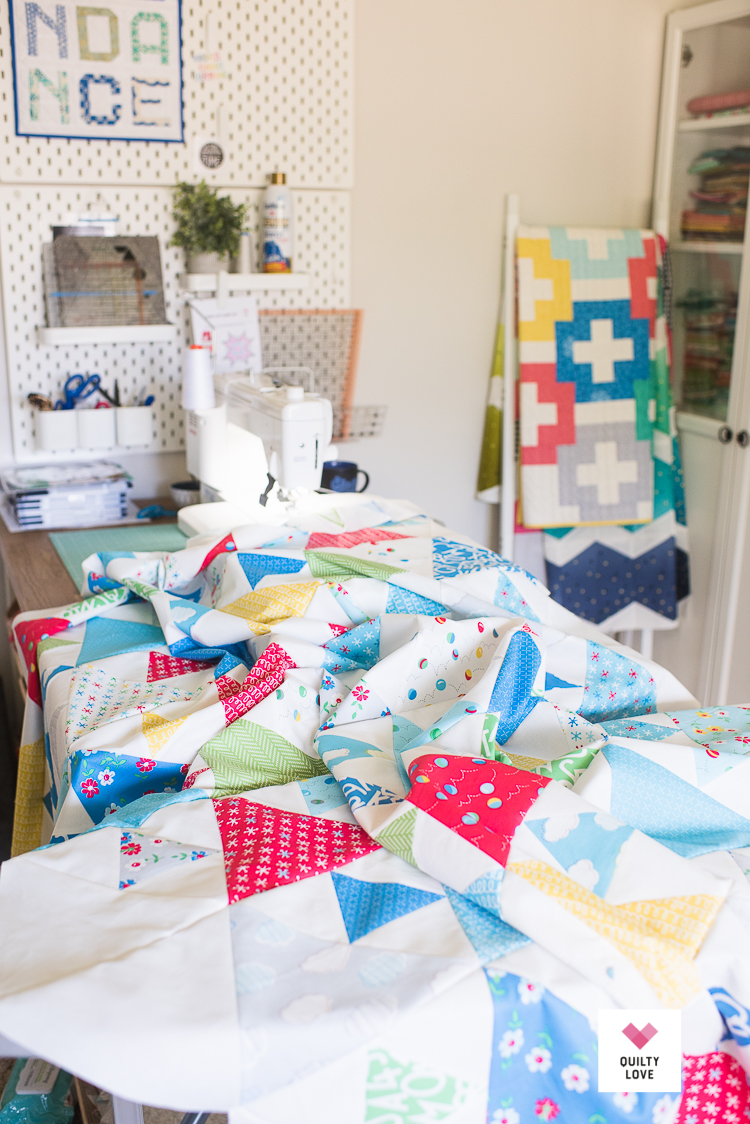 This fabric line is full of fun designs in primary colors. I used to shy away from reds in my quilts but lately I've really loved red.
The Serpentine quilting stitch
I quilted this Triangle Peaks quilt myself using my favorite wavy stitch on the Janome MC6700p. It's basically just quilting straight lines and the wavy stitch does all of the work.
And yes, I always start on the edge and work edge to edge. I started doing that to prevent the fabric pulling that happens when you flip your quilt while quilting it. Honestly, this big Janome probably would not pull the fabric but I got used to not flipping my quilts when I used my smaller Janome sewing machine.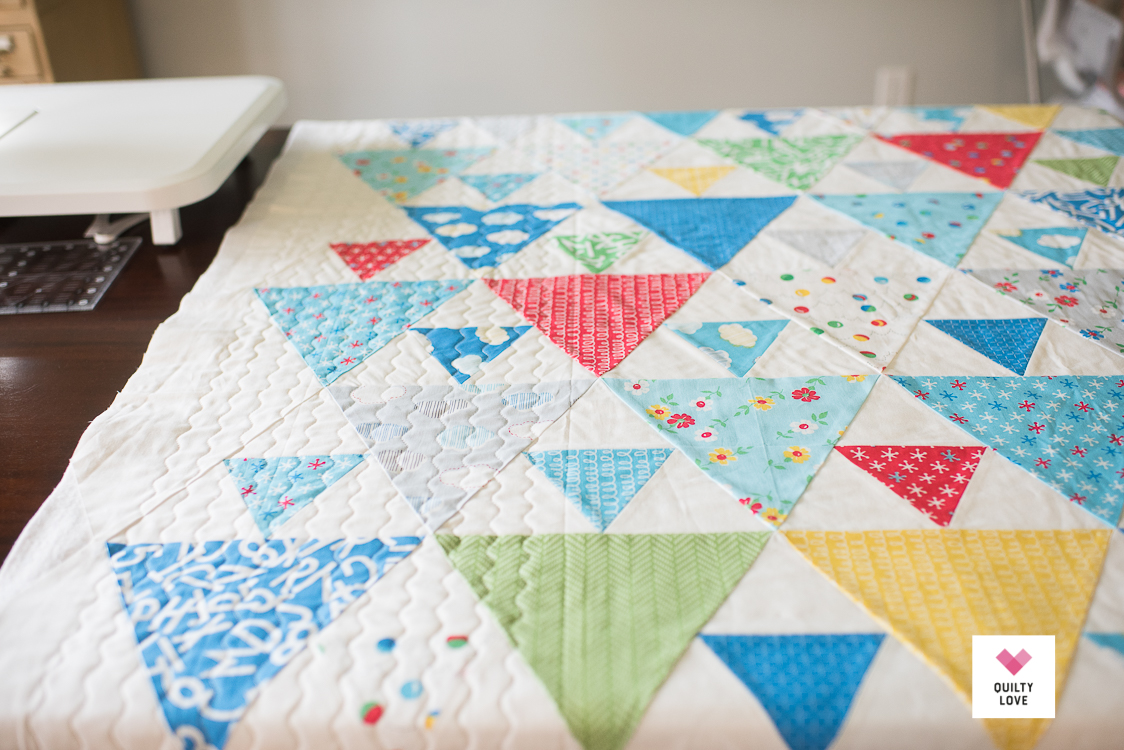 This cute and playful Triangle Peaks quilt is finished of with a solid red binding and a red Dear Stella backing fabric. I really love neutral subtle prints on the back of my quilts.
Quick and easy Triangle quilt pattern in all the quilt sizes
Triangle Peaks is a quick and easy triangle quilt that includes instructions for a baby size, throw size, twin size and a queen size.
This would make for the cutest twin size bed quilt. This Bounce version is a throw size. The throw size is a nice generous size. I love nice and large throw quilts. 🙂
Fat quarter and 1/4 yard friendly
Triangle Peaks is written for fat quarters or 1/4 yards. I actually used fat eighths here and just used double the amount of the fat quarters. So this is probably close to 20 fat eighths.
I used the left over fabrics for the accent triangles and used every last scrap of these fabrics..haha. I actually love when that happens because it really feels like no waste.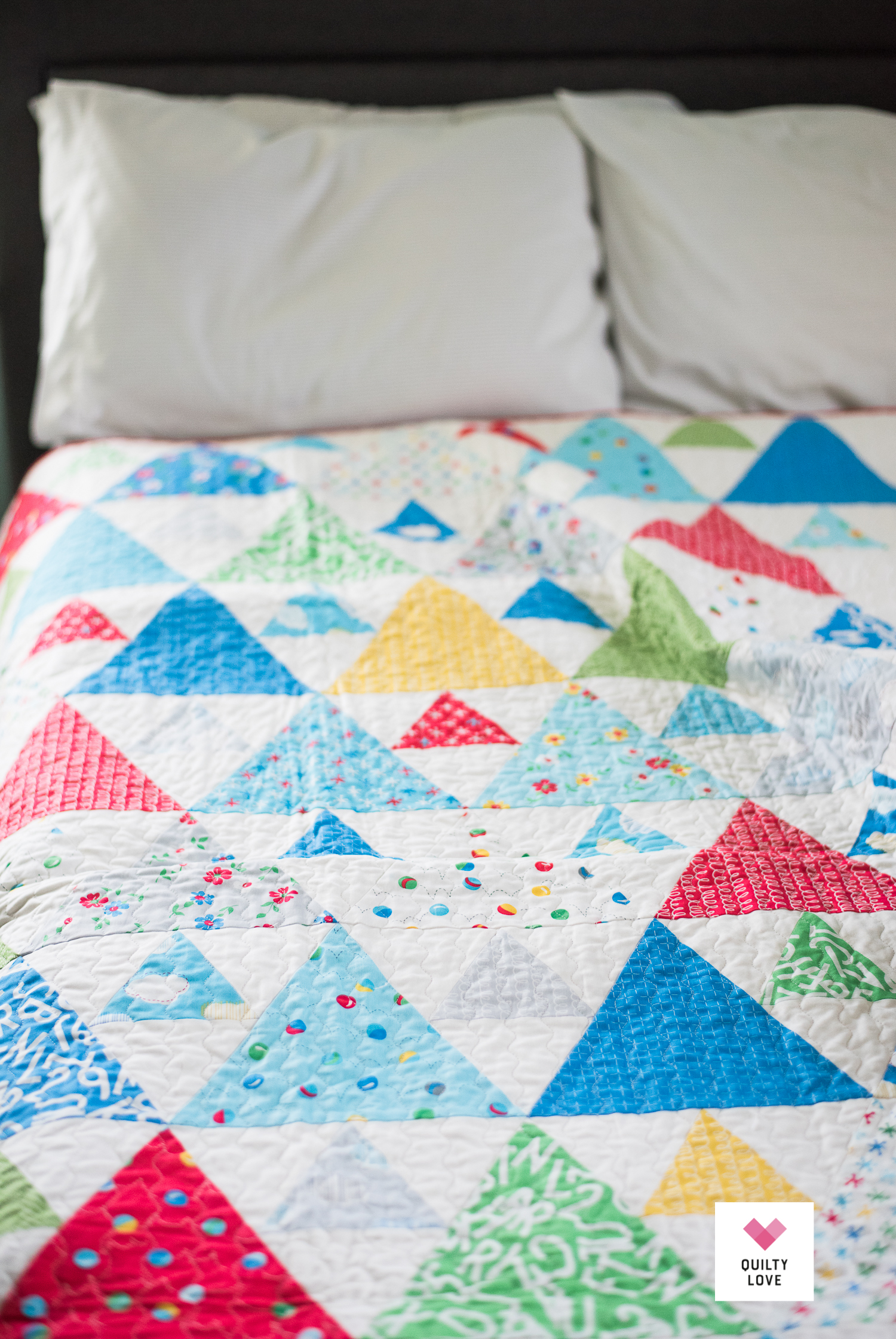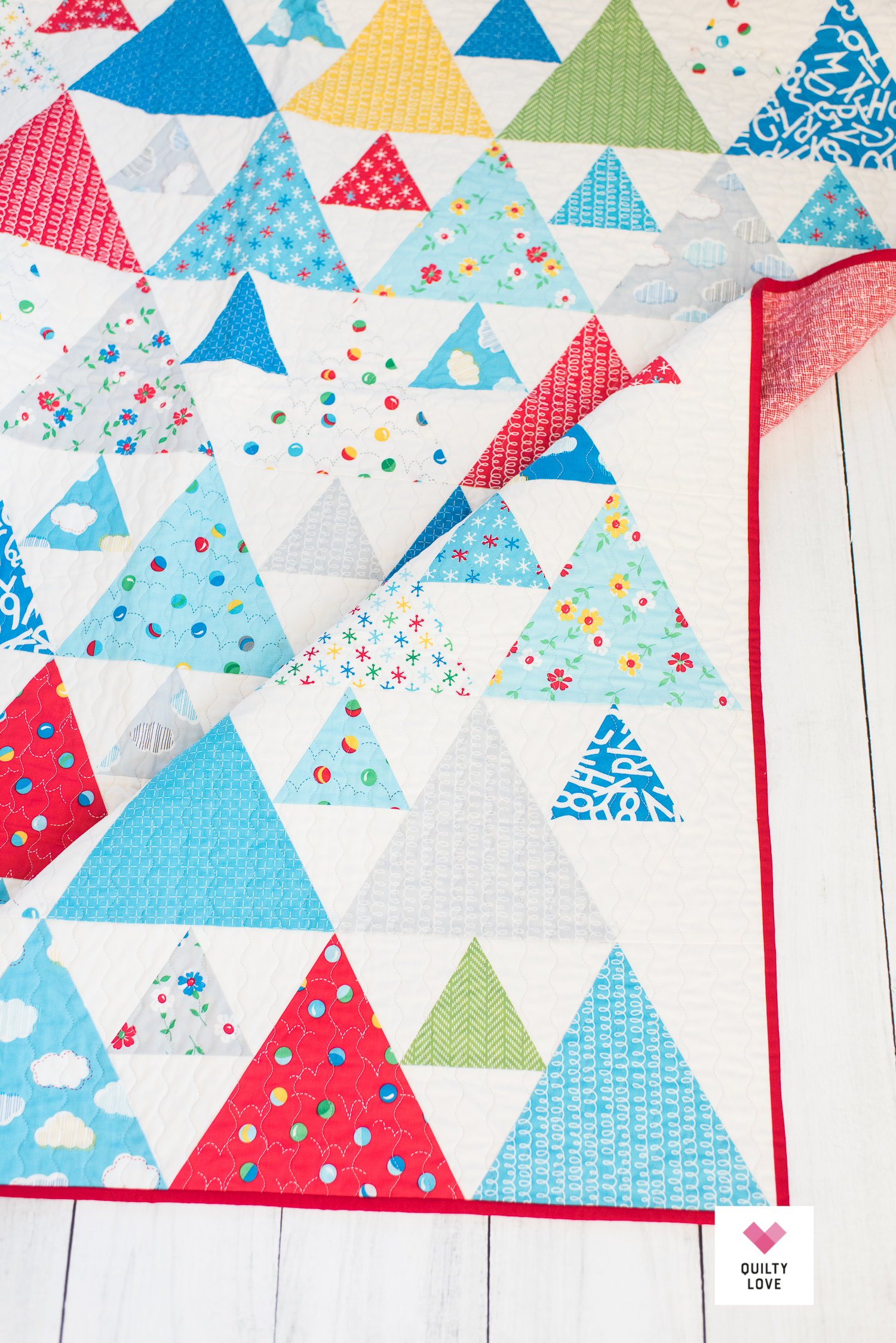 This triangle quilt ended up being the cutest quilt! Perfect for a younger child.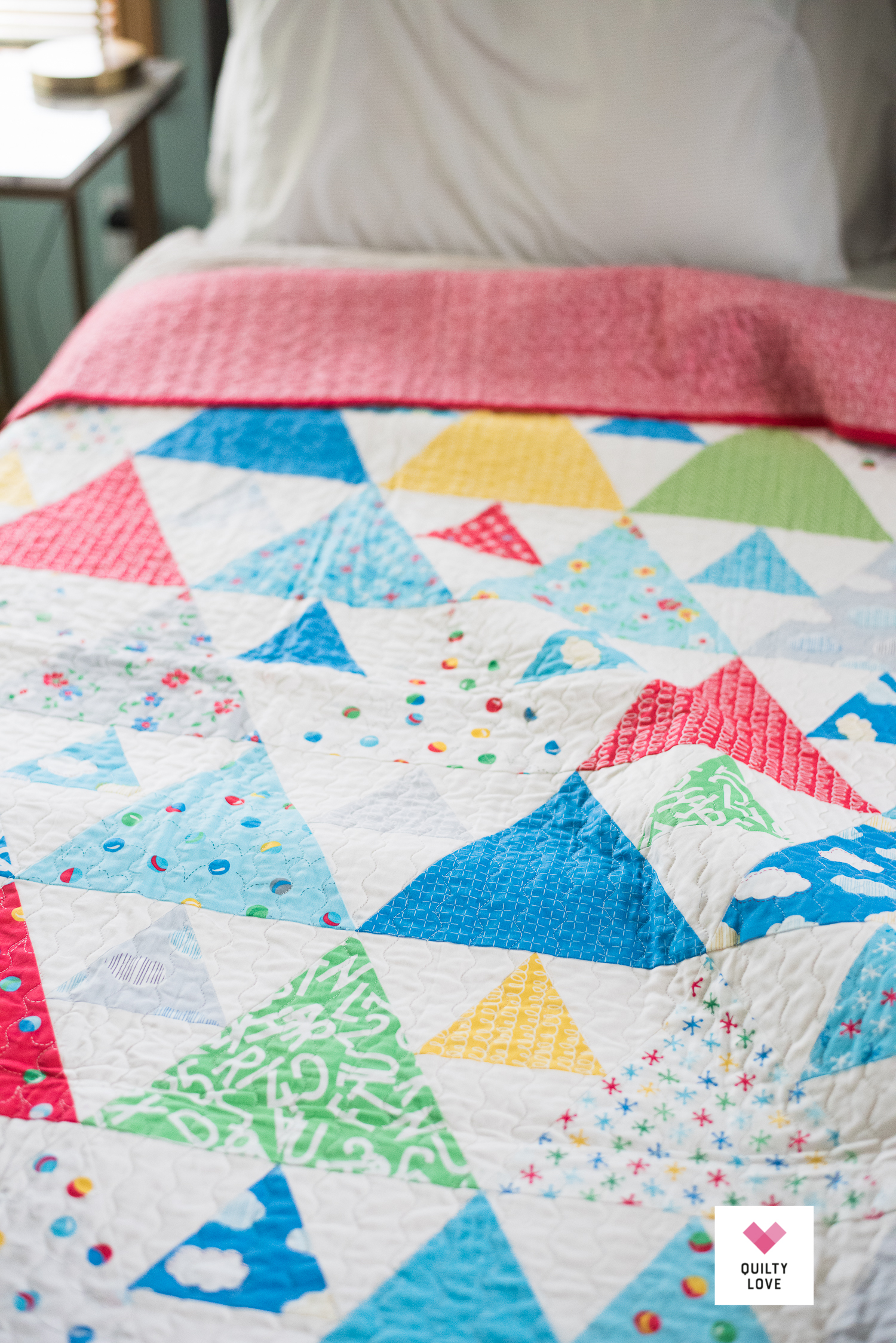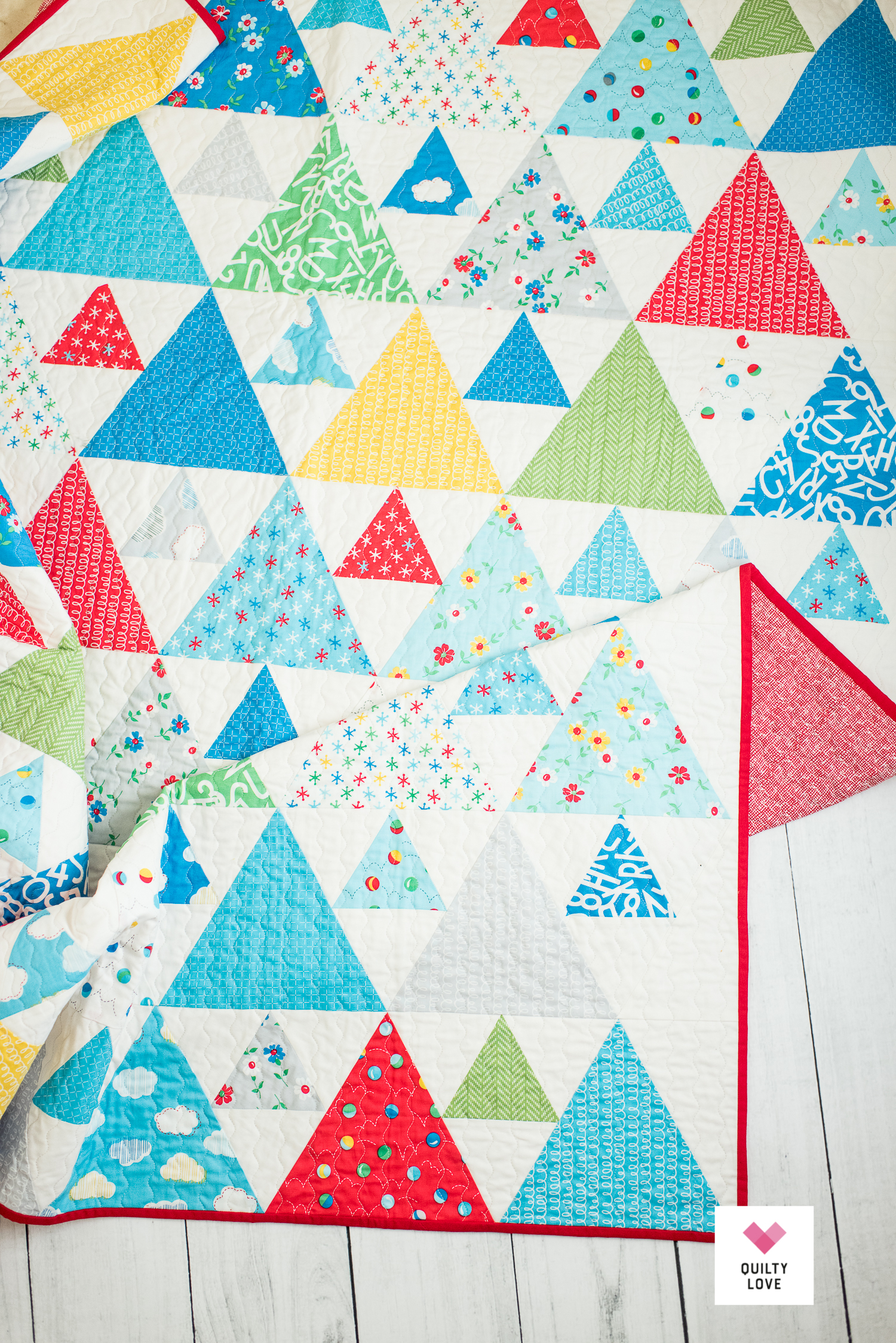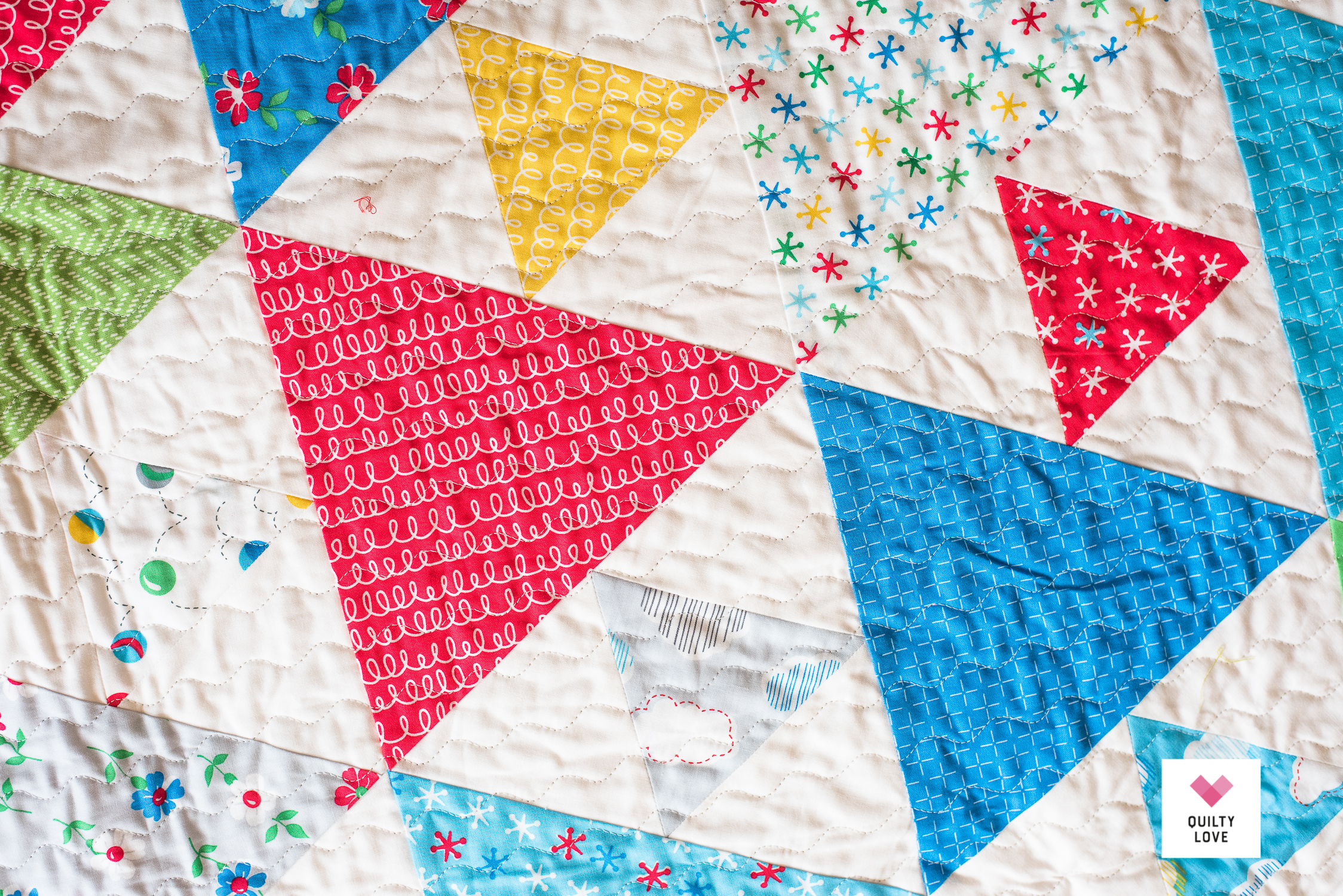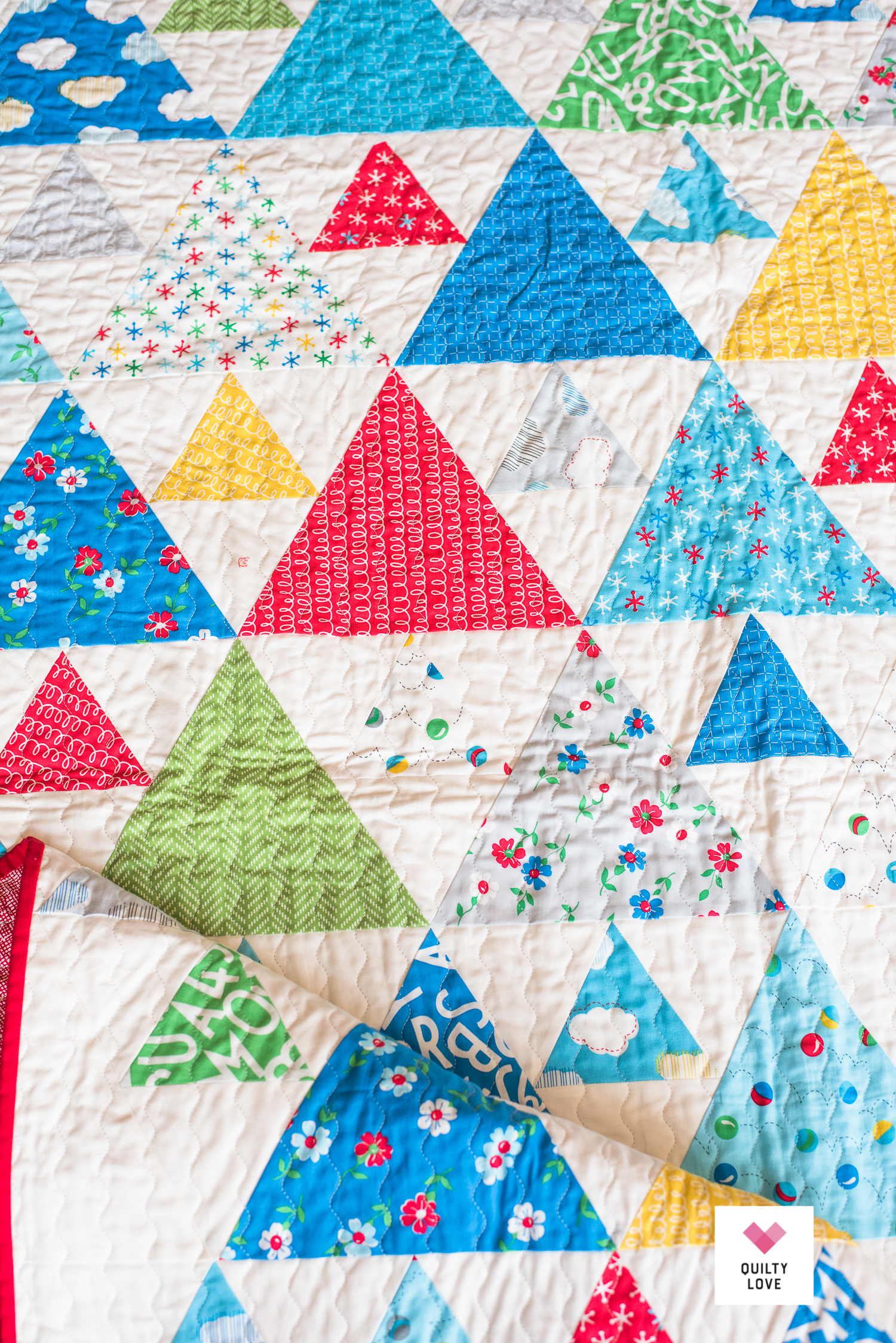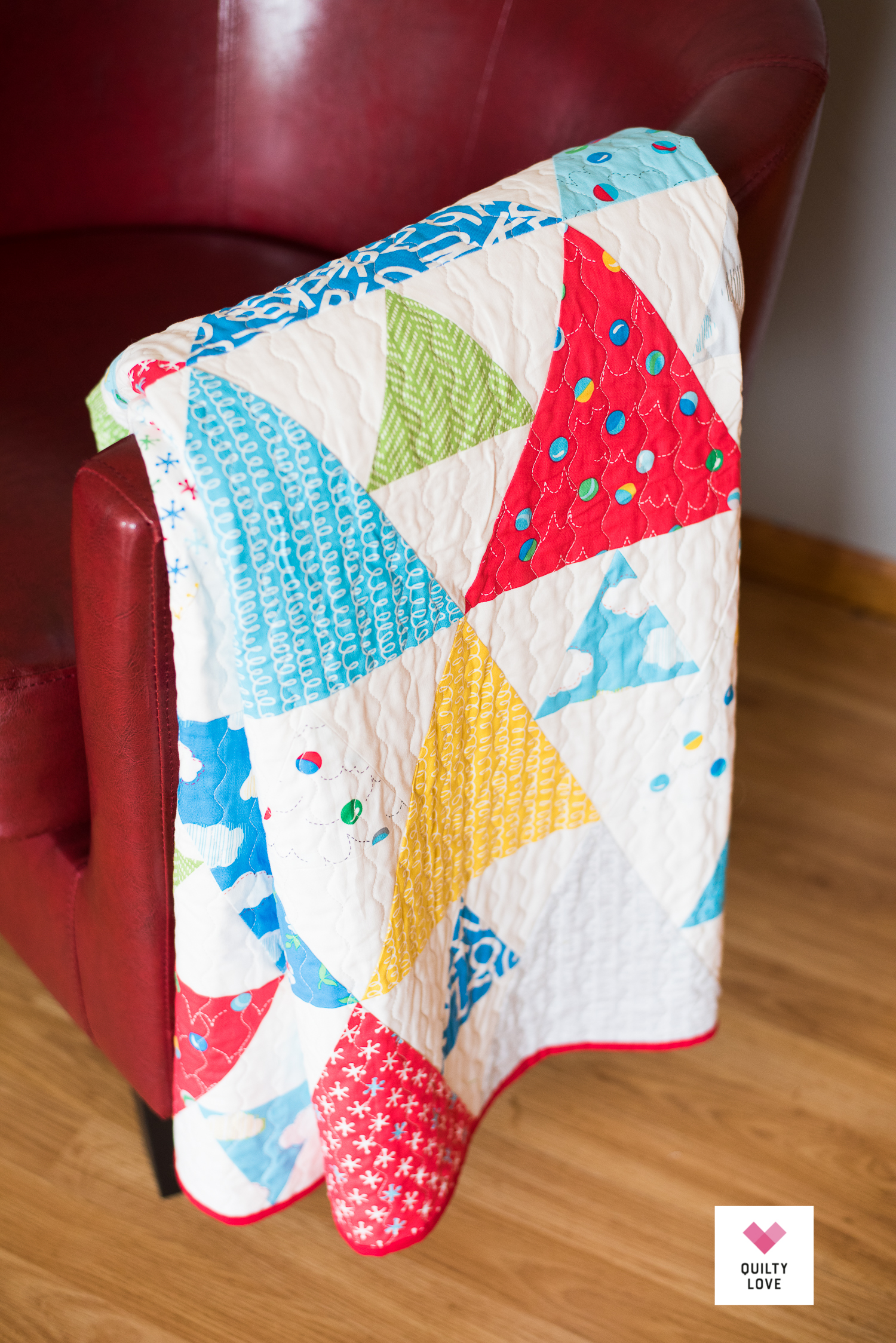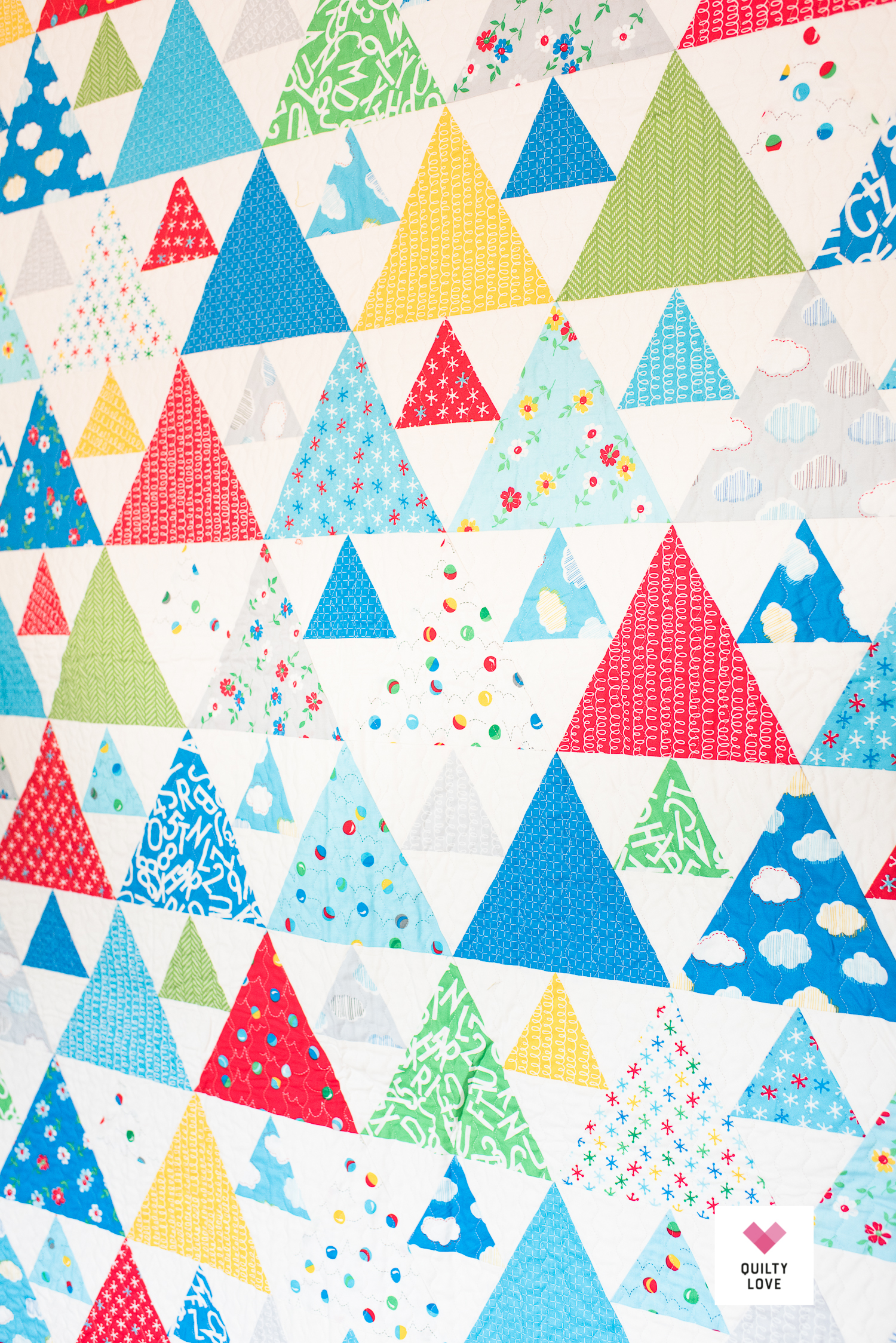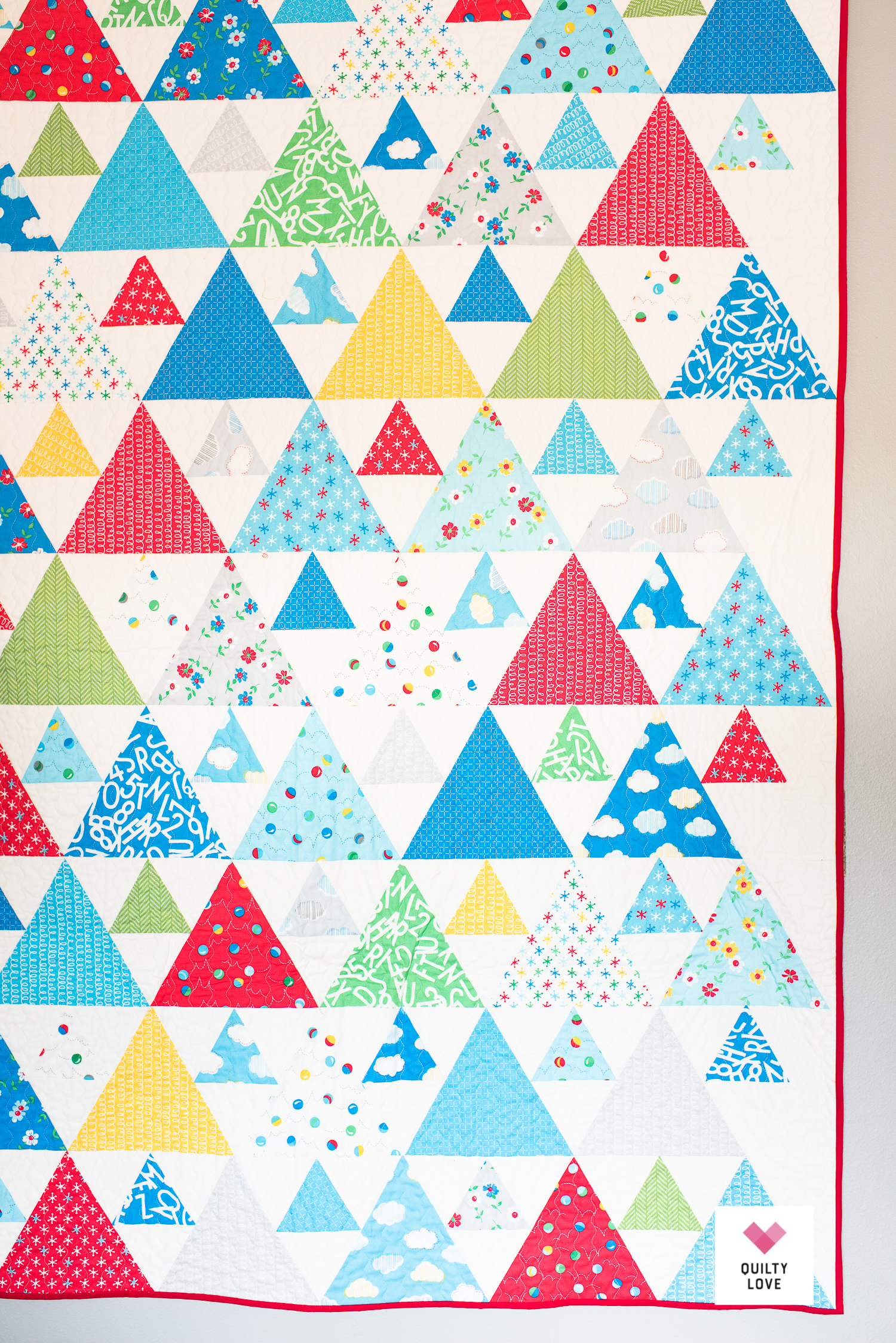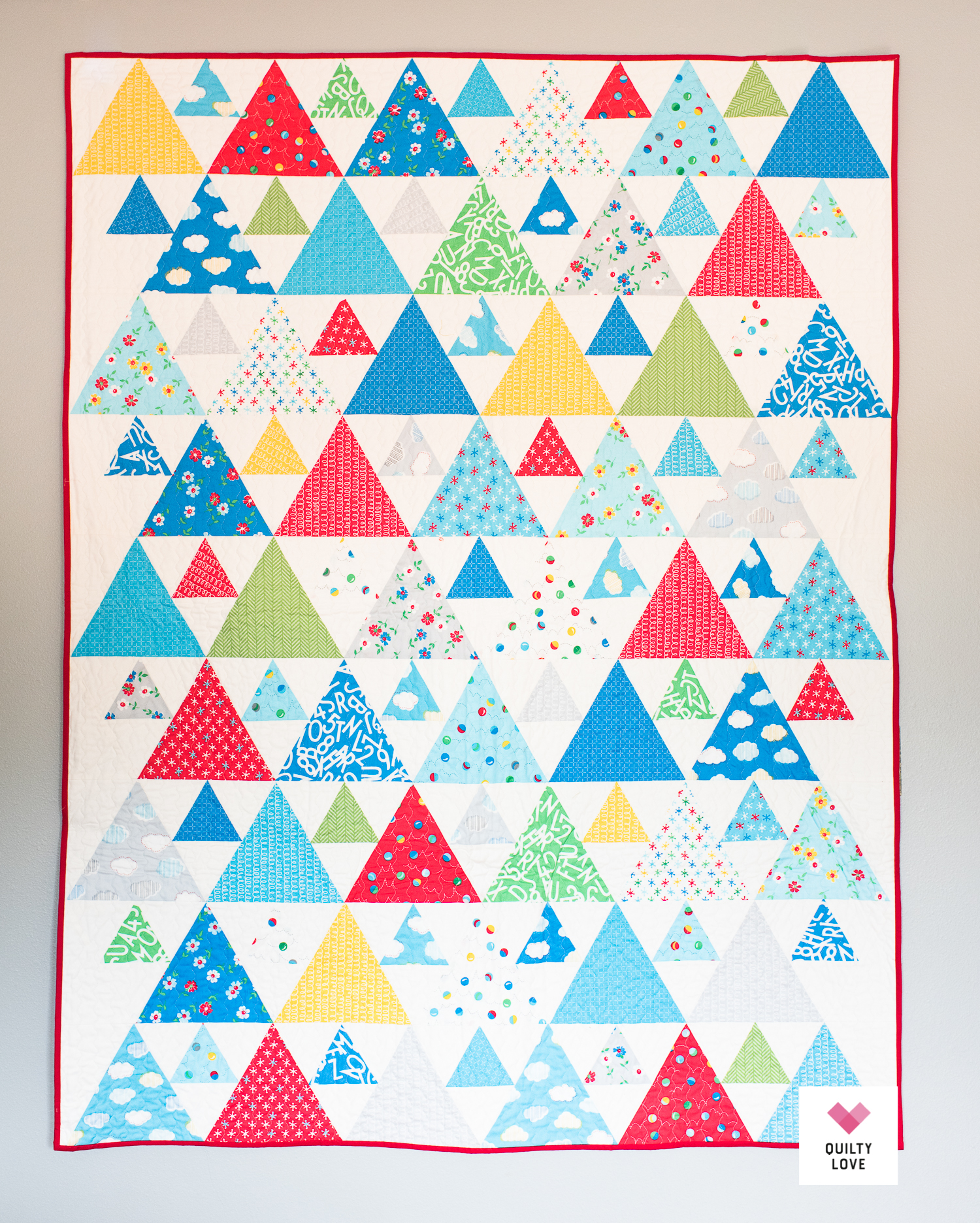 Materials Used:
Triangle Peaks quilt pattern
Bounce fabrics by Cluck Cluck Sew for Windham fabrics
Binding: Kona Red
Backing: Dear Stella Net
Batting: Quilter Dream Select
Pieced and quilted on a Janome MC6700p