Infinite Hearts Quilt Pattern – A scrappy happy heart quilt
I am so excited to share this year's heart quilt! The Infinite Hearts quilt pattern is available in the Quilty Love shop.
The Infinite Hearts quilt pattern was designed with your fabric scraps and fabric stash in mind! Infinite hearts is stash friendly.
This sweet scrappy heart quilt can be sewn up using fat quarters, fat eighths, quarter yards, jelly roll strips or your scrap stash!
The quilt pattern includes baby size through twin size.
Stash quilt
I made this version of Infinite Hearts using leftover fat quarters from my Kona Calendar Crossroads quilt. I thought I left out the red, coral and some of the peaches but now I'm not so sure..lol. Either way, it's a large assortment of Kona solids in reds and pinks.
This quilt uses a few strips from each color. I love that this quilt used up these left over fabric pieces. It is so satisfying to sew your stash that way!
My stash never gets very large because I tend to do this a lot. If I have a bundle already curated and working well together, I'll use it for more than one quilt.
Kona Cotton pink and red solids
Peony, Brt Pink, Melon, Camellia, Salmon, Coral, Peach, med Pink, Azalea, Pomegranate, Bubble Gum, Red, Creamsicle, Candy Pink, Punch, Baby Pink, Primrose, Valentine, Pink, Watermelon, Dusty Peach (I think I left our coral and red)
Ruby Star Society Grid background fabric
The background in this scrappy heart quilt is Ruby Star Society grid in the color cloud. Isn't it the cutest!? It's the perfect alternative to a solid white background. I will warn you that it's a little hard to find right now. I used this grid for all of my Infinite Heart quilt samples.
Infinite Hearts quilt pattern
It has been such a fun challenge to come up with a new heart quilt each January.
This design took a few edits to get right. In fact, I sewed up an entire sample and then decided to change it up. I also spent quite a few hours sketching in Illustrator. There were some cute options but nothing was exciting me much. Until I finally landed on this simple design.
I love that it's a simple heart but has movement with the four stripes. I love that the hearts are tightly spaced and continue off the edges. That is where the quilt pattern name comes from. There is no beginning or end to the hearts. They continue on in each row.
Multiple quilt sizes
Infinite Hearts includes five quilt size options. Since the block is a little smaller I kept the sizes between baby and twin. You certainly could size up by making more blocks!
The Infinite Hearts quilt pattern includes a nice baby or toddler size quilt, three throw sizes and a twin size. This would make the cutest twin quilt!
Three throw sizes
I love a large throw size quilt! But I also wanted to provided options for smaller throw sizes. Infinite Hearts includes a small throw, a medium size throw and a large throw.
Pre cut friendly quilt pattern
Infinite Hearts works for most fabric pre cuts! The pattern includes cutting instructions for fat quarters, fat eighths, quarter yards, half yards and jelly roll strips. You could even use layer cakes for Infinite Hearts!
Jelly roll quilt pattern
I'm always excited when a quilt pattern works with jelly rolls! Infinite Hearts is jelly roll friendly!
Scrappy heart quilt
And of course, it works with scraps! One of the reason I made the heart blocks with stripes is so that you could use your scraps. I'm really excited to make a scrappy version of this heart quilt. Use your pinks or reds or something unexpected like navy fabric scraps. Or how cute would this be in a rainbow of color?!
The pattern includes instructions for using a solid background like this quilt or using your neutral scraps for a scrappy background!
Ambitious beginner quilt pattern
I would call Infinite Hearts an ambitious beginner quilt pattern. I actually adjusted the design with beginners in mind. The trickiest part will be preserving the bottom points. But the pattern is full of diagrams to walk you through each step.
Riley Blake Wideback quilt backing
I almost forgot to include the info about the backing! The backing on this Infinite Hearts quilt is the brand new Riley Blake wide backs by The Tattooed Quilter! This one is the color grey.
I love a good wideback so I was pretty excited to find these new designs by Christopher. A wideback is a very wide cut of fabric intended for backing a quilt. I know it's not hard, but I hate piecing quilt backs so I use wide backs whenever I can. I'm excited to see some new modern neutral designs hitting the market.
Long arm quilting design
This Infinite Hearts quilt was quilted by Jenae of Vintage Stitch. She chose the cutest little rainbow quilting design and I absolutely love it!
I also made a cute little ombre heart baby size quilt sample! I'll post that one soon.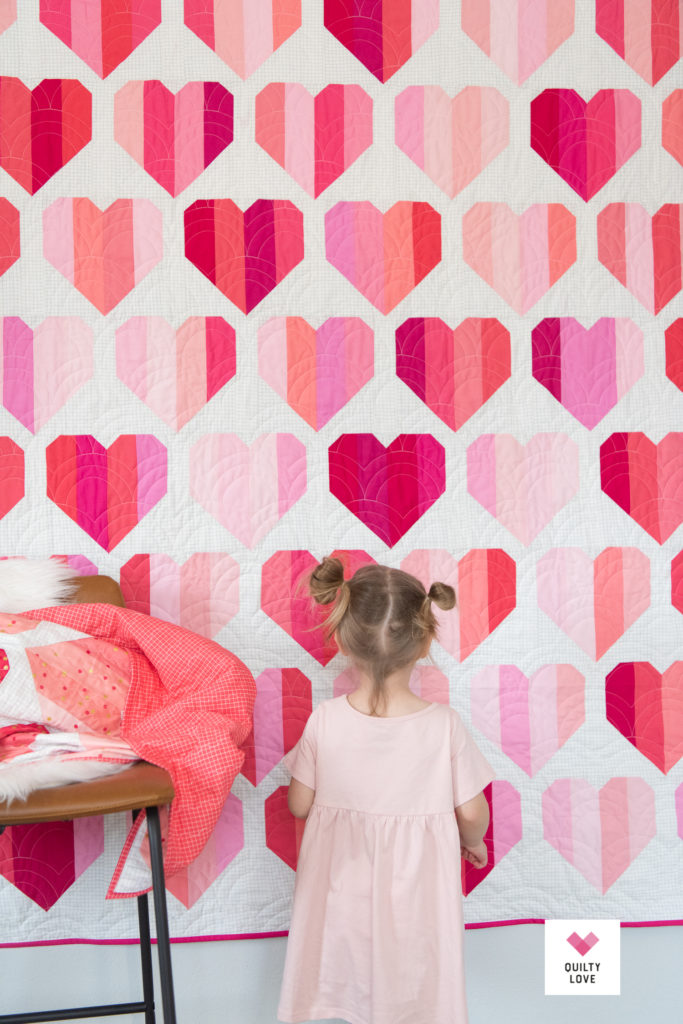 I couldn't believe the toddler allowed me to get these photos! It was a quick session and I just let her do her thing with some gentle prompting. We got some gems for sure….lol.
Bonus blocks
Infinite Hearts includes these bonus blocks in the quilt pattern! I'm not usually one to save cut off corners but you end up with quite a few in this quilt.
You can use these leftover half square triangles for any half square triangle project or these pretty sawtooth star blocks! I plan to make up a full throw size quilt using these star blocks!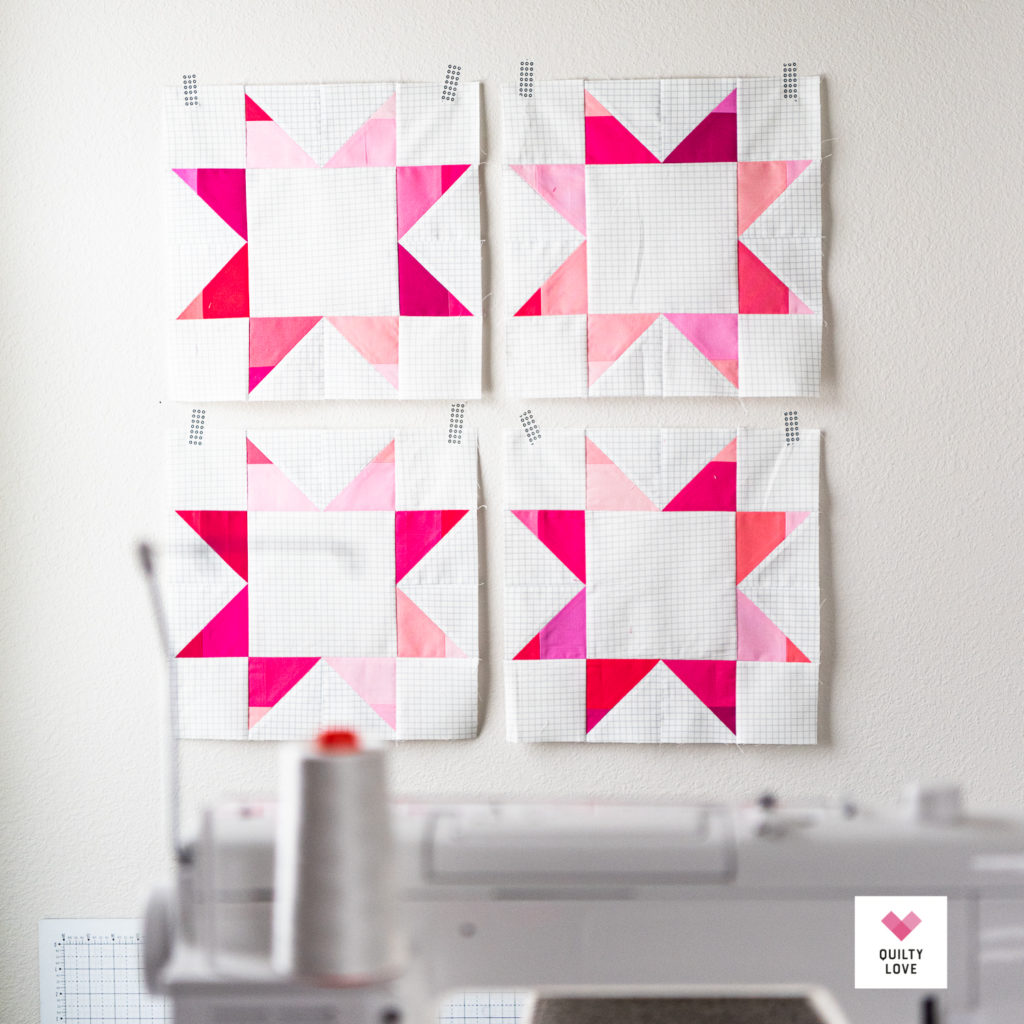 You can find Infinite Hearts in the Quilty Love pattern shop.