The Chicken Quilt – link to free tutorial
Today I'm sharing the Chicken quilt with you all!  It got a lot of love on Instagram which kind of surprised me.  Apparently you all like the chickens 😉
This chicken quilt was made specifically for my sister who is a newer chicken momma.  @hollygetsquilty posted a chicken pillow on Instagram and I was smitten.  I knew I had to make my sister a quilt.  It got added to the long list of "someday quilts".
In July I attended a quilting retreat with friends and decided to start this quilt rather than all of the other projects I brought with.  We have a fabric share table at our retreats and all of the fabric for this quilt (including the backing!) came off of the fabric share table.  So this one couldn't have been possible without friends sharing fabric 🙂
Link to the chicken block tutorial
I followed this Chicken Quilt Block Tutorial by Sew Inspired.  I'm not exactly sure how the comb of the chicken is supposed to be attached but I ended up just raw edge appliqueing it to the fabric so it lays flat and is fully attached.  It was fun to draw out random size and shaped combs.  Each chicken has their own personality 😉
Chicken quilt size
This throw size quilt has 6 columns and 9 rows for a total of 54 blocks.  I added 2.5in in sashing to complete the quilt.  It measures about 60in x 78in.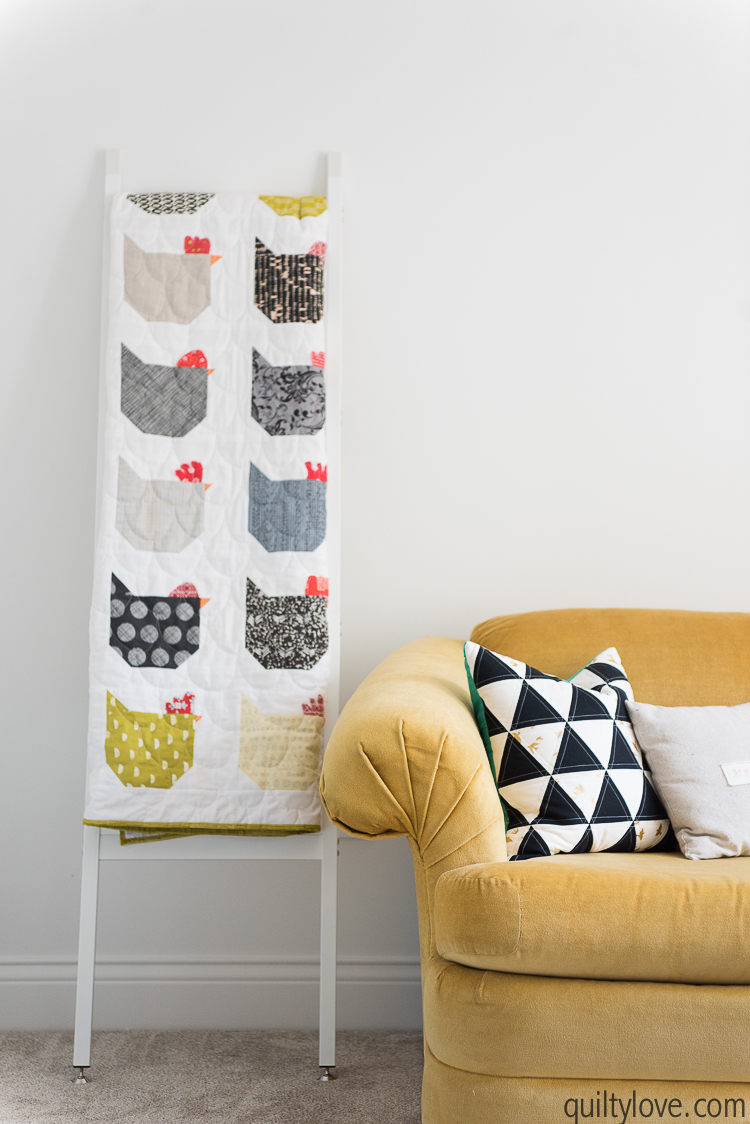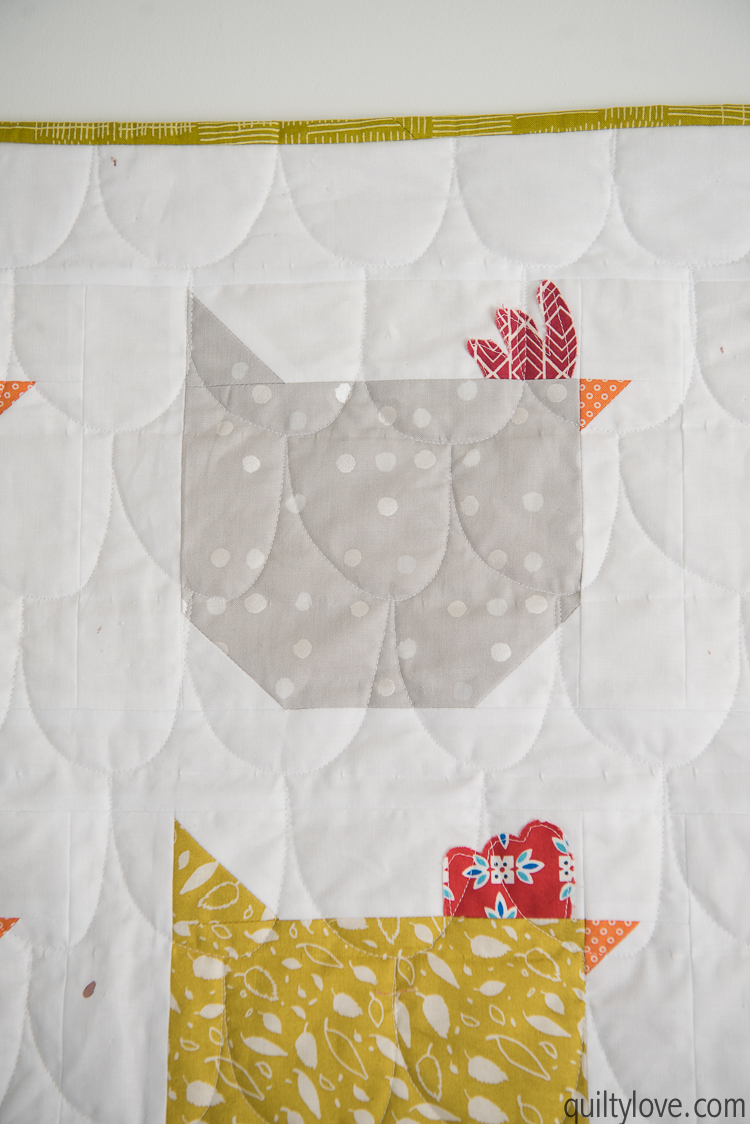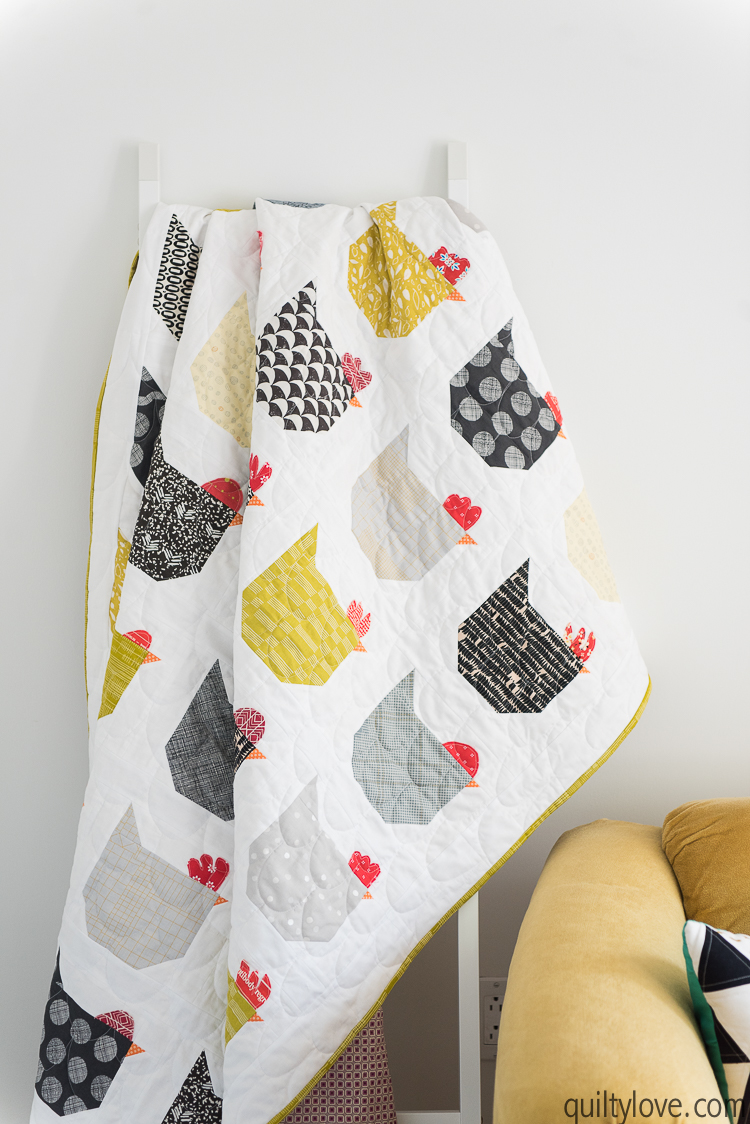 Fabrics
I used neutral fabrics with yellow mixed in for my chicken quilt.  A lot of these fabrics are Carolyn Friedlander fabrics.  There are a few Cotton and Steel and Cloud 9 also.  I'm not sure about the rest.
The backing is a Joann's fabric.
Free motion quilting
The chicken quilt is quilted with free motion scallops.  They are very organic as I kind of wing it when free motion quilting scallops.  I mark evenly spaced horizontal lines with a hera marker and then free hand the scallops themselves.  I have a tutorial for this quilting here.
This chicken quilt block in the middle below is probably my favorite chicken of the bunch 🙂  I love that black and white print.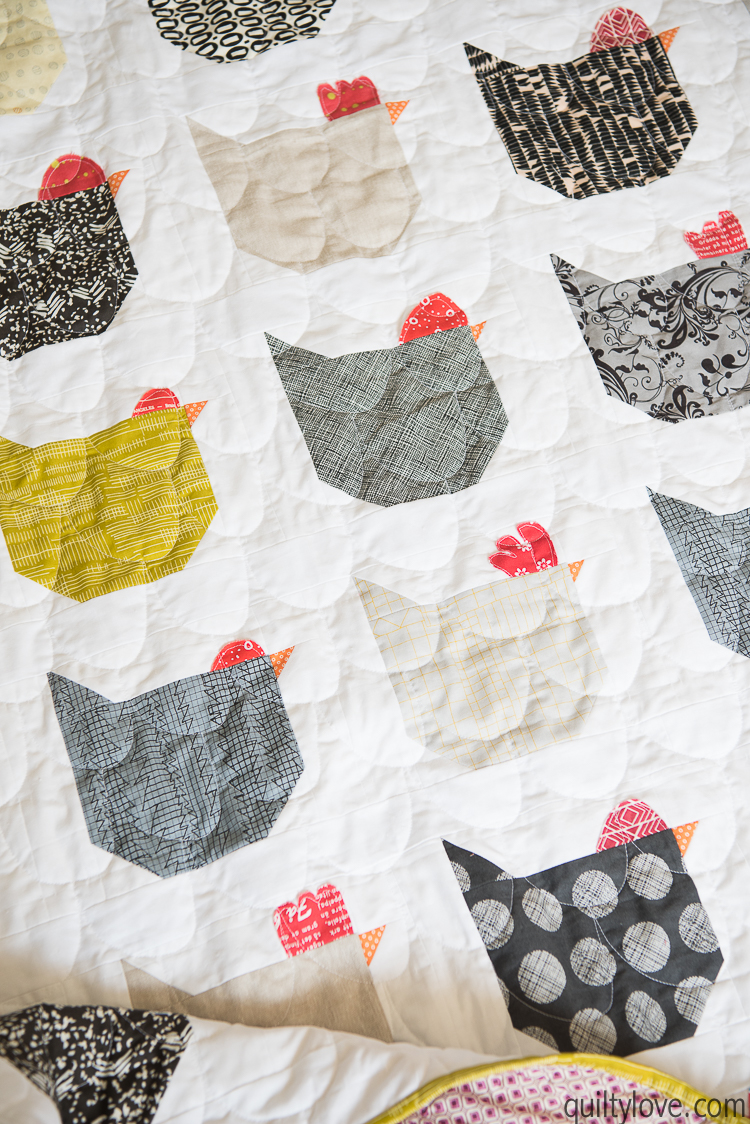 The quilt binding is a yellow Carolyn Friedlander fabric.  It adds a nice pop of color to the chicken neutral quilt.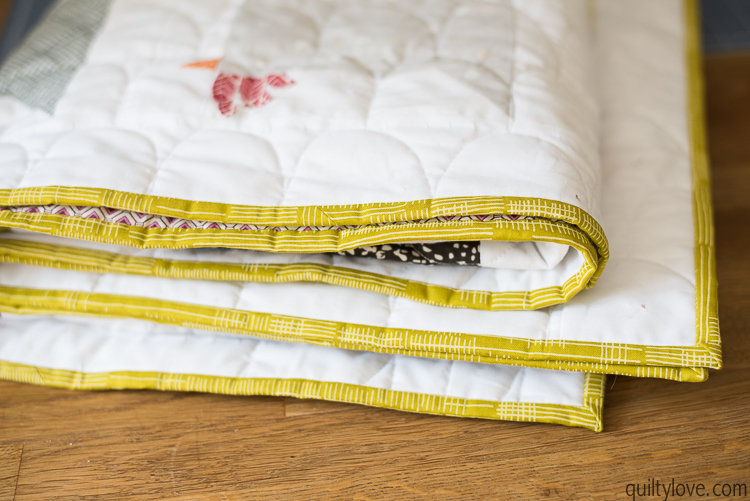 My sister loved her chicken quilt and it was so fun to surprise her with it.