Compass Star Baby quilt – The Ruby Star Society one
I have the cutest Compass Star baby quilt to share with you today! I actually made this quilt top last spring but recently had it quilted and finished.
Compass Star is one of my favorite star quilts to make and I've made a few of them by now. Recently I made one using my new Quilty Love Palette Picks bundle.
This might be the first Compass Star baby quilt that I have made though! Compass Star is a really great stash quilt as it only uses fat eighths. So for this baby sized star quilt you would only need nine fat eighths from your stash.
I used the leftover Smol Ruby Star Society fabrics from my Hopscotch II quilt. So technically I didn't even have fat eighths. I just cut each block piece from the fabrics I had left. I ended up using more than nine fabrics to make that work. I also used a solid as an accent since I didn't have enough fabric.
The Compass Star quilt pattern is available in the Quilty Love pattern shop.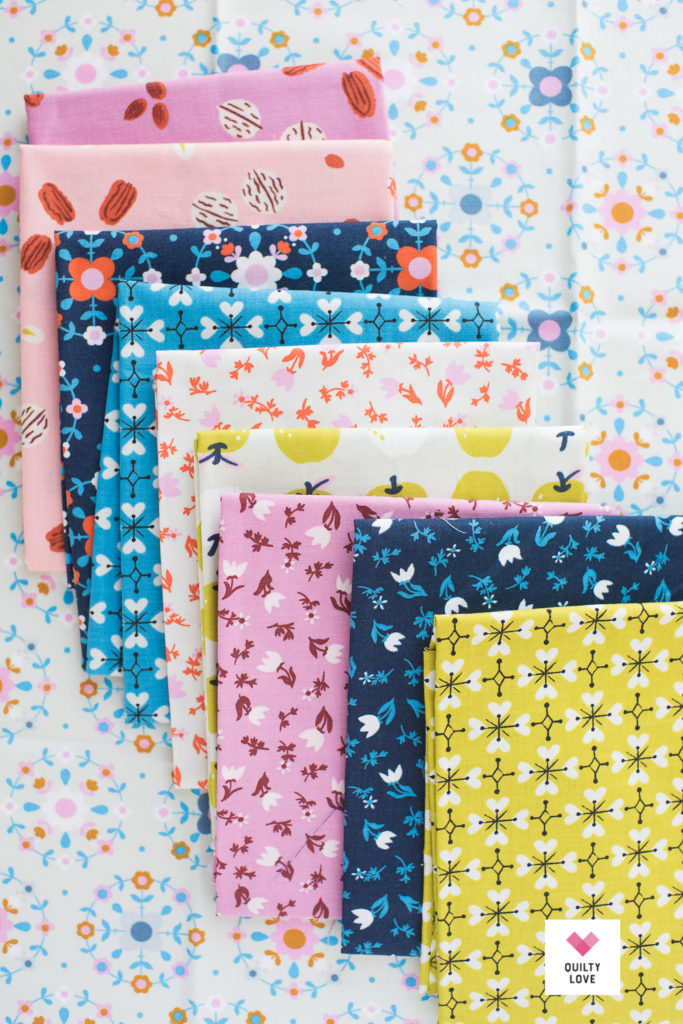 Quarter Square Triangle star block
Compass Star uses quarter square triangles. I love quarter square triangles! They are a no waste method which is always great.
It might seem a little intimidating to make quarter square triangles but they are actually pretty easy! The Compass Star quilt pattern walks you through each step. It also makes the quarter square triangles over sized so you can trim perfectly.
Compass Star Baby Quilt
I couldn't resist using up the leftover Ruby Star Society Smol fabrics so I decided to make up a baby sized Compass Star quilt. Compass Star is a nice and easy quarter square triangle star quilt pattern. It goes together with quarter square triangles.
If you have never made quarter square triangles, they are fun to make! I also have you make larger and then trim to size for better precision. So you trim them just like you might half square triangles. I personally enjoy trimming and find those precise squares satisfying.
Fat Eighth Friendly star quilt pattern
Compass Star is a fat eighth friendly quilt pattern. I love fat eighth quilts because they really stretch your fabric. Plus a fat eighth bundle is a lot less expensive than a fat quarter bundle when buying an entire fabric collection. A fat eighth is half of a fat quarter. They measure about 9″ x 21″.
I have a few fat eighth friendly patterns in the Quilty Love pattern shop.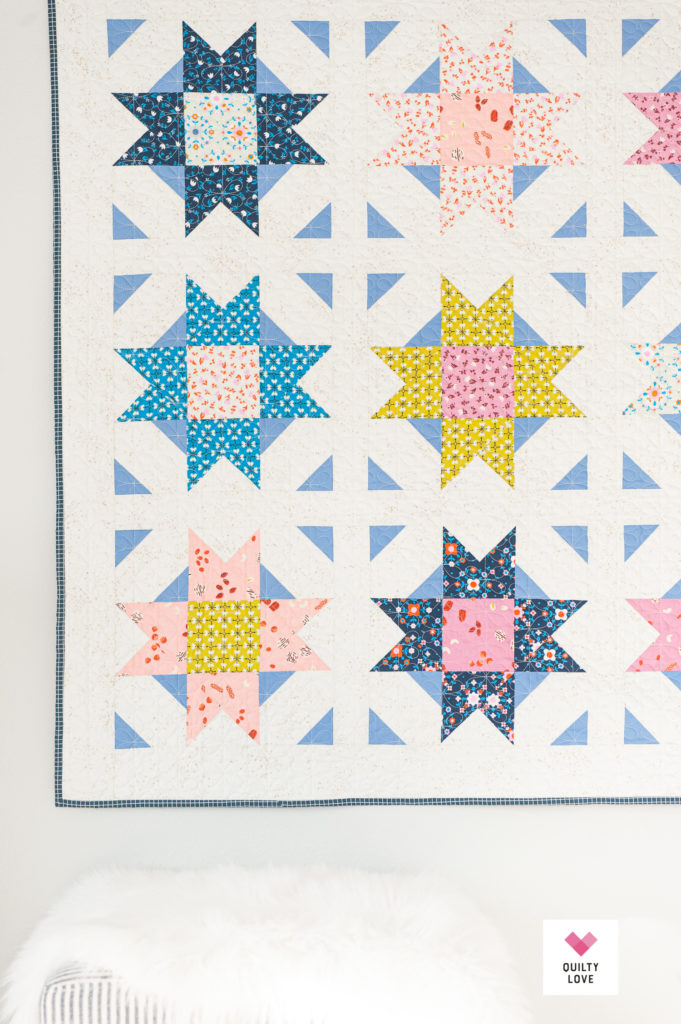 Modern quarter square triangle star quilt
Compass Star is a modern quarter square triangle star quilt. It's a nice and easy quilt to sew up. I think I made this baby version in about a day or two.
Compass Star looks great in solids, prints or a mix of both.
All the quilt sizes
Compass Star includes instructions for a baby size, a throw size, a twin size, a queen size and king size quilt! I've included all of the quilt sizes including the bed size quilts.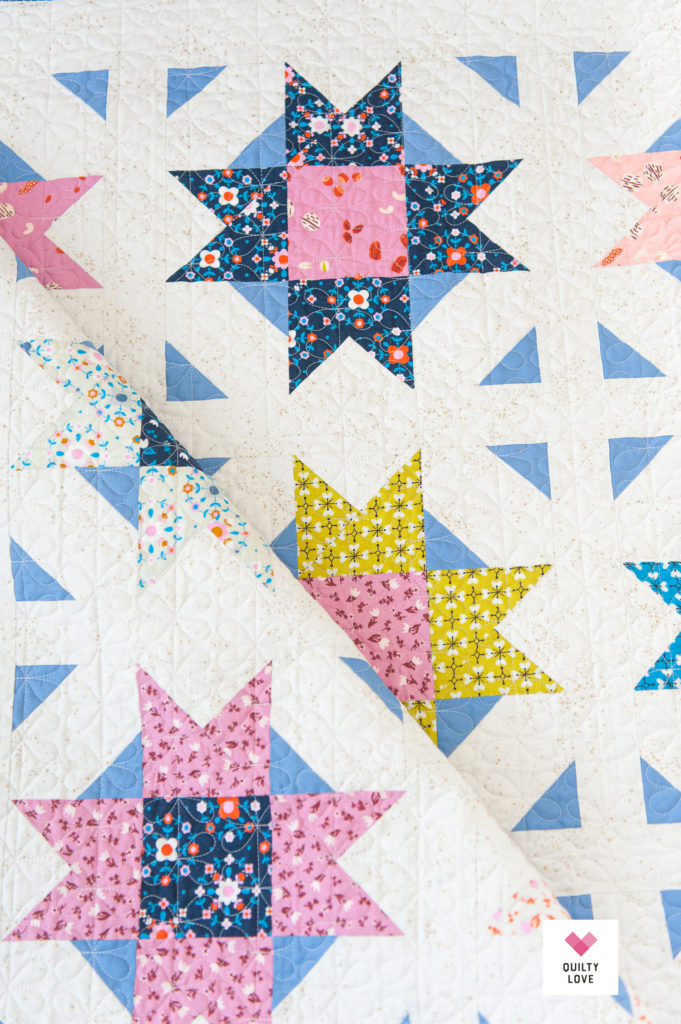 I don't make baby size quilts that often but they sure are a fast finish! I love this one so much though that I kind of wish it was a throw size…haha. These Ruby Star Society Smol fabrics are such a beautiful fabric line and definitely a new favorite. It's those navy prints in the fabric collection that get me!
Ruby Star Society Speckled background
I've been trying to branch out from my go-to white backgrounds in quilts lately and have been gravitating towards subtle prints like this Ruby Star Society Speckled fabric. It has just enough print to keep it interesting but is light enough to let the main fabrics shine. Ruby Star has some really great lighter basics that work well for this. Plus these subtle prints are so much more practical than a white fabric.
Peppered Cotton Wideback
I finished off this Compass Star baby quilt with some leftover Peppered Cotton wideback fabric from other quilts. It's not the most exciting backing but it's a classic grey and I'm all about using what you have available.
Binding
The binding on this Compass Star baby quilt is a Ruby Star Society grid fabric. I used to use such neutral bindings but over the past year or so I'm finding myself using bolder options that really frame the quilt.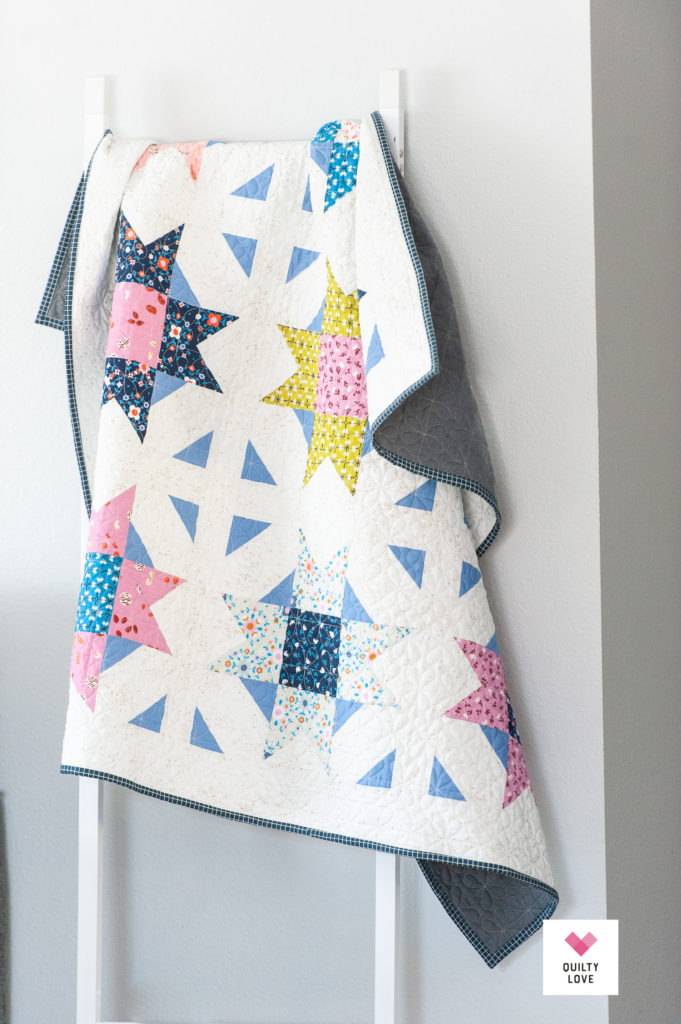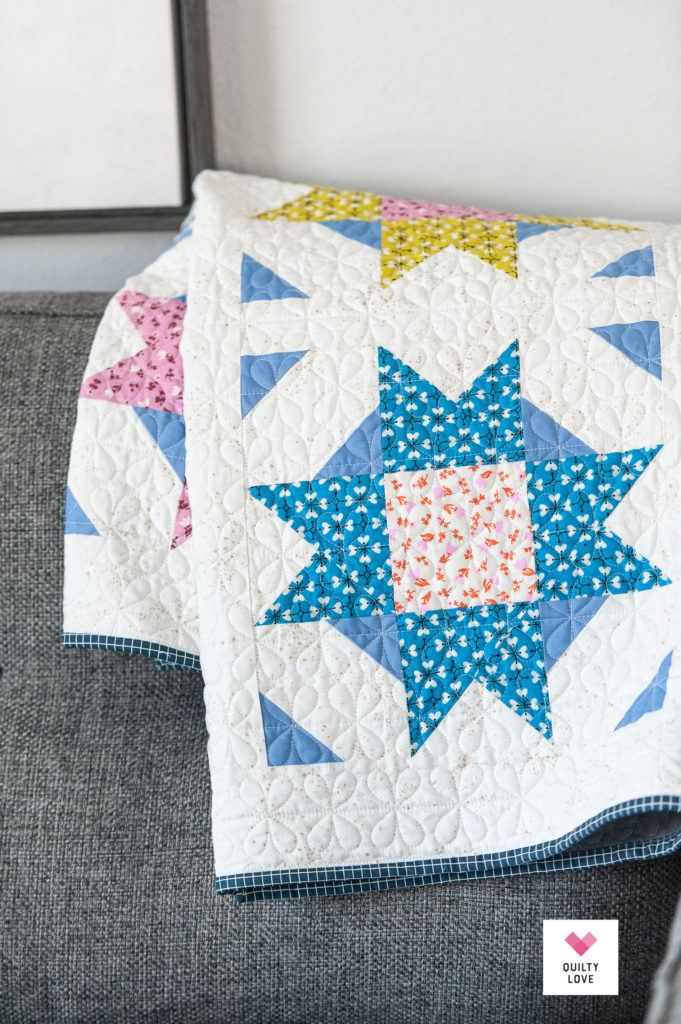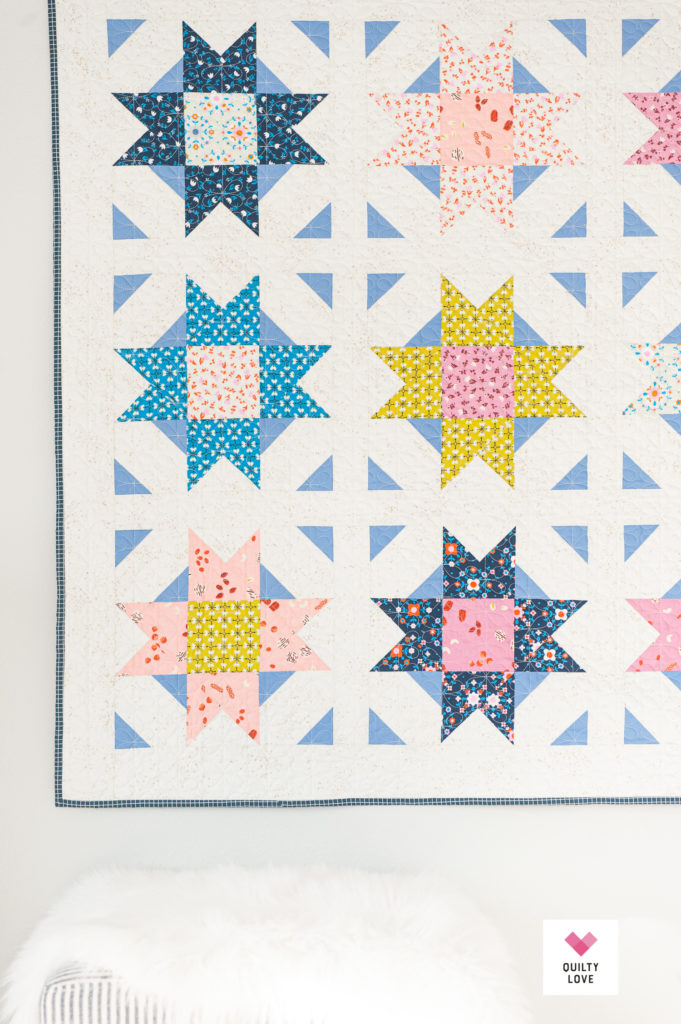 Long arm quilting
I sent this Compass Star baby quilt off to my quilter to be quilted! This is the first time I've had a baby sized quilt long arm quilted. I actually don't mind the quilting process and a baby size is the easiest size to quilt so I've always done them myself.
However, my time is a lot more limited these days with the toddler and quilting is the obvious step to take off my plate. I had good intentions of quilting this baby quilt but after it sat as a quilt top for well over six months I decided it was time to send it off.
Jenae of Vintage Stitch quilted this baby quilt for me. She chose this adorable quilting design. I really love how this baby quilt turned out that I may never quilt my own baby quilts again..ha.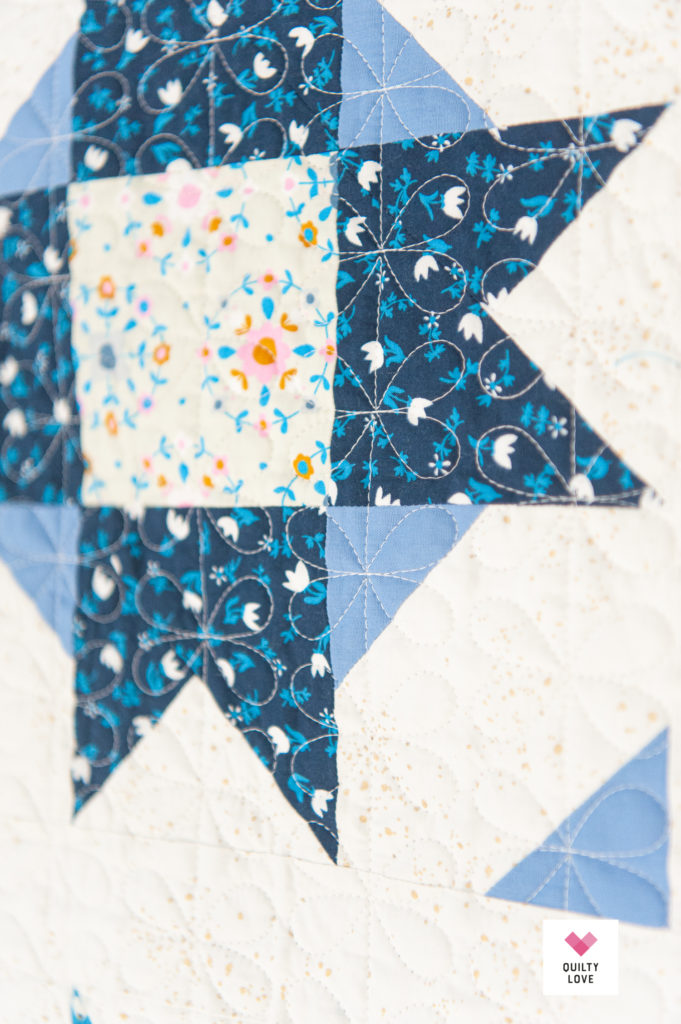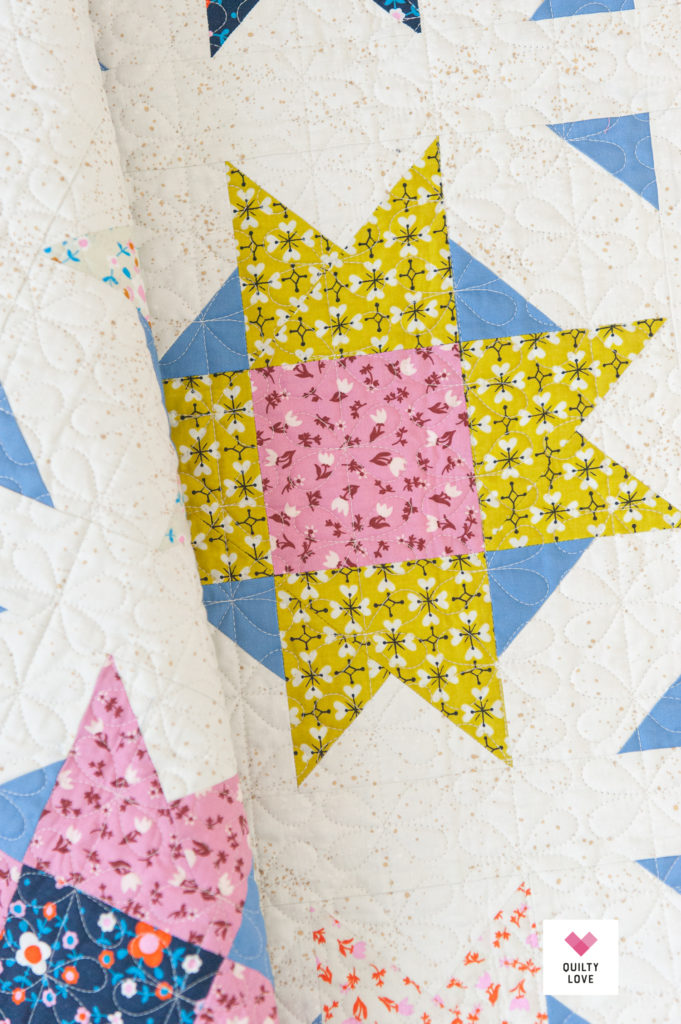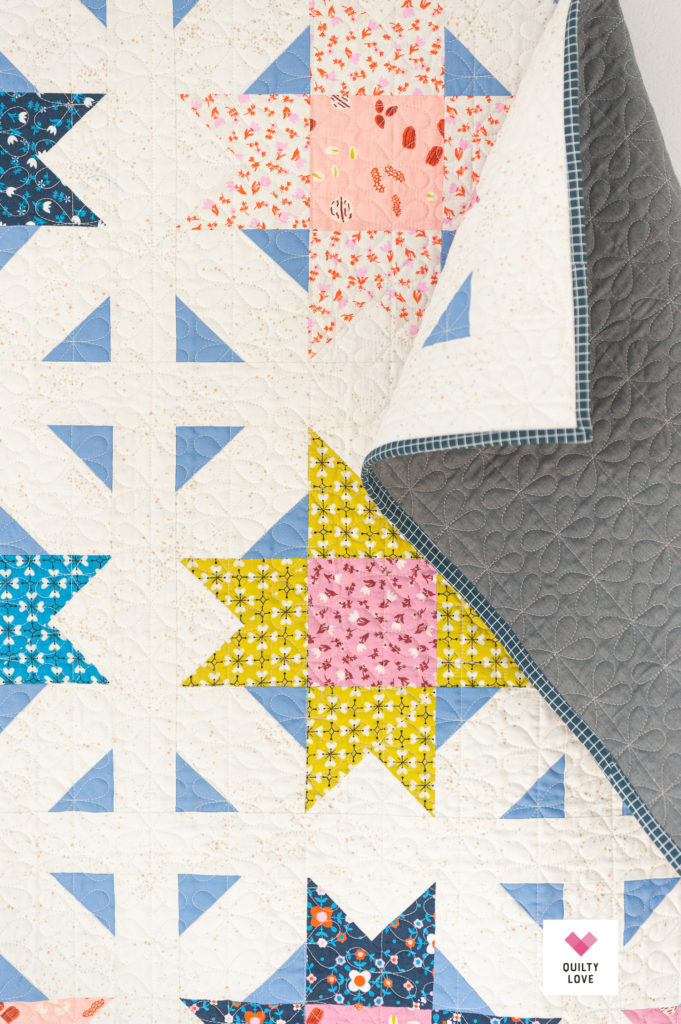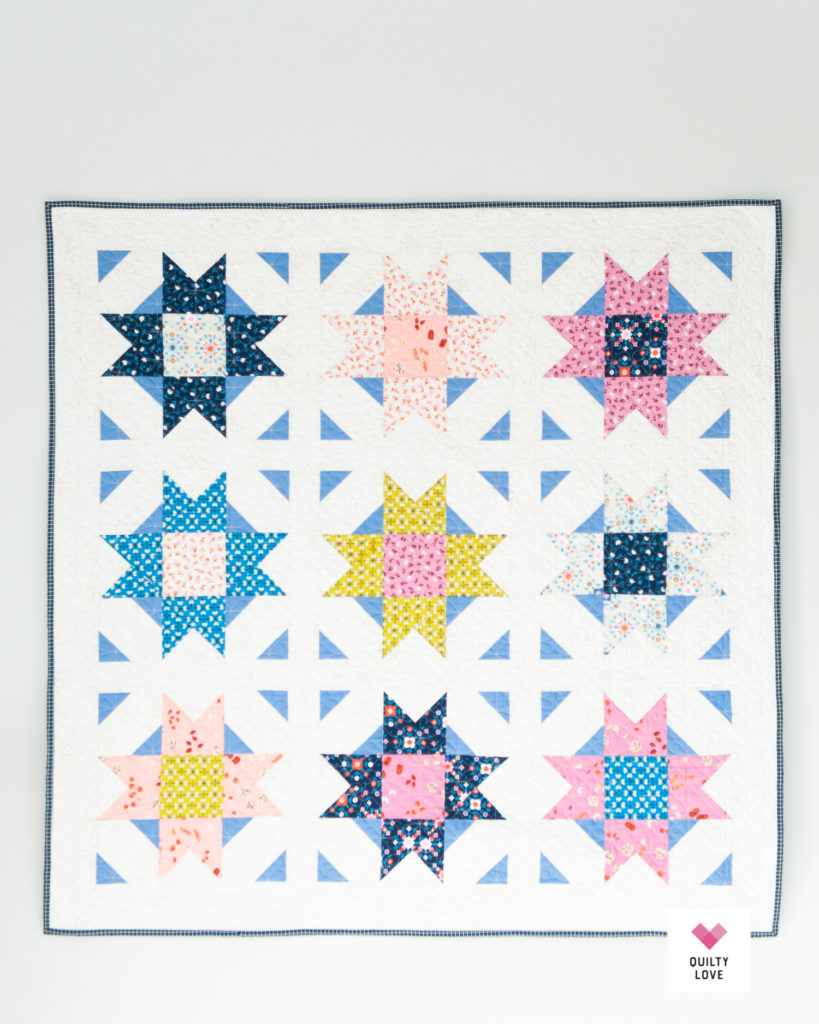 Compass Star baby quilt resources
Quilt Pattern: Compass Star by Quilty Love
Fabrics: Smol fabrics by Ruby Star Society
Background: Speckled by Ruby Star Society
Backing: Peppered Cotton Wide Back
Binding: Ruby Star Society Grid
Pieced on my Janome MC6700p
Long arm quilted by Vintage Stitch