The Carolyn Friedlander Triangle Pop quilt
Today I'm sharing this Carolyn Friedlander Triangle Pop quilt I made a few months ago. I love a good Carolyn Friedlander fabric bundle so I was excited to cut into this one and start sewing. I actually made two quilts using this new Collection CF fat quarter bundle.
This Triangle Pop quilt is the first and the other is a Fat Quarter Dash quilt that I will show soon!
The original Triangle Pop quilt was made using Carolyn Friedlander prints so I was excited to make another one! Triangle Pop is a quick and easy triangle quilt that really shows off the prints in a fabric line. Bonus, I didn't use a ton of this fat quarter and had plenty left over to make another throw quilt.
Triangle Pop quilt pattern
Triangle Pop is one of the first triangle quilt patterns I designed. This one was actually featured on the cover of Love Patchwork and Quilting magazine many years ago!
This modern triangle quilt is a pretty fast and easy one! It goes together with traditional piecing and is the perfect Netflix and chain piece quilt.
I always recommend a good 60 degree Triangle Ruler like this one when working with triangles. A larger ruler like that one is super versatile and the only one you will need in your quilting supply stash.
Using a triangle quilting ruler will really help with your accuracy.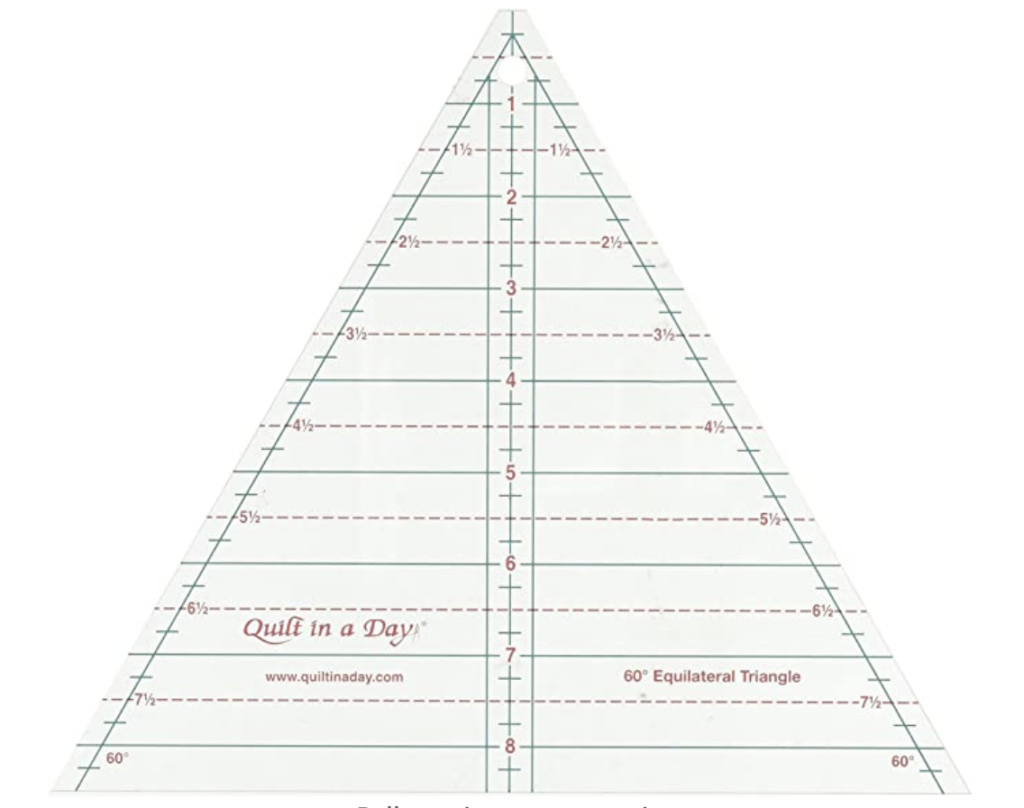 Triangle Pop quilt sizes
Triangle Pop includes instructions for a baby size, throw size, twin size and a queen size. This Carolyn Friedlander Triangle Pop version is the throw size. At 68″ x 74″ it's a pretty generous throw size quilt.
Fast and Easy Triangle Quilt
I've made quite a few of these Triangle Pop quilts over the years and every time I'm so surprised by how quickly they go together. While the triangle in a square block is traditionally paper pieced, I use a traditional piecing method in this quilt.
That makes this modern triangle quilt fast and easy! You can make up a generous throw size Triangle Pop with just 12 fat quarters and some background fabric. Or use more fat quarters for more variety like I did for this Carolyn Friedlander Triangle Pop quilt.
Peppered Cotton Wide back backing
I used a Peppered Cotton wideback for this Triangle Pop quilt. I've been using these Peppered cotton widebacks on quite a few quilts lately and I really like them. I'm always a fan of a wideback though since it means no piecing. These Peppered Cottons are really nice and soft.
Long Arm quilting
This Collection CF Triangle Pop quilt was long arm quilted by Knot and Thread. I love the triangle pantograph she chose to go with this modern Triangle quilt.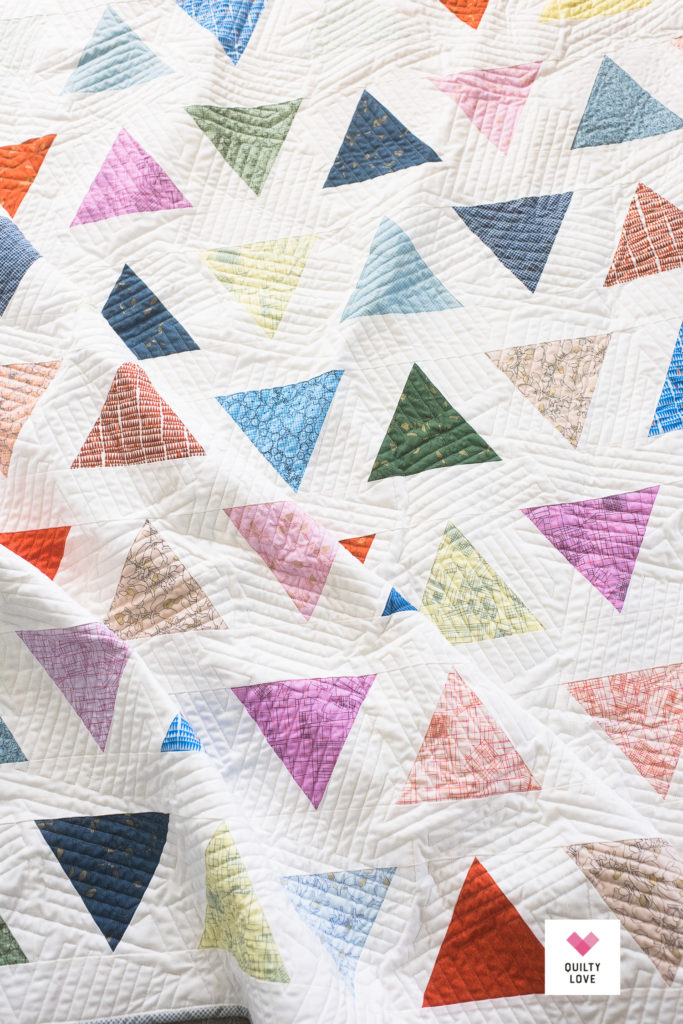 Collection CF by Carolyn Friedlander
Collection CF is an assortment of Carolyn Friedlander prints in new colors. I was especially drawn to the blues in this fabric line. And the greens! She always has some really nice greens.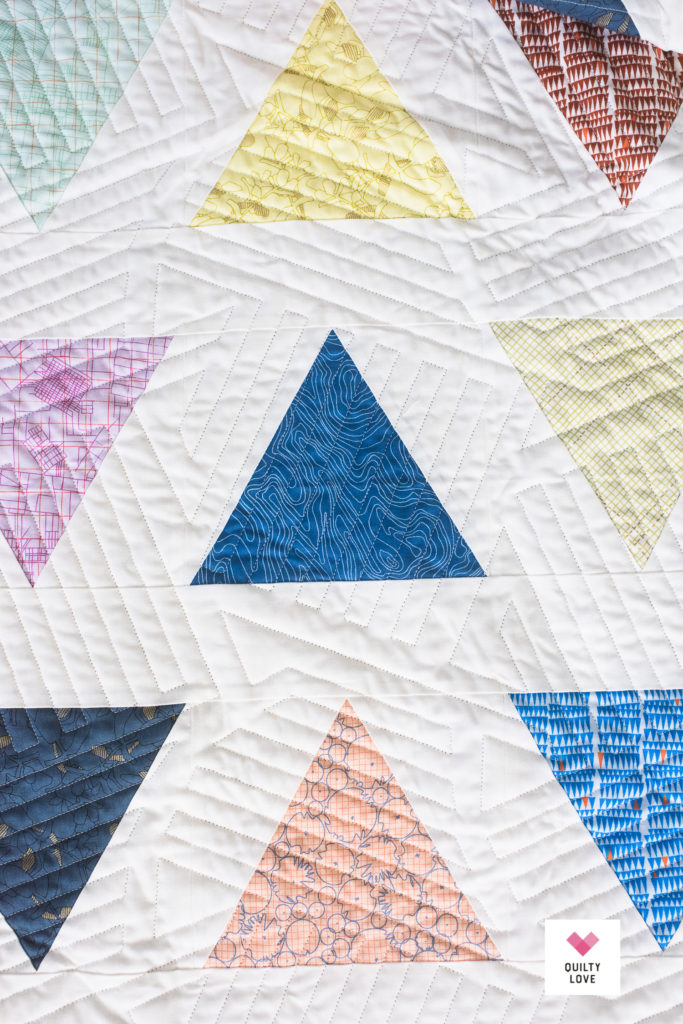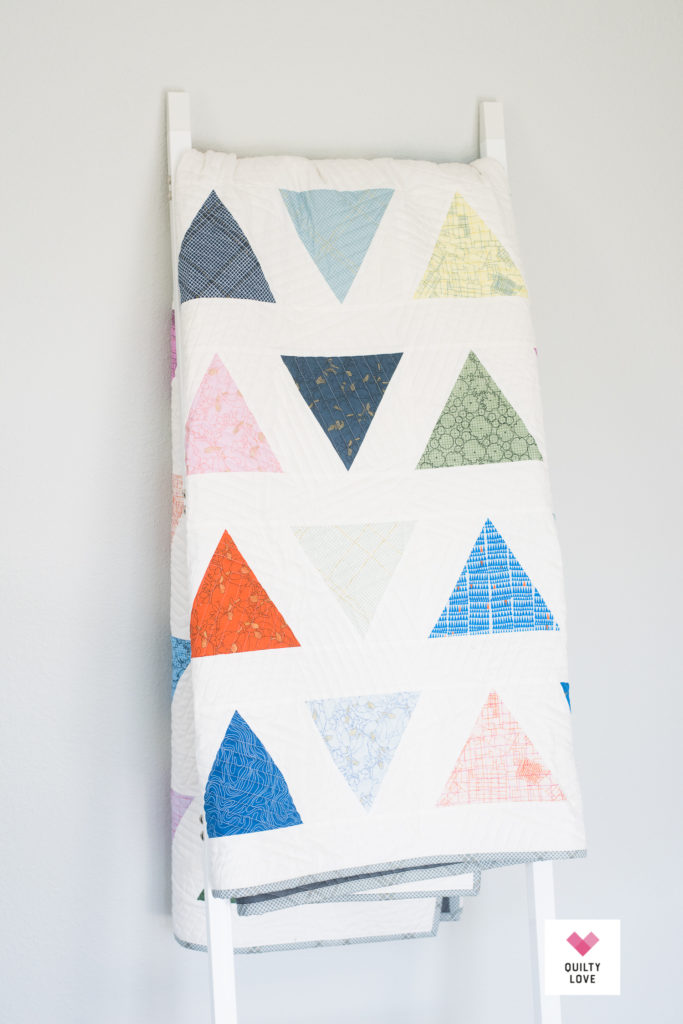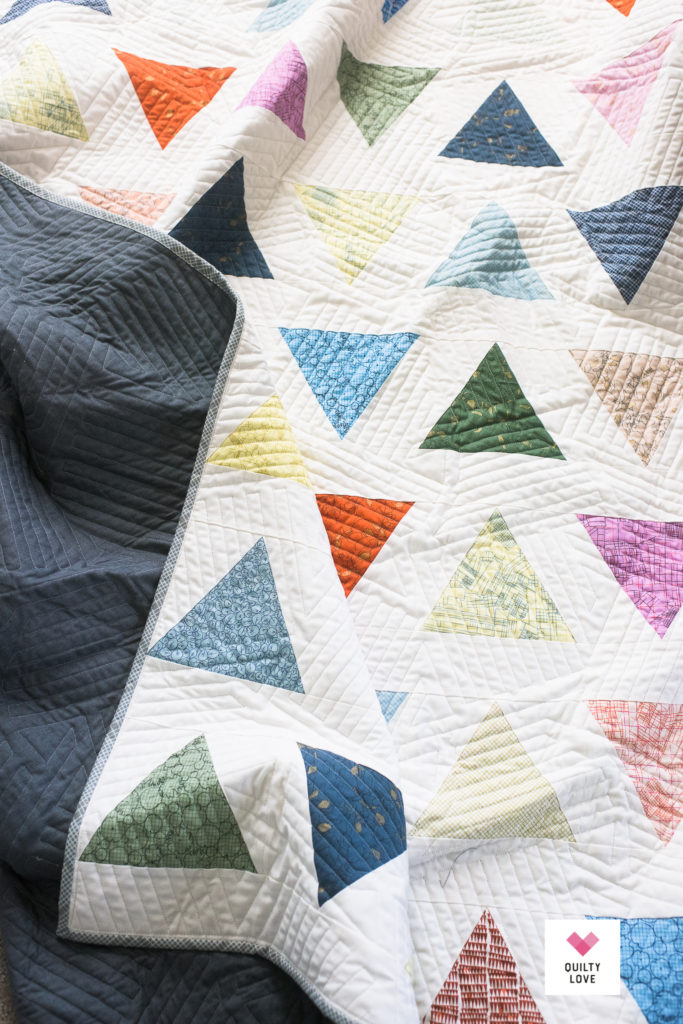 Carolyn Friedlander binding
I finished off this modern Collection CF Triangle Pop quilt with an older Carolyn Friedlander print I had in my stash.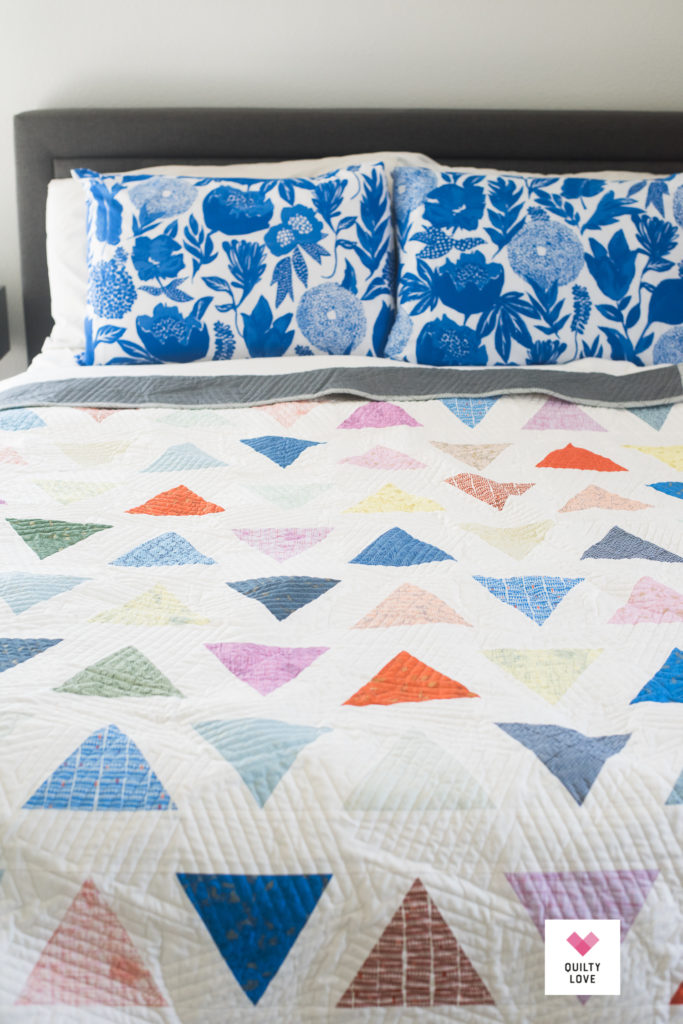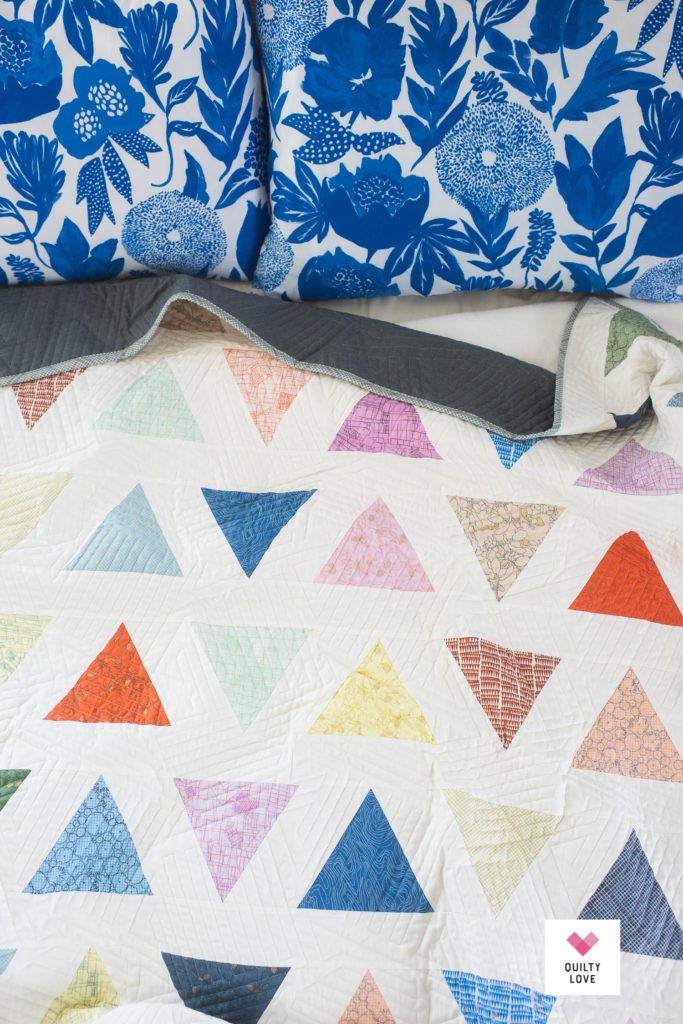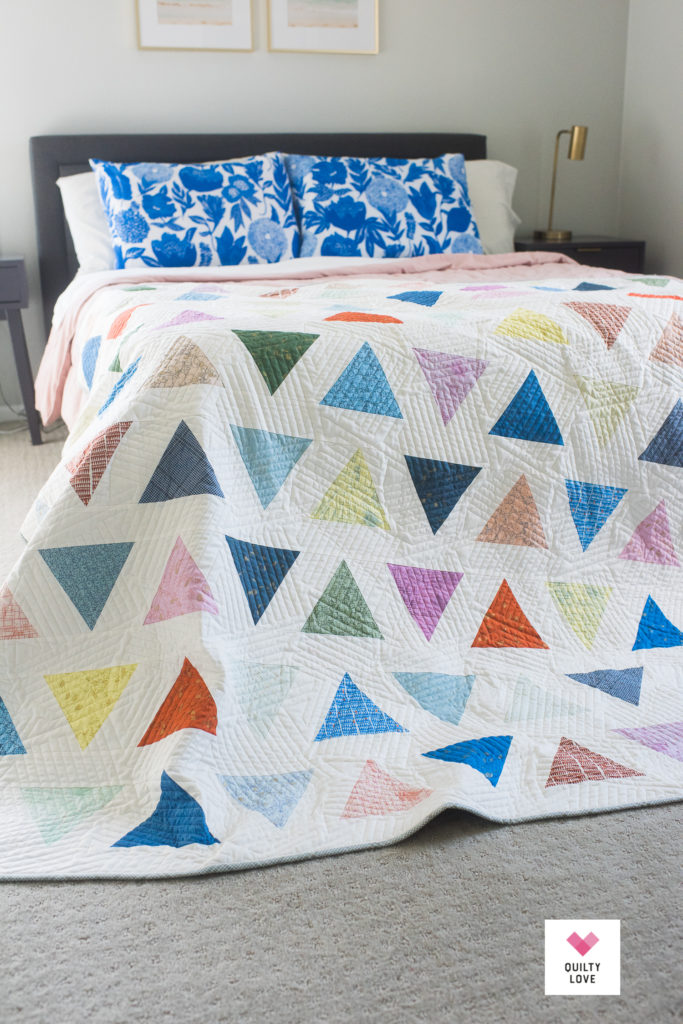 Materials Used:
Triangle Pop quilt Pattern by Quilty Love
Collection CF Fabrics by Carolyn Friedlander for Robert Kaufman
Backing is Peppered Cotton wideback
Pieced on a Janome MC6700p
Quilted by Knot and Thread