Fableism Everyday Chambray Quilty Arrows Quilt
Today I'm sharing the Everyday Chambray Quilty Arrows quilt. It's soft and oh so pretty. Quilty Arrows was recently updated to include more sizes and more pre-cut friendly options. This Quilty Arrows quilt sample was sewn up using the new Everyday Chambrays by Fableism.
Quilty Arrows is a fun and modern arrow quilt that is fat quarter friendly, fat eighth friendly, layer cake friendly and 1/4 yard friendly.
The Quilty Arrows quilt pattern is in the Quilty Love pattern shop.
Quilty Arrows quilt pattern
The Quilty Arrows quilt pattern came out a few years ago. I wanted to sew one up again so I decided to update the pattern a little bit as I did. The updates include borders, more precut friendly options and more quilt sizes. I also adjusted the scale of the sashing slightly.
Quilty Arrows is a nice and easy half square triangle quilt. The pattern gives you the option to sew one up using the super fast and easy four at a time half square triangle method. Or you can opt for a traditional two at a time method using fat quarters.
I love four at a time half square triangles because they are the only method that doesn't require marking so I find them fast and easy. They do however leave you with bias edges and prints on the diagonal. I don't mind either of these things though. These chambrays were done using this method and even though it's a thinner fabric, they worked out just fine.
More quilt sizes
The original Quilty Arrows quilt pattern included just three sizes. The updated pattern now includes the following six sizes:
Baby size
Small throw size
Large throw size
Full size bed quilt
Queen size bed quilt
King size bed quilt
Pre-cut friendly!
Now you can use any of the following pre-cuts to sew up a Quilty Arrows quilt:
Fat Quarters
Fat Eighths
Layer cake or 10 inch squares
Quarter Yard cuts
Fableism Everyday Chambray
I was so excited to get my hands on this Everyday Chambray fabric by Fableism! It's a new fabric company and a new fabric line that should be hitting shops any time now. I love working with wovens and soft substrates in my quilts. These chambrays did not disappoint. Not only are they beautiful, they are also extremely soft.
Whenever I work with a chambray or a woven or any looser weave of fabric I do use a smaller stitch length like 1.8. They are more prone to fraying and probably more prone to shrinking. It's also a good idea to prewash fabrics like this. I will admit that I rarely do but I still do recommend it for those of you who are more patient than me.
I didn't have any troubles sewing up these Everyday Chambray fabrics even though they are a looser weave and a thinner, softer fabric.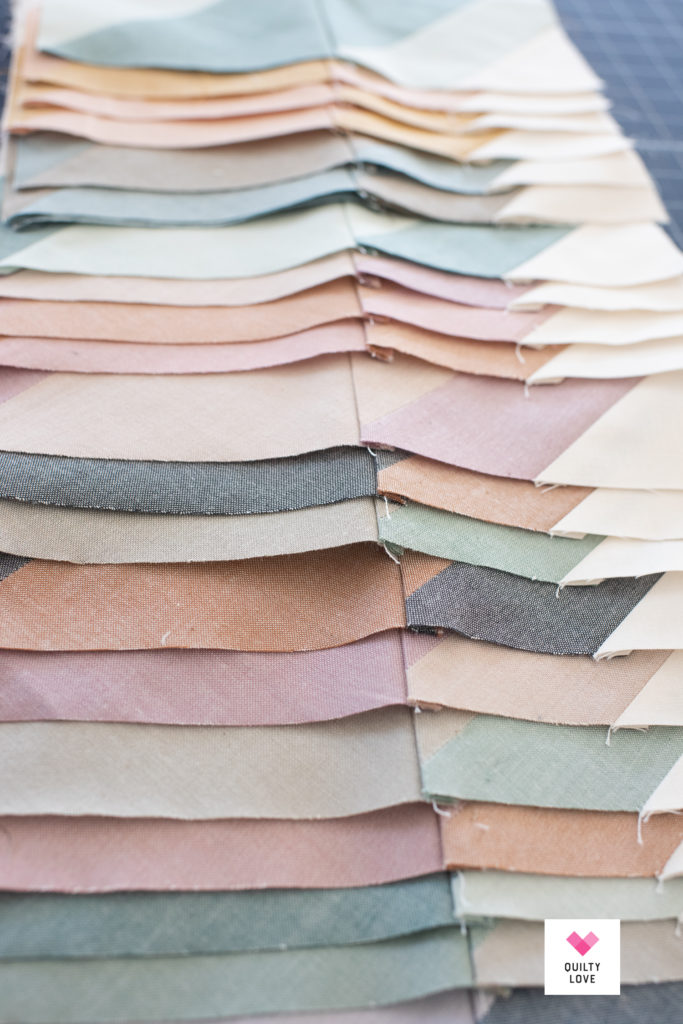 Mix and Match pre-cut quilt
One of the other changes I made to the Quilty Arrows quilt pattern is adding a mix and match option. The original quilt pattern has a solid sashing fabric. Now you can use one yardage for the sashing or additional precuts and mix and match them like this Everyday Chambray version.
For this version I used all fat quarters for the arrows and mixed and matched them together.
Wavy Stitch Quilting on the Everyday Chambray Quilty Arrows quilt
I decided to quilt up this Everyday Chambray Quilty Arrows myself. Mostly because I was afraid my quilter would cringe at the chambray quilt top and woven backing. But it quilted up just fine so I'm sure it would have been just fine on the long arm frame too.
I used my go-to quilting option, the Wavy Stitch. I have a full tutorial here.
To keep this quilt nice and soft I used a Ruby Star Society Woven that I also had on hand. So that keeps this quilt very lightweight and soft and drapey.
Linen striped binding
This Everyday Chambray Quilty Arrows quilt is finished off with a linen striped binding. Since the colors in this quilt are really soft I kept with that theme and used a light grey stripe. This is an Essex Linen Yarn Dyed Classic fabric.
I used to be a little nervous to use linen and woven fabrics for the binding but I've used them quite a bit now. Some of our favorite quilts that get washed often have woven bindings and they are holding up just fine.
Everyday Chambray Quilty Arrows Quilt materials
Quilt pattern – Quilty Arrows by Quilty Love
Fabrics – Everyday Chambray by Fableism
Backing – Warp and Weft Woven by Ruby Star Society
Binding – Essex Linen by Robert Kaufman
Pieced on my Juki 2010q
Wavy Stitch Quilted on my Janome MC6700p