Quilty Arrows quilt – new and improved!
Today I'm sharing the updated Quilty Arrows quilt! I haven't made this quilt since it was designed back in 2017. So while I was making up a new quilt I decided to also update the pattern a little to include borders and additional sizes. It's also been reworked so it's more pre-cut friendly!
Quilty Arrows can be sewn up using fat quarters, fat eighths, layer cake squares or 1/4 yards. This is a fun and simple beginner friendly quilt.
The Quilty Arrows quilt pattern is available in the Quilty Love pattern shop.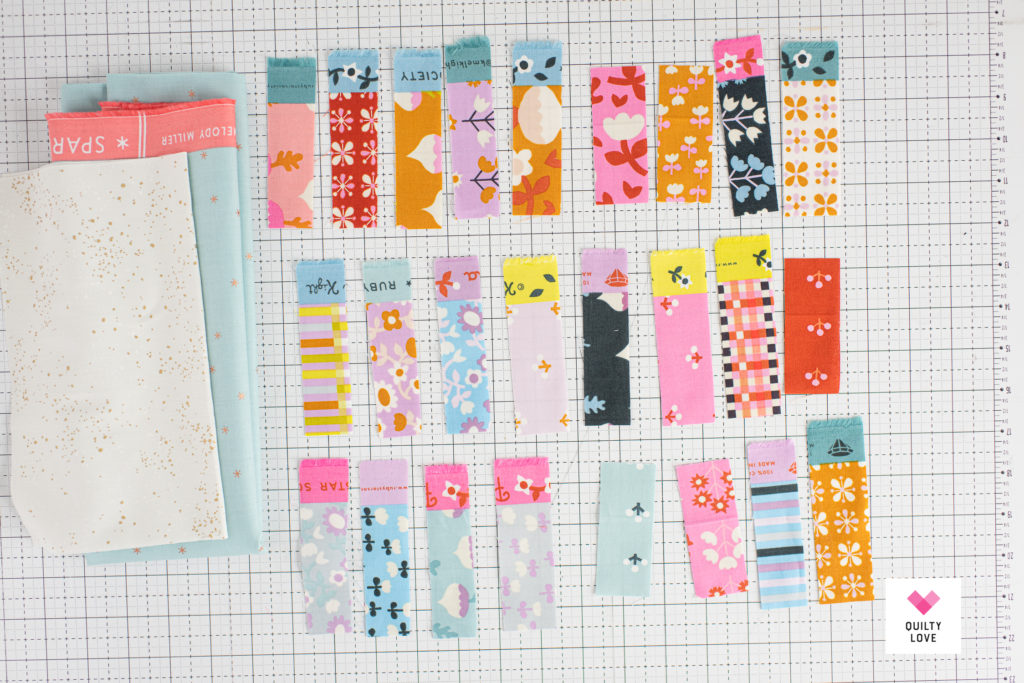 New and improved Quilty Arrows quilt pattern
Quilty Arrows was written quite a few years ago during my no borders phase. I wanted to add borders to balance it out a little more and while I was at it, I added more sizes and made it more pre-cut friendly.
The Quilty Arrows quilt pattern now includes the following sizes:
Baby Size
Small throw size
Large throw size (shown here)
Full size bed quilt
Queen size bed quilt
King size bed quilt
Pre-cut friendly quilt pattern
Quilty Arrows is also now very pre-cut friendly! Use any of the following pre-cuts to sew up this modern arrow quilt:
Fat Quarters
Fat Eighths
Layer cake or 10 inch squares
1/4 yards
Quilty Arrows uses the quick and easy four at a time half square triangle method. I love this method because it doesn't require any marking. It does however leave you with bias edges and prints on the diagonal. I don't mind either of those things especially because of the simple piecing.
I do include another half square triangle option though for those who prefer not to do half square triangles four at a time. It's best to use fat quarters for this other option though.
Ruby Star Society Petunia Fabric
This updated Quilty Arrows was sewn up using the newer Ruby Star Society Petunia fabric line. I love this line so much! This is actually the second quilt I've made using this same fat quarter bundle! I also made this Heart Gems with this fabric line.
The color scheme in this Petunia line is just so pretty. It coordinated nicely with this Ruby Star Society Spark that I also had on hand. This is the color Frost. I've used this same fabric for a few quilts now too. I just love the soft aqua color of it.
The arrow sashing on this Quilty Arrows quilt is another Ruby Star Society Basic. It's Speckled in white gold. It's a favorite of mine as an accent like this or as a background. It can be hard to find though! You can find it on Etsy right now.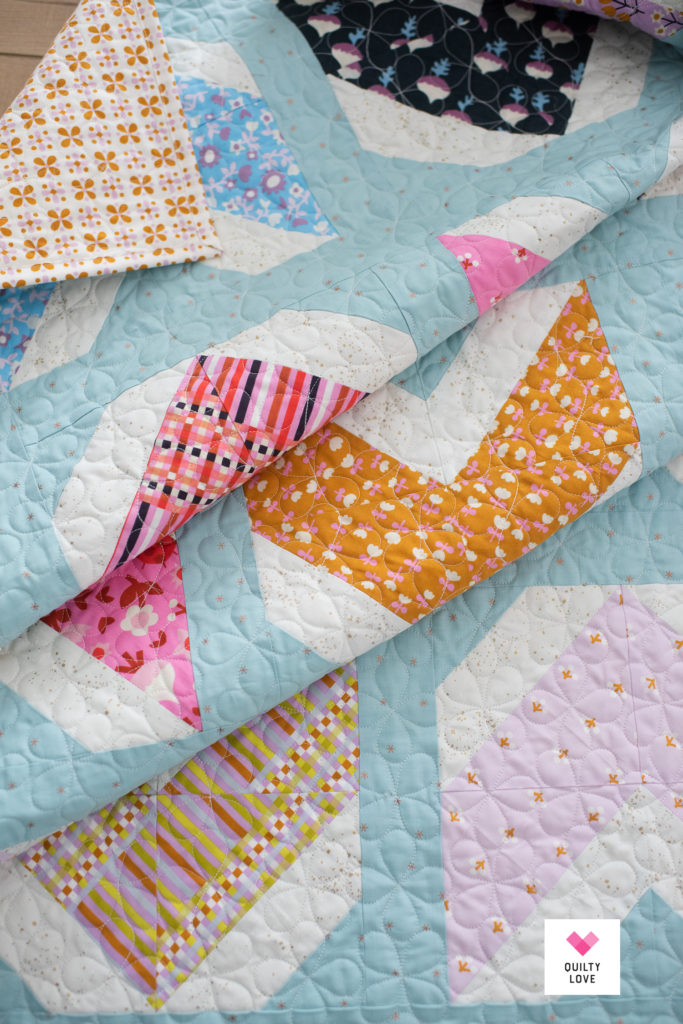 Long Arm Quilting
Modern Textiles quilted up this Petunia Quilty Arrows quilt. We chose this adorable pantograph called Cartwheels. I love how it turned out on this quilt.
Backing and Binding
The backing on this Quilty Arrows quilt is a print in the Petunia fabric line. It's Wallflower in Buttercream. I've used it as a backing several times now because it's such a pretty but yet somewhat neutral print.
I used it as the binding also. I like using the cut off backing as a binding to save fabric and because it usually coordinates.
Quilty Arrows quilt materials
Quilt pattern: Quilty Arrows quilt pattern by Quilty Love
Prints: Petunia by Ruby Star Society
Sashing: Specked in White gold by Ruby Star Society
Background: Spark in frost by Ruby Star Society
Backing and Binding: Petunia
Pieced on my Juki 2010q
Long Arm Quilted by Modern Textiles