Monarch Grove Triangle Hexies Quilt
Today I'm sharing this Monarch Grove Triangle Hexies Quilt. I've made so many quilts this year that haven't made it up on the blog yet so I need to start posting! And this one… This one is one of my recent favorites. I made this Triangle Hexies quilt for my daughter. It's a huge queen size quilt.
This Monarch Grove Triangle Hexies quilt is made from Fableism Wovens so it's full of texture and is super soft and drapey.
The Triangle Hexies quilt pattern is available in the Quilty Love shop.
Monarch Grove Triangle Hexies Quilt
My daugter requested a quilt for her bed earlier this year so we started discussing options. This bundle of Monarch Grove wovens by Fableism fit with the style and colors she was looking for. And it worked perfectly because this big bundle had enough fabric to make a queen size Triangle Hexies quilt.
This Monarch Grove bundle is a mix of loose weave wovens in the most beautiful textures. I've really enjoyed working with these loose weaves lately because they make for the softest quilts and add that little extra texture that I love so much.
The background of this hexie quilt is Everyday Chambray in Bay leaf. The sashing is Sprout Wovens in Sugar.
Quilting with loose weave yarn dyed wovens
I have become quite obsessed with loose weave wovens lately but they don't come without their challenges. These loose weaves are more prone to shrinking and fraying than regular quilting cottons.
I'm not usually a fabric pre-washer but I've started making an exception for wovens. They just shrink too much to risk it. I will say thought that I did not pre-wash any of the fabrics in this quilt and this quilt hasn't been washed yet so I'm hoping I don't regret that.
I have washed plenty of other quilts though that are made of loose weave wovens where they were not pre-washed and they have all come out just fine.
Here are my tips when working with these looser weave wovens:
Pre-wash the fabric to pre-shrink it. They will turn into a tangled mess in your washer though so wash them in a bunch of laundry bags or serge the edges of the fabric first.
Use a smaller stitch length. This is important! I like to sew these loose weave wovens with a stitch length or 1.7 – 1.8 ish.
Press your seams to the side. A side pressed seam is much stronger and especially helpful in keeping these fabrics together. And since these fabrics are thinner, seam bulk shouldn't be an issue.
Do a denser quilting design. Hold these seams together as much as possible with a nice and dense quilting design.
Triangle Hexies Quilt Pattern
The Triangle Hexies quilt pattern is a fun and scrappy take on a hexie quilt. Triangle Hexies goes together using triangles. I highly recommend this ruler for this triangle quilt.
The Triangle Hexies Quilt pattern includes instructions for the following sizes:
Baby Size
Throw size
Twin size bed quilt
Queen size bed quilt
Triangle Hexies is an intermediate or very confident beginner quilt because it is constructed using triangles. The piecing itself is not hard but triangles are not as straight forward as simple squares or rectangles.
This can be a decently fast quilt to sew up. For this queen size I did some strip piecing. The pattern doesn't call for it and you will need a little extra fabric but it can be a big time saver.
If you decide to strip piece the sashing accent with the background then make sure your sashing accent is always the color on top and don't flip your ruler as you cut. You will also need a few extra strips for this method.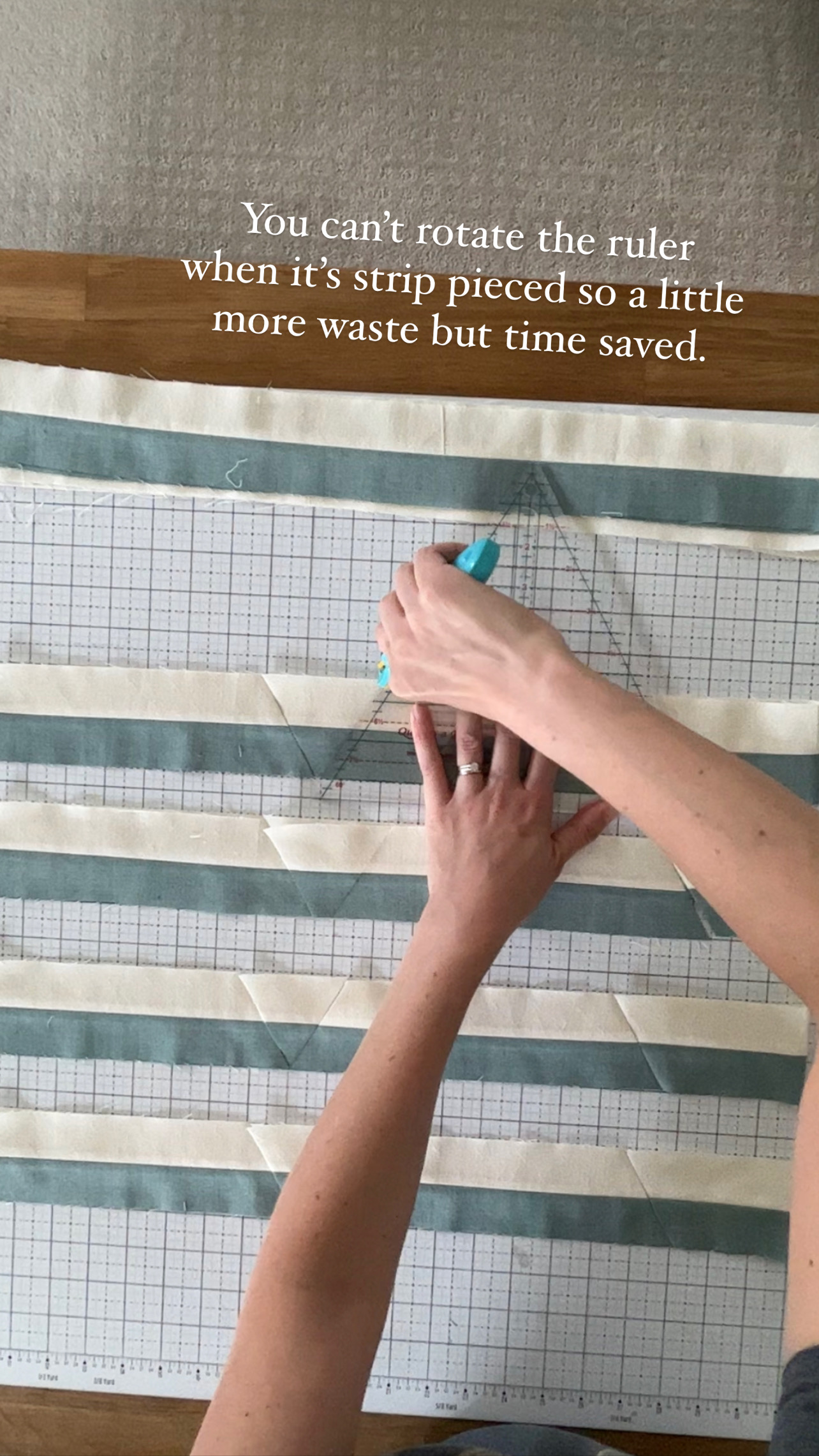 Long Arm Quilting
I sent this Monarch Grove Triangle Hexies quilt off to Modern Textiles for quilting. I absolutely love how it turned out using the paradoxical pantograph.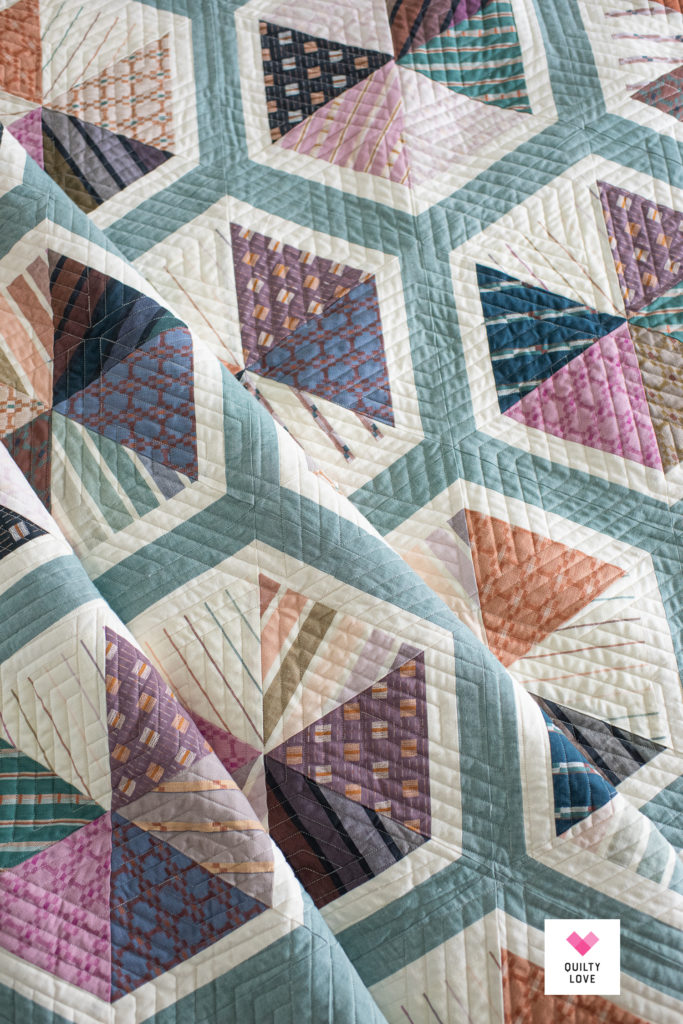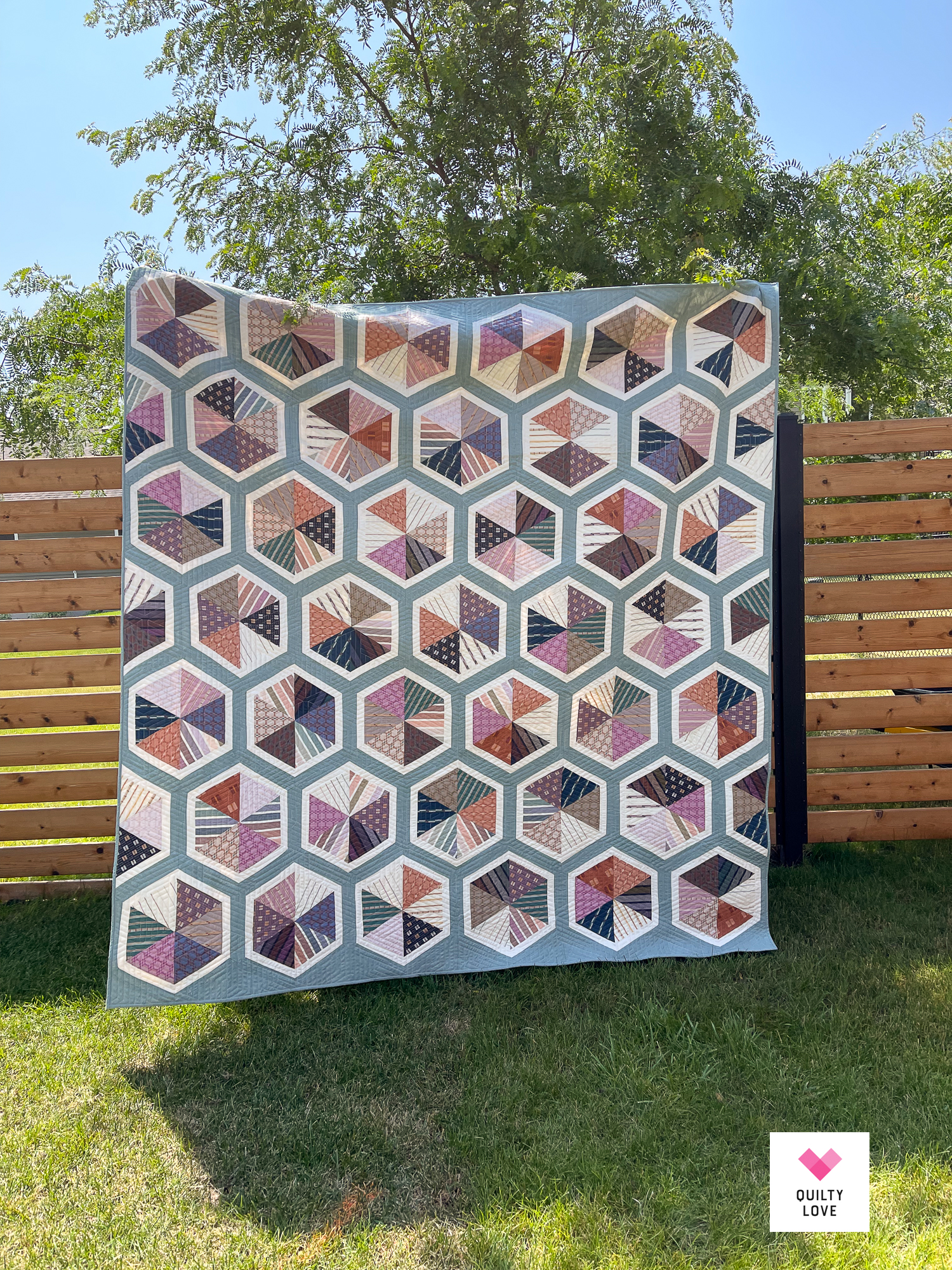 Monarch Grove Triangle Hexies Quilt Materials
Quilt Pattern: Triangle Hexies by Quilty Love
Fabrics: Monarch Grove fat quarter bundle by Fableism
Sashing: Sprout Wovens in Sugar by Fableism
Background: Everyday Chambray in Bay Leaf by Fableism
Background: Camp Gingham in Moon Garden by Fableism