Scrappy Hearts Quilt Pattern
Today I'm sharing a couple of older heart quilts made using the Scrappy Hearts Quilt Pattern. These Scrappy Hearts quilts are both made using Figo fat quarters.
Scrappy Hearts is the second heart quilt pattern in the Quilty Love heart pattern line up. Each year I create a new scrappy heart pattern just in time for Valentine's Day.
The goal is to keep these heart quilt patterns scrap and stash friendly. This Scrappy Hearts quilt pattern is very scrappy friendly.
Scrappy Hearts includes a baby size, throw size and twin size. These Figo Scrappy Hearts quilts are the throw size.
The Scrappy Hearts quilt pattern is available in the Quilty Love pattern shop. View all of the heart quilt patterns here.
Scrappy heart quilt pattern
This Scrappy Heart quilt is named Scrappy Hearts because that's what it is! This heart quilt is sewn together using squares and half square triangles. It's easy to find these squares from your scrap stash.
The Scrappy Hearts quilt patterns is also fat quarter friendly.
Three quilt sizes
Scrappy Hearts includes instructions for three different quilt sizes:
Baby Size
Throw Size
Twin Size
Solid background or scrappy background
The Scrappy Hearts quilt pattern has options! You can sew up this heart quilt using a solid background fabric or use an assortment of squares from your scrap bins. The pattern includes cutting instructions for both options.
Figo Fabrics Scrappy Heart quilts
I made both of these heart quilts using fat quarters from Figo Fabrics. These lines came out a few years ago so they would be harder to find now but I thought they worked well for these scrappy hearts since each bundle was somewhat monochromatic.
Scrap buster quilt pattern
Scrappy Hearts was also designed with scraps in mind. During the quilt along a few years back I made a version using all low volumes and reds from my scrap bins. You can see the stack of those cut fabrics below. This was such a satisfying quilt to sew up using entirely scraps. I haven't quilted that quilt top yet so it hasn't made it up on the blog yet.
One of these days I'll finish up this fun scrappy version of the Scrappy Hearts quilt below.
Long Arm quilting
This pink and purple Scrappy Hearts quilt was quilted by Knot and Thread. I love this design she chose. This quilt has some negative space on it so it really highlights the quilting nicely.
Backing
The backing on this Figo fabrics Scrappy Heart quilt is a Shot cotton by Peppered Cotton. It's almost like a linen fabric so it's nice and soft for quilt backings.
Black and White Striped binding
The binding on this scrappy heart quilt is my favorite black and white striped binding. I use this fabric for these striped bindings.
Machine Quilting
I quilted the blue and yellow Scrappy Hearts quilt myself using my sewing machine. I actually used my smaller Janome for this one!
You can get access to all of the quilt along video tutorials here.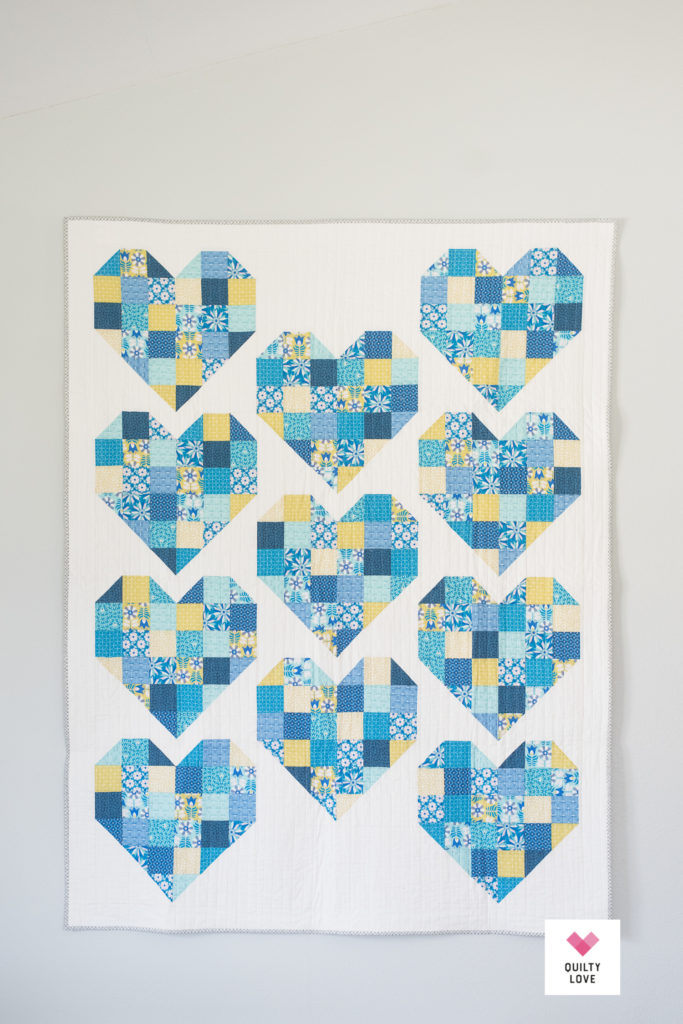 Materials Used
Quilt Pattern: Scrappy Hearts by Quilty Love
Fabrics: Figo Fabrics
White background: Kona cotton snow
Black and white striped binding
Peppered Cotton Wide Back