Cozy Season Lucky Log Cabins Quilt
Today I'm sharing the Cozy Season Lucky Log Cabins quilt! Cozy Season is my latest bundle collaboration with Robert Kaufman and it's finally in stock and available. I have tons of Cozy Season projects that I haven't shared yet so here we go!
Cozy Season is a mix of 15 Robert Kaufman Mammoth Flannel fat quarters. This flannel fat quarter bundle is in the blues and aquas with a splash of pink. All of the Cozy Season projects I've sewn up use the bundle itself or the bundle plus a little bit of yardage.
This medium throw size Lucky Log Cabins uses only one Cozy Season Flannel bundle!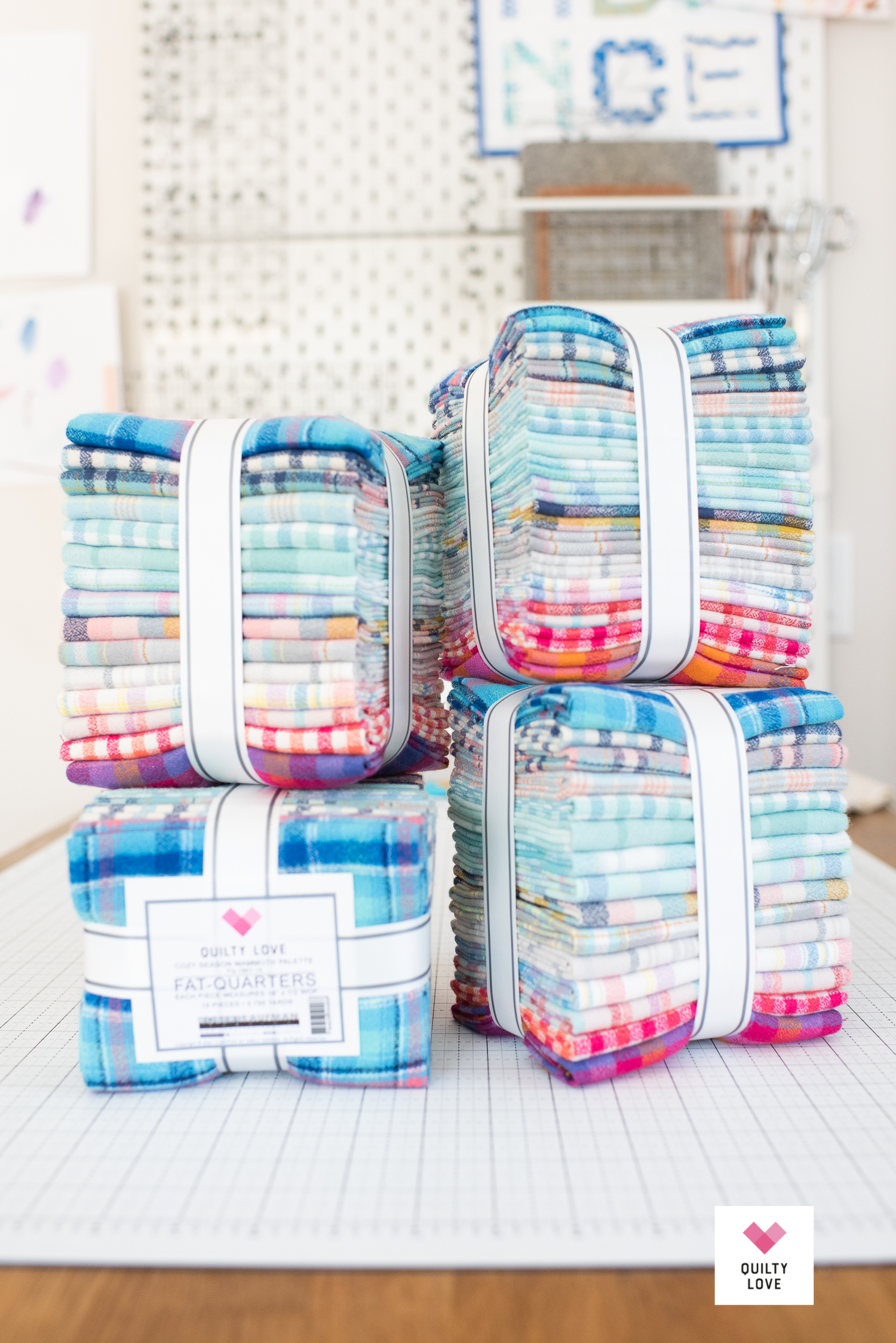 Cozy Season Mammoth Flannel bundle
I've more recently become obsessed with flannel quilts so I started mixing flannels together. I was thrilled when Robert Kaufman reached out about curating a flannel bundle for them. It was such a fun project to do and I really enjoyed sewing up the Cozy Season projects.
Cozy Season has a mix of 15 flannel fat quarters. They are all from the mammoth flannel lines.
Cozy Season Lucky Log Cabins
I had already made a Lucky Log Cabins quilt using flannels so I was excited to sew one up using the Cozy Season Bundle. Just one Cozy Season bundle makes a medium throw size Lucky Log Cabins quilt. This Log Cabin quilt measures about 57″ x 67″.
Lucky Log Cabins is a fast and fun quilt to sew up. It goes together super fast with strip piecing shortcuts. Plus it's super scrappy so you don't have to put a lot of thought into fabric placement.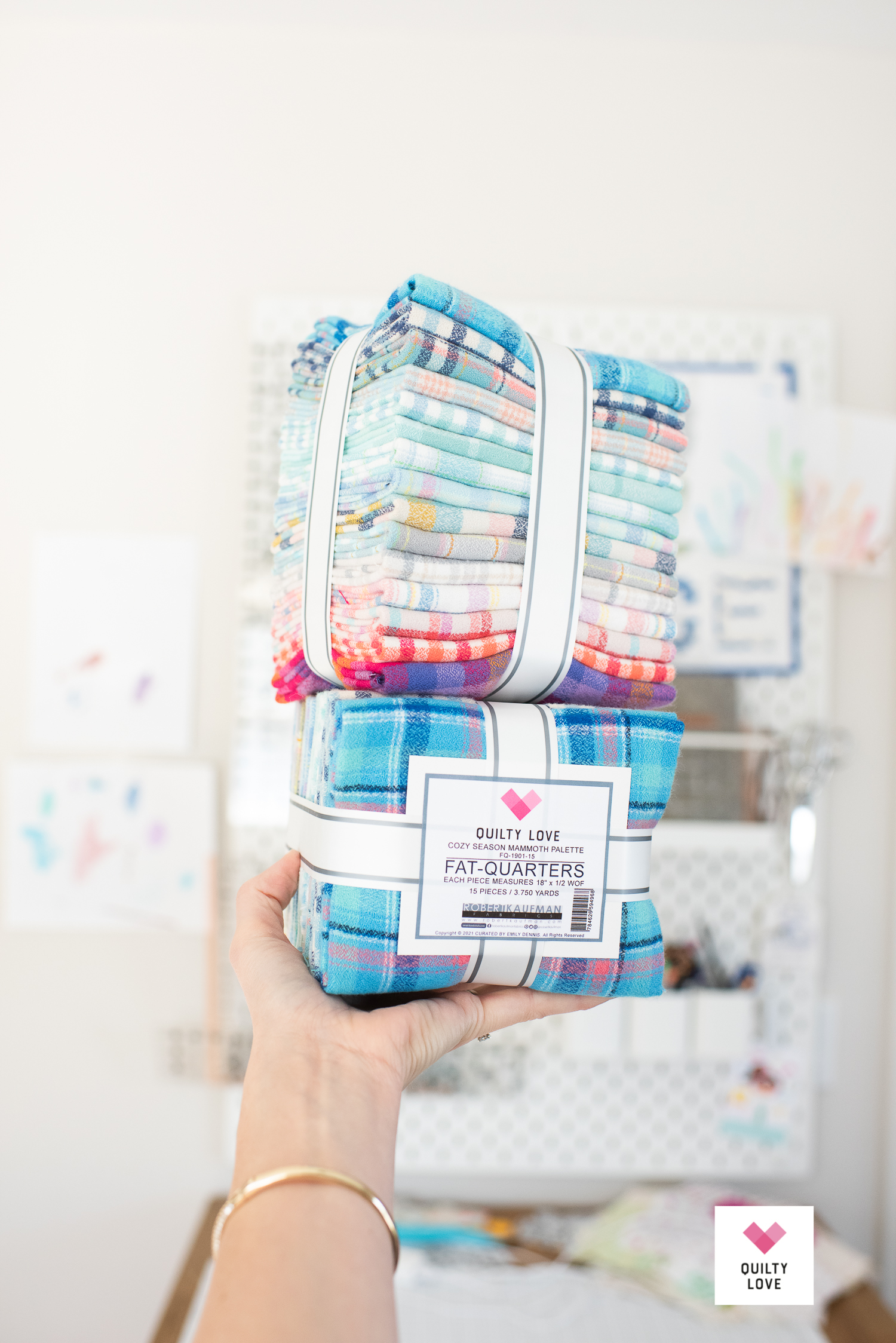 Sewing with Flannel
Flannel tends to shrink quite a bit more than a quilting cotton. Pre-washing is never a bad idea… EXCEPT IN THIS CASE! Lucky Log Cabins needs the full 21″ of the fat quarter so if it shrinks beyond that it won't work. While I recommend pre-washing flannels, I rarely do it myself. I haven't had any issues with our flannel quilts even after multiple washes.
But there are some things you can do to ensure your flannel quilts stay together nicely!
Use a smaller stitch length when sewing with flannel. I always use a stitch length of about 1.8 when sewing flannel.
For a flannel Lucky Log Cabins, I also recommend re-inforcing the Half square triangle seam before pressing open. Sew a zig zag stitch within the 1/4 inch seam allowance to help those seams stay together. I find this gives me a lot of peace of mind on a flannel quilt like this one.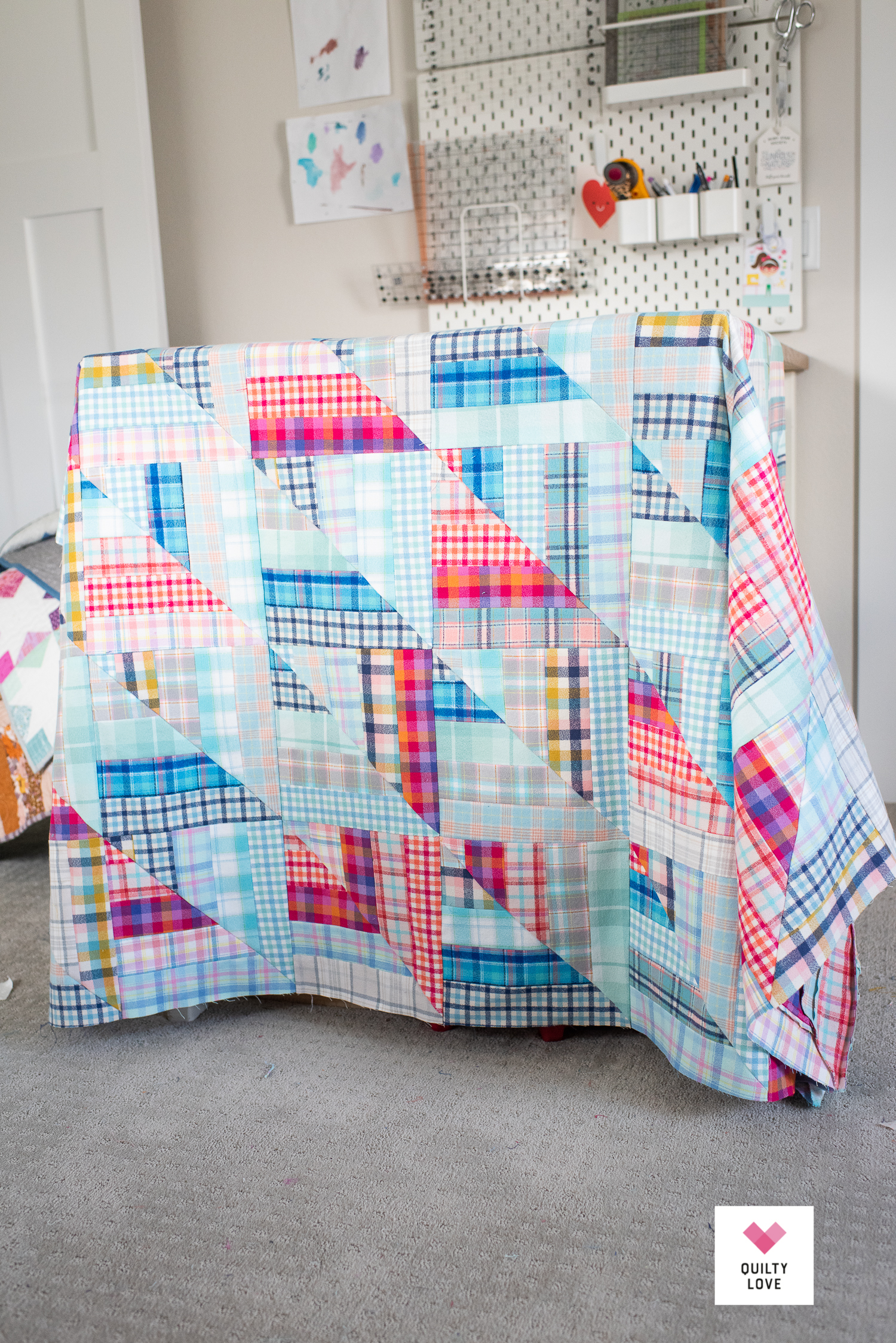 Cozy Season Lucky Log Cabins quilt
This quilt is currently with Robert Kaufman and maybe even traveling around to different quilt shops…? I really love this one and kind of miss it.
Long Arm Quilting
Modern Textiles long arm quilted this Cozy Season Lucky Log Cabins quilt. We did a simple wavy line pantograph and I love how it turned out. That's such a great quilting design when you are stumped with which design to use.
Flannel Backing
I kept this Cozy Season Lucky Log Cabins quilt full flannel by using a flannel backing fabric. This is Mammoth Flannel gingham in the color Shell.
The binding is Robert Kaufman Delft.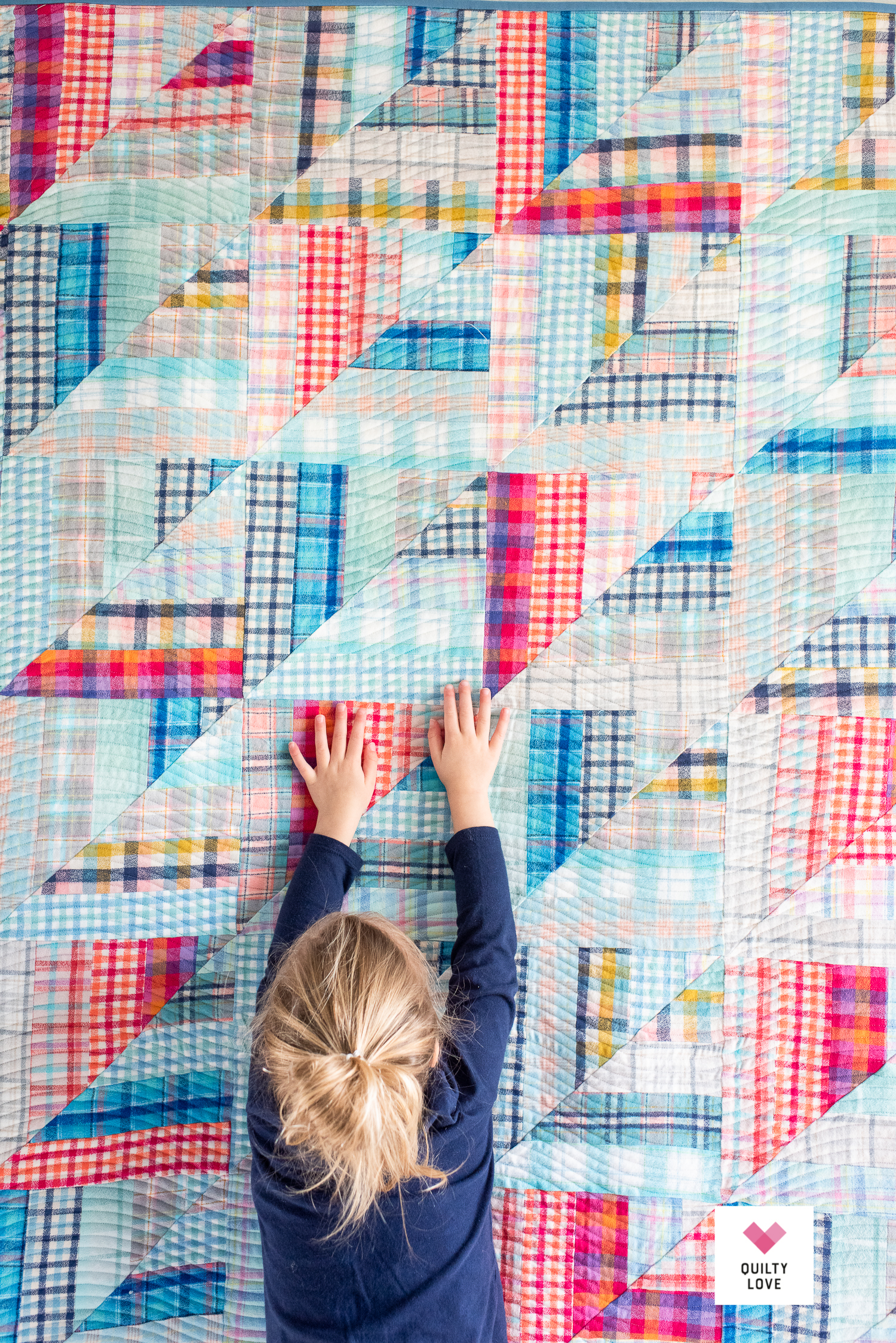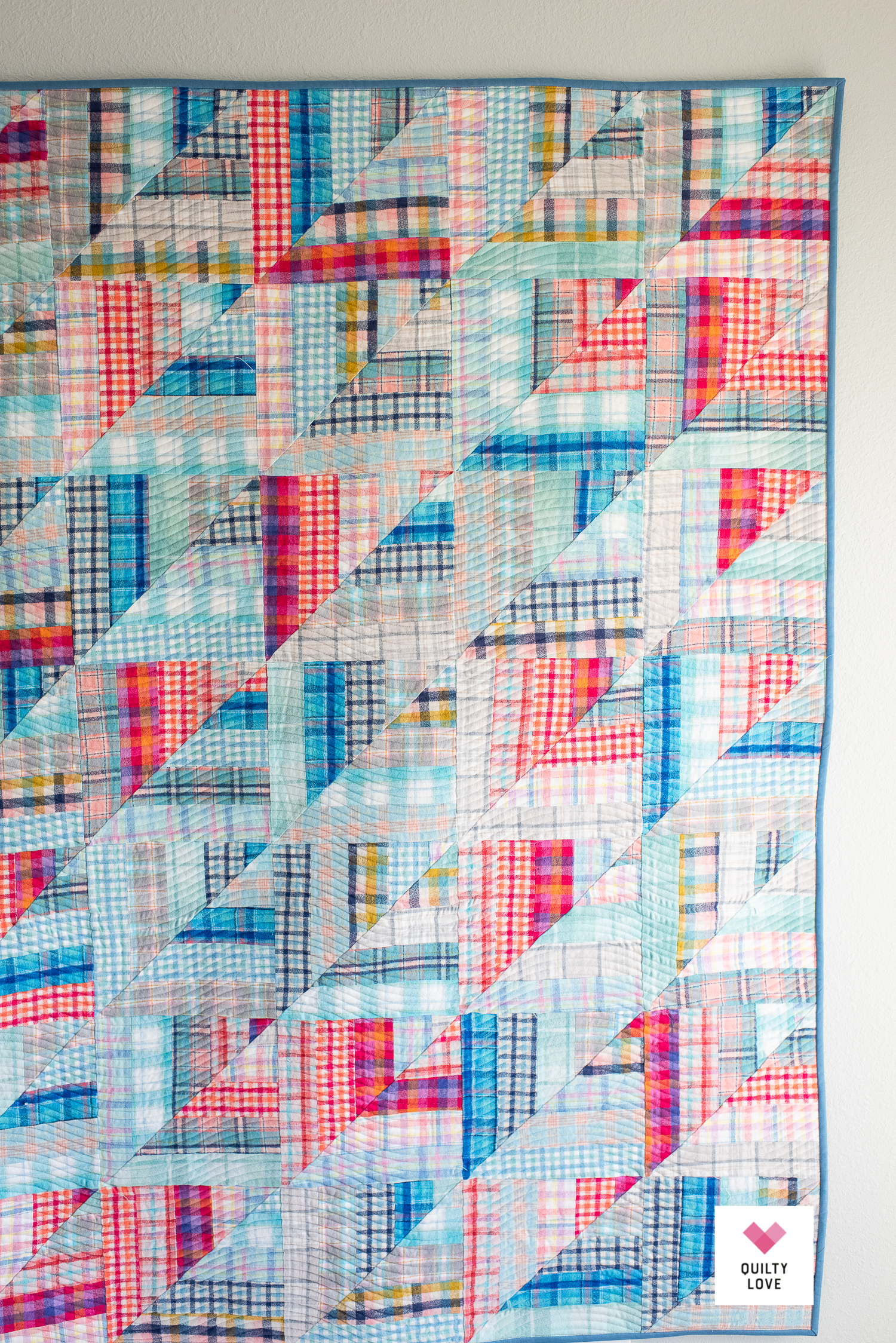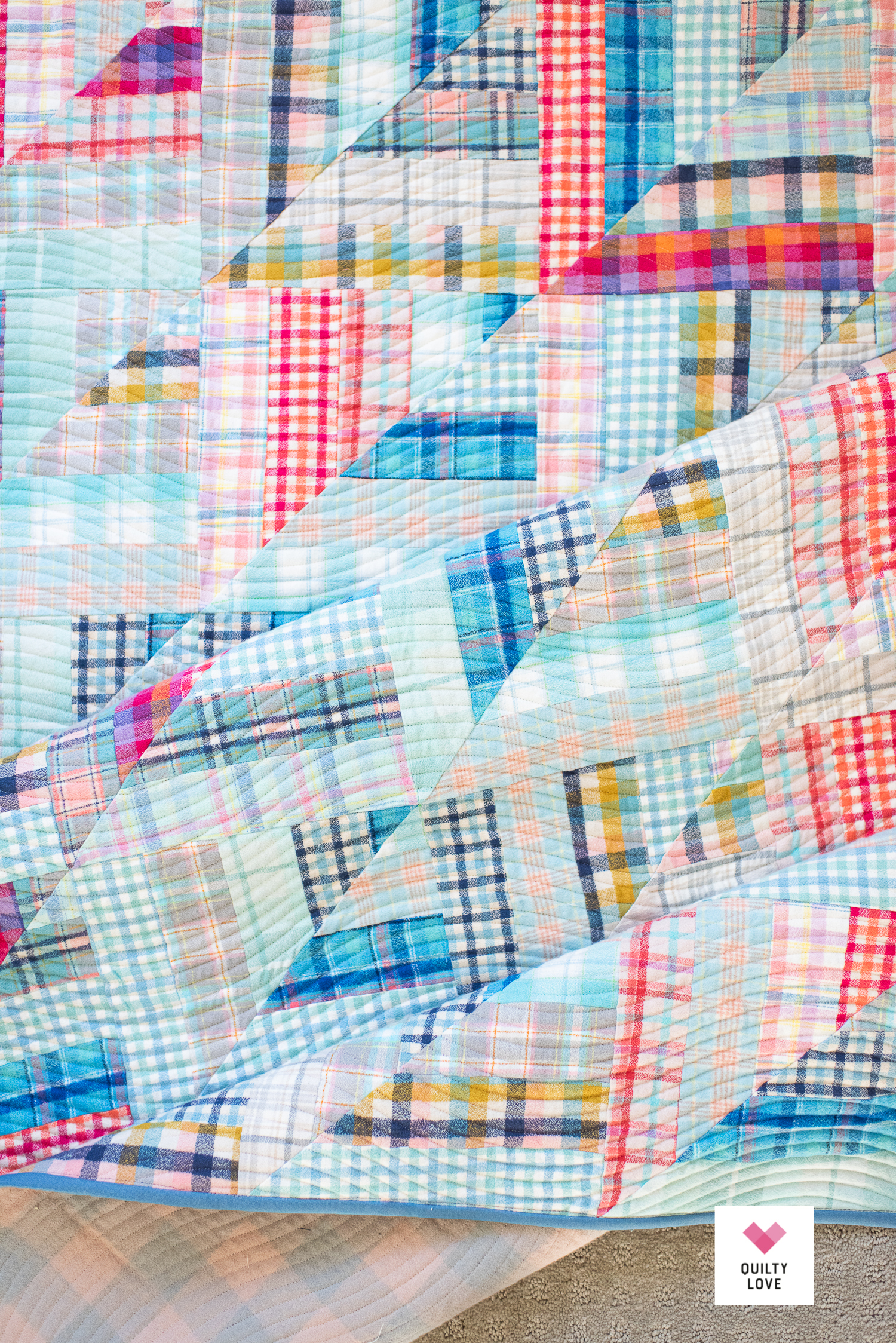 Cozy Season Lucky Log Cabins Materials:
Quilt pattern: Lucky Log Cabins by Quilty Love
Fabrics: Cozy Season by Quilty Love for Robert Kaufman
Backing: Robert Kaufman flannel gingham in Shell
Binding: Robert Kaufman kona cotton in Delft
Pieced on my Janome MC6700p
Long Arm quilted by Modern Textiles