VandCo Ombre Gems Quilt – The QAL one with new colors
I have another VandCo Ombre Gems quilt to share today! Somehow this Ombre Gems quilt never made it up on the blog. This colorful Ombre quilt is the one I made during the last Ombre Gems quilt along.
The last Ombre Gems quilt along was the 3rd and final quilt along I hosted for this rainbow quilt. If you missed out on a quilt along, you can still do it on your own by signing up here!
This Ombre Gems quilt is sewn up using new VandCo ombre colors. With the addition of new colors to the VandCo Ombre fabric line, I created a new color scheme.
Ombre Gems is available in the Quilty Love pattern shop.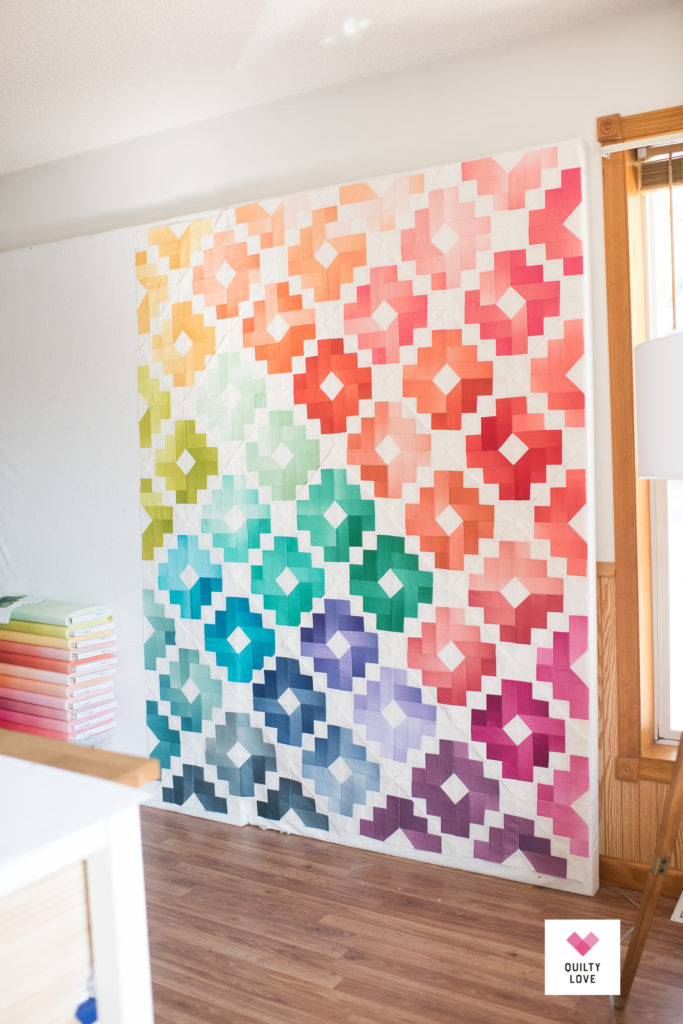 VandCo Ombre Gems quilt pattern includes exact color placements
The original Ombre Gems quilt uses all of the 20 original VandCo ombre colors. The VandCo ombre fabric line has now expanded well beyond 20 colors so I choose 20 of my favorites for this quilt.
The Ombre Gems quilt pattern includes exact placement and instructions for both the 20 original Ombre colors and the 20 colors used in this quilt. If you use these exact colors, the planning is already done for you!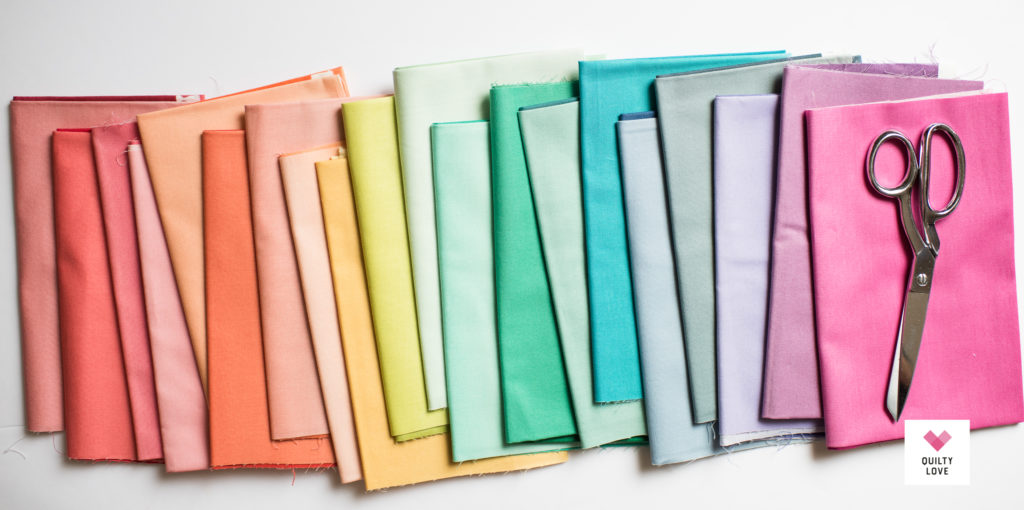 20 VandCo Ombre colors used in Ombre Gems
Since there are so many more VandCo ombre colors to choose from, I left out the tans and blacks for this version of Ombre Gems.
Here are the exact colors from the photo above: cranberry, cherry, popsicle pink, hot pink, persimmon, tangerine, cayenne, coral, honey, lime, mint, teal, kelly, lagoon, turquoise, nantucket, slate, mauve, plum ,magenta
Buy an Ombre Gems quilt kit here!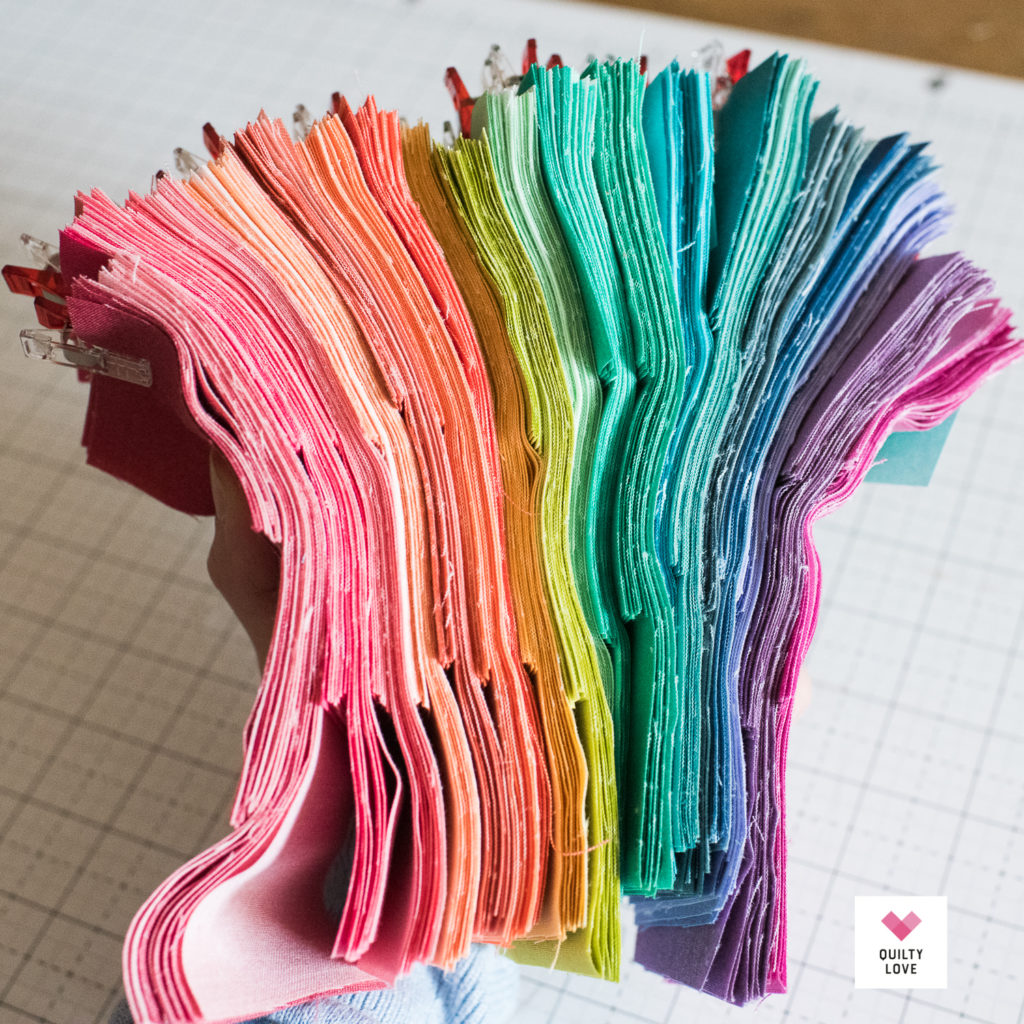 Quilting with ombre fabrics
I have been a fan of the VandCo Ombre fabrics since their very first ombre line hit the market. In fact, back in 2016 I created Ombre Gems around that very first VandCo ombre line! It was first published in Love Patchwork and Quilting Magazine and even made it on the cover!
Ombre fabrics create so much interest and movement in quilts. They can make a quilt look way more complex than it actually is.
Ombre Gems quilt pattern is easier to follow
Over the years I have been tweaking and updating the Ombre Gems quilt pattern so it's easier to follow and easier to make. It now includes exact colors and placement when using these exact colors (or the 20 original colors) so no planning needed! You can now replicate this quilt exactly.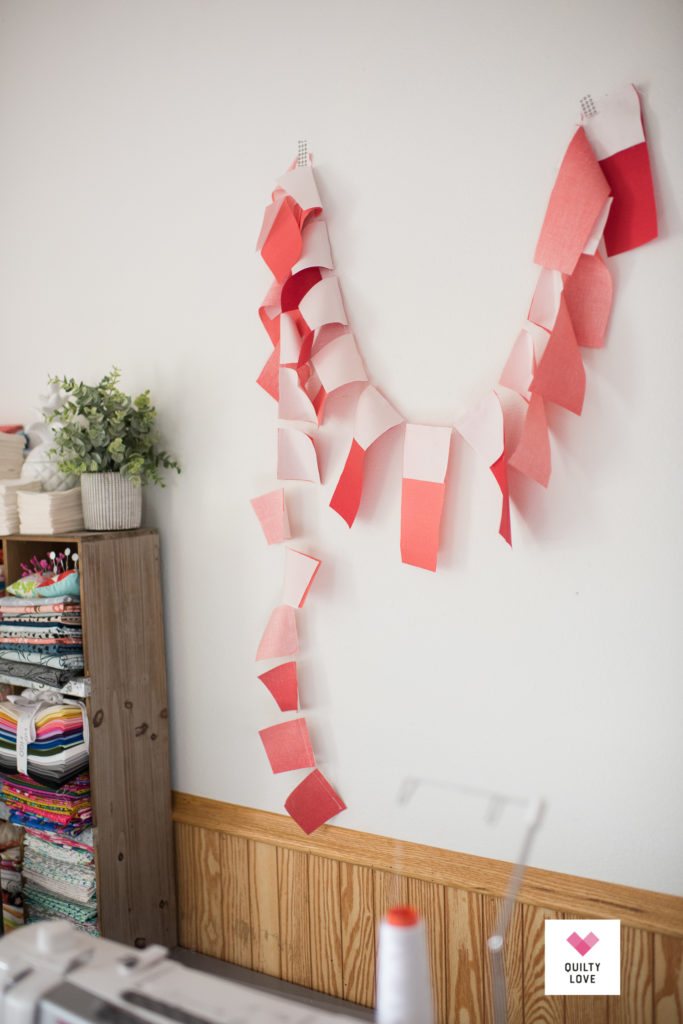 I can't resist the photo opportunities when sewing with ombre fabrics..lol. They just look so pretty every step of the quilting process.
Below are all of the Ombre Gems quilt blocks ready to be arranged as a quilt top.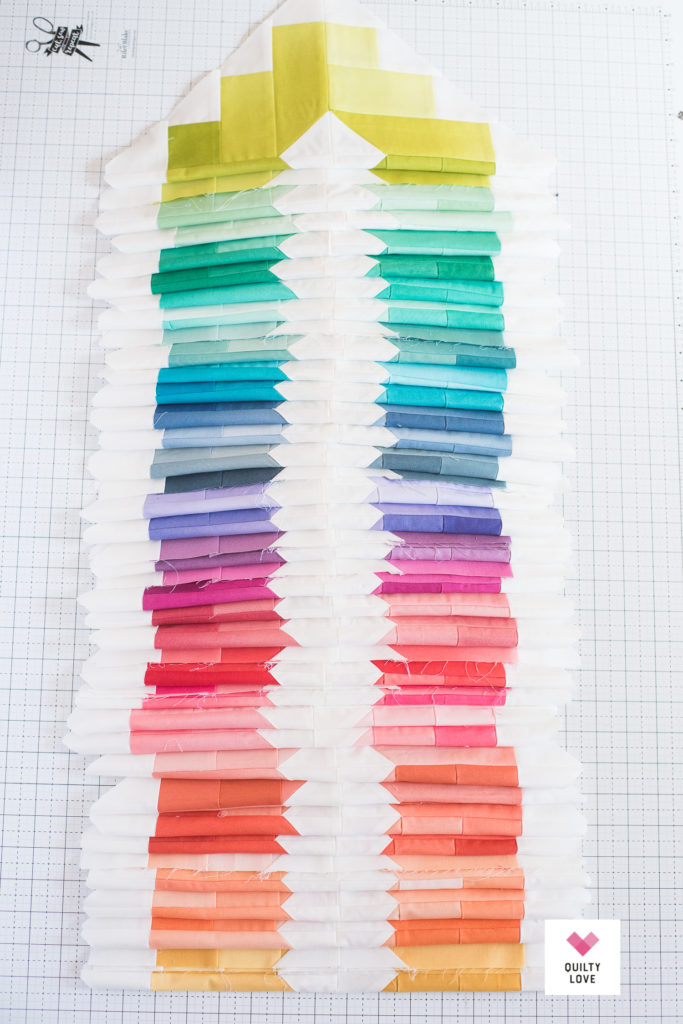 These photos are a little nostalgic. This was right after our move to southern Minnesota and my sewing space was set up in our large master bedroom our rental. We weren't in this place for more than a few months but this colorful quilt and the quilt along happened here.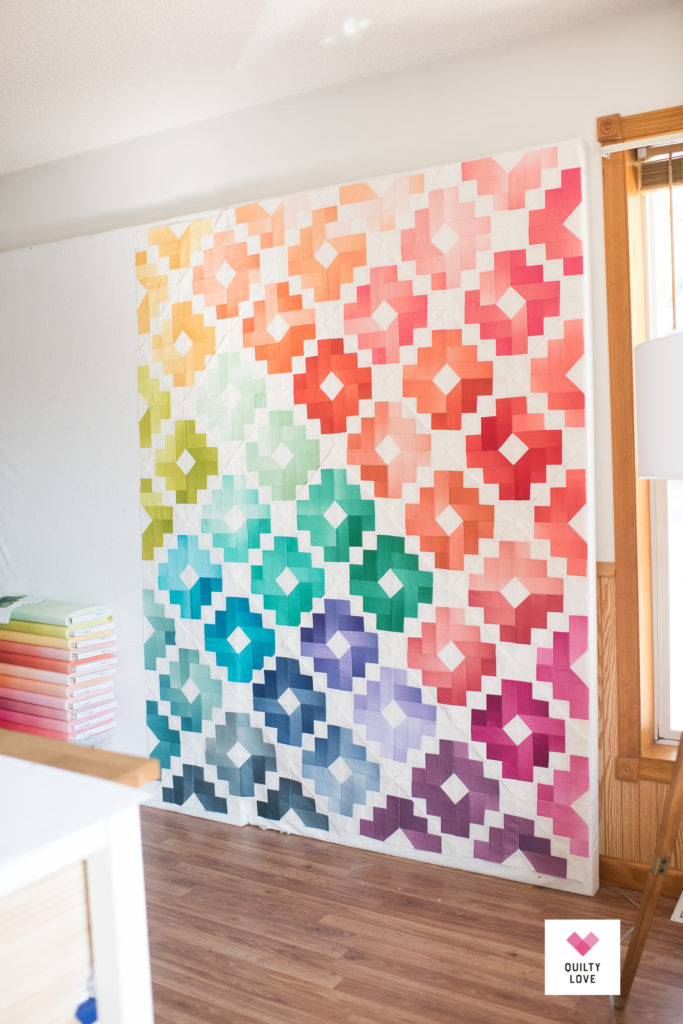 Portable quilting design wall
It's a good thing I made my design wall portable because I can't tell you how many times I have had to move it..lol. When I made it I really thought it would be kept in one place for years and years.
The only reason I made it portable was because I didn't know for sure which wall of my studio it was going to live on. Since making it about 3 years ago it has been moved into at least 3 different studio spaces.
My design wall is one of my favorite things about having a dedicated sewing space. It really helps to see the quilt come together on the wall rather than on the floor.
It is thick insulation foam board covered in cotton batting. I made the mistake of trying to use a thinner foam board and it was too thin to be portable.
This insulation foam board is 2 inches thick.
First I cut it down so it didn't bump the ceiling in my space. I actually cut it to my original studio which has a lower ceiling. It was only in that space for a couple of months (if not weeks..lol) so I could have left it a little taller than it is.
Then I painted it white so you wouldn't be able to see the blue foam board through the batting. I covered it with cotton quilting batting that is just taped to the back with my favorite Kraft tape.
You can see some videos and additional explanation about my design wall in these stories on instagram.
And now we are in my current studio..lol. The closet doors have since been painted white. I think we ended up moving into our house right in the middle of hosting the Ombre Gems quilt along.
Ombre Gems quilt pattern
Ombre Gems includes instructions for two different throw size quilts. This is the larger of the two. It also includes a smaller throw with significantly less blocks. You can see a small Ombre Gems throw I made here.
I would call Ombre Gems an intermediate quilt pattern. While the construction of the blocks aren't too complicated, it does have a lot of seams to line up. The pattern includes pressing instructions to help with lining up seams.
This quilt is a very rewarding quilt to make! I've made a few of them now and they are always so gorgeous and satisfying when they are done.
1/4 yard or Fat quarter quilt
Ombre Gems can be made using fat quarters, quarter yards or even jelly roll strips! If you buy specifically for the pattern, I recommend the 1/4 yards, then fat quarters, then jelly rolls in that order. All three options will work but jelly rolls are probably the most challenging since they tend to vary in their width.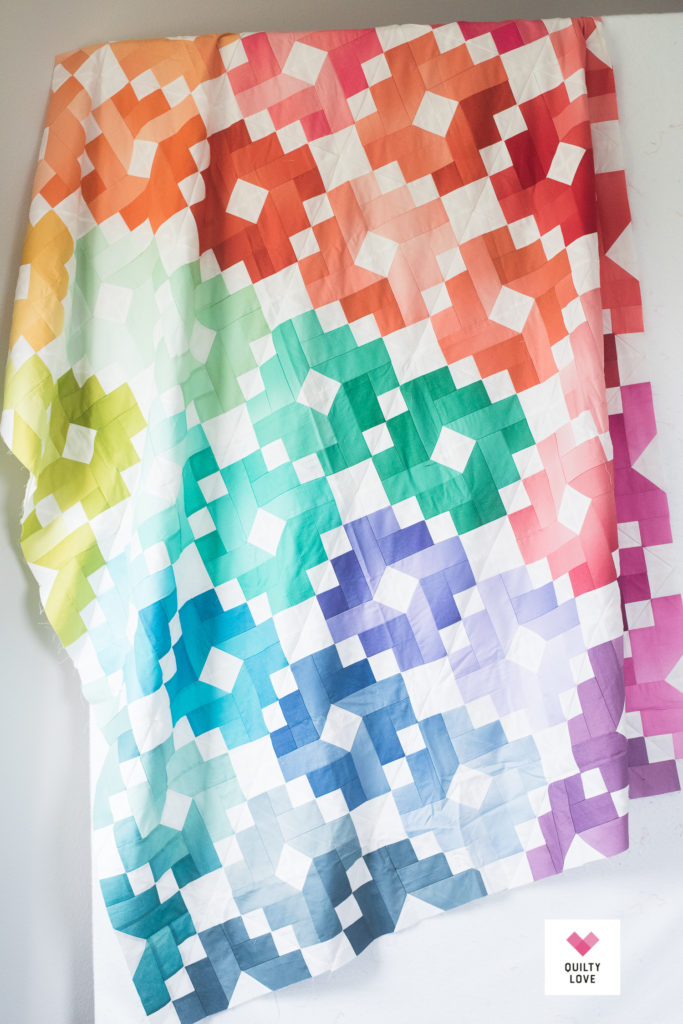 Long Arm Quilting
This Ombre Gems quilt sat as a quilt top for too long. I recently sent it off to Knot and Thread for quilting. I love the diamond quilting pantograph she chose for this colorful quilt.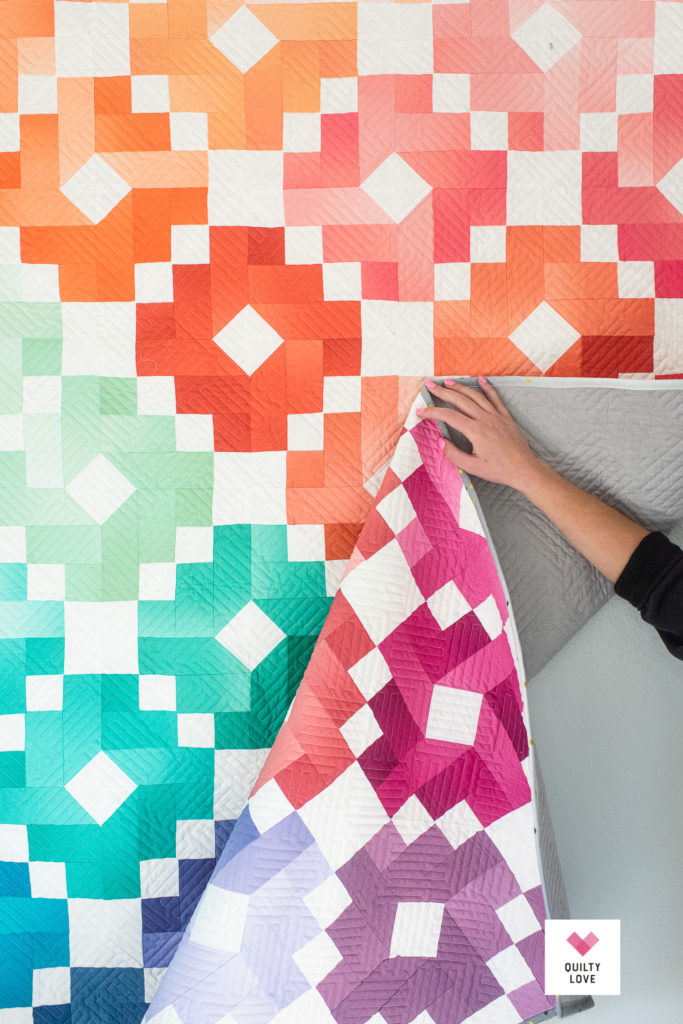 Peppered Cotton Wideback
I used a light grey peppered cotton wideback for this rainbow quilt. I like to add a subtle backing to my Ombre Gems quilts since the quilt tops are so colorful. This peppered cotton wideback I had on hand worked perfectly.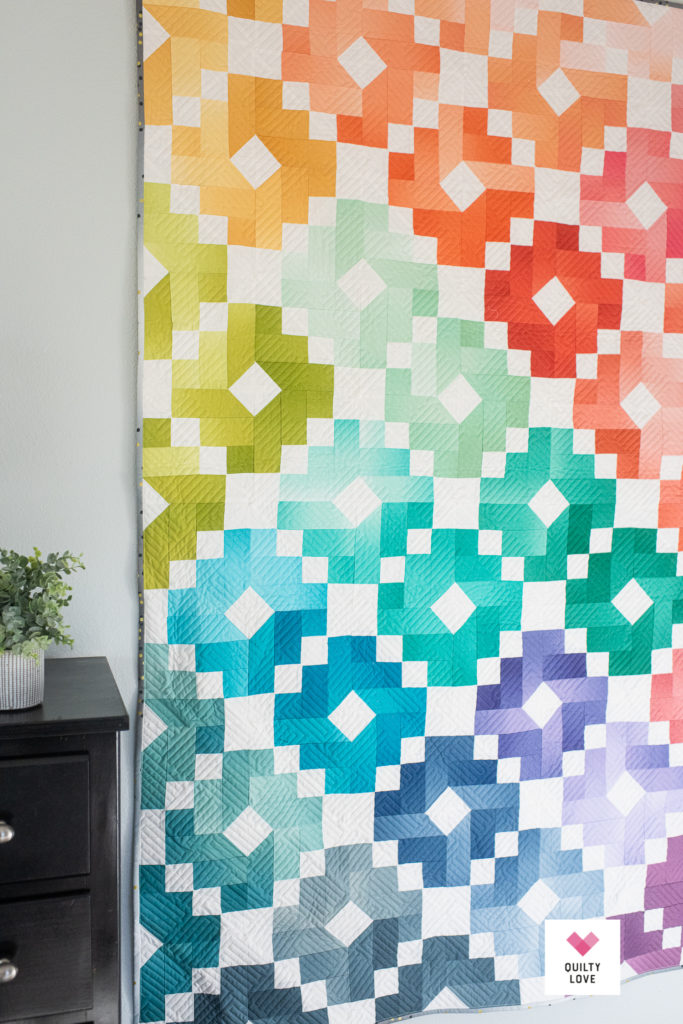 Ombre Gems Binding
I finished off this colorful Ombre Gems quilt with a grey VandCo confetti binding that I had on hand.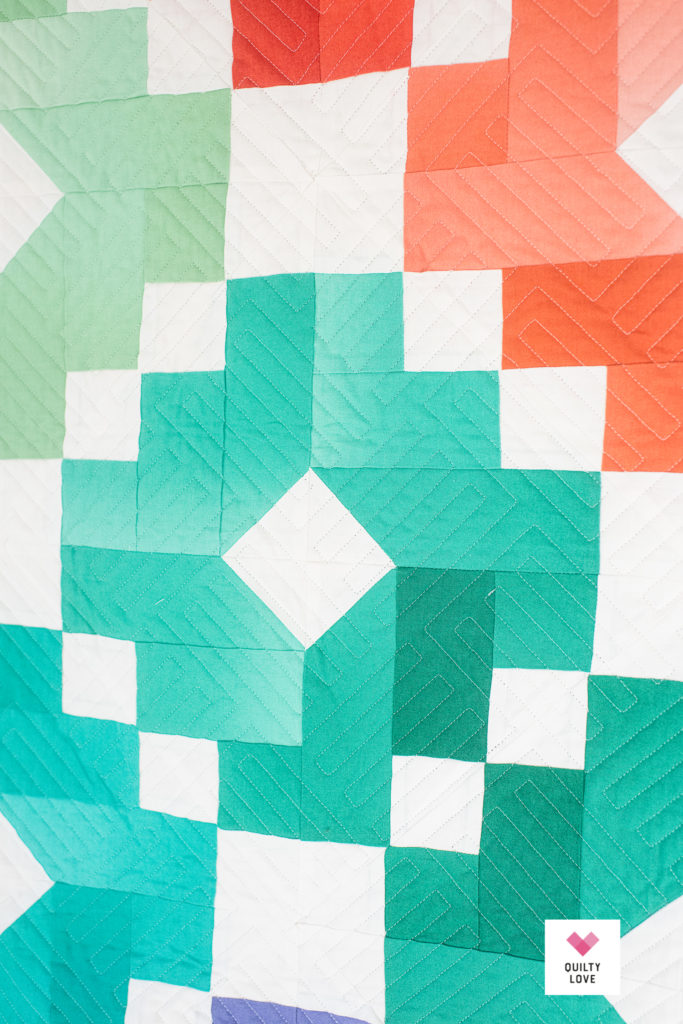 I love how this Ombre Gems quilt turned out! It has a little more of a softer color palette than the original Ombre Gems. It reminds me of rainbow sherbet or something.
Ombre Gems looks great in any of the VandCo ombre variations such as the fairy dust or confetti. You can use these same 20 colors in any of the VandCo ombre fabrics. Here is an Ombre Gems made using the 20 original colors in the Confetti fabric line.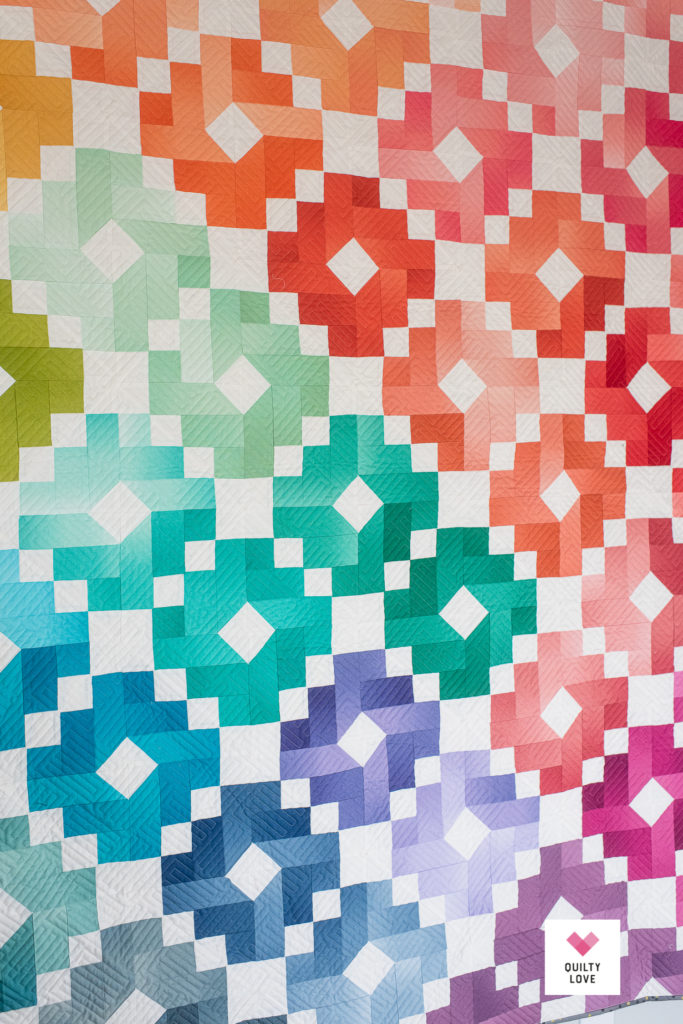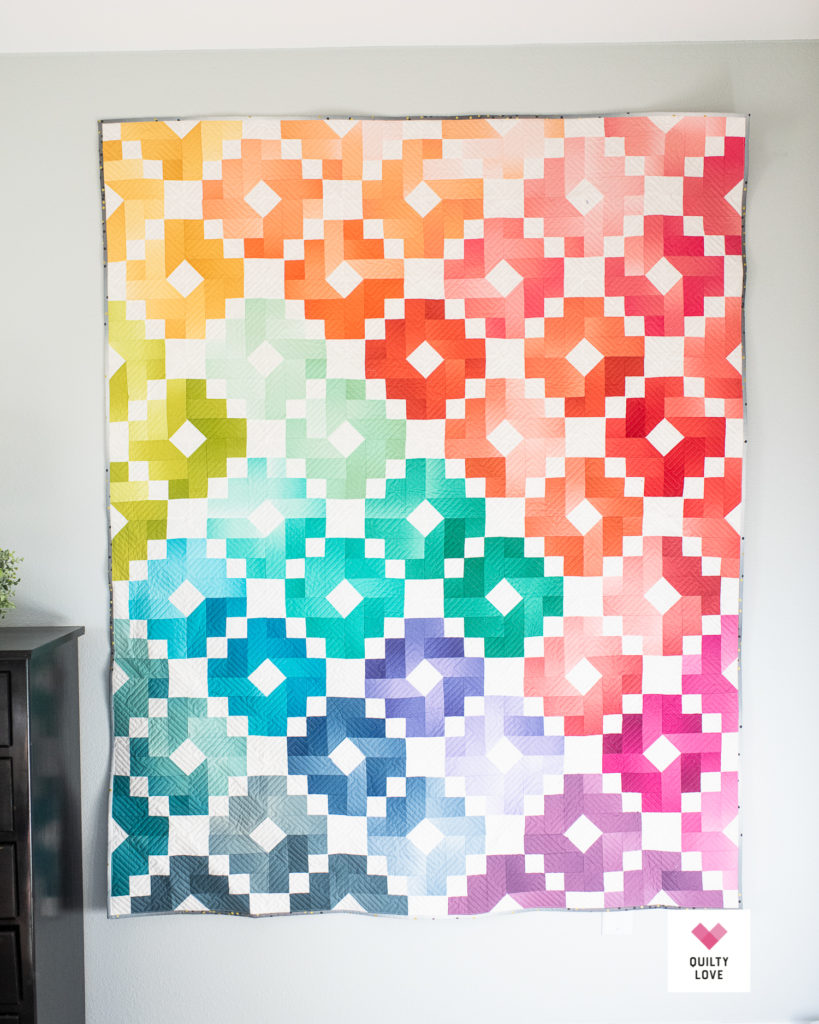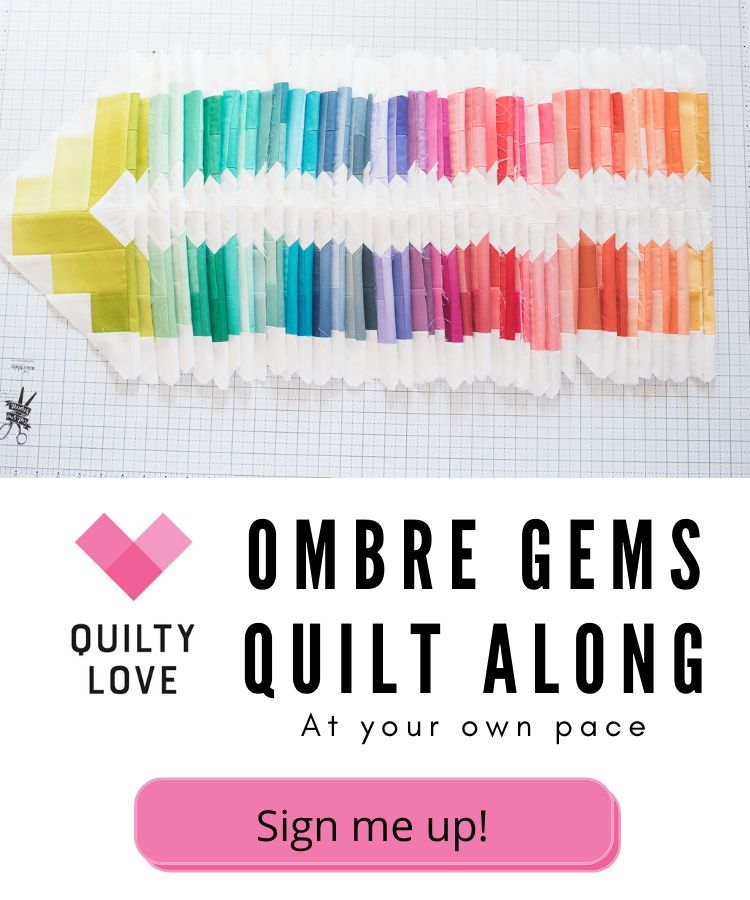 Materials Used:
Ombre Gems quilt pattern
VandCo Ombre fabrics
Peppered Cotton Wideback
Pieced on my Janome MC6700p
Quilted by Knot and Thread