Free Spirit Fabrics Triangle Hexies Quilt
Today I have a bright and happy Free Spirit Fabrics Triangle Hexies quilt to share. It's my turn on the blog tour for Valori Well's brand new fabric line with Free Spirit Fabrics. Valori's travels to Marrakech inspired this vibrant Enchanted fabric line.
I wanted to really highlight the beautiful fabrics in this line so I chose Triangle Hexies. It allows for bigger cuts of fabric, plus it's quick and easy!
Triangle Hexies is in the Quilty Love pattern shop.
Enchanted fabrics will be in quilt shops – June 2021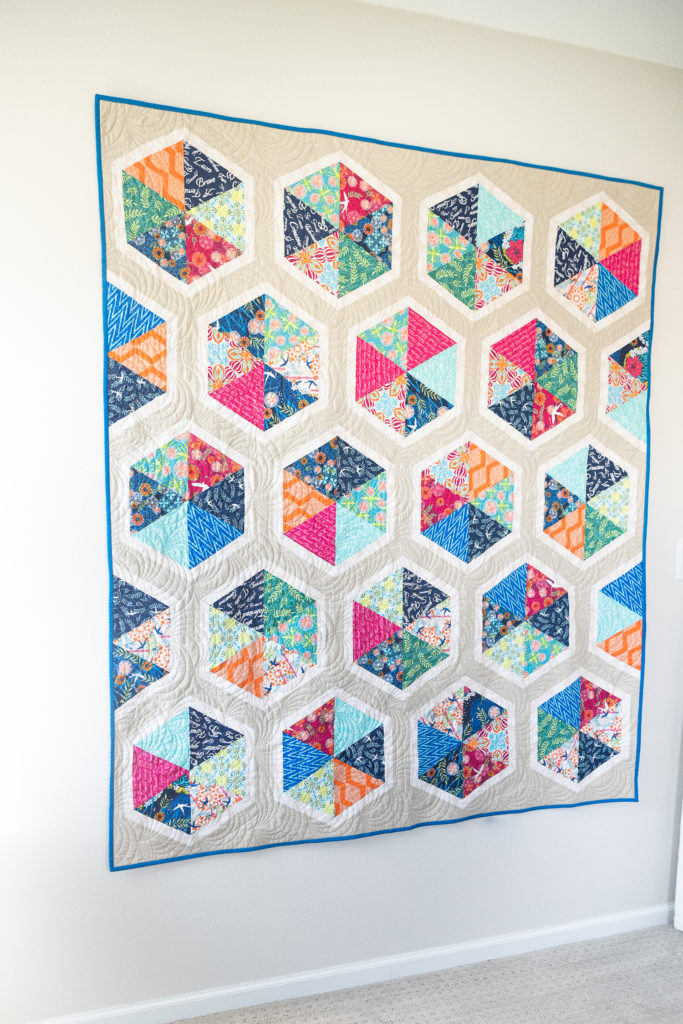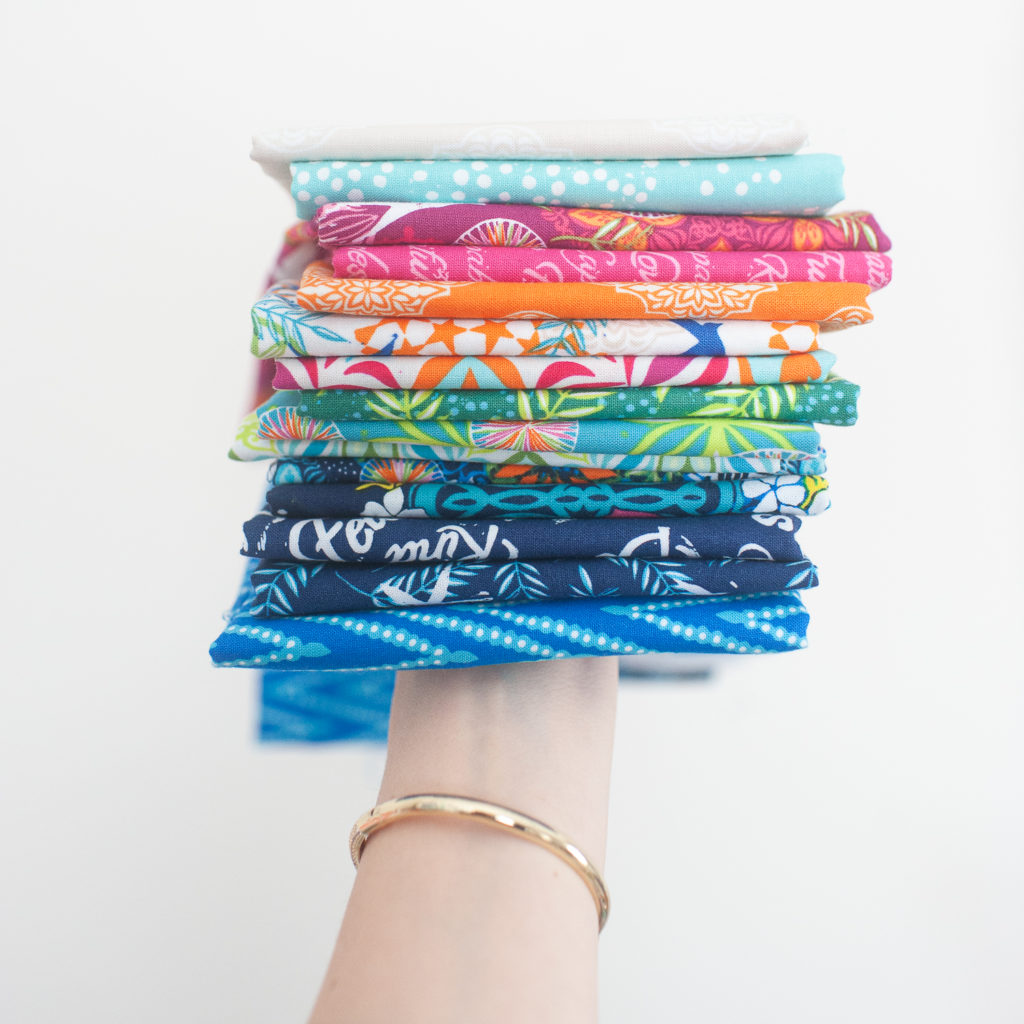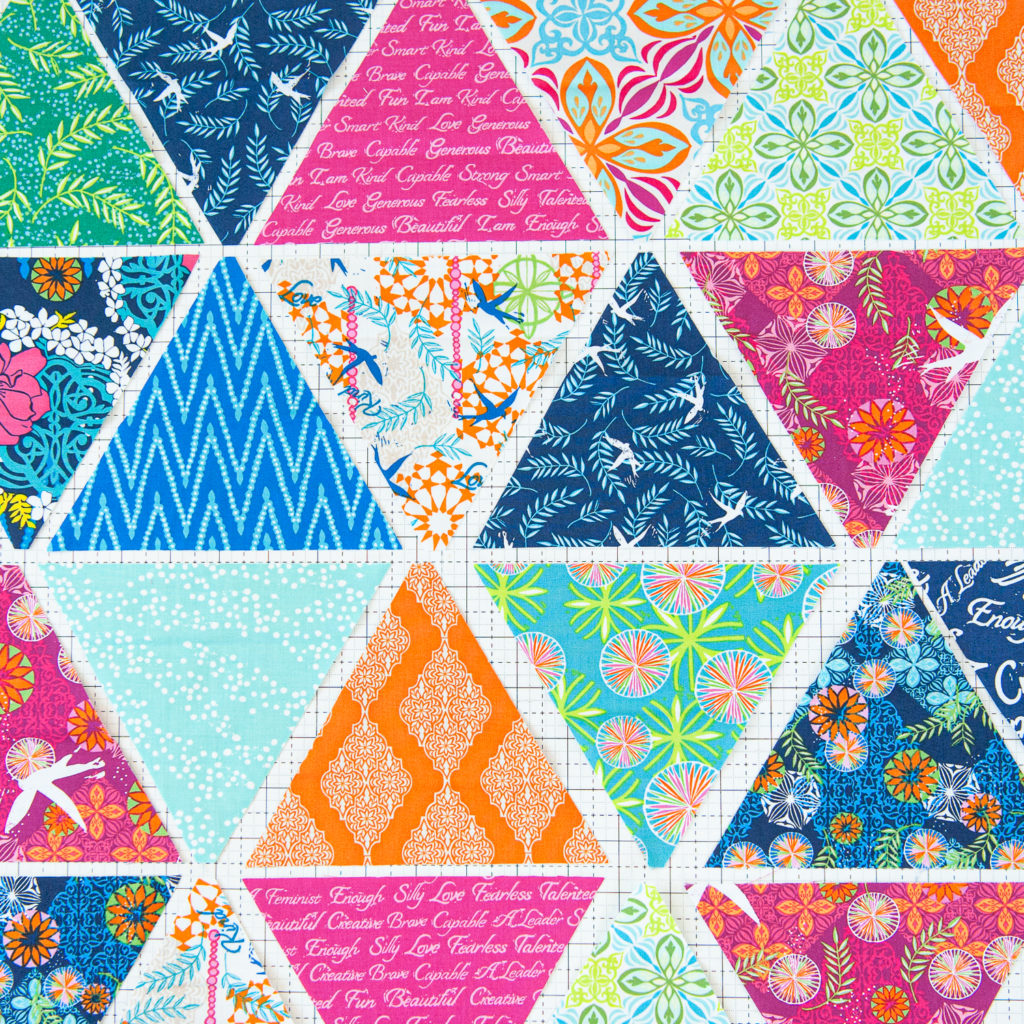 Enchanted Fabrics by Free Spirit
You can definitely see the Moroccan influence on this vibrant fabric line by Valori Wells. Valori designed this line after a trip to Marrakech. She used block printing techniques to create some of these prints. I personally was drawn to the blues in this fabric line. I love the punch of orange and pink also.
Enchanted will be available in quilt shop in June.
Free Spirit Fabrics Triangle Hexies quilt
I was debating between a few different quilt patterns for these fabrics. In the end I decided to make a Triangle Hexies quilt because it allows for those larger cuts of fabric. It also mixes the fabrics at random and I really loved how they look all mingled together like this.
I chose the lightest print in the fabric line for the hexie sashing and then used a neutral as the background. The background fabric is a Free Spirit solid in the color Flax.
Triangle Hexies is a quick and easy hexie quilt. It is sewn with traditional piecing techniques. No Y seams or anything like that. I always recommend a triangle ruler when making a triangle quilt. I like this triangle ruler because it works for so many sizes plus you can use it for hexie quilts too! If you get a larger triangle ruler like that one, it's the only one you will need.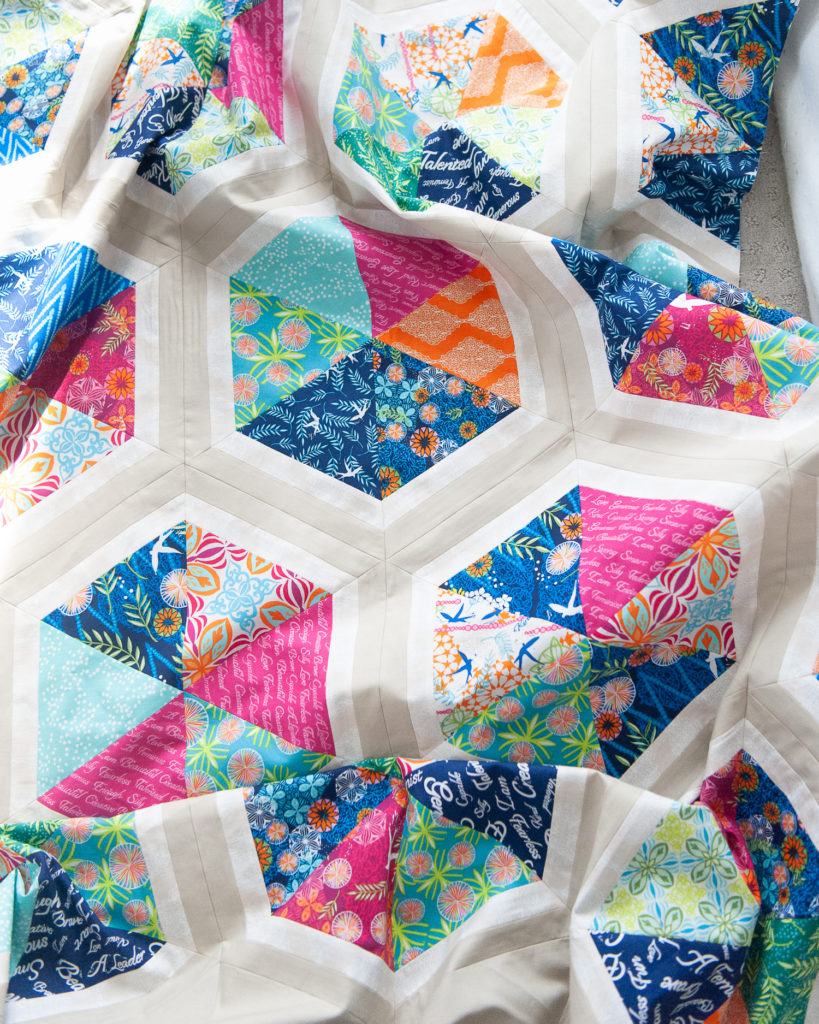 Triangle Hexies quilt sizes
The Triangle Hexies quilt pattern includes a few different sizes:
Baby size
Throw size
Twin size
Queen size
This Free Spirit Triangle Hexies quilt is the throw size. It's a nice generous size at 60″ x 70″.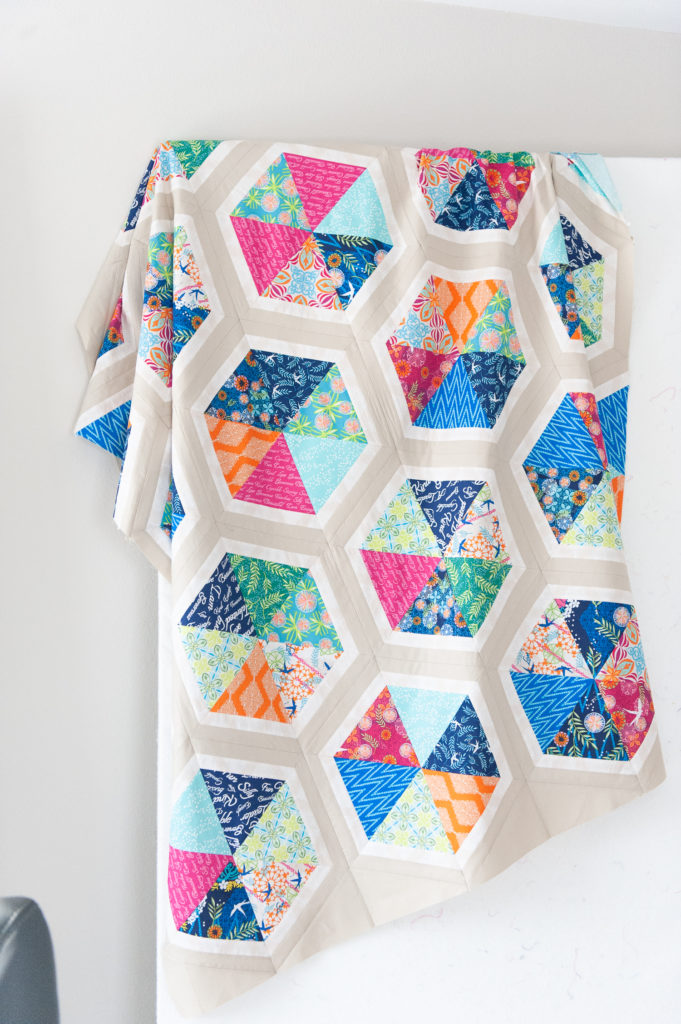 Quick and easy triangle quilt
While Triangle Hexies may look a little more complex, it's actually a pretty quick and easy quilt to make. It's constructed using 60 degree triangles and if you use a ruler, piecing is simple!
I've actually made quite a few Triangle Hexie quilts over the years!
Fat Quarter friendly quilt pattern
Triangle Hexies is a fat quarter friendly quilt pattern! That is another reason I chose it for this fabric bundle.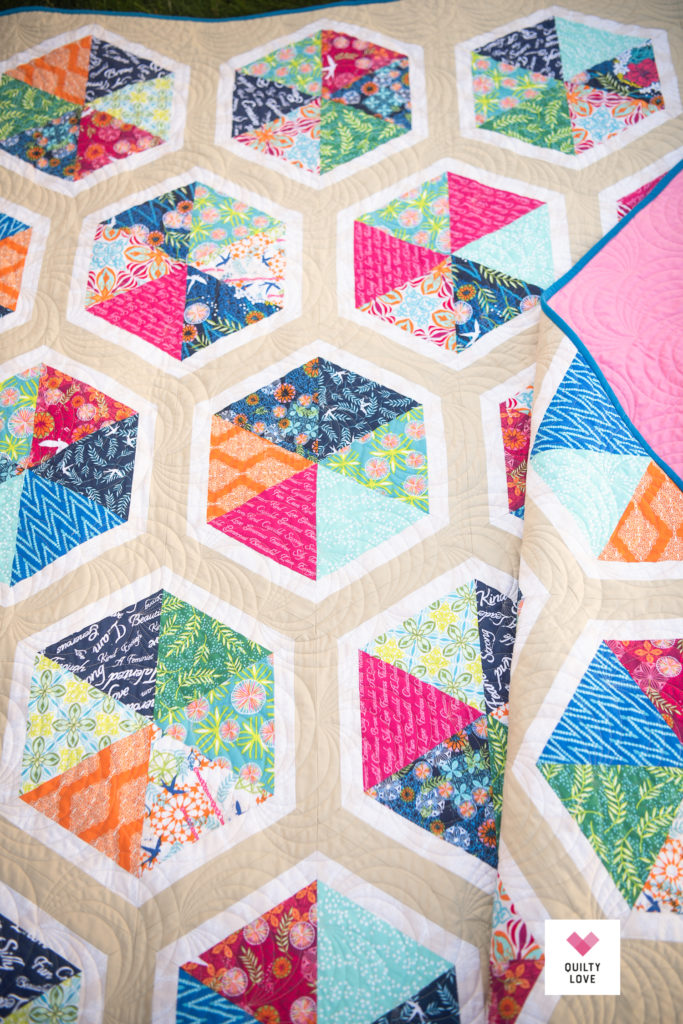 Long Arm Quilting
This bright and happy Free Spirit Triangle Hexies quilt was quilted up by Jenae of Vintage Stitch. We chose this swirl quilting pantograph and I love the movement it gives this quilt.
I had Jenae also finish off the binding! She offers binding services and it feels like magic getting a quilt back from her completely done.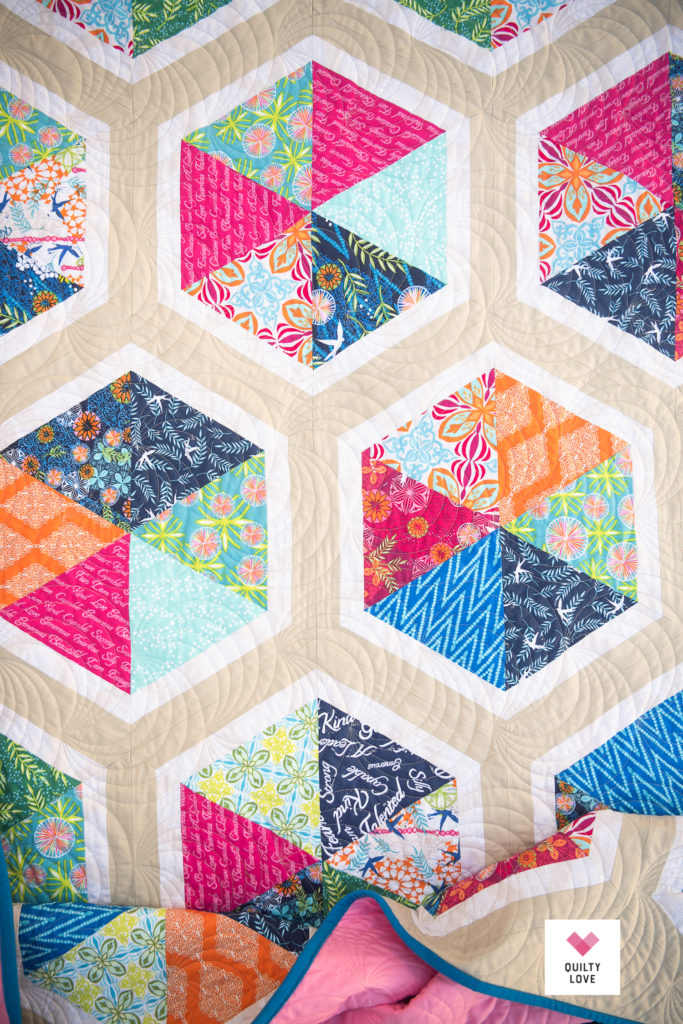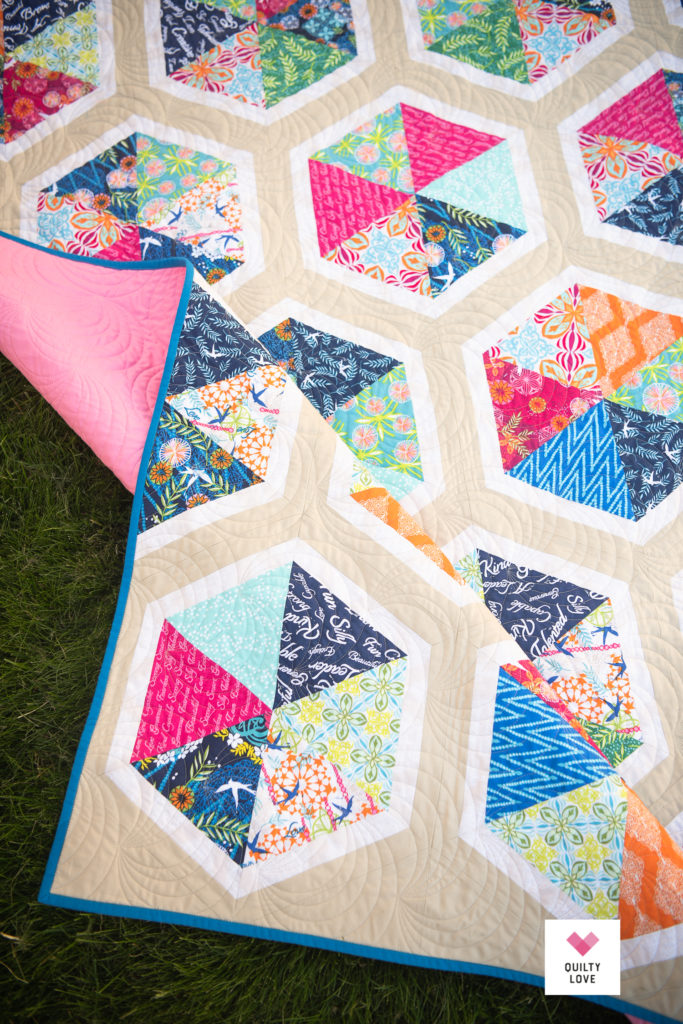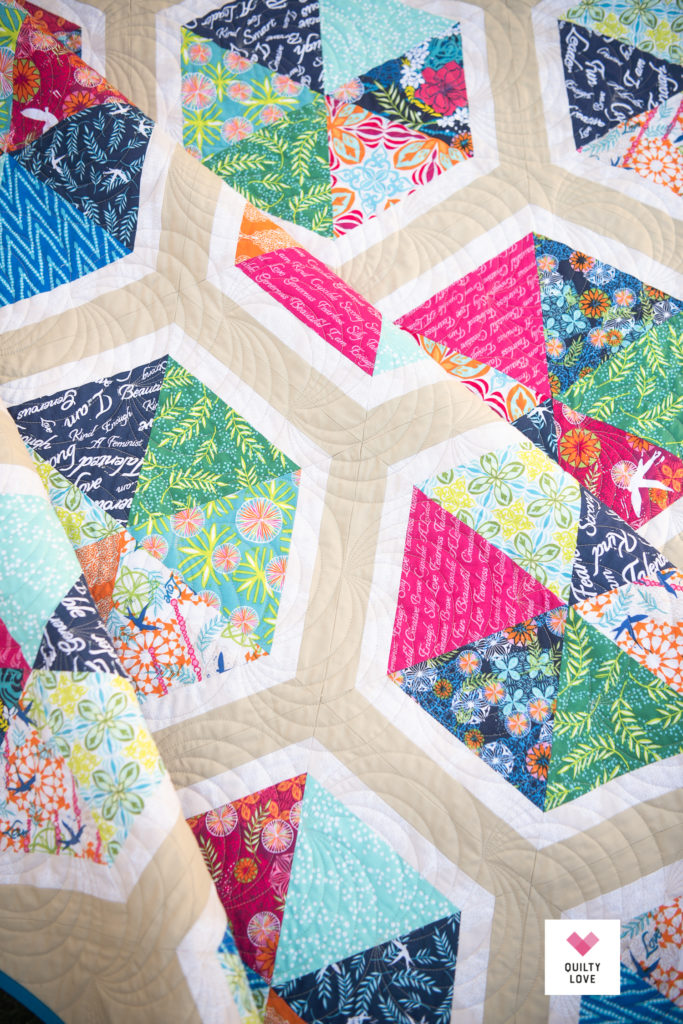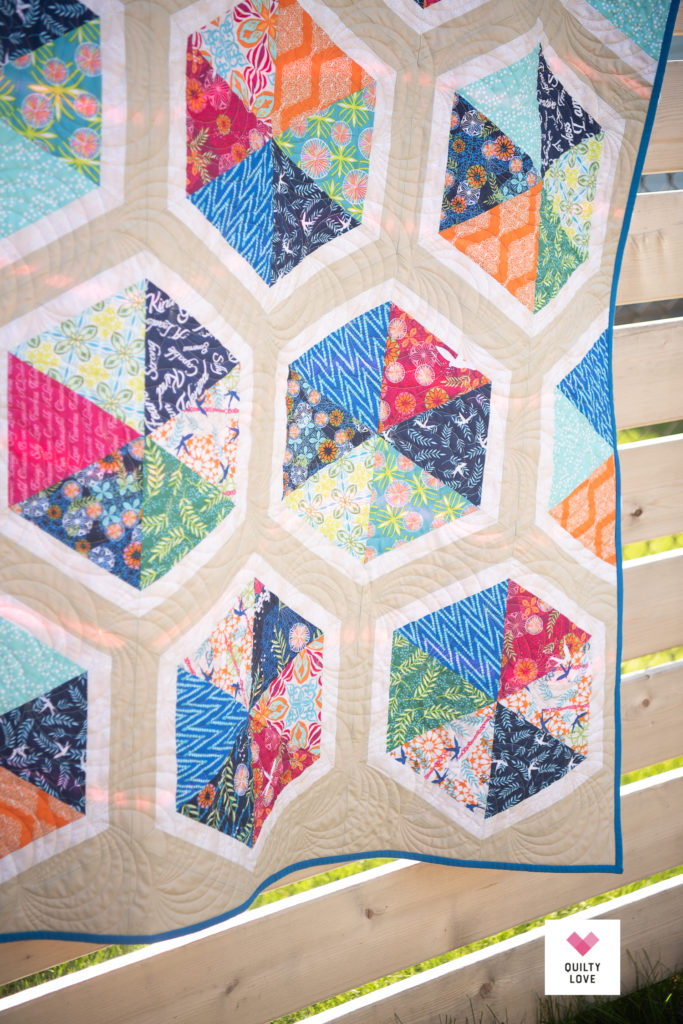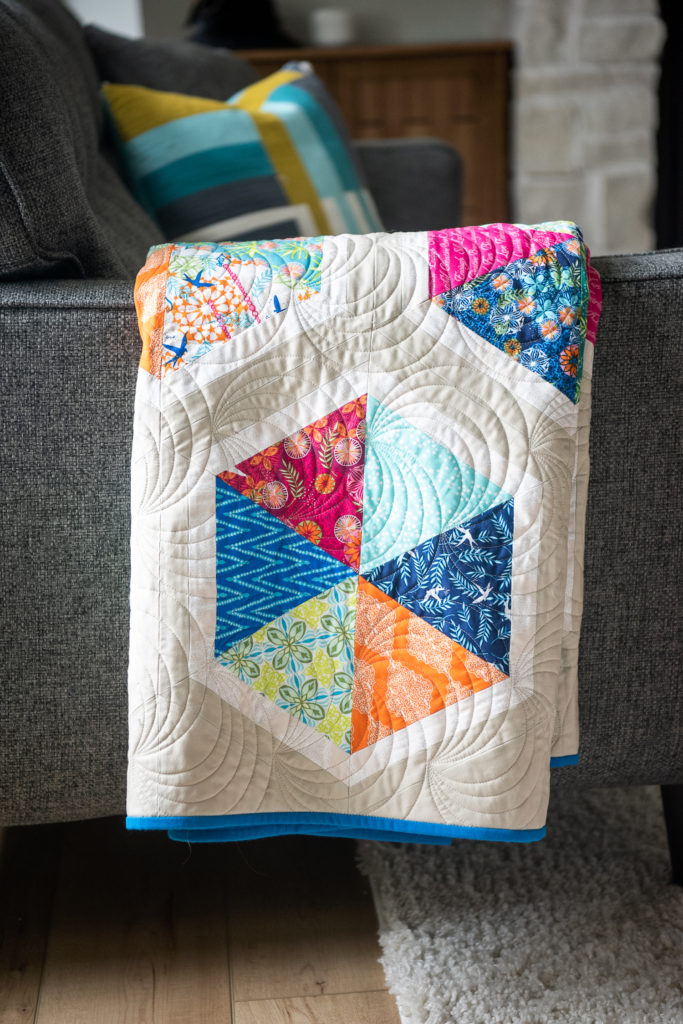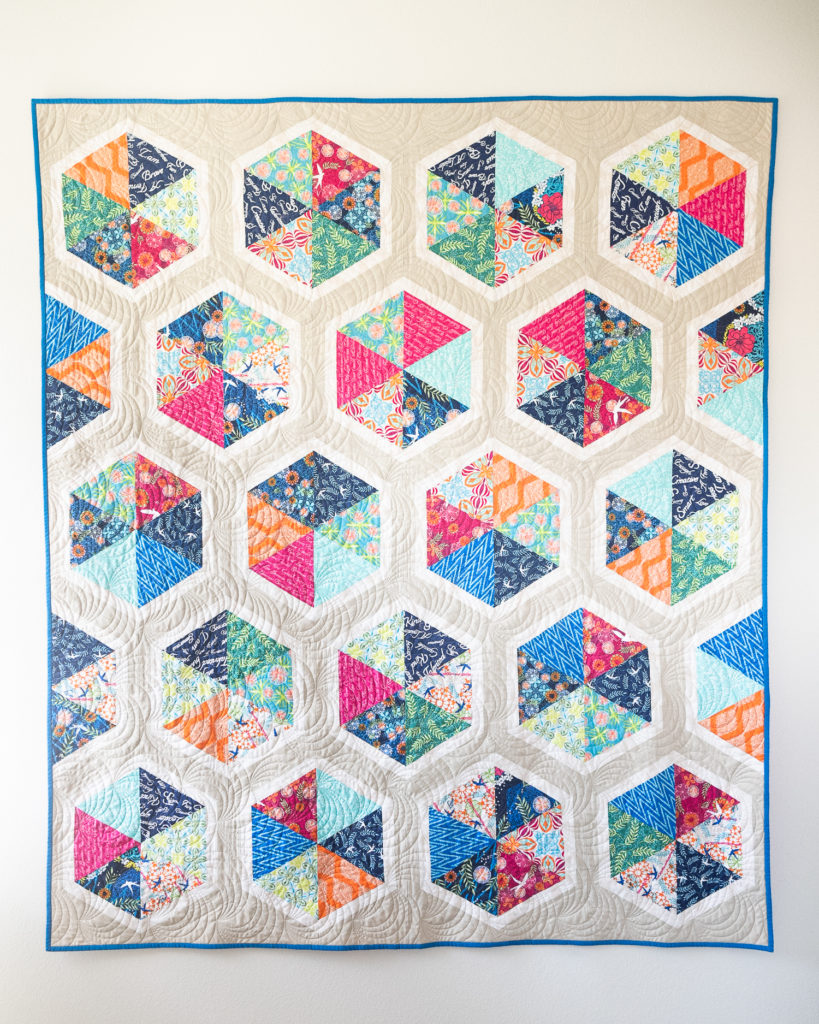 Materials Used:
Quilt Pattern: Triangle Hexies Quilt
Fabrics: Enchanted by Valori Wells for Free Spirit – in shops in June
Background: Free Spirit solid in Flax
Binding: Kona cotton in Pacific
Pieced on my Janome MC6700p
Quilted by Vintage Stitch