Glowing Quilt – A new fat quarter friendly quilt pattern
I'm excited to share the new Glowing quilt pattern today! Glowing is the latest Quilty Love pattern and both fat quarter or quarter yard friendly.
You can find the Glowing quilt pattern in the pattern shop.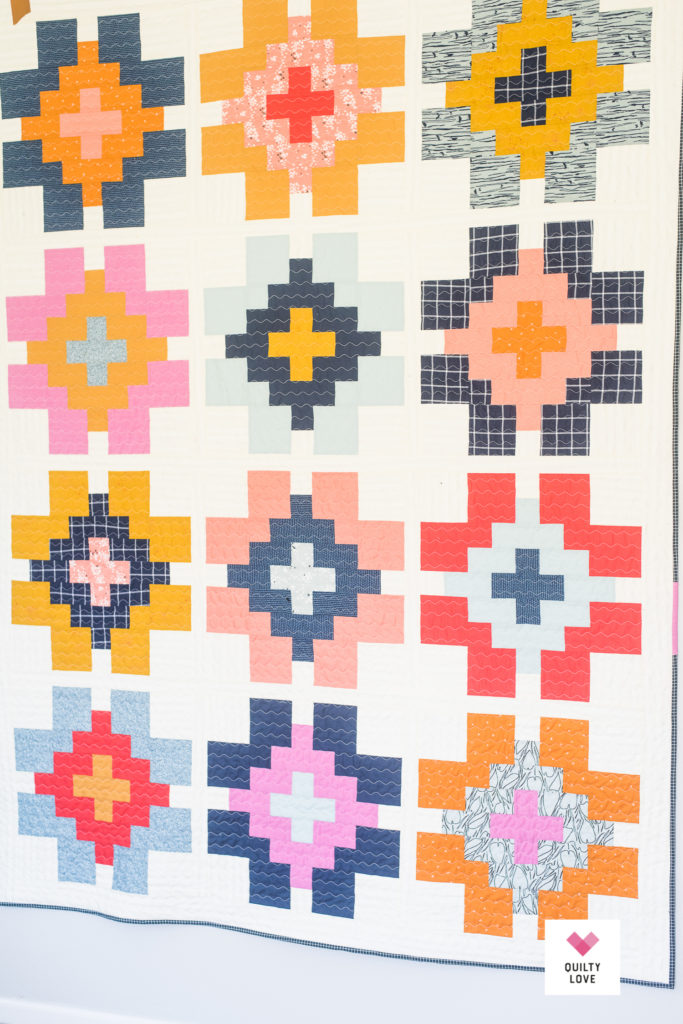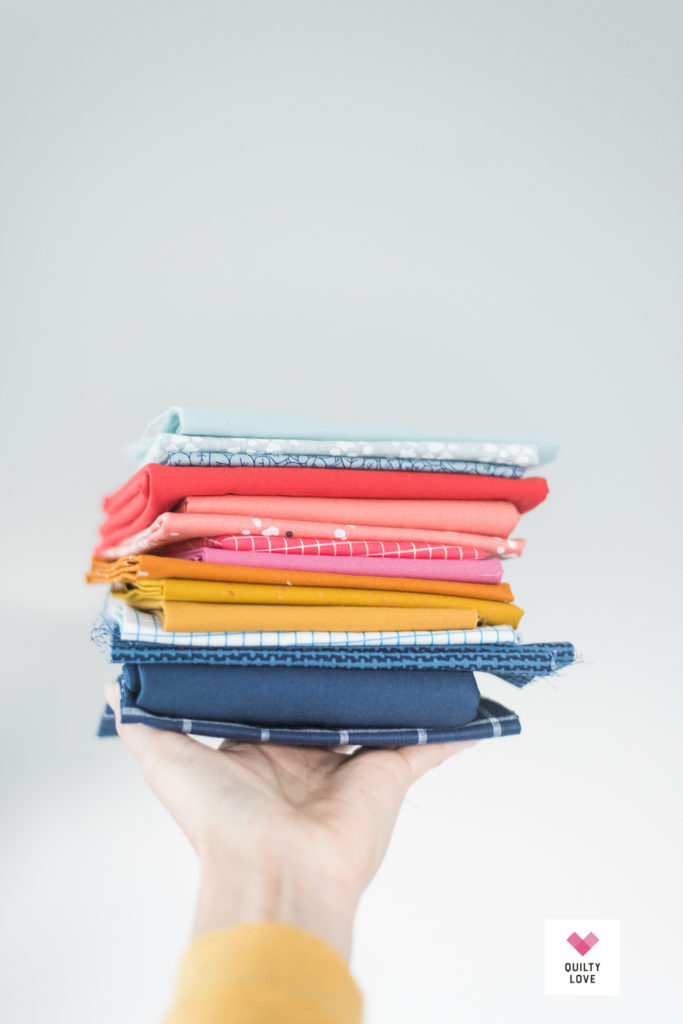 Fat Quarter friendly quilt pattern
Glowing is all about those fat quarters! This will be a really nice stash quilt since you can pull your favorite fat quarters from your stash.
I'm smitten with the brand new hard to find Warp and Weft line by Ruby Star Society. Since it is hard to find a full bundle right now, I made up my own using a similar color story. It was so satisfying using up fat quarters that I already had in my stash.
Some of my fabric pieces were a tad too small so I added a few more pieces to make it all work. Glowing uses a fat quarter or a quarter yard cut of fabric perfectly!
If there is a fabric line you love, try pulling the exact colors of it from your own stash! It's a really great way to build your own bundle.
Crazy fact… I feel like I'm really low on fabric right now because I've been sewing like crazy lately!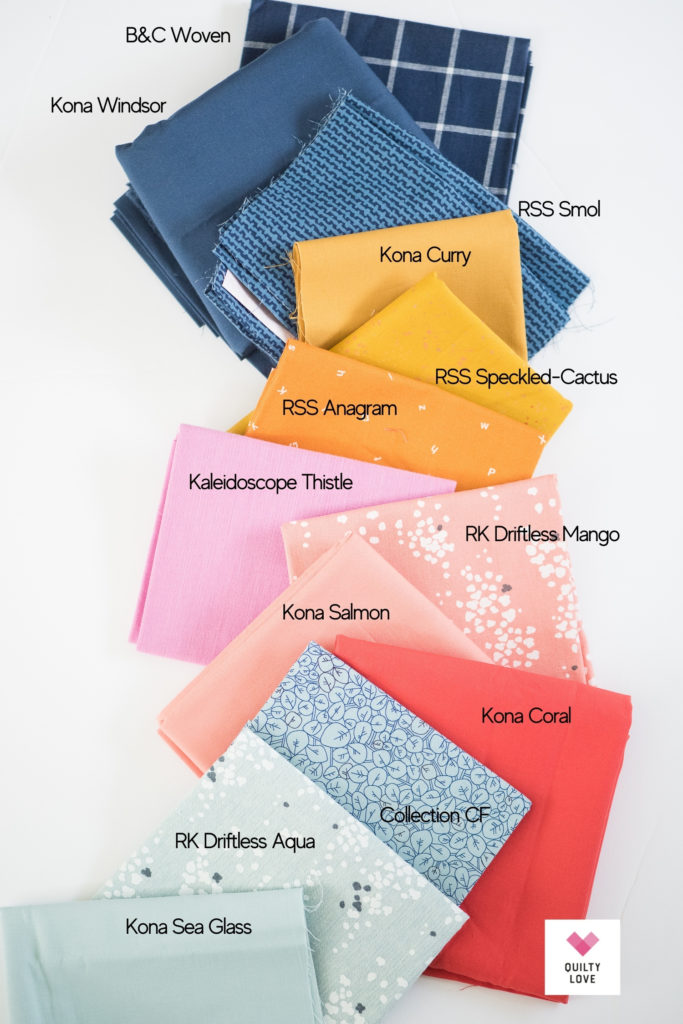 Fabrics used in this Glowing quilt
I used some of my favorite fabrics in this quilt! Top to bottom of the photo above:
Bonnie and Camille Woven
Kona Windsor
Ruby Star Society Smol
Kona Curry
Ruby Star Society Speckled in Cactus
Ruby Star Society Anagram
Allison Kaleidoscope Thistle
Driftless in Mango
Kona Salmon
Kona Coral
Carolyn Friedlander Collection CF
Driftless in Aqua
Kona Sea Glass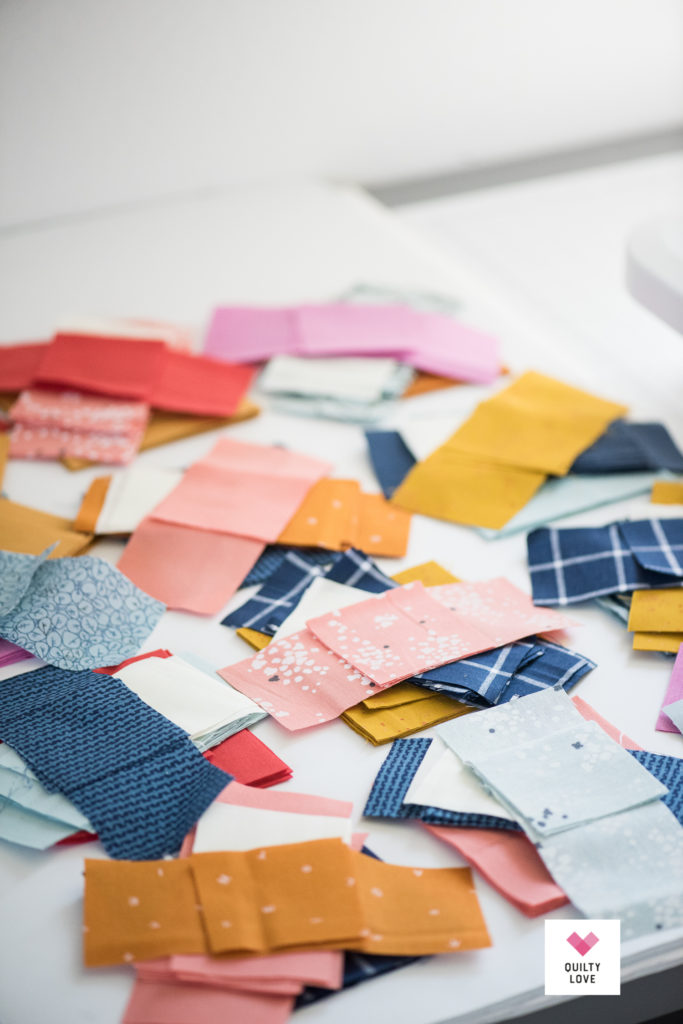 Mix and Match fat quarter quilt
Glowing is a mix and match fat quarter quilt. Each block uses one fat quarter but then you mix and match the different cuts to make up your blocks. You can coordinate different fabrics that way since some colors will work better together than others.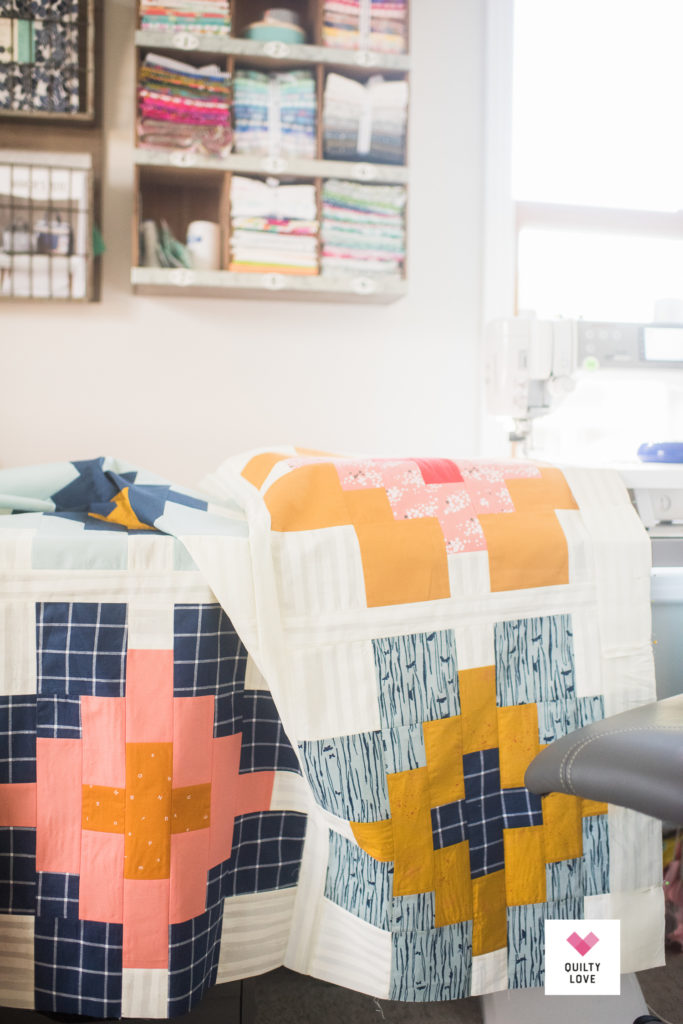 Lately I've been trying to branch out from solid white backgrounds and instead opting for either color or subtle texture. This Glowing quilt uses Ruby Star Society Zip in the white colorway. I like that it's still white but has that nice texture. You can see the stripes in the fabric in the photo above.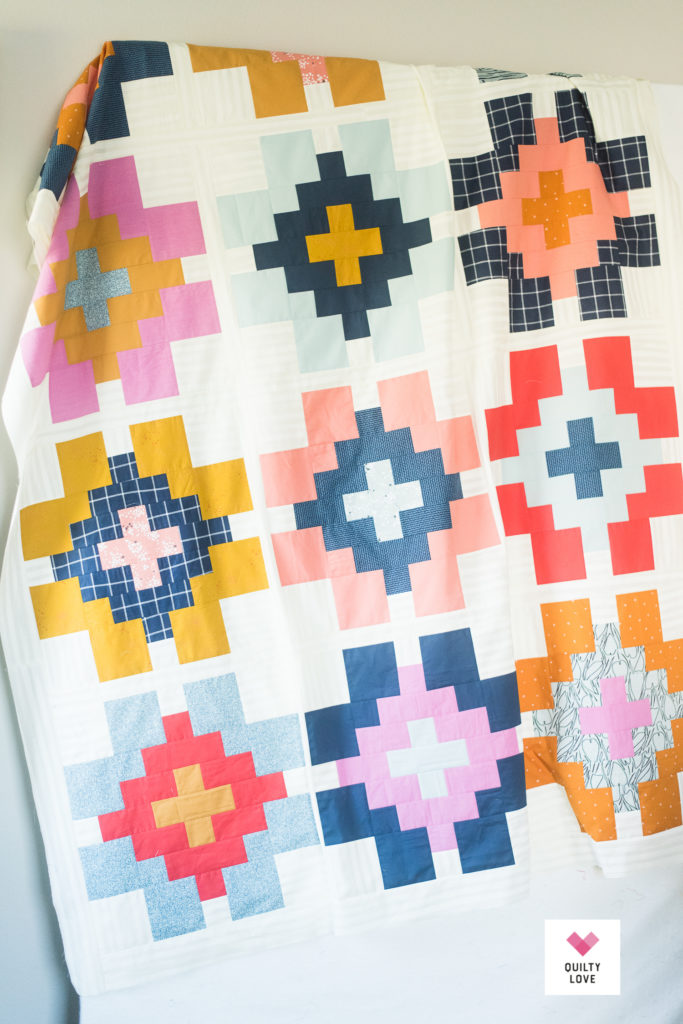 Machine quilting on the Janome MC6700p
This version of the Glowing quilt was quilted on my own machine! I've been quilting up quite a few of my own quilts lately because I've been making so many..lol.
I purchased my own Janome MC6700p very recently after using one from Janome for the past few years. This machine quilts like a dream and really makes it easy to quilt your own quilts.
I stuck with my favorite walking foot quilting design.. and that is the wavy stitch (or the Serpentine stitch). It's basically straight lines but then the fancy stitch makes the waves. It doesn't get any easier than that and it always looks good on everything!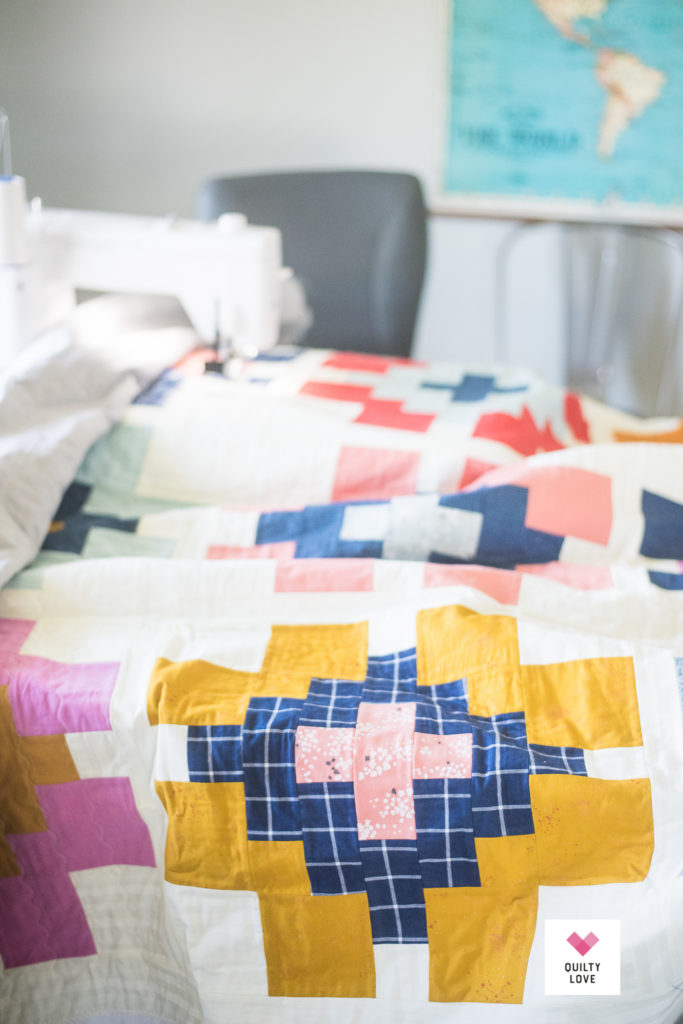 The quilting lines on this quilt are 3/4in spaced. I start on one end, quilt the lines 1.5 inches apart. Then I go back and fill in the lines to be 3/4 inch spaced.
Below you can see how the entire quilt ends up in the throat of my sewing machine. This is after one pass through at 1.5 inch spaced lines. This Janome MC6700p has a huge throat space so it's hardly a struggle even with a quilt this large.
I never flip my quilt and always keep it the same direction so that the fabric doesn't pull in opposite directions. I never liked how you could tell exactly where you flipped the quilt because the fabric pulls. Honestly, this machine probably wouldn't do that but I've gotten used to quilting this way since I learned on a smaller machine.
You just want to make sure your quilt is basted well and you handle it carefully to prevent warping or pulling in one direction. But I would rather deal with some warping than that pulled fabric.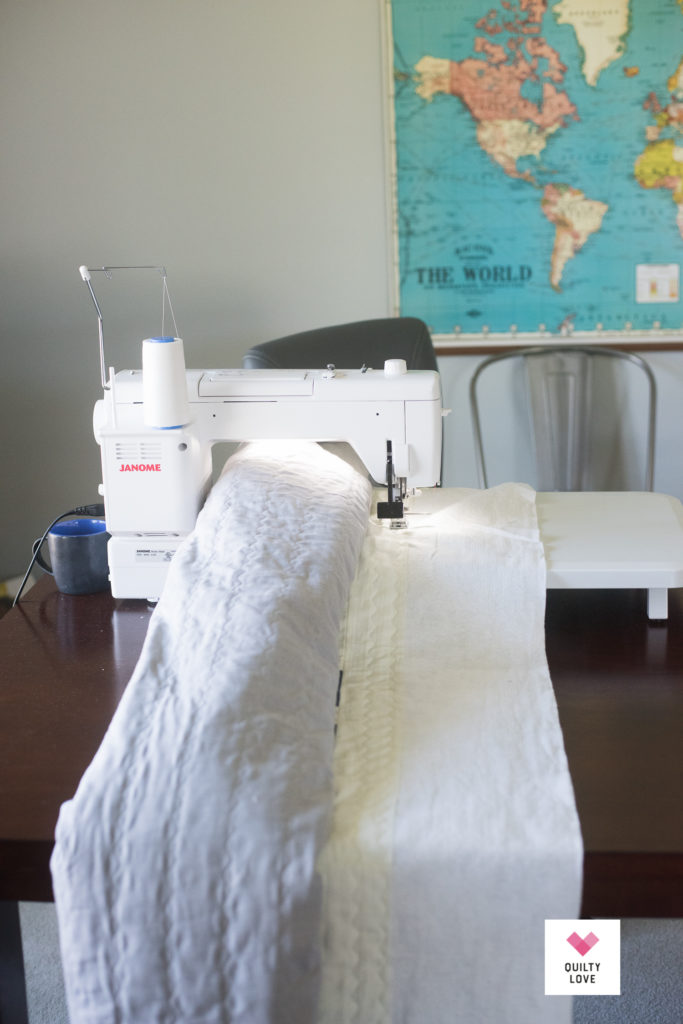 Peppered Cotton Wide back
I was excited to try out this Peppered Cotton Wide back fabric as the backing for this quilt! I recently bought a ton of this shot cotton 108 inch wide fabric in both Fog and Charcoal. I use wide back fabrics whenever possible because I really don't like piecing fabric together for backings…lol.
I was a little worried about the fabric being too slippery or puckering but there were no issues. It quilted up really nicely!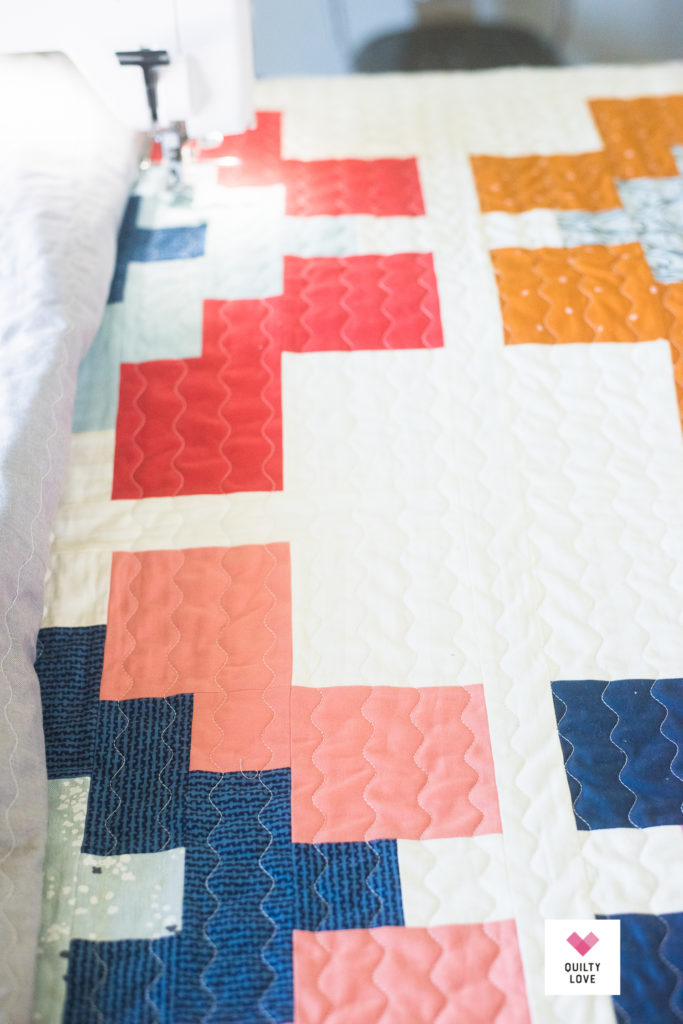 The wavy stitch gives your quilts the most beautiful texture!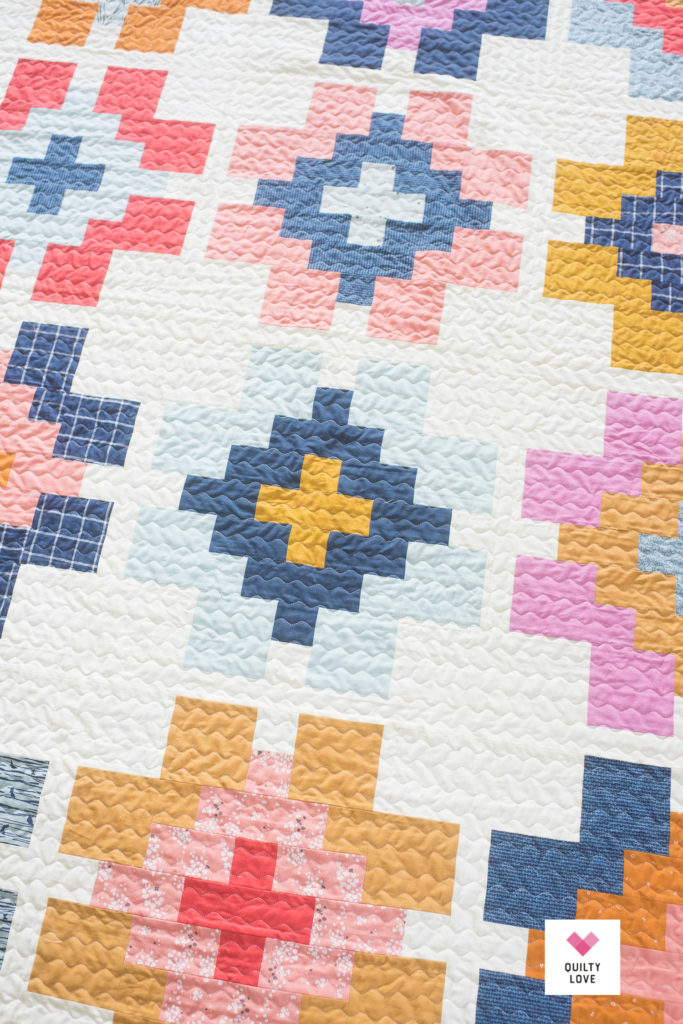 Oh look, the little lady showed up during these photos 😉 This is a very accurate representation of life with a toddler right now. She is always on the go.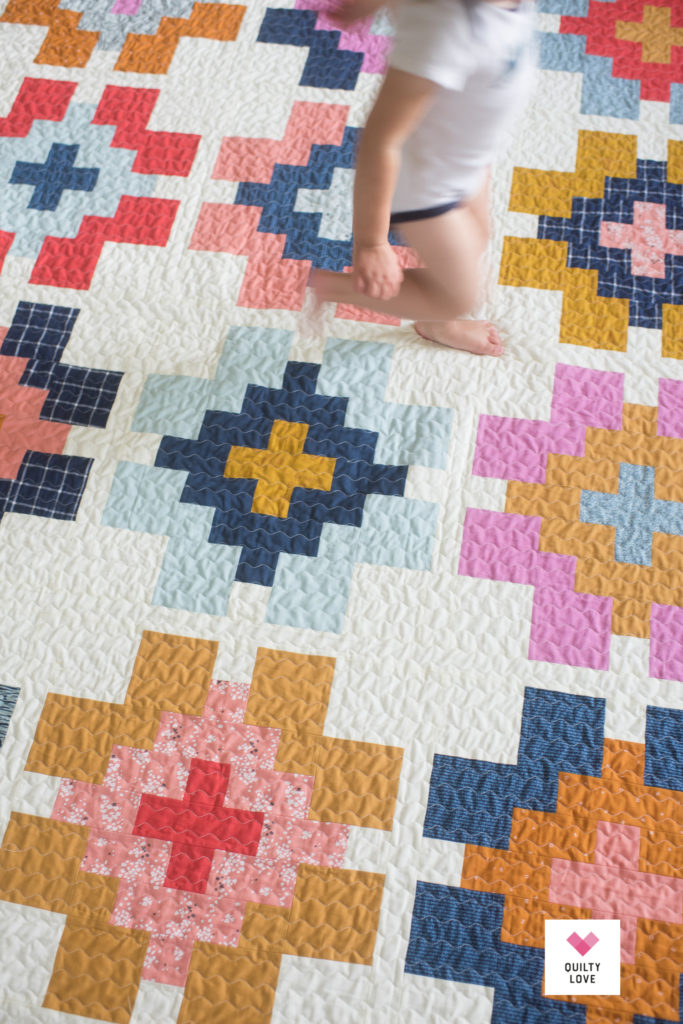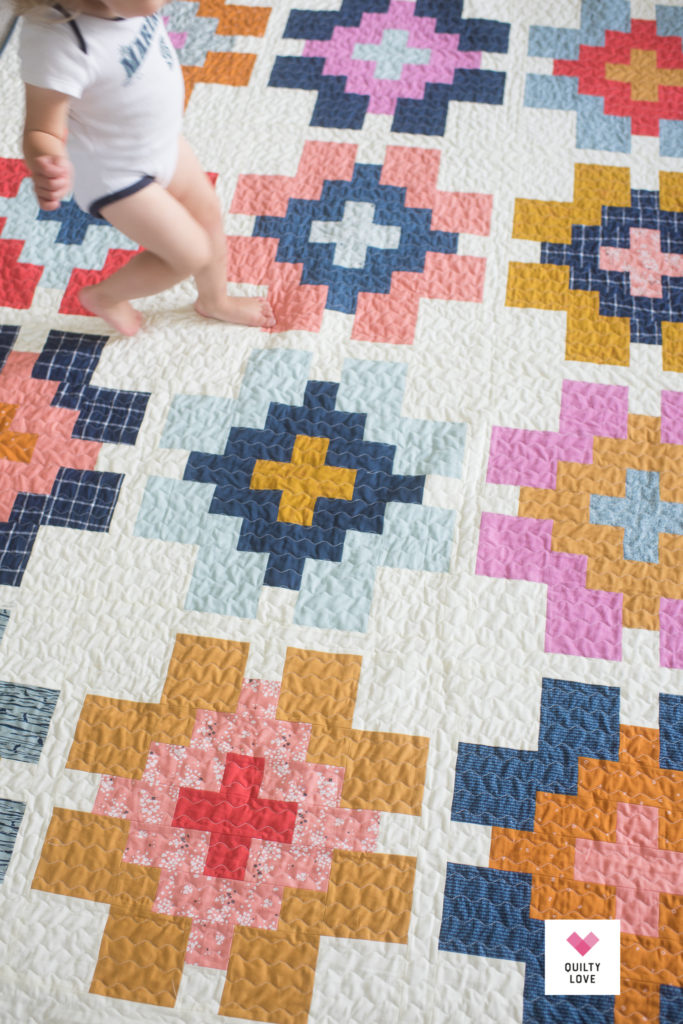 The puppy even made it into this quilt photo shoot..lol. Don't be fooled by these photos… the pup is not a huge fan of the toddler.
Glowing quilt pattern sizes
Glowing includes instructions for a baby sizes, a generous throw size and a full/ double bed size!
I really like generously sized throw quilts and that is what this version is. You could also make this quilt in a square by making nine blocks instead of twelve.
Minimal seams to match up
Glowing is a really great ambitious beginner quilt pattern because although there are quite a few seams, very few of them need to match up. I kept the blocks bigger on this quilt pattern so it would go together nice and easy instead of feeling tedious to make.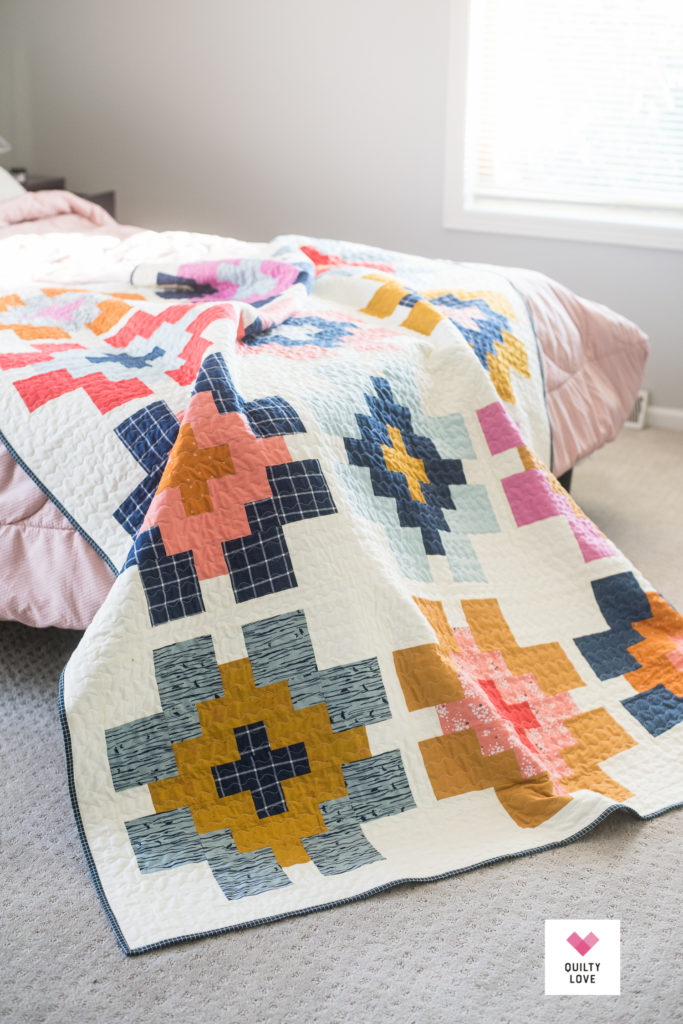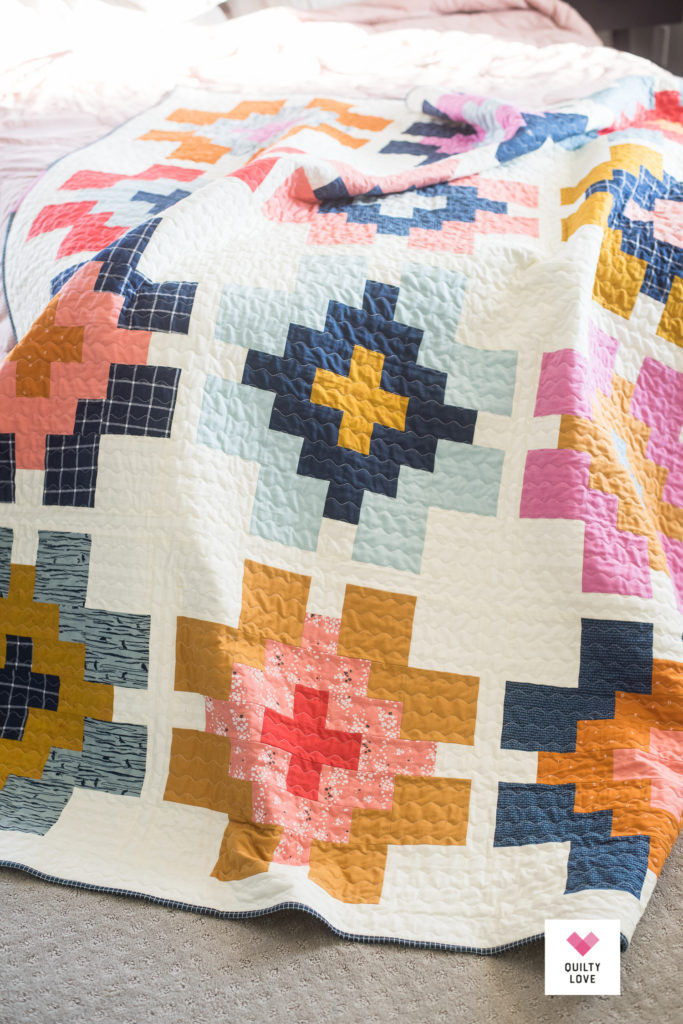 Look at that yummy quilted texture! And these fun colors! I'm really happy with how this throw quilt turned out 🙂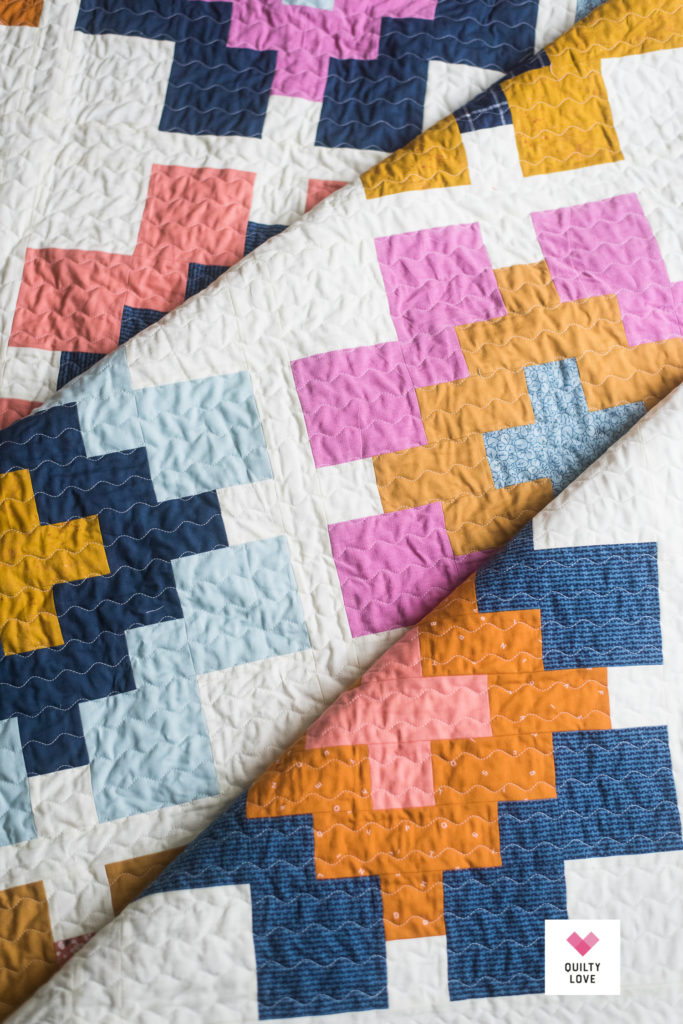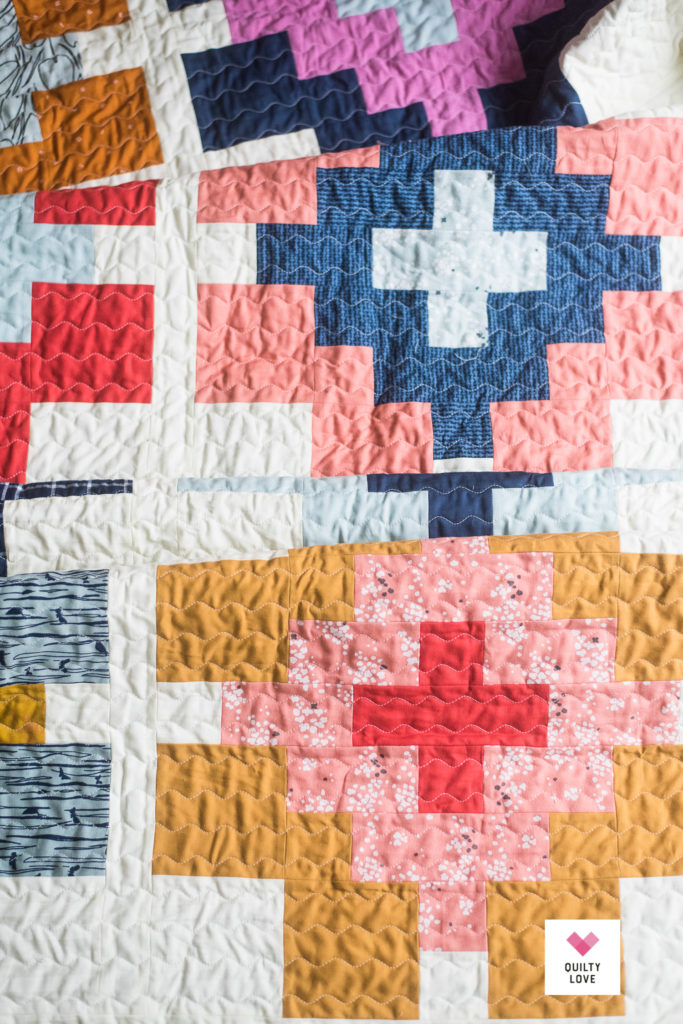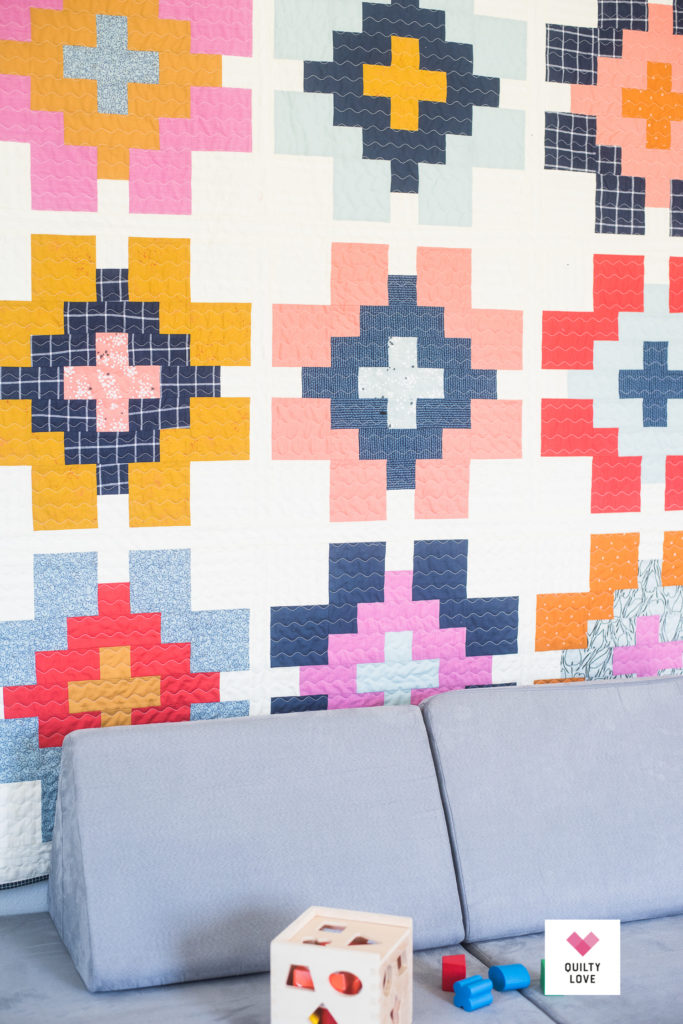 Do you like the extra flair in the binding? I didn't cut enough binding strips but knew it would be close. Instead of adding more of the same Ruby Star Grid I grabbed a left over piece from the quilt blocks for a little extra pizazz.
Binding fabric is Ruby Star Society grid in the color Peacock.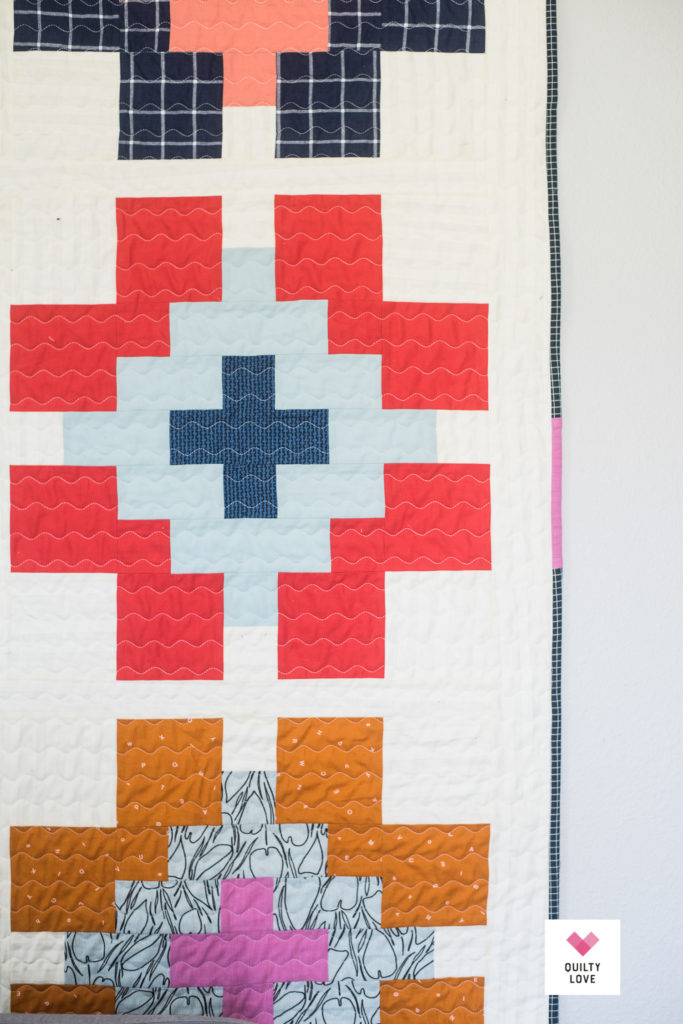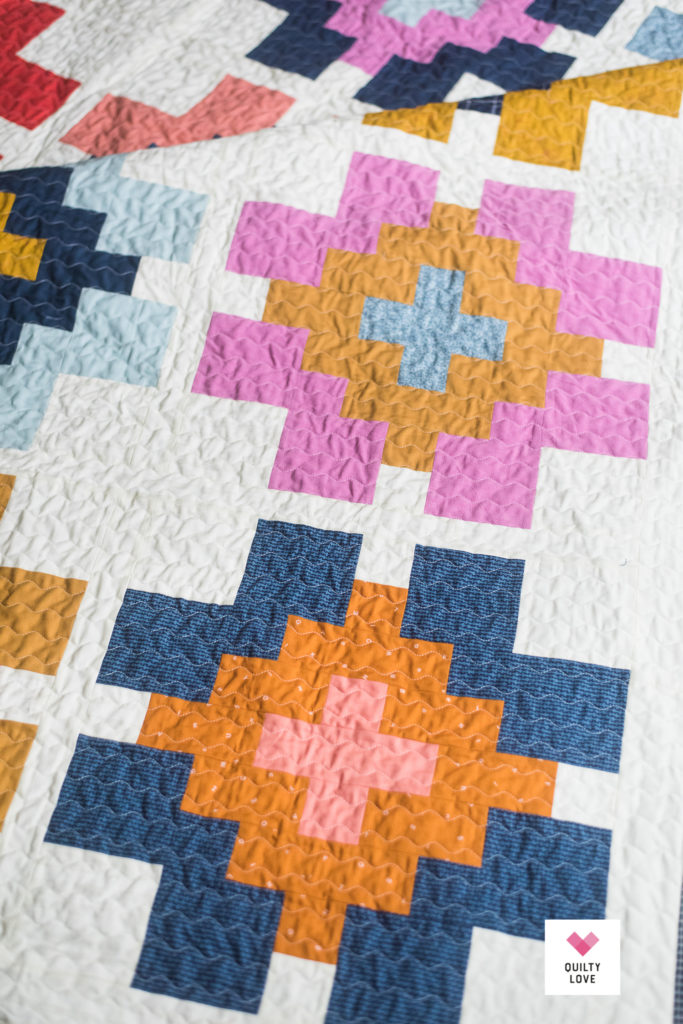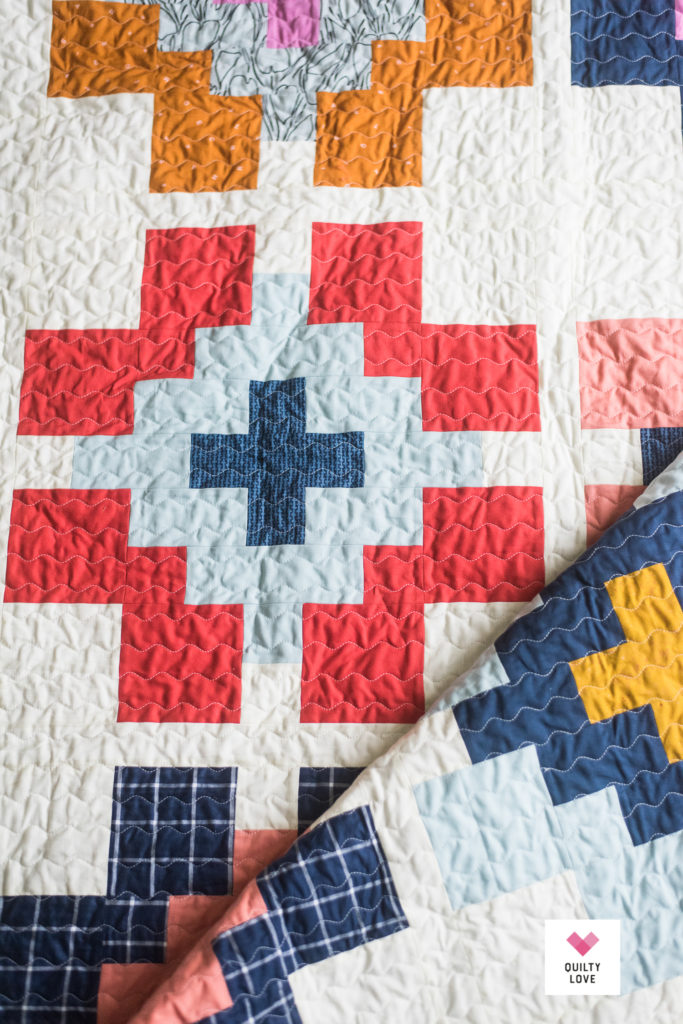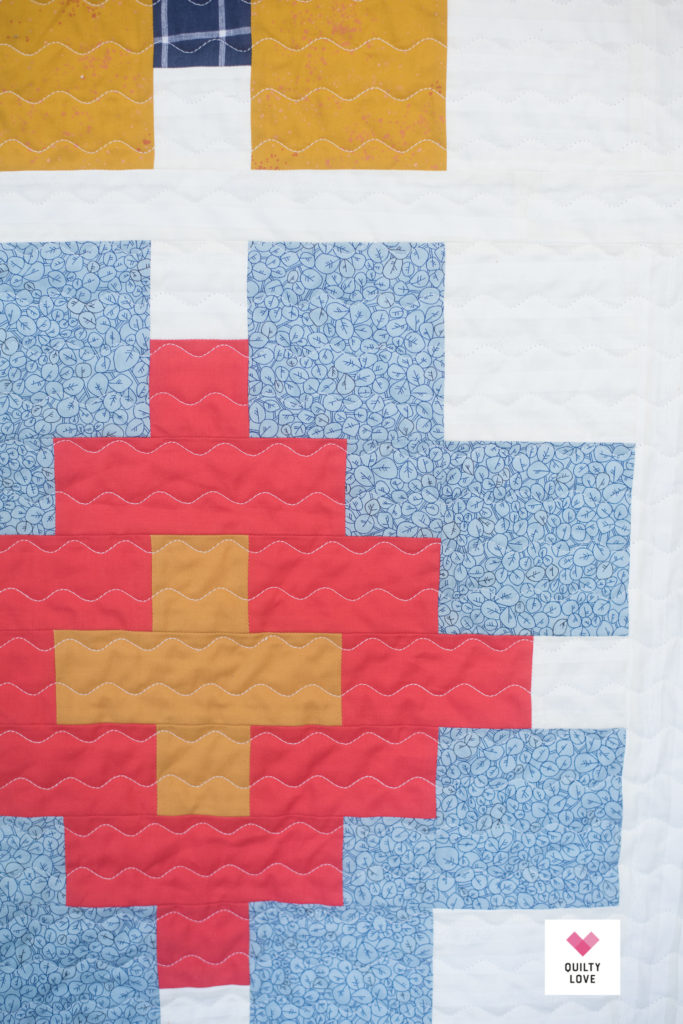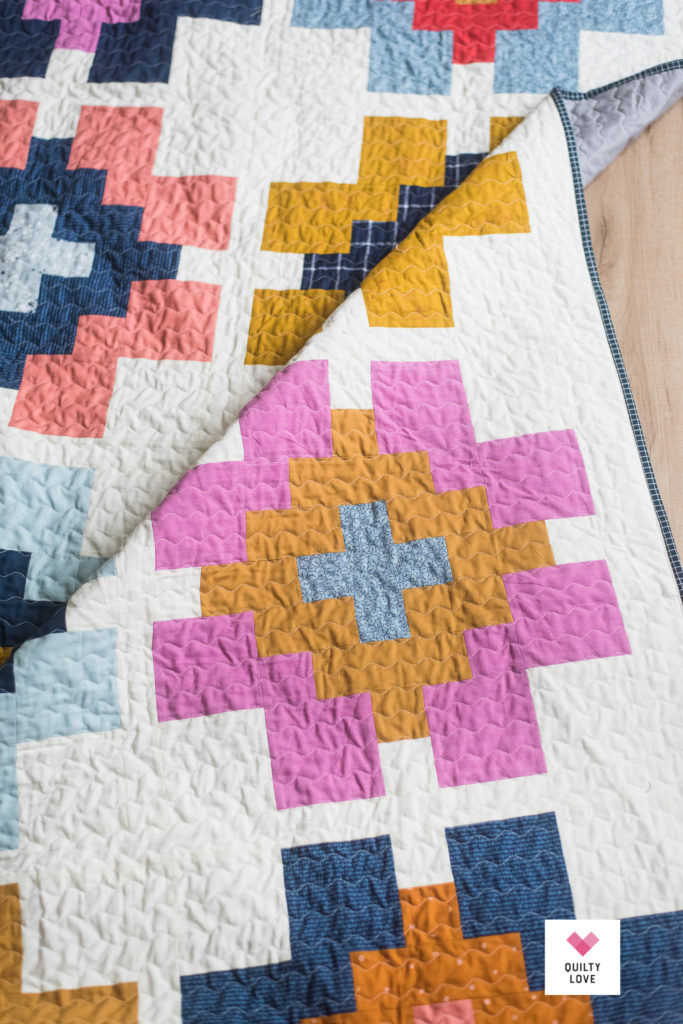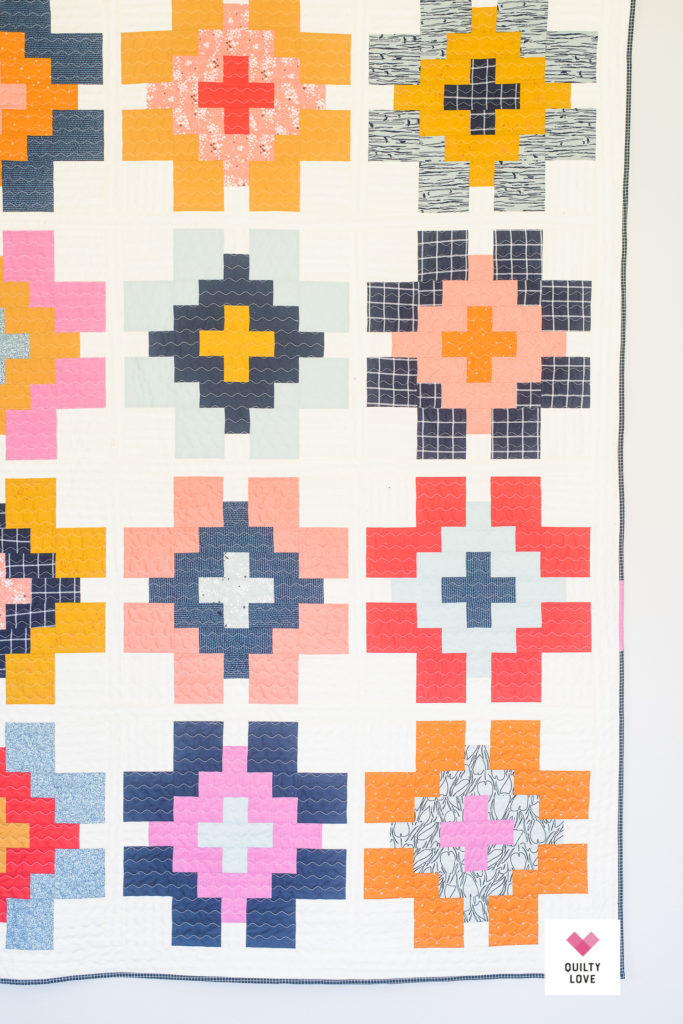 You can find Glowing in the Quilty Love pattern shop:
PDF automatic download
Paper booklet
Pieced and quilted on my Janome MC6700p
See the exact fabrics used at the beginning of this post.
Backing: Peppered Cotton Wideback in the color Fog.
Binding: Ruby Star Society Grid in the color Peacock.