Flying – A solids flying geese quilt
Flying is a brand new flying geese quilt pattern available in the Quilty Love pattern Shop.
Flying quilt pattern – a simple flying geese quilt
Flying is a simple flying geese quilt pattern that is quick and easy to make. My life has gotten a little busier these days chasing a very busy toddler and this newest quilt pattern definitely reflects that.
Quick and easy quilts are much more satisfying to make these days than longer tedious quilts with the limited sewing time.
All the quilt sizes
Flying includes instructions to make a crib size, throw size, twin size and queen size quilt. The layout of each quilt size stays the same and the flying geese get bigger with each size.
I'm excited to offer a twin size with this quilt pattern since those can be harder to find. This will make such a cute twin size quilt too. So many options to match bedroom styles.
Yardage quilt
Flying uses six different solids or prints (seven for the twin size) and a background fabric. Choose six of your favorite prints from your favorite fabric line or mix and match yardage from your stash.
I was able to pull all of the colors for this quilt from my solids fabric stash.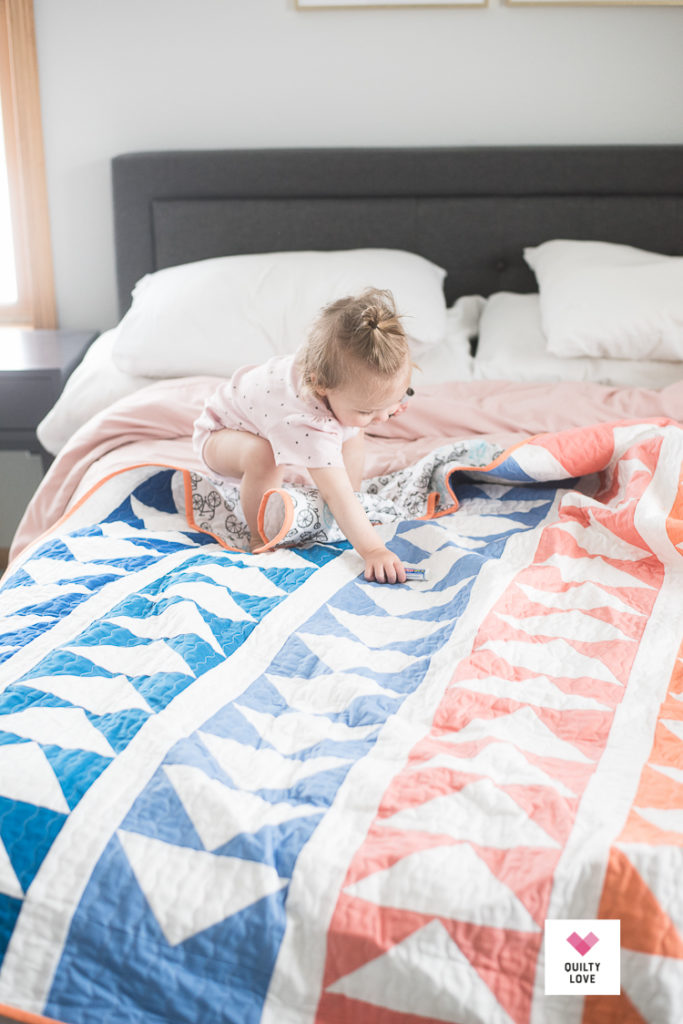 Solids used in this quilt
This solids Flying quilt is made up using Robert Kaufman Kona Cotton solids in the colors shown above:
Pacific, Mediterranean, Denim, Salmon, Mango and Champagne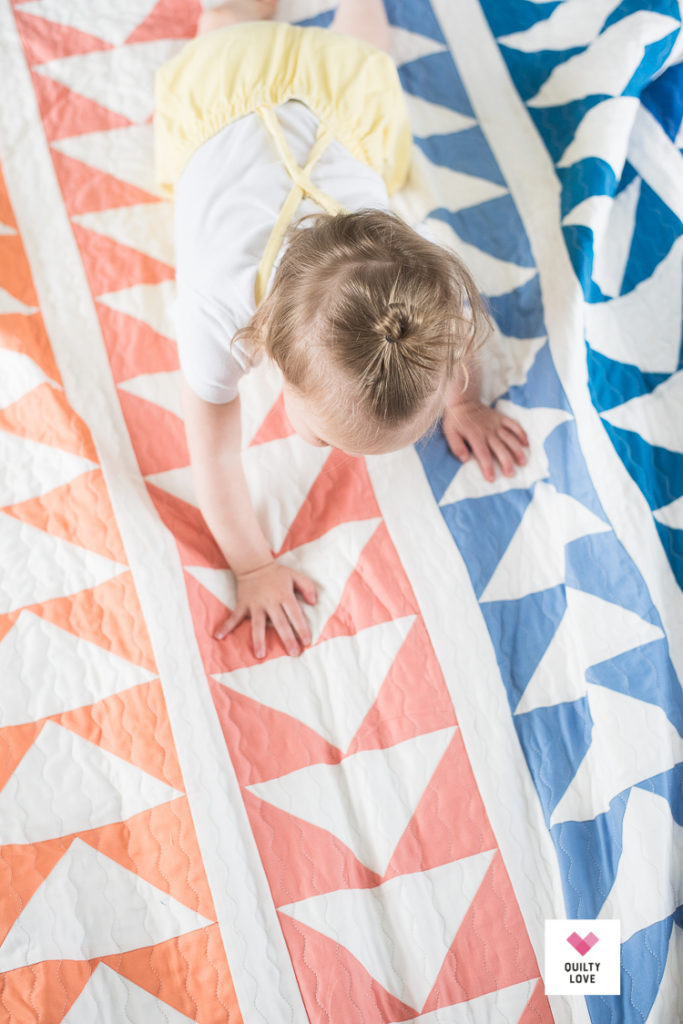 Flying Geese Quilt pattern
Flying geese are one of the most common quilting shapes used and a good technique for quilters to learn. This flying geese quilt pattern uses the four at a time flying geese method making it super fast to make and a no waste method. No cutting off and tossing any corners on this quilt.
The pattern includes detailed instructions to walk you through the four at a time flying geese quilt technique.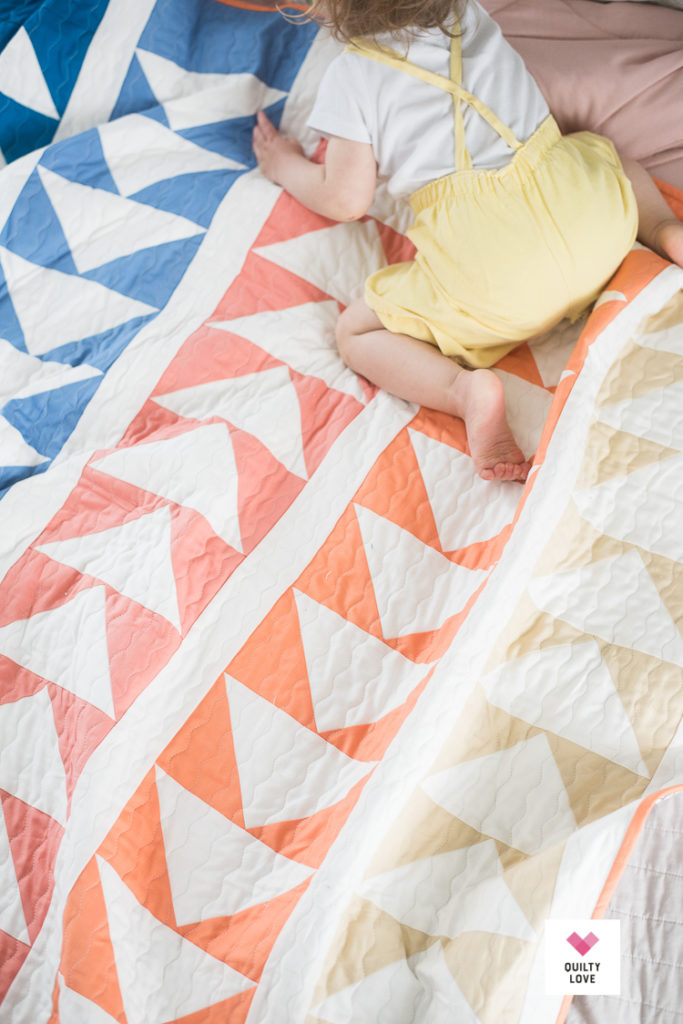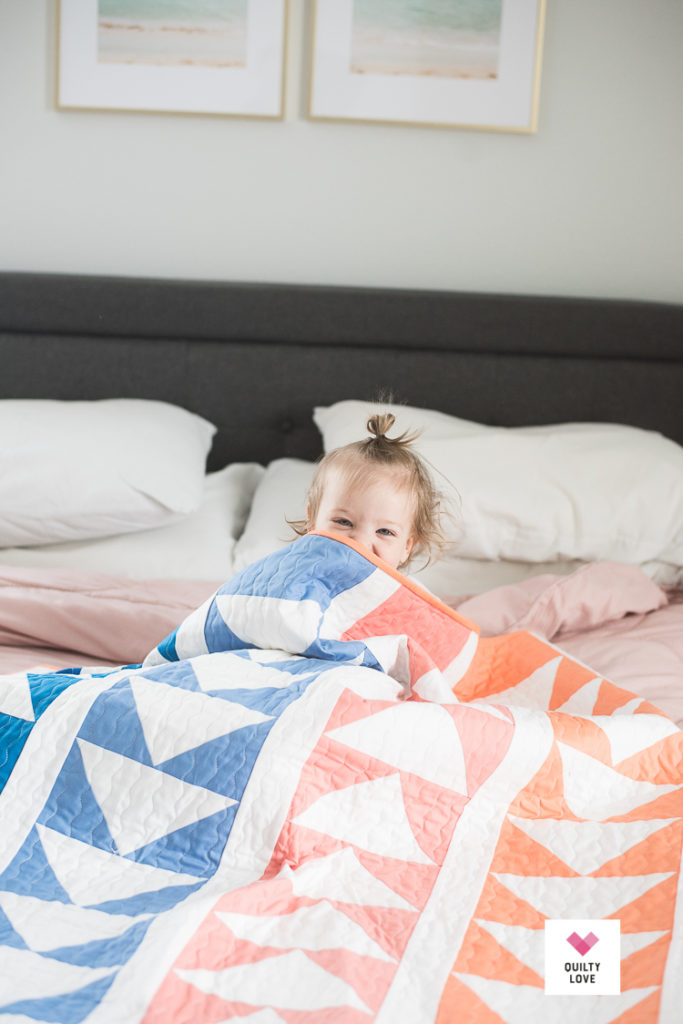 The babes is not the easiest to photograph these days but she sure is fun 🙂 Her short attention span makes for some super quick photo shoots..haha.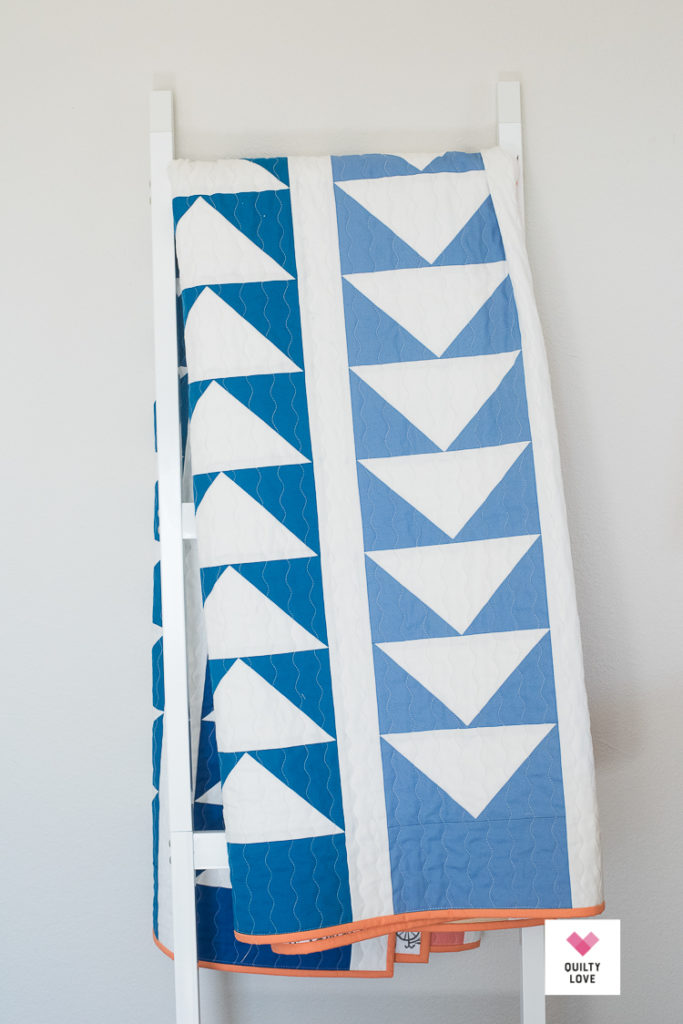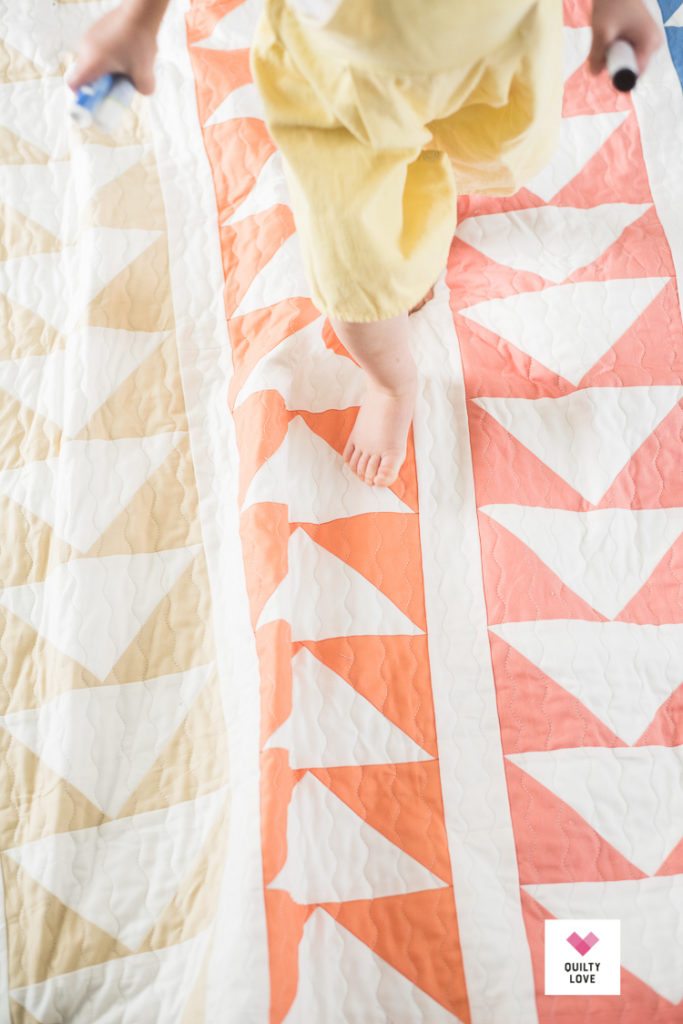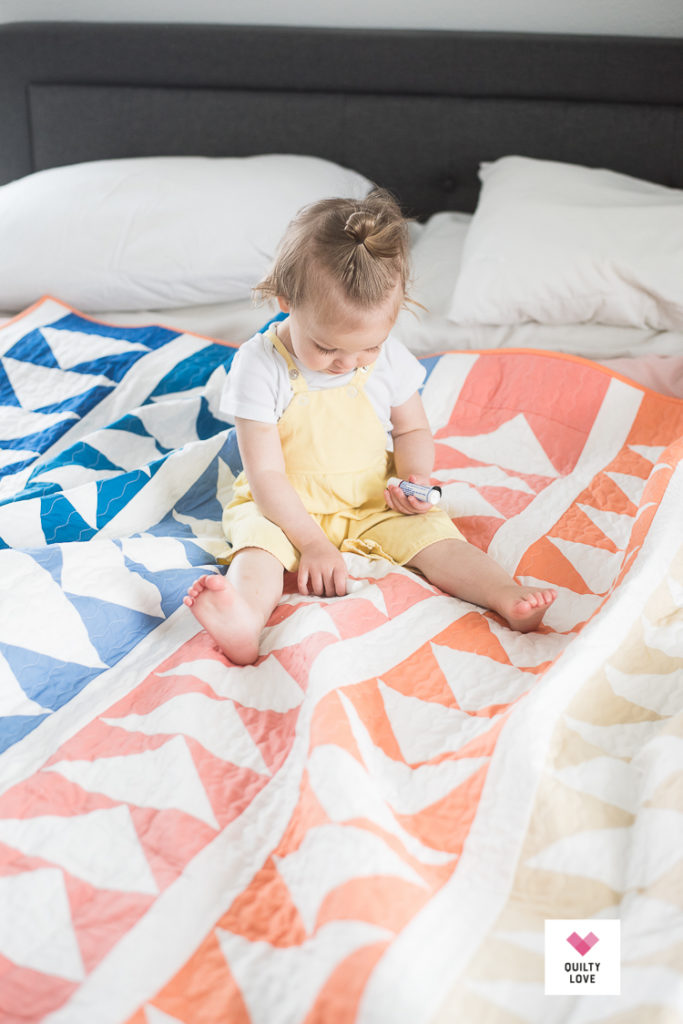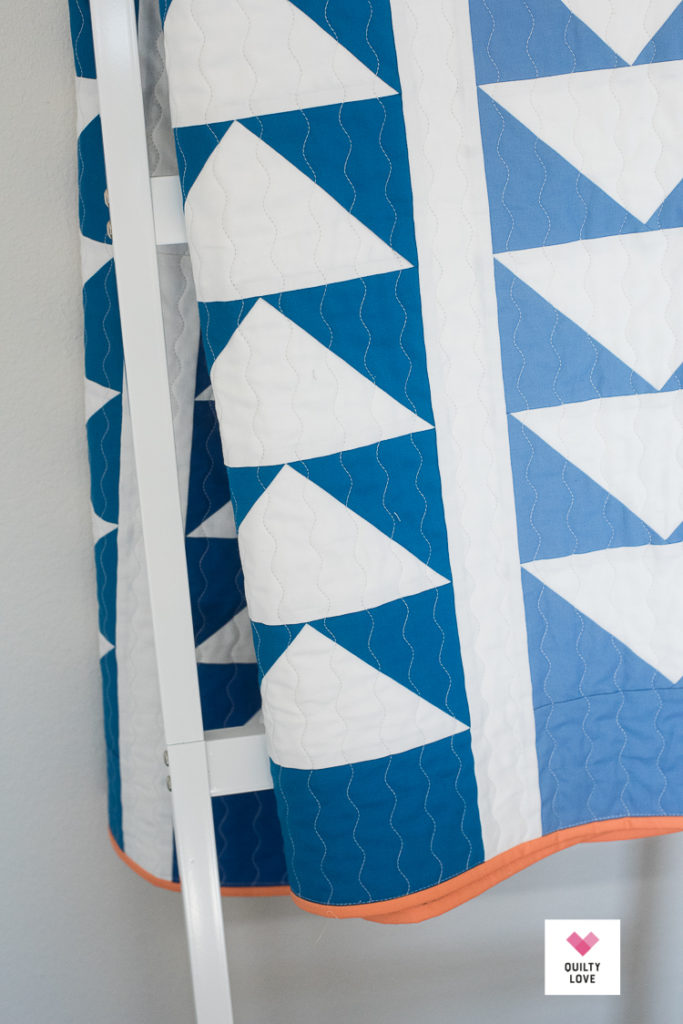 Wavy stitch quilting
This throw size Flying quilt is quilted up using the wavy stitch on my Janome sewing machine. It's basically straight line quilting using the wavy stitch. I use a stitch length of 3 and a width of 7.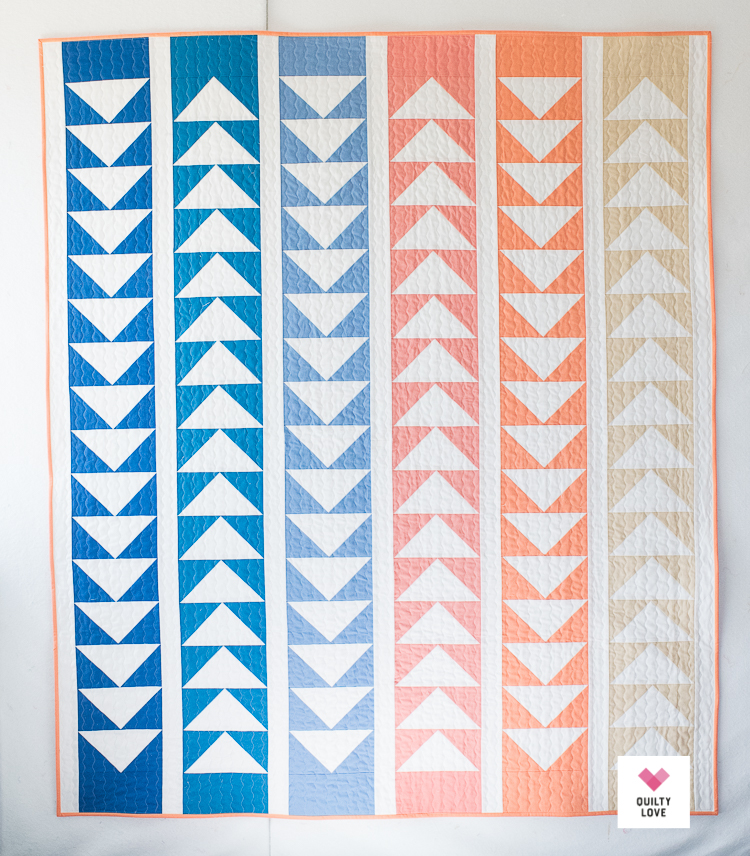 Flying is available in the Quilty Love Pattern shop as a PDF instant download or a printed booklet.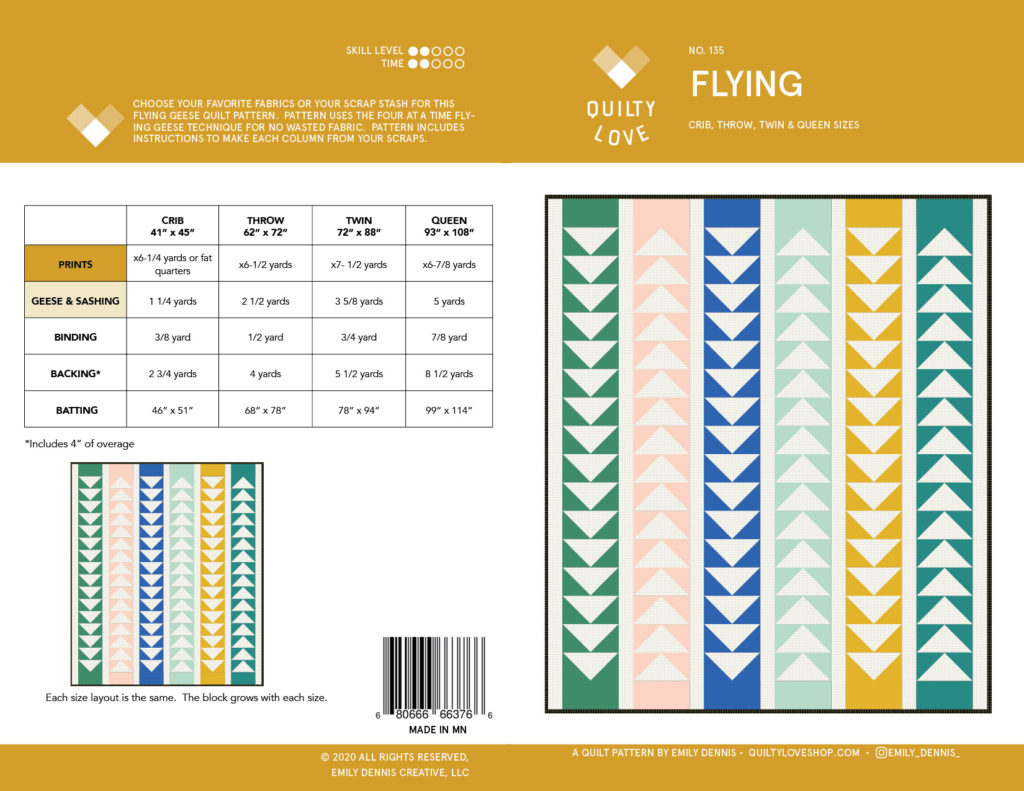 Materials used
Kona Cotton colors:
Pacific
Mediterranean
Denim
Salmon
Mango
Champagne
Spray basted with 505
Pieced and Quilted on a Janome MC6700P