Heart Gems quilt pattern
Today I'm sharing the brand new Heart Gems quilt! Heart Gems is the 6th pattern in the Quilty Love Heart series! These heart quilts have become an annual tradition and I like it. It's been so much fun to push myself creatively to come up with something new each year.
I think you will like Heart Gems! The quarter square triangles give this heart quilt so much movement and dimension. I recommend using an assortment of shades for even more dimension. It works well in both solids and prints.
The Heart Gems quilt pattern includes 5 quilt sizes and lots of fun extras like a bonus simple version.
The Heart Gems quilt pattern is in the Quilty Love pattern shop.
Heart Gems Quilt Pattern
Heart Gems is the newest in the Quilty Love heart quilt pattern series. I try to keep these heart quilts stash friendly each year. So while Heart Gems does use some yardage for the background, the hearts themselves are nice and stash friendly. You can use 5.5 inch squares from your stash or fat quarters to make the hearts.
For this version of Heart Gems I pulled an assortment of solid pinks and reds from my stash. I had enough of this Ruby Star Society Spark on hand so that became the background. I wasn't sure if this color combination would work out or fall flat. Happily, it worked out very well. That's why I've really enjoyed pushing myself outside of my comfort zone in quilting lately because then you come up with happy surprises like this.
There's that and the challenge of using what you have on hand that create happy surprises too. I rarely specifically buy fabrics for a quilt these days and instead try to use what I have already. I find it satisfying and a fun challenge to use up those random pieces of yardage or fat quarter bundles already in my stash.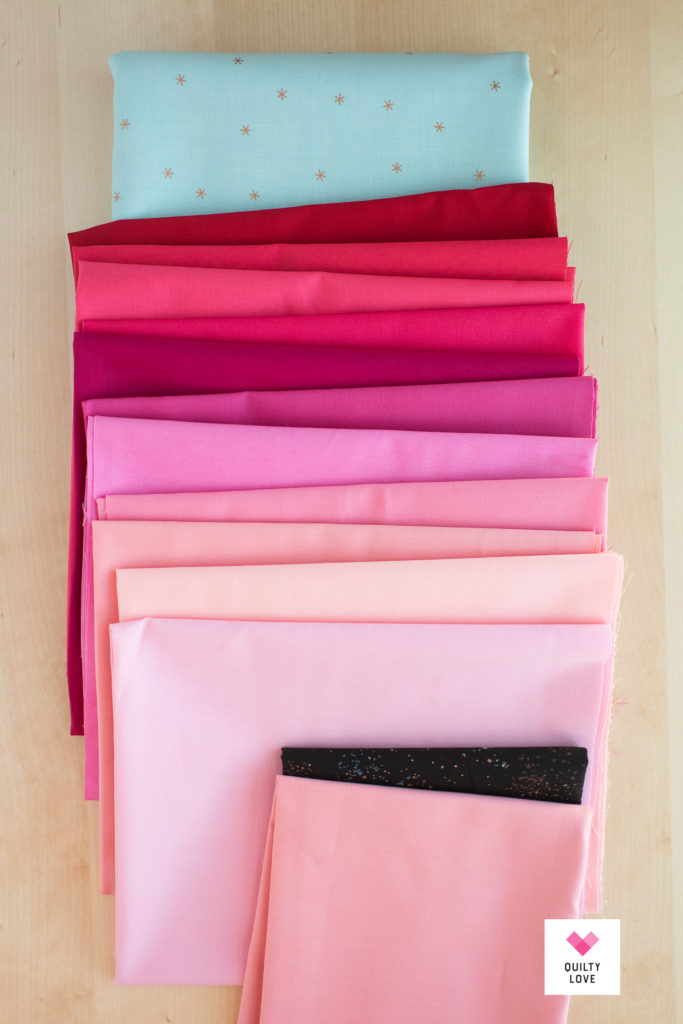 Heart Gems Fabrics used
The wide range of tones in the solids really create a lot of movement and dimension in the hearts. The key is to make sure the background is enough of a contrast so the hearts don't blend in to the background.
Heart Gems quilt pattern sizes included
The Heart Gems quilt pattern includes instructions for 5 different quilt sizes:
Baby/ lap size
Square throw size
Large throw size
Twin bed size
Full bed size
Ambitious beginner – Intermediate quilt pattern
I'll call this one an ambitious beginner to Intermediate level. I wouldn't recommend it as a first quilt but if you have made a few quilts then you might be up for the challenge of Heart Gems.
The techniques in this quilt include making quarter square triangles and quilt blocks set on point with setting triangles.
Gingham quilt backing
Heart Gems is a really happy heart quilt. I just love how this version turned out. And keeping with the theme of using what I already had on hand, the gingham backing was already in my stash. That also felt a little risky but in the end I love how it complements the quilt. It pulls from the black accent pieces on the front and is kind of a fun unexpected surprise.
The backing is a Carolina Gingham (1″) by Robert Kaufman.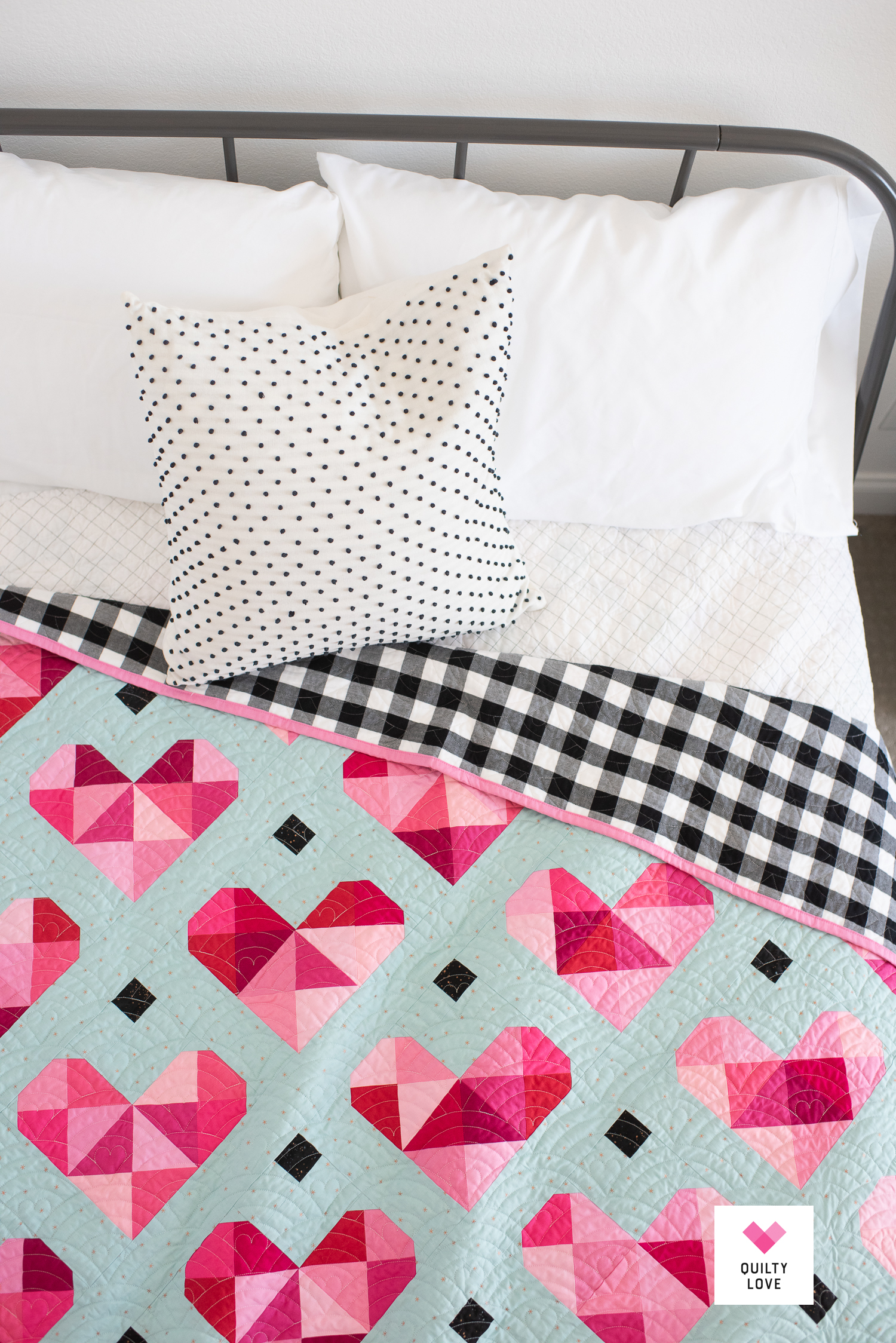 Long Arm Quilting
And then let's talk about this quilting by Modern Textiles!! I sent this Heart Gems quilt off to Katie at Modern Textiles for quilting and asked for one of my favorite pantographs – this heart baptist fan one. This design is just the cutest and I have used it often on heart quilts and other more playful quilts.
Katie always does such a great job and I am thrilled with out this one turned out.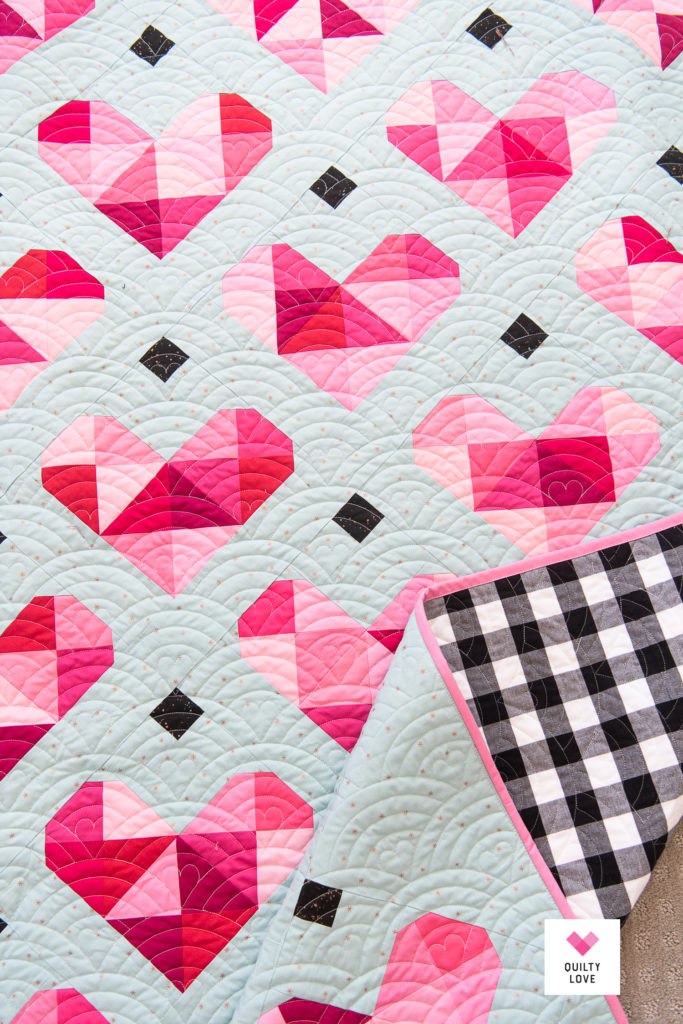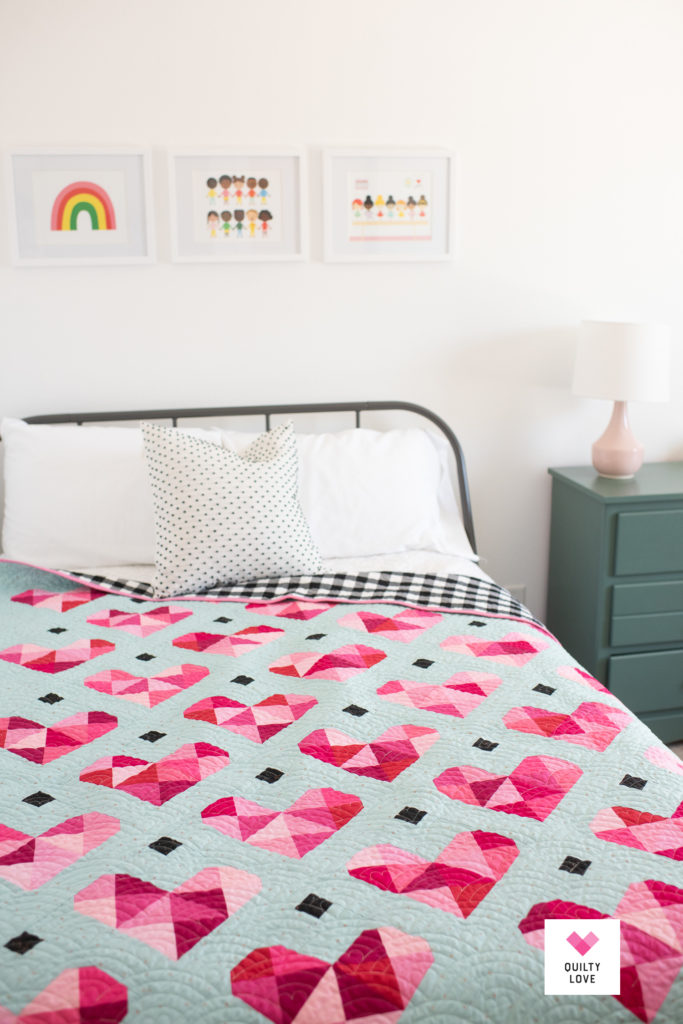 I hope you enjoy sewing up your own version of Heart Gems! I've made quite a few versions now. It really works well with a wide assortment of fabrics from solids to prints.
Bonus simple version included
The pattern includes a fun bonus pattern! I've included a simple heart version (last rainbow heart quilt shown below) if you want a quick sew plus an adorable heart quilt. Skip the quarter square triangles and sew up regular hearts. I've also included a color guide to make your own rainbow version (scrappy or simple hearts).
So lots of fun extras are included in the Heart Gems quilt pattern.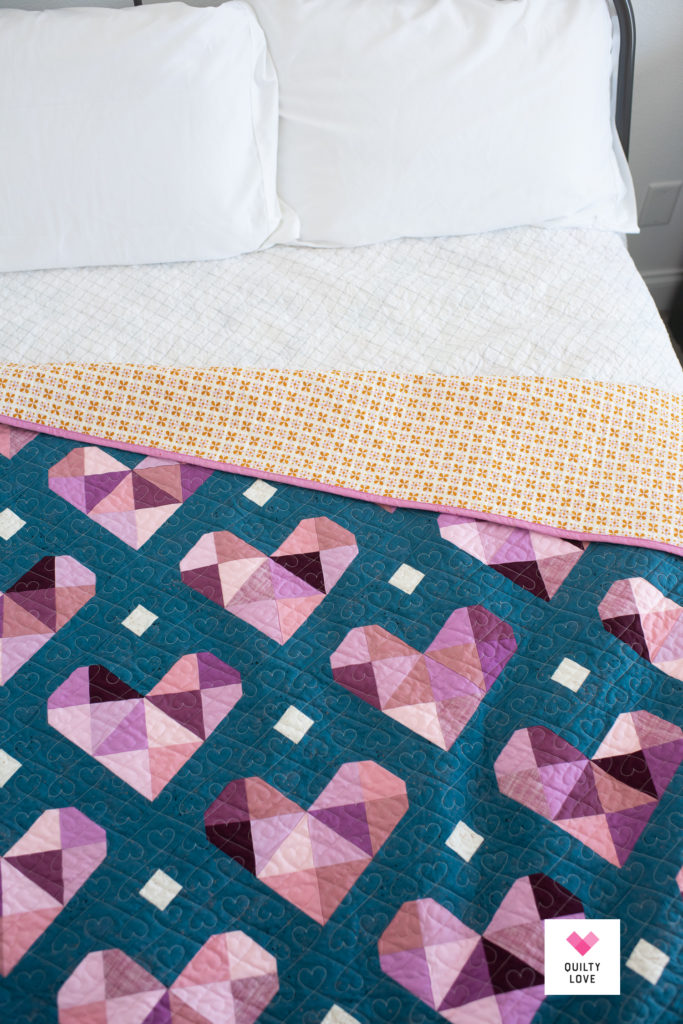 Heart Gems Quilt Class
Heart Gems is also available as a quilt class! If you would rather a full step by step video quilt class as you make this heart quilt then check out the class. The class includes every single step from planning fabrics, cutting fabrics to sewing your quilt top together on point.
The Heart Gems quilt class contains over 20 step by step videos. It also includes the PDF pattern and all of the extras.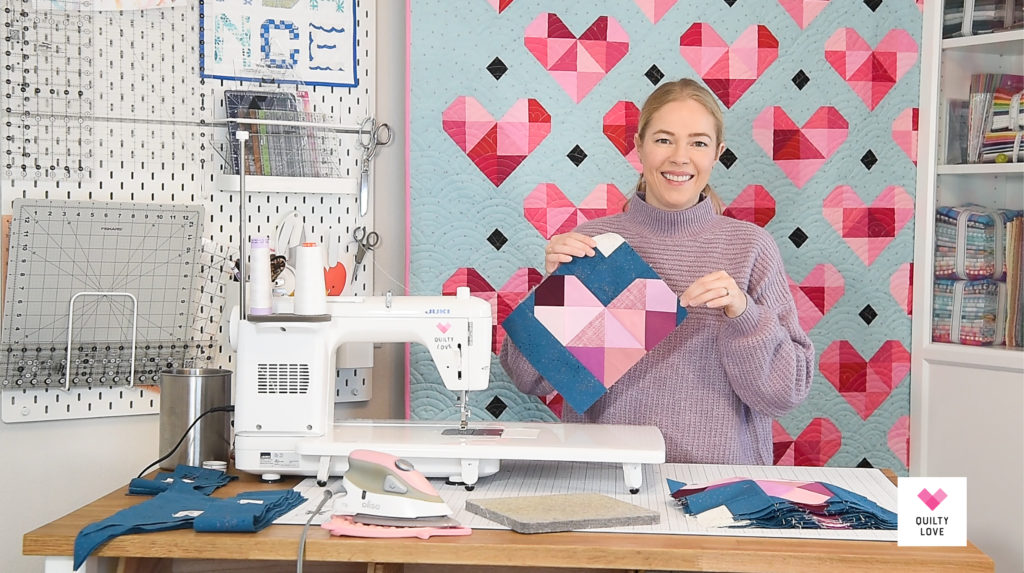 Heart Gems Materials Used
Quilt Pattern: Heart Gems by Quilty Love
Hearts: Assorted solids in pinks and reds
Background: Ruby Star Society Spark in Frost
Accent: Ruby Star Society Specked in black
Backing: Robert Kaufman 1 inch Carolina Gingham in black
Long Arm Quilting: Modern Textiles
Pieced on my Juki 2010q