Heart Gems Quilt – Ruby Star Society Petunia
Today I'm sharing another Heart Gems quilt. This time in Ruby Star Society Petunia. Heart Gems is the newest Quilty Love heart pattern and I've sewn up quite a few samples of it.
I really wanted to see what this one would look like in a mix of prints. That makes it a more non-traditional heart quilt. Rather than using pinks or reds I chose this newer Ruby Star Society fabric line called Petunia.
Heart Gems is a fun and modern heart quilt that uses quarter square triangles to create a lot of movement and dimensions. It's nice and scrappy so you don't have to put a lot of thought into the piecing. Those are the best quilts…. cut, sew and relax.
The Heart Gems quilt pattern is in the Quilty Love pattern shop.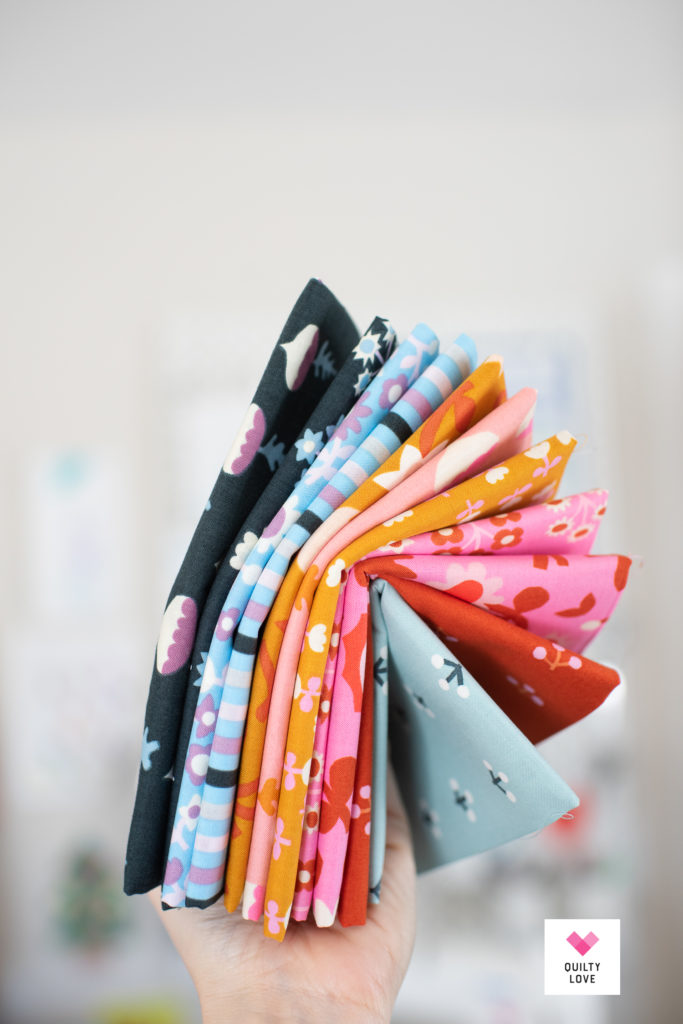 Creating the Heart Gems quilt
Heart Gems is the 5th annual Quilty Love heart quilt! Back when I made that very first heart quilt I had no idea this would become an annual tradition. It's been a fun one though and one I plan to keep up with.
This year's heart quilt was a little more challenging. I had a design in mind for months but when I sat down to sketch it out it just wasn't working. The fabric wasn't working nicely and after about a week I realized I needed to scratch that plan and start over.
It was a little stressful since I didn't have a plan B when the first one didn't work out. But I started sketching again and again and again and came up with Heart Gems. My process involves sketching in Adobe Illustrator, making some test blocks, making changes, repeat, repeat, repeat…. until I'm actually excited about it.
The Heart Gems quilt pattern
Like all of the Quilty Love heart quilts, Heart Gems is pretty stash friendly. It does use yardage as the background but the hearts themselves are scrappy or stash friendly.
Use fat quarters or cut 5.5 inch squares from your stash for the hearts.
Heart Gems includes instructions for 5 quilt sizes:
Baby/ Lap size – 46″ x 54″
Square Throw size – 61″ x 61″ (Petunia is a square size)
Large Throw size – 61″ x 76″
Twin bed size – 66″ x 91″
Bed size – 81″ x 91″
The pattern is full of details and extras. I've included yardage diagrams to really use that background fabric efficiently. Heart Gems also includes a bonus simple heart option.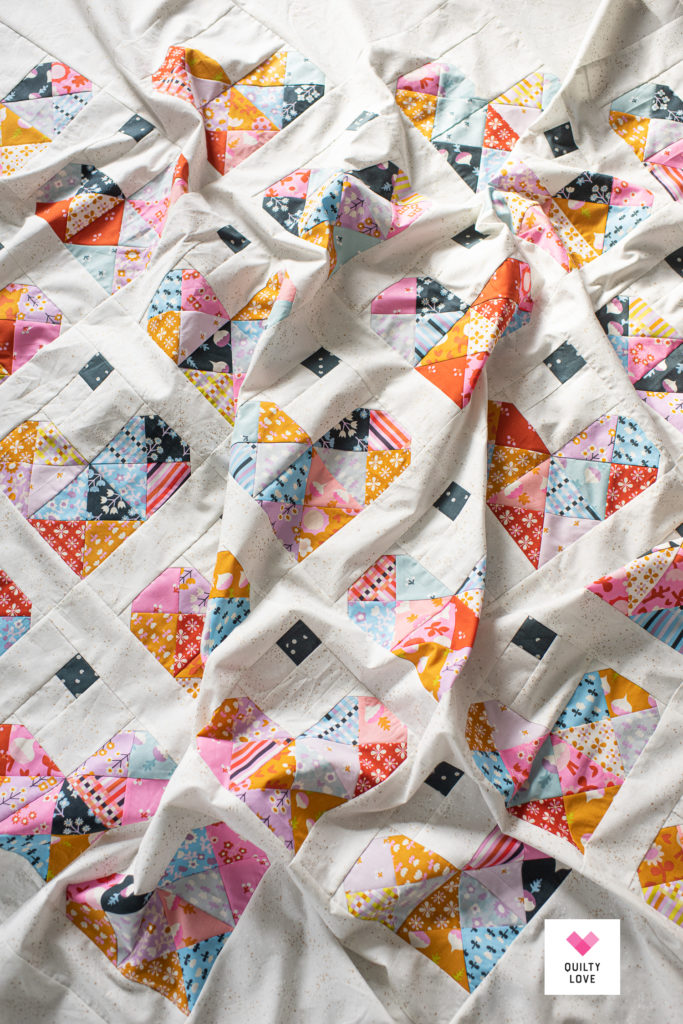 Ruby Star Society Petunia Fabrics
This square throw Heart Gems quilt uses a new Ruby Star Society fabric line called Petunia. It has such pretty color ways and I love how it looks all scrappy like in this quilt. I had a fat quarter bundle of Petunia and only used a small portion of each fabric. That means I have plenty of fabric from those fat quarters to make another quilt.
So rather than using the recommended fat quarters, I cut my squares from the entire fabric line.
The accent square is one of the hole punch fabrics that came in my fat quarter bundle.
The backing is another print from the Petunia line.
And this Petunia Heart Gems quilt is finished off with a Ruby Star Society Add it up fabric as the binding. This is the color Cactus.
The background of this Petunia Heart Gems quilt is Ruby Star Society Specked in White Gold. It's my current favorite neutral to use as a background.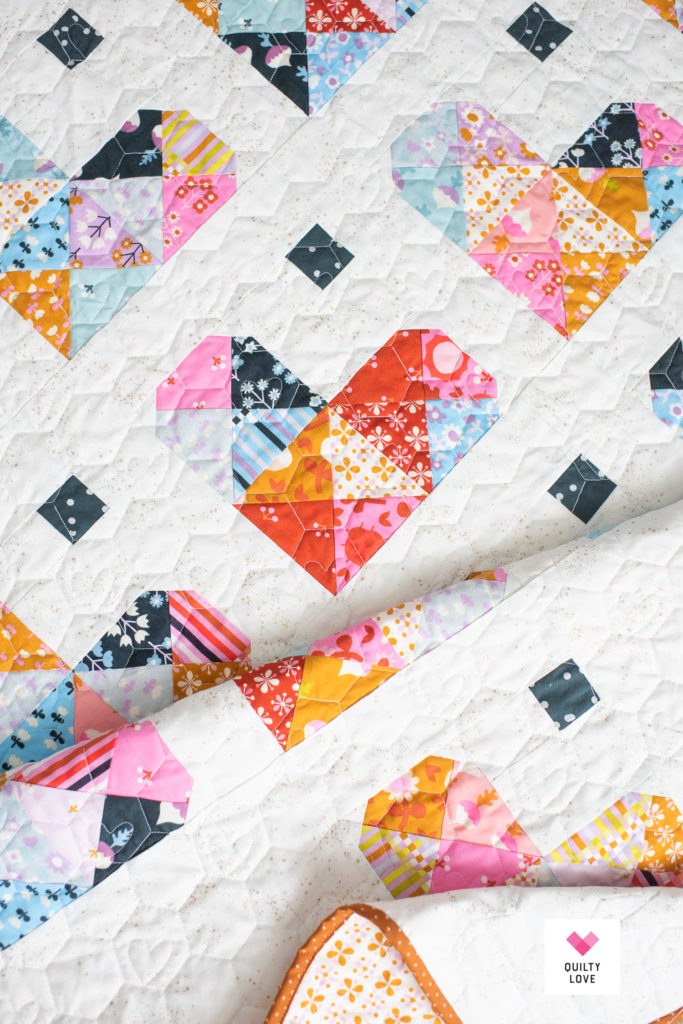 Long Arm Quilting
Katie with Modern Textiles quilted most of my Heart Gems quilt samples. Katie showed me a few quilting pantographs with heart and this one was an easy yes! The pantograph is called Bees Knees. It's just the cutest pantograph and perfect for a heart quilt.
Heart Gems Quilt Materials Used
Quilt Pattern: Heart Gems Quilt Pattern by Quilty Love
Hearts: Ruby Star Society Petunia
Background: Ruby Star Society Speckled in White Gold
Backing: Ruby Star Society Petunia print
Binding: Ruby Star Society Add it Up in Cactus
Pieced on my Juki 2010q
Long Arm Quilting: Modern Textiles
Take a look at the other Heart Gems quilts on the blog! (They will all get posted over the next week or so)