Hexie Rows Quilt Pattern _ A modern hexagon quilt
Hexie Rows quilt pattern is a fun and modern hexagon quilt pattern that pieces easily and quickly.  I'm excited to introduce this modern hexie quilt.
Love Patchwork and Quilting Magazine first featured Hexie Rows Quilt.  Several more sizes have been added and you can pick up a copy in the pattern shop.
Hexie Rows Quilt
Hexie Rows quilt plays off of the popular hexagon shape in quilting right now.  This version uses traditional piecing with no Y seams.  I think you will be surprised at how quickly Hexie Rows can go together with some strip piecing shortcuts.
Hexie rows is good for the intermediate quilter or ambitious beginner.  One of my testers was new to triangles and had no trouble putting this quilt top together.
A 60 degree triangle ruler such as this one is recommended for this pattern.
Hexie Rows quilt includes instructions for three different sizes.  A sweet little baby size, a nice generous throw and even a queen size. 
Hexie Rows quilt has a simple and striking modern design with large scale hexagons.  There are so many possibilities with this quilt design.  It's one of those quilts that I want to make a million versions of just so I can see them 🙂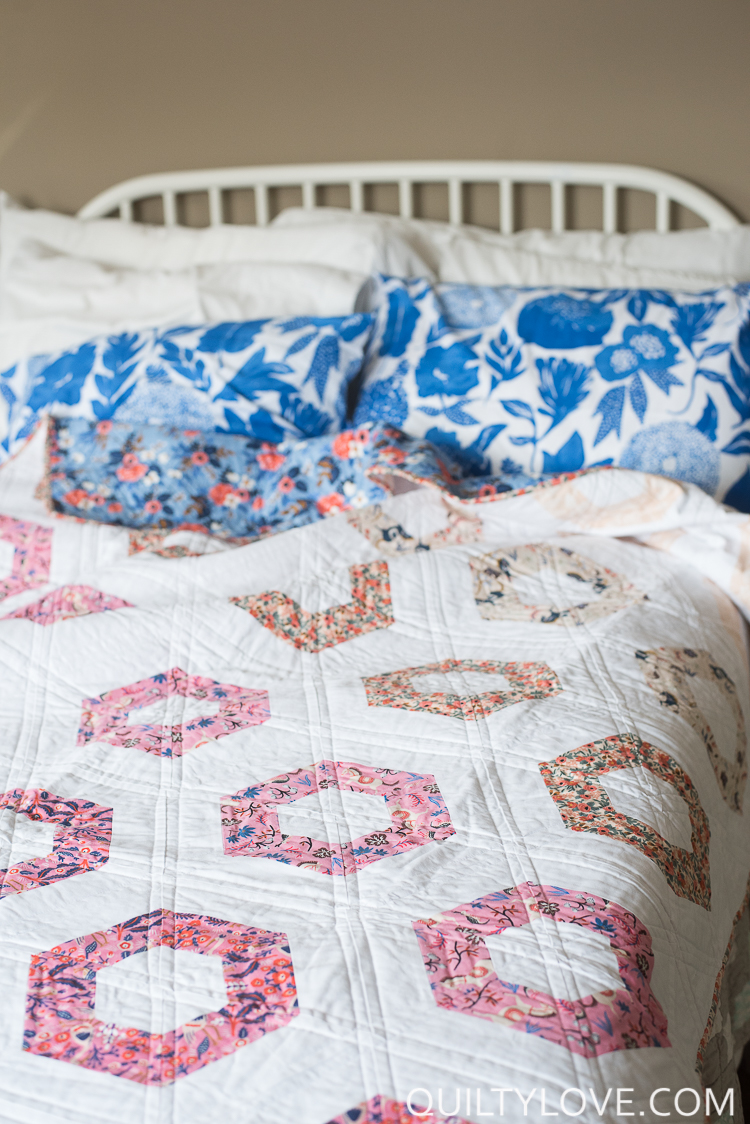 My version of Hexie Rows uses Rifle Paper Co's beautiful Les Fluers line for Cotton and Steel.   This fabric line is Rifle Paper Co's debut line with Cotton and Steel.   I'm kind of tempted to make this up in one of their newer lines too (like this Amalfi line).  
The quilting is simple on this Hexie Rows.  Time constraints dictated that but I like the simple outlined quilting.   Use a walking foot and sew along all of the seams for this effect.  Fast and easy!
I use a walking foot on my Janome machine.  Definitely make sure you use a walking foot when trying straight line quilting!
Hexie Rows has plenty of white space so the fabrics really stand out.  I've arranged this version of Hexie Rows in a gradient effect with the lightest fabrics at the top and the darkest at the bottom.  Make yours in the gradient effect or even try a random layout!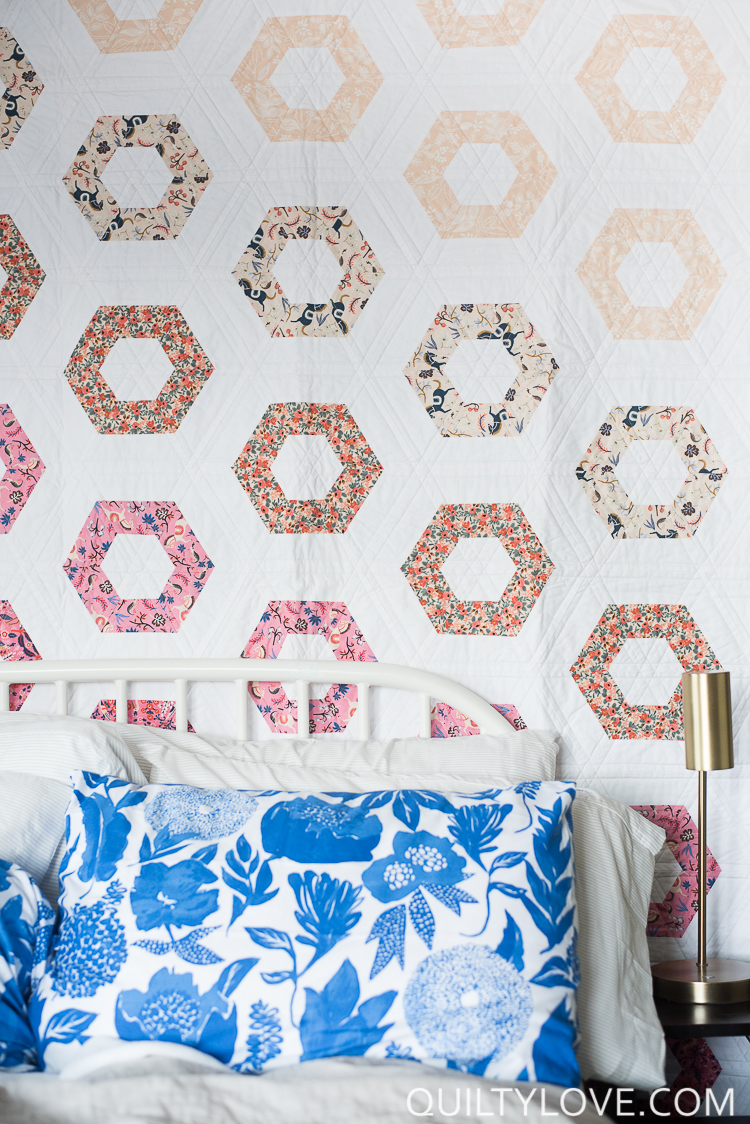 Hexie Rows is quick and easy!  Grab a copy in the pattern shop.
Materials Used:
Hexie Rows Quilt Pattern
Les Fleurs fabrics by Cotton and Steel
Kona Cotton in White
Batting is Warm and White
Fons and Porter 60 degree Triangle Ruler
Thread is Aurifil
Pieced and Quilted on my Janome QDC4120