How to take photos of quilts: 10 photos you should take
I was photographing a quilt this weekend and thinking through all of the photos to take of a quilt.  I thought I would share my quilt shot list here since others might find it helpful and want to know how to take photos of quilts.
*Want to see more photos of these quilts?  Just click on the image for the blog post.
Why should you photograph your quilts?
The reason I like to have a shot list is because I give away a lot of my quilts.  Once they are gone I obviously can't photograph them anymore so this ensures I have every picture I need.
I photograph every single quilt because I blog every single quilt.  This blog started as an online journal of the quilts I've made.  It's since evolved into a little more than that but I still photograph and blog every single quilt. (Some just take longer to get up on the blog than others)  They are all listed here.
My husband's grandma was a life long quilter.  She photographed every quilt she made and wrote up a journal entry on a piece of paper.  I guess I essentially do the same thing just in digital form.
If I didn't have this online journal documenting my quilts I would probably make up photo books from blurb of the quilts I've made every year.  Actually, I still kind of want to do that.
So here are the ten pictures to take of your quilts:
The full quilt (wide)
The full frame (middle)
The close up (tight)
The horizontal shot
The fold
The prop or furniture photo
The quilting
The backing
The binding
The lifestyle shot
You can download this list here.
1. The full quilt
This full shot of the quilt is the hardest photo for me to take but the most important one in my opinion.  I try to take this full quilt photo of every quilt I make.
You can take this photo indoors on a blank wall or somewhere outside.  The reason this one is the hardest for me to take is because I lack the blank walls inside my house right now.  My style preference is a white or a very light colored wall and I just don't have that in my current place.
How do you stick it to a wall you ask…?  Tape!  I use this kraft packing tape for EVERYTHING including sticking quilts to walls 😉

Below is the pull back photo from above.  I'm currently in a temporary place so I've been using a fake brick backdrop and taping the quilt to the backdrop.  We also lack the sun for the entire winter so I've brought out my studio lights for a little extra help.  My preference for all quilt photos is definitely natural light though!
In this case I've just slapped the tape on the front of the quilt and photo-shopped it out.  If I can, I'll add rolled tape to the back instead so I don't need to Photoshop.
Fake it:  Use a backdrop if you lack the nice blank walls.  This backdrop is taped in front of a row of closets.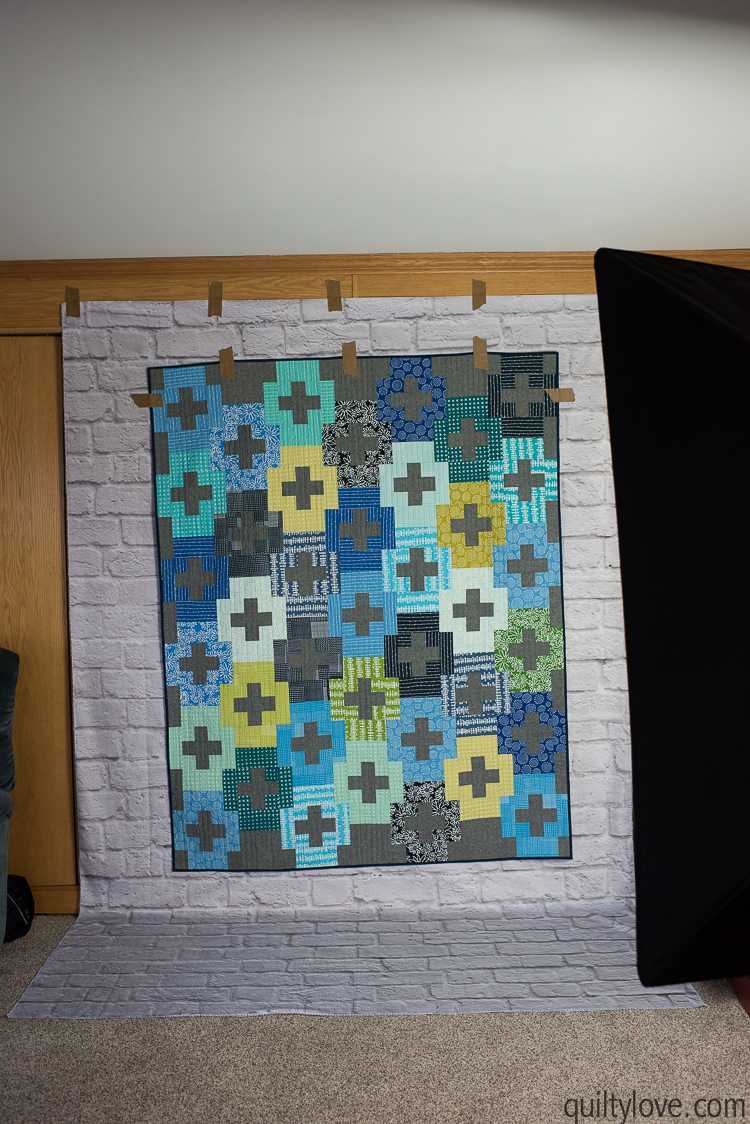 Use a light blank wall:  My last house had a blank wall juuuussst big enough to photograph quilts on.  I had to move my couch and wait for a sunny day to do it but it was worth it.  Most of my full shot quilts were taken like this below when we lived in this house.  The final image gets cropped so only the quilt is showing.
Find a cool wall around your town:  This wall was right outside my door.  It was the perfect size to hang a quilt from.  I would just tape it right to the wall.  I gave up caring what my neighbors thought.. ha.
Find a quilt holder:  Sometimes you just need a quick photo or you might find a pretty background you want to use.  In this case, hire a kid or husband to just hold the quilt up.  Grab a chair if you need it and try to hide the hands 😉  My quilt holder lasted about 10 seconds but I got the shot below minutes before I gave this quilt away as a gift.
2. The full frame
A fill the frame shot is one of my favorite shots.  In this picture my goal is to provide a good idea of what the quilt looks like while filling the entire frame with it.  Add some interest by flipping up the corner or crunching up the bottom.
I take this picture standing at the bottom of the quilt and tilting my camera just a bit to get as much of the quilt in the frame as I can.
3. The close up
The up close shot might be a photo of a block or just a tighter framed shot of the quilt.  You start to see the quilt texture, the fabric designs and even the quilting in this close up shot.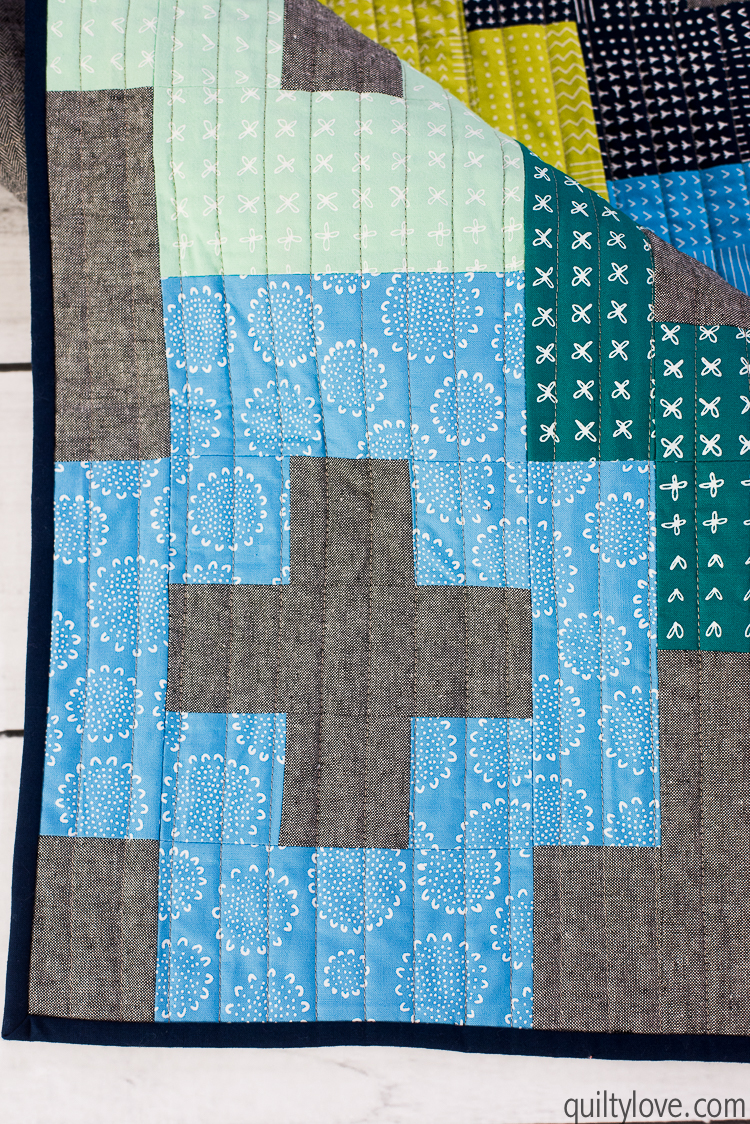 4. The horizontal shot
I try to make it a point to get a horizontal picture or two.  I always forget this photo since I'm mostly a vertical shooter.  Probably from my portrait work.  If you tend to shoot majority of your photos horizontal, make it a point to turn the camera for a few frames.
I like to have a horizontal photo though for stitching images together for Pinterest.
There are times that a horizontal is needed for different marketing purposes.  For example if I want to add words to a quilt photo, that usually looks best on a horizontal image.  It's nice to have options if I need one of these quilt photos down the road.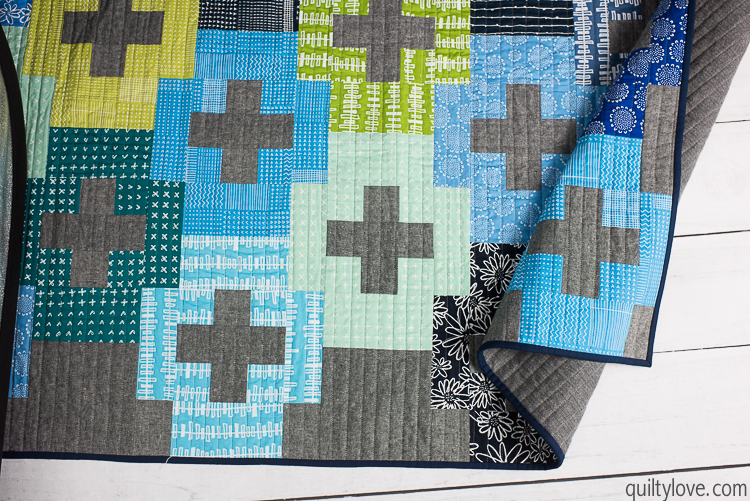 5. The fold
This quilt photo is my favorite one to take.
It's the quilt photo I most commonly take and the easiest for me to photograph.  I love this shot.  I'm not sure exactly why that is.  You can show quite a bit of detail in this one picture.  Maybe the way the quilt lays folded like this softens the photo and shows it's cuddly fabric.  Really, I don't know!  But it's one of my favorites and one I always always take.
Fill the entire frame with the quilt in this photo.  I tend to like it best when it's shot almost directly overhead.  Stand on a chair if you need to get a little higher.  I turn on the screen on the back of my camera when photographing these images so I can see what I'm getting as I hold my camera out overhead.
6. The prop or furniture photo
Quilt ladder photos are another favorite of mine.  They are a good way to show off the quilt as a whole.  Plus they give you a few more options for styling your quilt.   I always love quilts on chairs or sofas too.  Or try using a cabinet or other piece of furniture.
7. The quilting
One of the quilt shots I try to always take is of the quilting design.  I like to take a close up photo that shows the quilting really well.  Usually this will be in one of the solid areas of the quilt or where the thread is contrasting like below.
8. The backing
I always take a photo of the backing.  Sometimes its more subtle like the photo below but somewhere in my photos I want to show the quilt backing.  I don't usually piece my backings and instead they are all the same fabric so I just need a small corner.  If I do piece a backing I like to show the whole thing.
9. The binding
A picture of the quilt binding is another photo I intentionally take.  Sometimes it's a close up of the binding and other times it's a bit more subtle.  
10.  The lifestyle shot
These are the fun quilt photos to take!  They can be challenging though too if you don't have a magazine style home 😉  I do a lot of creative in camera cropping to get these photos.
My go to lifestyle photo is draping a quilt on a bed.  Usually I'm draping a throw size and photographing it in a way that makes it appear to fit the bed.  I like playing around with these photos and styling the quilt in different ways.
My biggest inspiration for these photos came from Love Patchwork and Quilting Magazine.  Their quilt styling is so on point.
Lately I've taken to taping quilts to walls above the bed.  A lot of quilters hang their quilts on their walls so I've used that as another way to photograph and show off the quilt. 
Bonus:
11. The quilt stack
Photos of quilts stacked up are just plain pretty!  I like to play around with this and stack up the quilt so you can see all of the pretty colors.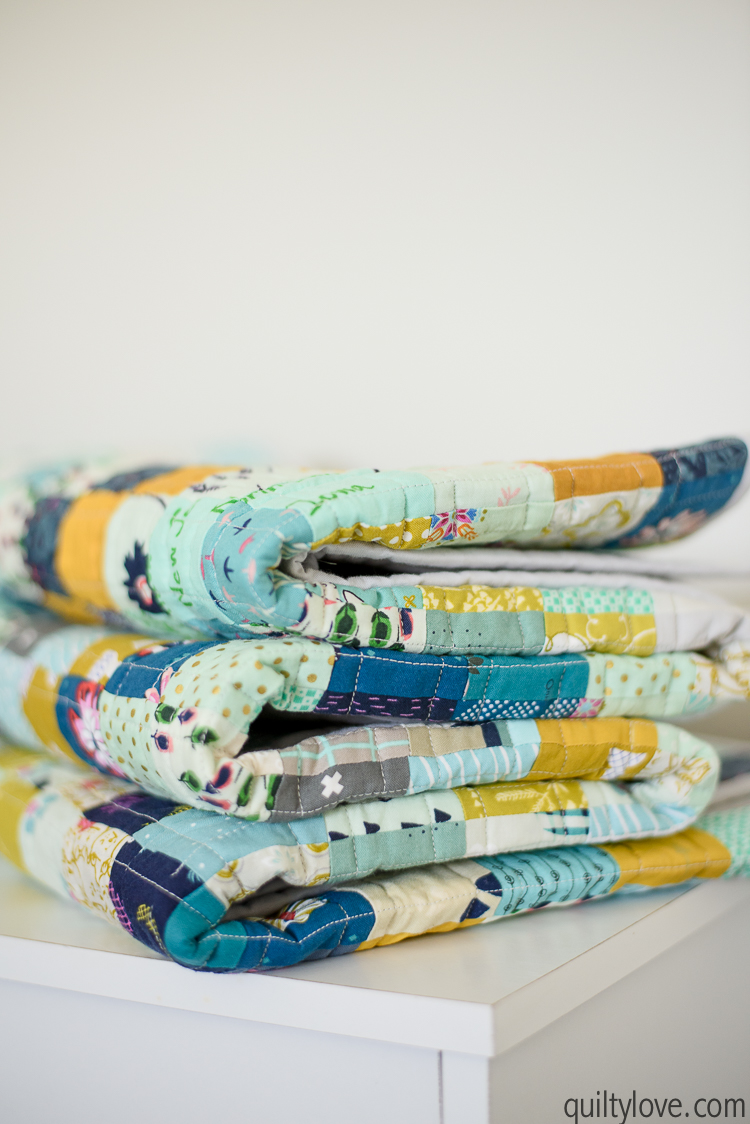 12. The extras
Another way to photograph a quilts is swirling it up.  I love how the fabrics all mesh together into one pretty bunch.  Experiment with stacking or folding the quilt in different ways.
Hopefully these images will give you more ideas when it comes to photographing your quilts!  Making it a habit to take certain photos ensures they are well documented even after you give them away.
Equipment used
Majority of my quilt photos are taken with my Nikon D810 and a 50mm lens or my new favorite, the 35mm lens.
I prefer all natural light but bring out my studio lights when that's not possible.
I'll use a reflector sometimes for the closer up shots also.  Or even just a white foam board like this.
I do photograph professionally so my camera equipment is overkill for photographing quilts.  Here's what I recommend:


Beginner:
A Canon rebel is good place to start.
50mm lens to go with that Canon – If you own a DSLR already and want to improve your photos… get a 50mm lens!!  Seriously!  These lenses give you the most bang for your buck and make a huge difference in your indoor photos.  The one linked will work with most basic Canon DSLR's.
Not all lenses work on all cameras.  Make sure you get the right one!
Next lens:  35mm to go with that Canon
Ready to upgrade:
Canon 6D is an entry level full frame.  This camera will last you for years and is one you won't outgrow unless you start photographing professionally.  But even then, it will get the job done.
Here's the 50mm lens for it.
And this Sigma 35mm art lens has amazing reviews.