Introducing Double the Plus Quilt Pattern
I'm excited to share the Double the Plus quilt pattern to you all.   There are plenty of Plus quilt patterns out but there are a few unique features that inspired this one.
First of all I wanted a smaller plus block.   Most plus quilts have large blocks.
Second of all, I wanted it to be double sided!   Pick two colors and make yourself a double sided plus quilt 🙂
You can find this pattern in my shop.
For this quilt I started with a classic white and one of my faves, Essex Linen in Black.  I'm hooked on using this Essex linen in my quilts.  I've heard of some quilters have problems with the linen.   As a precaution I shorten my stitch length when using linen.  I wrote an entire post on successfully quilting with Essex Linen here.
I went with a modern diamond pattern for the quilting.   Quilt 1.5in lines diagonally using a walking foot.   Repeat for the opposite direction.
I recommend keeping the quilting design neutral rather than doing anything that lines up with seams.  While I offer tips to make sure the top and bottom line up, it's never going to be perfect.  And you shouldn't worry if it is!  Something simple like this diamond grid or straight lines or an edge to edge design from a long armer will be best!
Loving this classic black and white striped binding on this neutral quilt.  This timeless treasures stripe is my favorite binding fabric.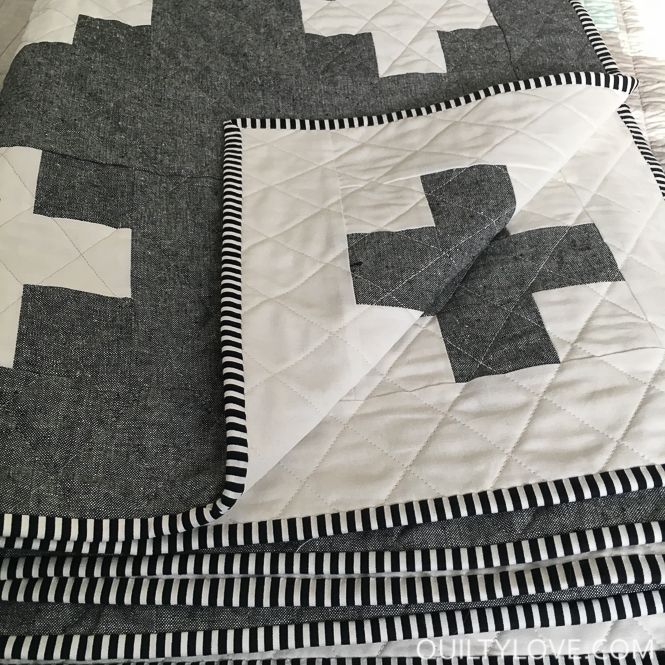 Small adorable plus blocks make up Double the Plus.  This one really has a modern aesthetic.  Looking for a basic plus quilt pattern?  You can use this one and just make up one side of the pattern!
The pattern includes sizing for baby, throw, Queen and King.  Take your pick and start quilting!
Supplies Used:
Essex Linen in black
Robert Kaufman Kona in White
Binding:  Timeless Treasures stripes
Batting:  Warm and White