Lucky Log Cabins Quilt – Stash buster quilt pattern
I am so excited to share the Lucky Log Cabins cover quilt today! Lucky Log Cabins is the first in the new Stash Buster quilt pattern series. The rest of the patterns in this series will be coming out over the next few months.
You can find Lucky Log Cabins in the Quilty Love shop.
The inspiration behind the Lucky Log Cabins quilt
Lucky Log Cabins was inspired by a fat quarter bundle I didn't know what to do with. I'll post the original version that started it soon! I started cutting into it without any real plans and would play around with it when I had a chance or felt inspired over the period of a few months. Eventually it turned into Lucky Log Cabins.
No background fabric needed
The best part was it was a background free quilt and used up a bundle in my stash. That's where the Stash Buster Series came in. I know so many of us quilters have more than a few fat quarter bundles in our stash that we don't know what to do with.
Fabrics top to bottom: Sand Carolina gingham, Essex Linen classic natural, Essex Linen stripe, Deep Rose, Blush pink, Manchester punch, Salmon, metallic linen peony, peach, Speckled Essex Gelato, Wasabi, Celery, Sea glass, Essex Aqua, Speckle aqua, Windsor, Denim, gingham denim, chambray dots
I started this fabric pull with those chambray polka dots and the Carolina gingham on the bottom. I also wanted to incorporate the neutrals on top because this pattern is the perfect one to use neutrals or low volumes. So I stuck with blues, pinks, a green accent and neutrals.
How to mix fabrics from your stash
I wrote all about mixing fabrics from your stash and curating your own bundles in this blog post.
The ultimate Stash buster quilt pattern!
I'm so excited about Lucky Log Cabins because it is the first pattern in the new Stash Buster quilt pattern series meant to help you start sewing through your stash!
The photo of the trimmings above are all that are left after cutting up those fat quarters! You use just about every inch of it.
Lucky Log Cabins is Precut friendly
Lucky Log Cabins is written around fat quarters, fat eighths, jelly roll strips or even half yards. Or a mix of all of the above from your stash!
Jelly Roll quilt pattern
If you are looking for a good jelly roll quilt pattern, this is it! You will need one or two jelly rolls depending on which throw size you make. I love a good jelly roll quilt and am excited Lucky Log Cabins works out so well.
It's a true jelly roll quilt too since you don't need to use background fabrics. Just the jelly rolls alone!
This texture and solids version is the cover quilt for Lucky Log Cabins. It's the medium throw size. Not only is this pattern super stash friendly, it includes instructions for all the quilt sizes!
Every quilt size included in the pattern
You can make a baby size, a lap size, a throw size, a large throw size, a twin size, a full size, a queen size and a king size!
Machine quilting on my Janome
I quilted this one up myself on my Janome MC6700p. Is it any surprise that I used my favorite wavy stitch yet again. This wavy stitch gives the best texture and is the most forgiving way to quilt your own quilts.
I like to space my quilting lines 3/4 in apart. I start on one edge and quilt 1 1/2 in lines and then go back and fill in at 3/4 inch.
You can see the beautiful texture in the photo above.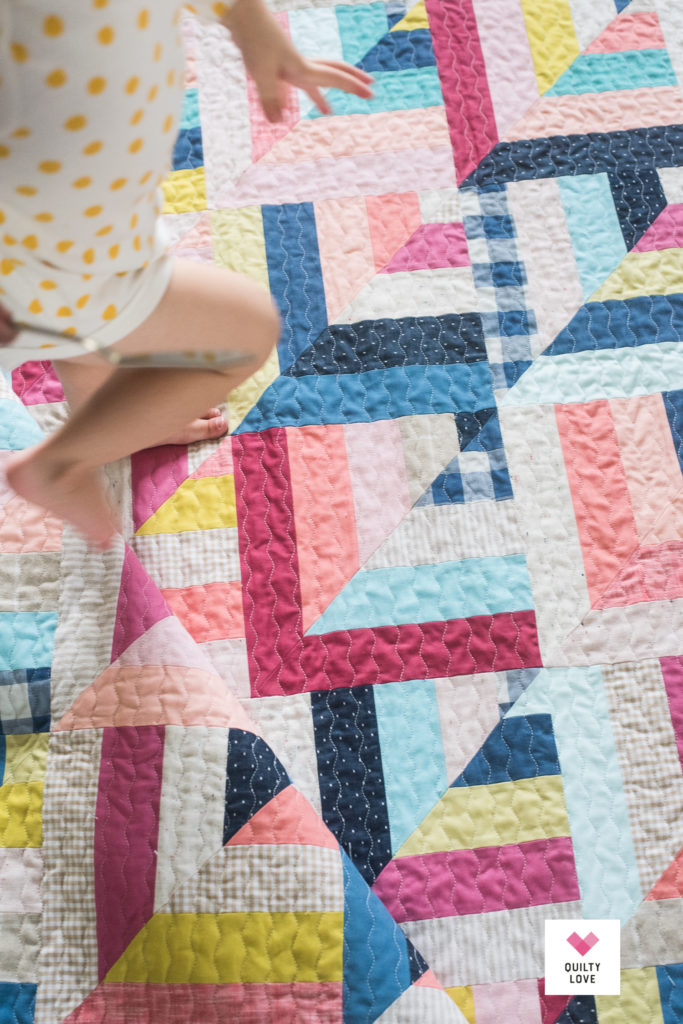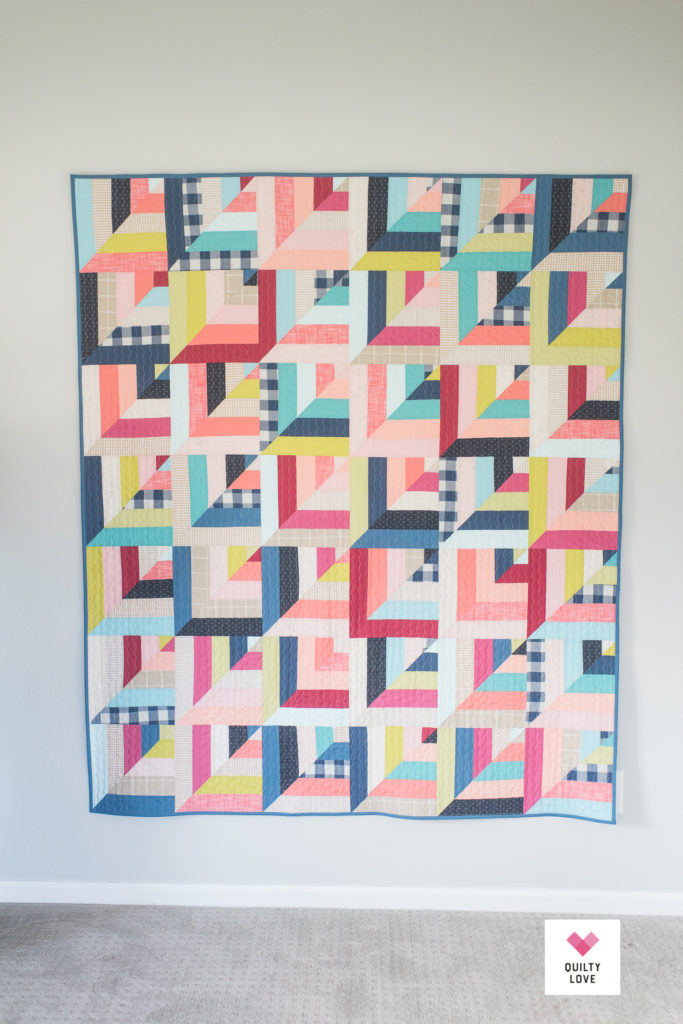 Fast and easy quilt
Lucky Log Cabins is a fun quilt to make! I'd even go so far as to call it addicting…haha. The assembly is fast since the entire thing can be chain pieced and the layouts are all random. You don't have to put a ton of thought into fabric placement.
One of my favorite things about this quilt is how some of the fabrics will randomly match up. I think that adds some interest to the quilt.
Another thing I love about Lucky Log Cabins is how a herringbone pattern emerges at certain angles. 😉
Log Cabin quilt
Lucky Log Cabins isn't a true log cabin quilt but the the blocks end up looking similar to log cabins. The end result of these blocks felt kind of "lucky" when they came out looking like log cabin blocks.
A true log cabin quilt block is assembled by adding a new "log" to each side of the block. The block will grow larger with each log. This quilt isn't assembled in that way.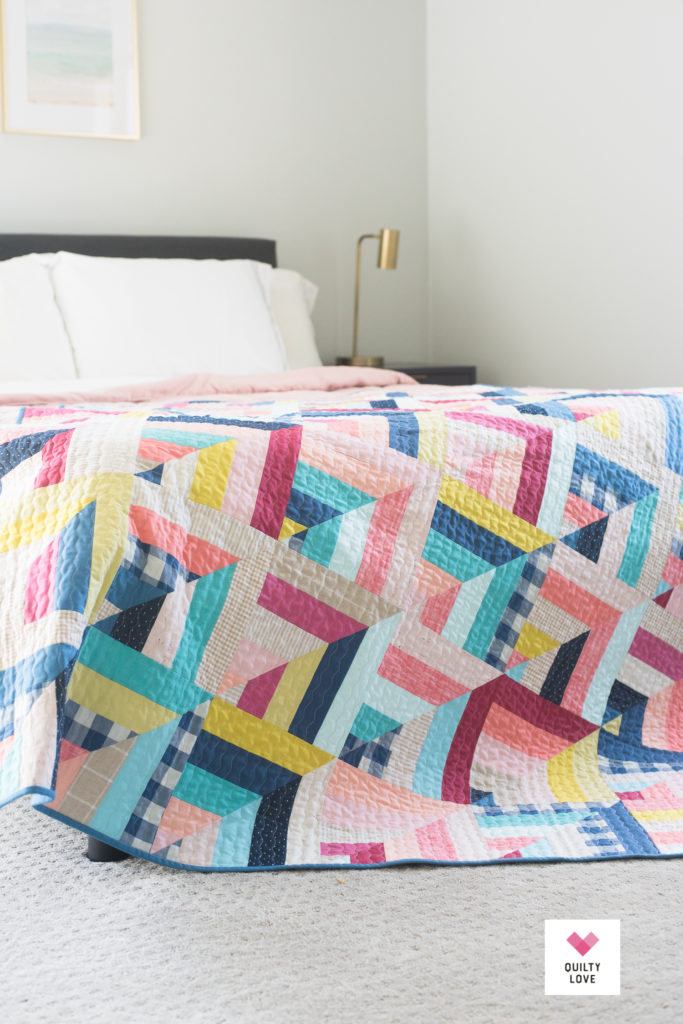 You can see above how the same fabric met up. I like when that happens randomly throughout the quilt.
Lucky Log Cabins Backing and Binding
This throw size Lucky Log Cabins is backed with a solid grey peppered cotton wideback. I like to have a healthy stash of neutral widleback fabrics on hand.
While I would have preferred to find a black and white print for the backing or some other fun pattern, practicality won out. It is nice to have widebacks on hand so you are always ready to finish that quilt when you feel like it! I really like these peppered cotton wide backs now that I've used them a few times. They are really pretty and soft.
The binding is a Kona cotton in the color denim.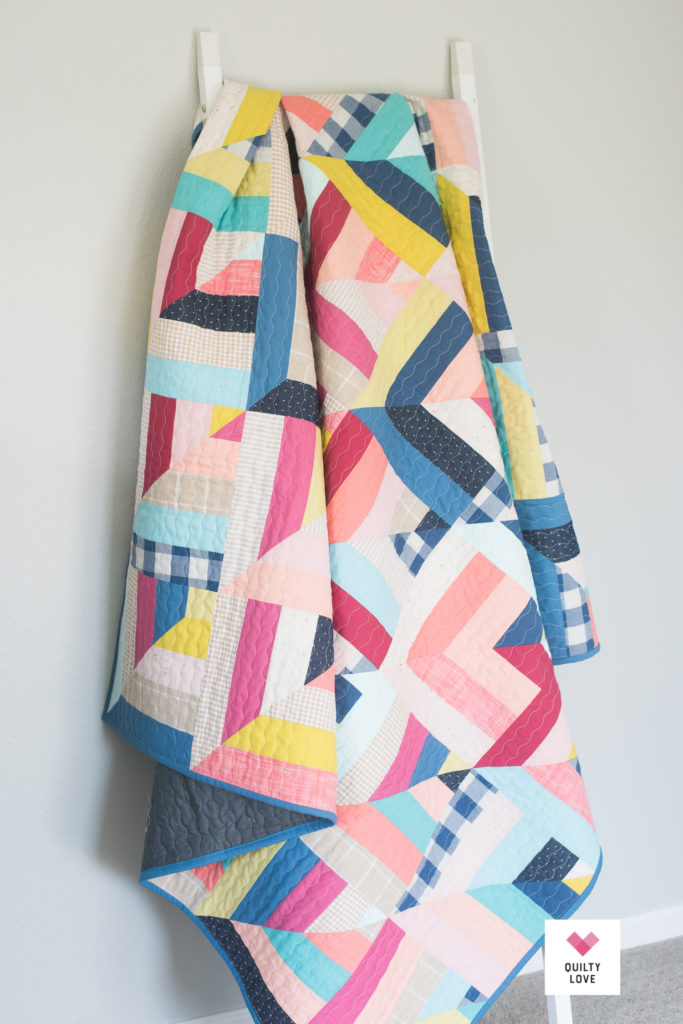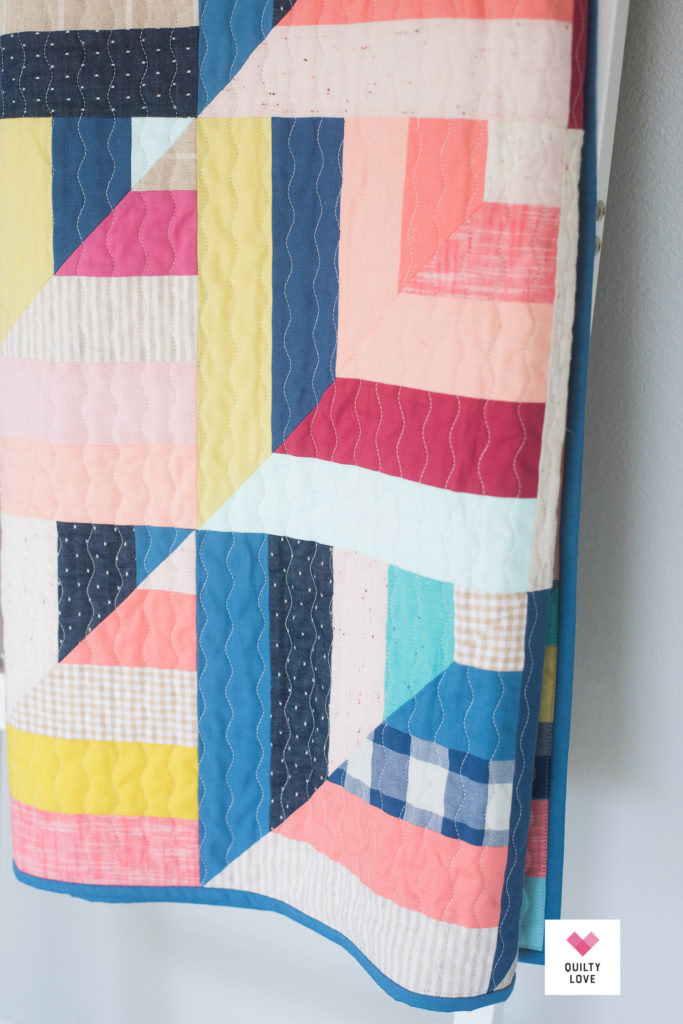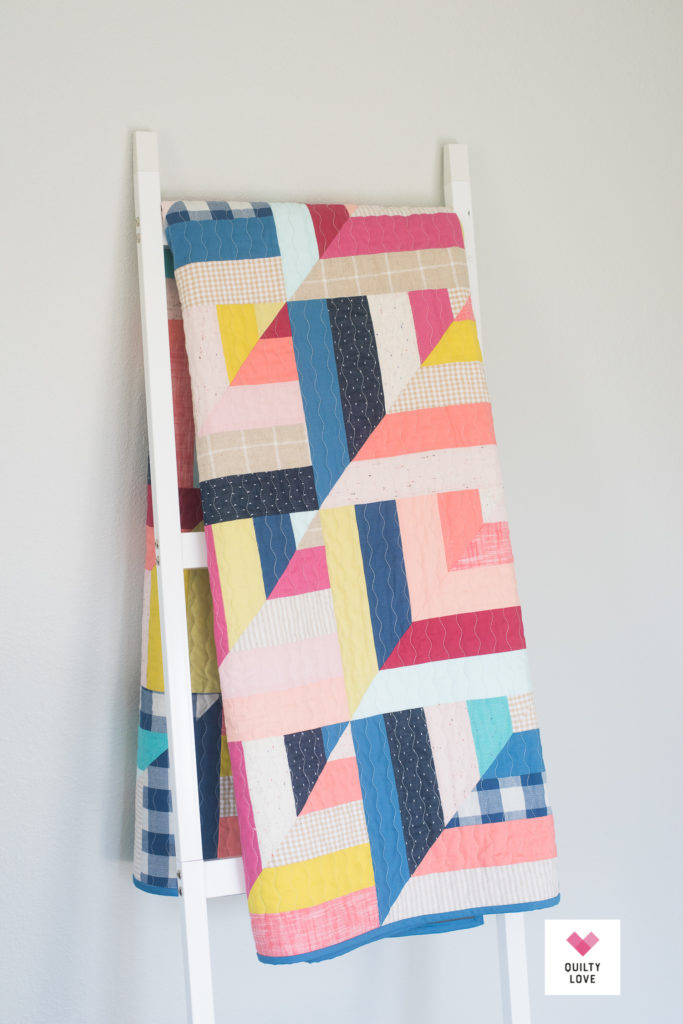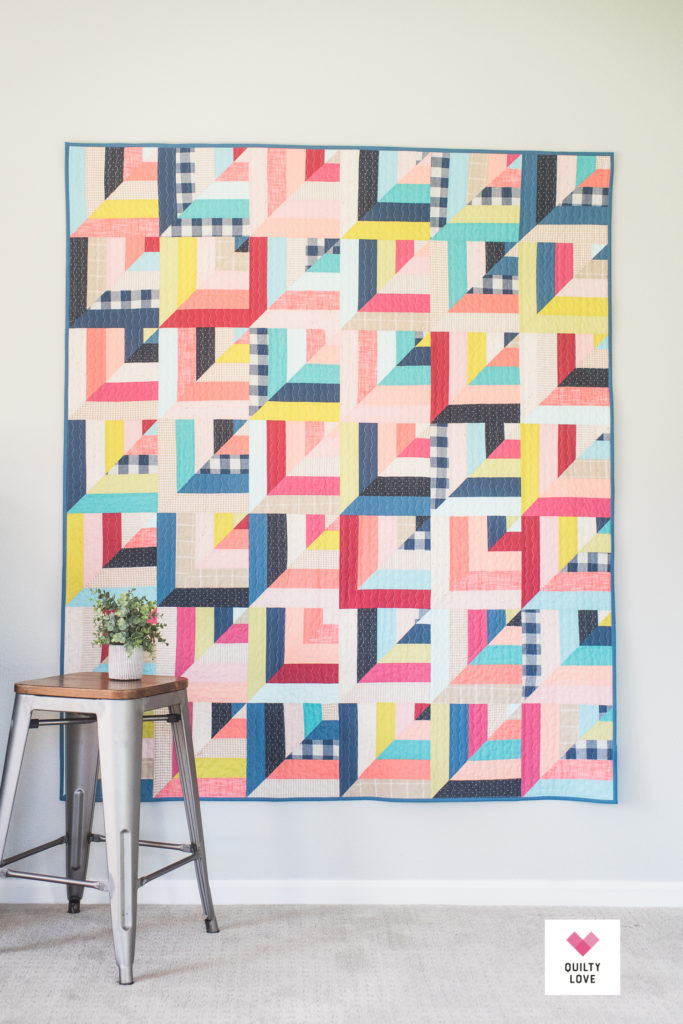 You can grab a copy of the Lucky Log Cabins quilt pattern in the Quilty Love shop here.
Below are some of the other Lucky Log Cabin quilts I've made! I'll add links below as the blog posts become available.
Flannel Lucky Log Cabins – not blogged yet
Ombre Lucky Log Cabins quilt blog post
Figo Fabrics Lucky Log Cabins quilt – not blogged yet