Lucky Log Cabins quilt – Stash buster pattern to sew your stash
Today is the release of the first pattern in the new stash buster quilt series! I'm so excited to share the Lucky Log Cabins quilt pattern today!
Robert Kaufman Solids and Textures Lucky Log Cabin Quilt
As you can see, I've made quite a few Lucky Log Cabin samples because this quilt is addicting to make! Once you make one, you will be eyeing up your stash planning out a few more…haha.
Mammoth Flannel Lucky Log Cabins quilt
Log Cabin Quilt Pattern
Lucky Log Cabins isn't actually a true log cabin quilt but the end result comes out looking similar to the popular log cabin quilt block. I called it Lucky Log Cabins because the end result felt exactly that..lucky 🙂
This log cabin look alike quilt was inspired by a fat quarter bundle sitting in my stash that I didn't know what to do with. I just started cutting into the bundle without any real plans and really enjoyed the process of playing with the fabric. I don't do that nearly enough but it really is an enjoyable process. When I didn't know what to do with it I would put it away. And then every once in a while I would feel inspired to take that cut up bundle back out and play around.
In the end Lucky Log Cabins emerged and as soon as the quilt top was done, I couldn't wait to try it again with other fabrics!
Log Cabin blocks are called log cabin blocks because you continue to add "logs" to make the quilt block grow. This pattern isn't assembled quite like that. But the end result has the look of a log cabin quilt block. Maybe a cooler more modern log cabin quilt block…ha.
Stash Buster quilt pattern
Lucky Log Cabins is the ultimate stash friendly quilt. In fact, let's call it the ultimate stash buster quilt pattern 😉
What makes it so stash friendly?
First of all, it doesn't require any background fabric.
Second of all, it works with many different precuts! Lucky Log Cabins can be sewed up with fat quarters, fat eighths, 1/4 yards, jelly roll strips or even 1/2 yards. Or even a mix of all of the above.
My guess is that you have something in your stash right now that will work for this quilt.
Lucky Log Cabins quilt pattern has all the quilt sizes
Another thing that makes Lucky Log Cabins so stash friendly and versatile is the fact that it includes so many different quilt sizes. The pattern includes instructions for a baby size, a lap size, a medium throw size, a large throw size, a twin size, a full size, a queen size annnnnnd a king size.
So basically, every single quilt size is covered here. Choose a size. Choose a fabric bundle from your stash and start sewing!
Figo Fabrics Sunkissed Lucky Log Cabins quilt
Fast and easy quilt pattern
Lucky Log Cabins is a quick and easy quilt pattern. This makes it the best quilt to use up that stash… and fast! haha. This Log Cabin quilt is an enjoyable one to sew up. It goes together fast with some piecing shortcuts.
I would call Lucky Log Cabins an ambitious beginner quilt, if not beginner quilt. It's pretty forgiving in it's seams and when it comes to putting the quilt top together, there are no seams to match up.
V&Co Ombre Lucky Log Cabins quilt
Your new go-to quilt pattern – works with any fabric!
I'm convinced Lucky Log Cabins looks great with any fabrics! It's going to be perfect for the fat quarter bundle you don't know what to do with. Or start using up those fabrics in your stash! Curate your own bundle using what you have on hand. (Much more on that below!)
Since Lucky Log Cabins doesn't use any background fabric there is a lot of flexibility in the fabrics you do use. I'm loving it with bundles that come with neutrals or low volume prints. Normally those low volumes or neutral fabrics would be hard to use with my go to white background. But in this quilt, they work so well! Neutrals really help break up busy prints.
Choose a fabric bundle to use for your Lucky Log Cabins quilt
I'll walk you through the fabric bundles I chose for my Lucky Log Cabin quilts and then add a few more options from my stash. Plus, I've included some tips and tricks for mixing up the perfect fabric bundle from your stash.
Hopefully this will inspire you or guide you to chose a bundle from your own stash for this quilt. It is a stash buster quilt pattern after all!
The more monochromatic fat quarter bundle
First up is the bundle that started it all. I had this Sunkissed fat quarter bundle from Figo Fabrics in my stash just waiting for the perfect quilt. This fat quarter bundle is all the same line. I love using designer fat quarter bundles and use them a lot. The designer has already perfectly curated fabrics that work together so the hard part is done. I was stumped on what to use this bundle for.
This bundle is made up of just a few different colors making it a little more on the monochromatic side. It has yellows, teals and blues. You can scroll up to see the finished quilt and how it works in this pattern. The quilt is super busy but there are some neutrals to help break it up. I really love the effect of these busy prints all mixed together. Quilts like this are always fun to admire in person too!
So you if you have a fat quarter bundle in your stash that feels very specific and has you stumped, this quilt pattern will probably work great!
The flannel fat quarter bundle
Ok, so this flannel one is my new favorite. I had both the warm and cool Robert Kaufman mammoth Flannel bundles and really had no idea what to do with them. Can you mix all of these busy flannels? What kind of project would need fat quarters like this!?

Find these bundles here: Warm Flannel bundle – Cool Flannel bundle
After making the Figo version and seeing how well the busy prints played together I decided to take a risk and just mix all of these flannels together. I will admit I was super skeptical the entire time I was making it..lol.
But then I finally finished the blocks, stepped back and snapped a photo. That's when I decided I loved it..haha.
So while these flannels are all super busy, dominate colors of teal and pink did emerge. This flannel Lucky Log Cabins is the large throw size and uses 20 fat quarters. So as I chose the 20 fat quarters from the bundles, I left out the darker ones with more browns in them. I did have to use a fat quarter or two that I would have like to leave out but in the end it did turn out really pretty.
Ombre fabrics – They turn everything into magic
It didn't take long to get the itch to try Lucky Log Cabins in ombre fabrics. I suspected it was going to look pretty cool using the VandCo ombres. I'm pretty sure every quilt pattern will look a little more magical in ombre fabrics.
You can find a Lucky Log Cabins Ombre kit here!
My ombre version is the large throw size again and uses 20 of the ombre fabrics from the new Fairy Dust bundle. You can also use 1/4 yards! Just keep in mind that you need 24 1/4 yards. You'll always need a few more 1/4 yards than fat quarters in this quilt pattern.
I used pretty much all of the colors except the blacks, browns and neutrals. I'd love to see Lucky Log Cabins made up in ombre but pieced randomly instead of in an ombre fade. I would absolutely use the neutrals in that version!
Piecing with ombre fabrics
A quick note about my ombre piecing: It's actually done pretty randomly! I just made my strip sets with like colors and did a lot of flipping directions so the lighter and darker were mixed up.
Don't over think it!
It's going to look amazing no matter how it goes together. I did play around with the block placement quite a bit trying to get the ombre fade. But again, no need to overthink it! I would try a placement, snap a photo and then make adjustments. If you look closer at the ombre Lucky Log Cabins quilt you can see the color placements aren't perfect but the overall effect is super cool and modern.
If you have a lot of left over ombre fabrics from past quilts, this is a great way to use them up! I personally have quite a bit of extra ombre fabrics so maybe that randomly pieced version will get sewn up yet!
Textures and solids from your fabric stash
The cover quilt is probably one of my favorite quilts that I have made in a while. It's all that fabric texture that makes this one so good!
This textury solids Lucky Log Cabins quilt is curated all from my stash. I curated this bundle using what I had on hand. The starting point was that blue polka dot chambray and the neutrals on top. These are all Robert Kaufman fabrics.
I'm super smitten with neutrals in quilting lately so they are the reason behind this new Stash Buster quilt pattern series. All of the upcoming quilts in this series do not use background fabric. So without background fabric you can add in things like neutrals without any conflicts.
Tips and tricks for mixing fabrics from your stash for your Lucky Log Cabins quilt
Here are some tips and tricks to show you how to curate your own bundle from your fabric stash. Maybe you have no shortage of fabrics in your fabric stash but struggle at mixing up a bundle that works.
I am by no means an expert and mixing bundles has always been a little more challenging for me. So that's why I'm sharing these tips and tricks that have helped me mix my own bundles with a little more confidence.
Use about three colors
When curating your own bundle it can be easier when you stick with about three colors. (Neutrals don't count). You can use various shades within those colors. So you can see the bundle below is basically made up of blues, yellowy-greens and pinks.
So stick with 3-4 colors unless you are going full on rainbow.
Think in terms of ratios
Another good rule of thumb is to use a ratio like this:
50% primary color
30% secondary color
10% accent color
10% nuetrals
Now that isn't an exact ratio but it will give you an idea of how you might mix fabrics and colors from your stash. I would say my bundle above is more like this:
40% blue
40% pinks
5% greens
15% neutrals
If you have never thought about combining fabric colors by ratio, this might help you start mixing yourself!
Find an inspiration for a color story
Of course there is always an endless supply of inspiration for curating your own bundles on Instagram or Pinterest.
Mimic a curated bundle
I did this recently with my Glowing quilt. I absolutely loved the new Warp and Weft fabric line but couldn't find it anywhere. So I curated a similar bundle from my own stash.
I paid attention not only to color, but the ratio of the colors used.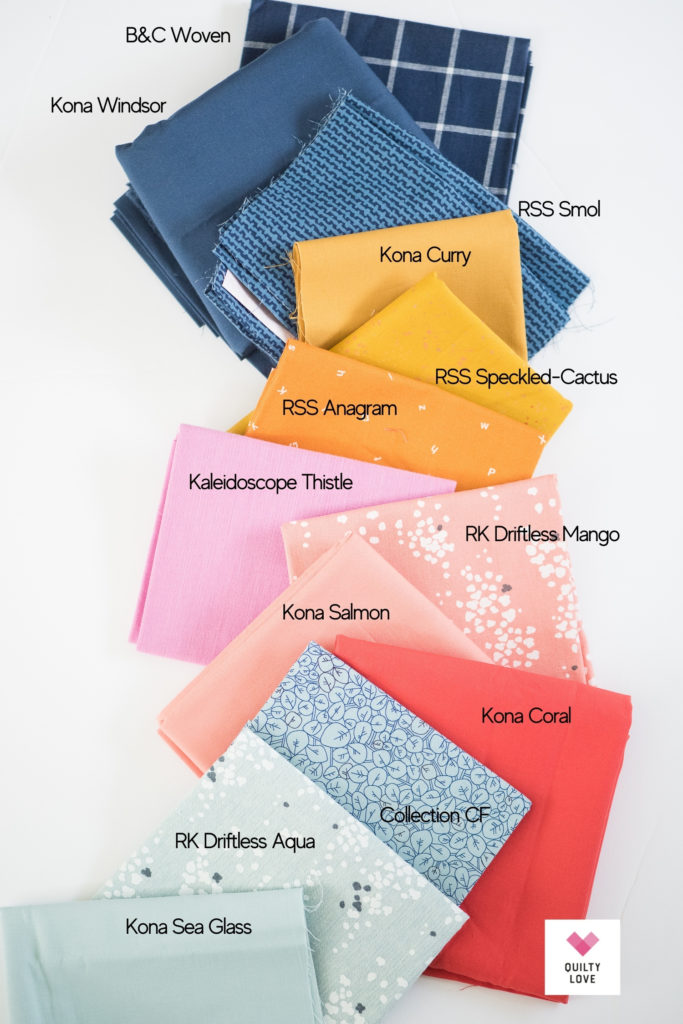 You can find direct links to the fabrics above in this blog post.
Give it a try! Is there a fabric line you have been smitten with? Try mimicking it with fabrics from your stash.
Pull colors from a favorite fabric or print or shirt, etc…
I learned this trick from my friend Meghan of At Then Came June. She's a pro at color and print mixing! Use a fabric (or print, or shirt, or anything really!) as inspiration and pull the colors from it. If colors are all together in one print, chances are they are all going to work together and complement each other.
This is really a great way to use up a favorite print in your stash that you don't know what to do with. Add in some more fabrics and make yourself a quilt!
This isn't the best example below but you get the idea!
Mix prints and solids
Mixing prints and solids is a really good way to stretch your stash! I don't have a very large stash so trying to come up with enough prints to curate a bundle is a bit challenging. I do however have a wide array of solids. Solids are a great supplement in a bundle. And they are perfect for Lucky Log Cabins because they can really help tone down prints in this quilt pattern.
Pay attention to fabric scale
As you start mixing fabrics in your stash, pay attention to the print scales. A harmonious fabric bundle will usually have a mix of large, small or medium print scales. Usually there is only one or two larger scales mixed in. Small scale prints tend to mix and match much easier than larger scale prints. You will find a lot of basics or blender fabrics are small scale prints.
Trying to mix up a bundle made up of all large scale prints is probably going to come across as busy and even a little chaotic. Small scale prints will help tone down busy prints.
A lot of designer bundles will have a hero print. The hero print tends to include most of the color palette and can have a larger scale print.
Mix fabrics from the same designer
This might just be the easiest way to make a new bundle. A lot of designers work within the same color schemes or their fabrics will all have a similar feel that play nicely together.
For example, Ruby Star Society fabrics tend to all play nicely with each other. Mix Ruby Star Society fabrics from your stash for a quilt like Lucky Log Cabins. I did this recently for my Plus Squared quilt. I stuck with an array of their warm fabrics. The pop of mustard fabric adds some interest and contrast too.
The Bonnie and Camille fabrics also come to mind as we talk about mixing from the same designer. I've actually been itching to make a Bonnie and Camille Lucky Log Cabins quilt using up what I have in my stash.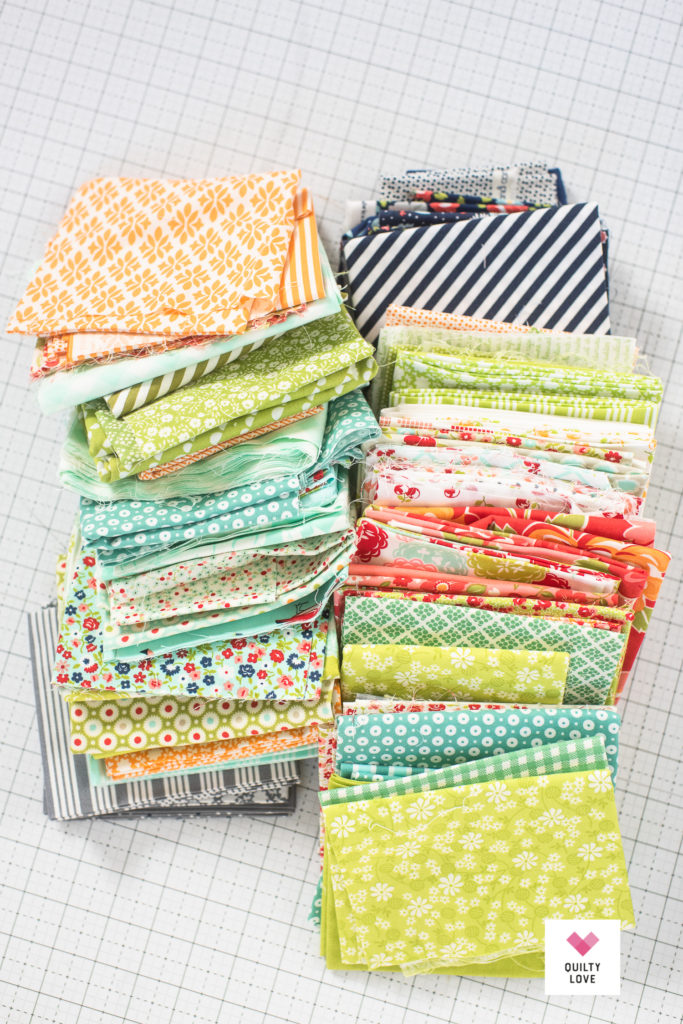 The fabrics from all of their lines with Moda play so well together and quilters love mixing the lines in quilts. Don't you think a mix of B&C fabrics would make the best Lucky Log Cabins quilt!?
This bundle below of the older Cotton and Steel lines has been in my stash for years! I'm itching to use it all up in a Lucky Log Cabins quilt. In this case it's all from Cotton and Steel but it's a more limited color palette. I've actually been super stumped with the neutrals on the bottom but they would be perfect for this quilt pattern.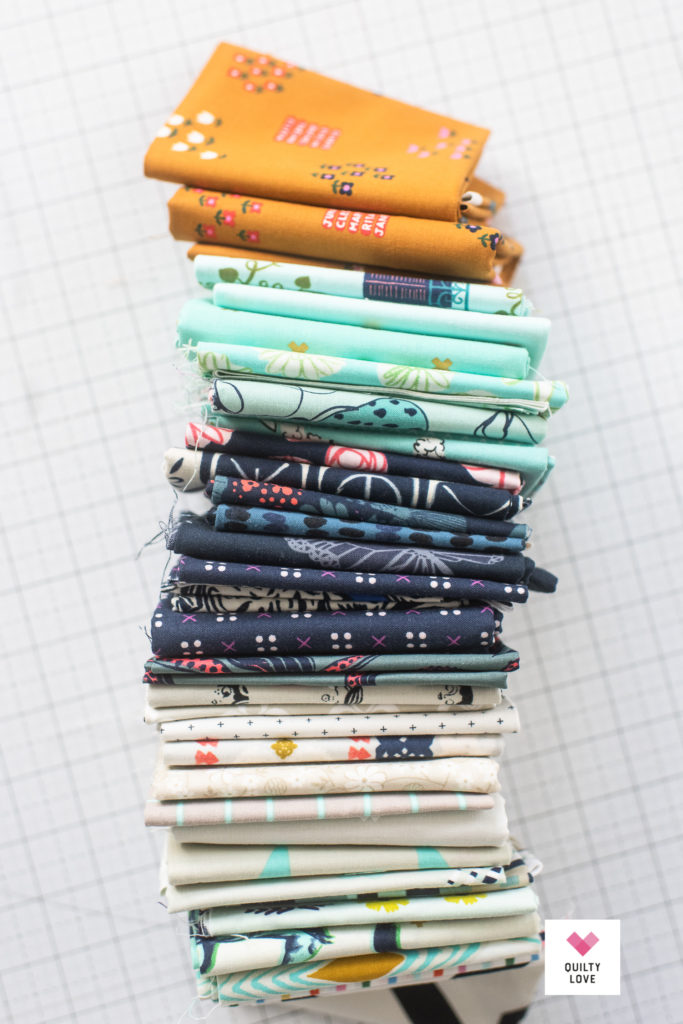 Curate a monochromatic fabric bundle
If you have a lot of solids in your stash, you could mix up a monochromatic fabric bundle for Lucky Log Cabins. I'm pretty certain this log cabin quilt would look amazing in a monochromatic color scheme. Someone sew one up so I can see it and don't have to make my own..lol.
Or try a monochromatic look with prints. I curated the bundle below years ago and found it tucked away somewhere recently. I love a good all blue quilt and these fabrics would look so good in Lucky Log Cabins. I'd probably even add in some tan linen textured fabrics or low volume prints too.
There is a lot of variation in the bundle below. Even though they are all blue, there is a lot of depth in the colors chosen. Mostly I just eyeball this. Add in a few fabrics and take out anything that doesn't feel like it belongs.
Do the fabrics actually work together?
There is a simple trick you can do to see if the fabrics you chose flow together. I learned this from Meghan also. Line them up in color order. It's so much easier to see if fabrics work together and flow well when you line them up rather than keeping them random.
Another trick you can see in the photos below is the range of shades within each color. If you bundle is feeling "flat" try mixing up the shades within each color family.
As you sew your stash, you learn which fabrics to collect
As you start actually sewing through your stash, you learn what to buy more of in the future! You learn how to start collecting fabrics that actually get used and learn to pass on fabrics that will just sit in your stash un-used.
I've learned over the years to collect basics and blenders because they tend to work so well when mixing fabrics.
This blog post turned into a fabric mixing how to! I hope you find some of the tips and tricks in this post helpful as you start sewing through your stash.
Stay tuned for the rest of the quilt patterns in the Stash Buster series. They will be releasing over the next couple of months.
You can find Lucky Log Cabins in the shop here.