Lucky Log Cabins – The purple stash quilt
Today I'm sharing yet another Lucky Log Cabins quilt. This time it's a pretty scrappy purple version. When I saw this bundle by Morgan Kelly Quilts I had to grab it to make a Lucky Log Cabins quilt. The mix of neutrals, purples and mustard colors in this fat quarter fabric bundle was too good to pass up.
Lucky Log Cabins is a super quick and easy stash buster quilt pattern so I knew I could sew one up fast using this pretty fabric bundle.
I ended up making the medium throw size Lucky Log Cabins quilt. I made this purple scrappy quilt for my sister in law 🙂
The Lucky Log Cabins quilt pattern is in the Quilty Love pattern shop.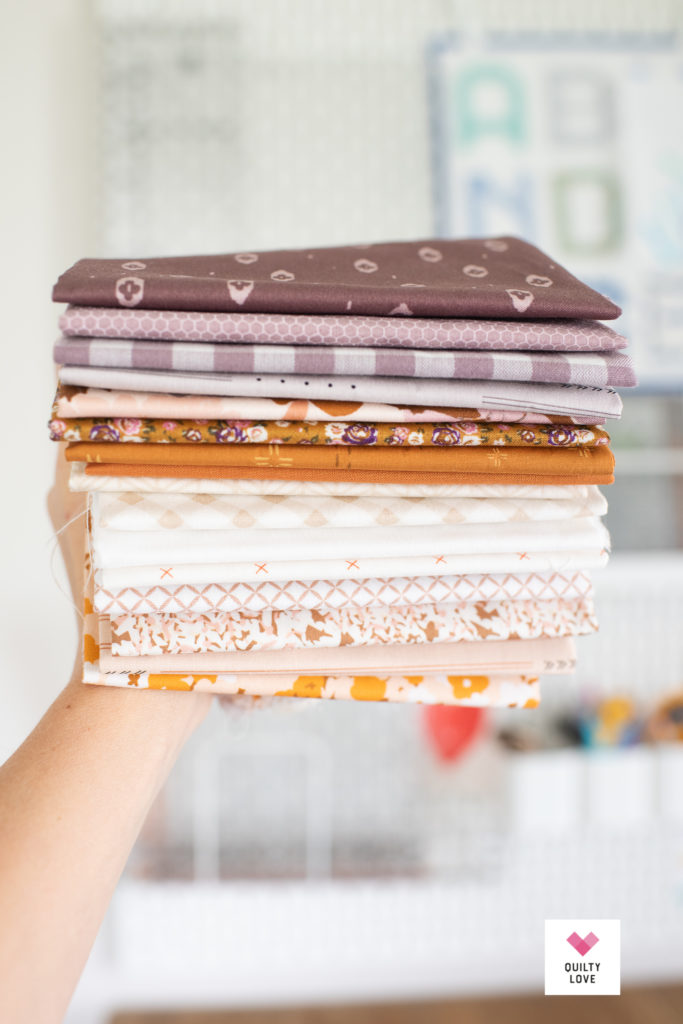 Lucky Log Cabins quilt pattern
Lucky Log Cabins is a stash buster quilt pattern that came out a little while ago. This is one of my favorite quilt patterns to sew up. It's quick and easy and I'm convinced it works with just about any fabric combination.
I started the Quilty Love Stash Buster series of quilt patterns last year because I want to offer more options for the fabrics sitting in our stashes. The idea behind the Stash buster quilt pattern series is that you can grab (or make) any sort of bundle from your stash and turn it into a beautiful quilt.
So many fabric bundles include a range of lights to darks and when you need a background fabric it can be tricky to make it all work.
No background fabrics needed
All of the Quilty Love stash busters are background fabric free. They don't require any background fabrics making them true stash busters. The goals is that any mix of fabrics light to dark will work in these quilt patterns.
Stash Buster quilt pattern
Lucky Log Cabins is a true stash buster quilt pattern because you can use a variety of fabric cuts for it. Most of the Quilty Love stash buster quilt patterns are written around fat quarters and other common pre-cuts.
Lucky Log Cabins can be sewn up using any of the following pre-cut fabrics:
Fat Quarters
Jelly roll strips or 2.5″ x WOF strips
Fat eighths
1/4 yard cuts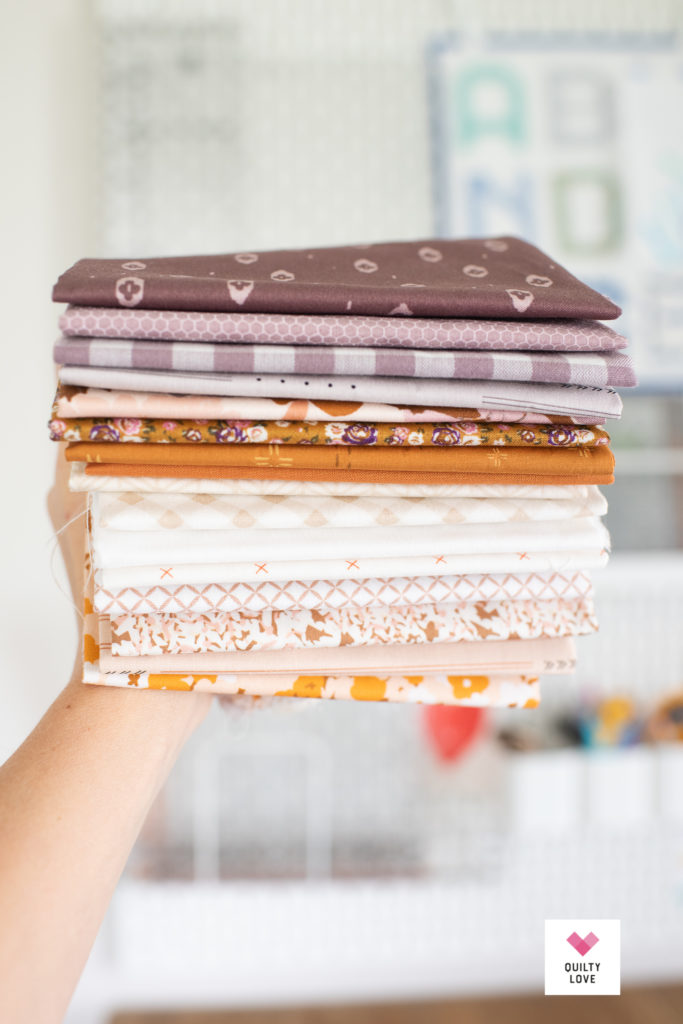 Custom fat quarter bundle by Morgan Kelly Quilts
I don't buy a lot of fabric or random bundles these days but when I saw Morgan Kelly Quilts post this bundle on Instagram I had to have one. It's such a beautiful combination of colors and prints.
I don't believe this bundle is available anymore but you can check out Morgan's other bundles on Etsy here. Or follow her on Instagram here so you don't miss any in the future.
One of my favorite ways to find fabrics like this is through sellers on Instagram. Sometimes they end up in their Etsy shops but other times they are only offered on Instagram. Following a few of these types of sellers on Instagram is a great way to find unique pretty bundles and to grow your fabric stash.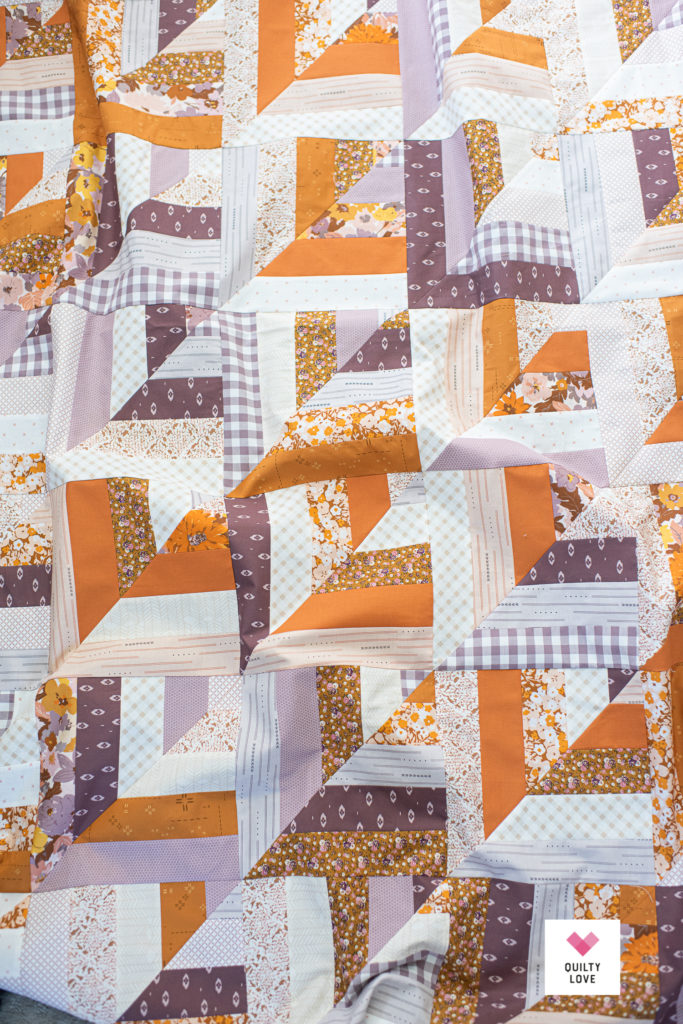 Quick and Easy Stash Buster quilt pattern
Have I mentioned that the Lucky Log Cabins quilt pattern is quick and easy yet..ha. I know I keep saying that but it really is a fun and fast one to sew up.
Lucky Log Cabins uses strip piecing methods making it super fast and super fun. You can chain piece this quilt in an afternoon. It's a fun scrappy quilt so fabric placement can be very random making it a quick one to sew up.
The only thing I think about as I'm sewing this together is allowing each strip pieced section to flow. So I try to create a nice of flow of fabrics instead of super contrasting fabrics next to each other. No need to overthink this one! This log cabin quilt will look great no matter how you place the fabrics.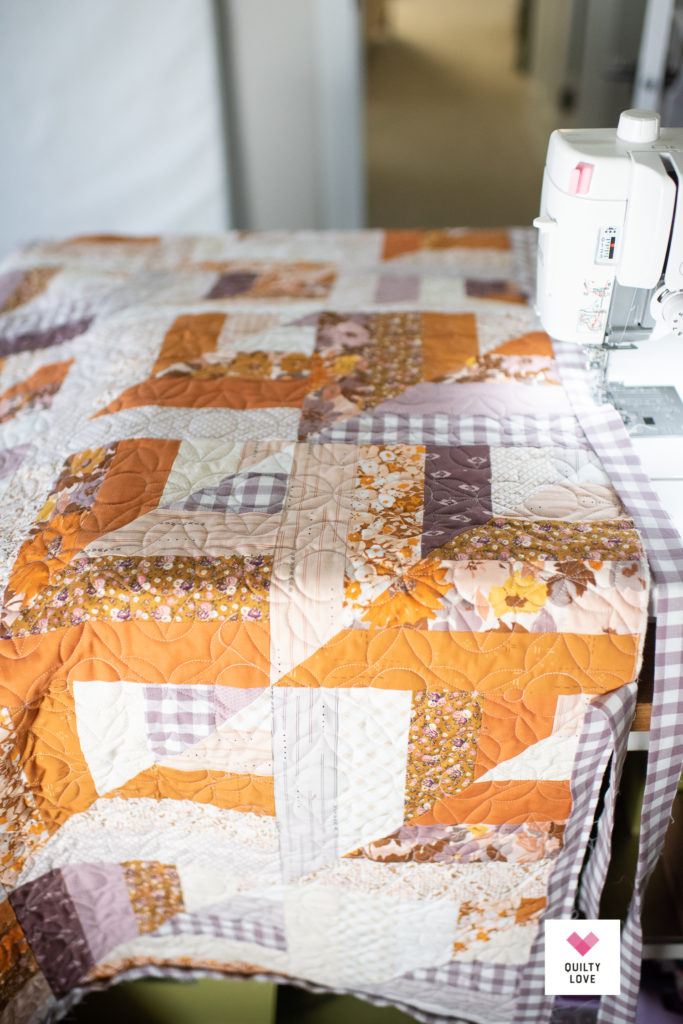 Log Cabin quilt pattern
Lucky Log Cabins is not a true log cabin quilt pattern but the end result comes out looking similar to the log cabin quilt block. I named it Lucky Log Cabins because I created this by playing with fabric strips and the end result felt like luck when it came out looking like a log cabin block.
The Lucky Log Cabins quilt pattern includes tons of quilt sizes. The pattern includes instructions for the following sizes:
Baby Size (or lap size quilt)
Small throw quilt
Medium throw quilt (this purple one is a medium throw quilt)
Large throw quilt
Twin size bed quilt
Full size bed quilt
Queen size bed quilt
King size bed quilt
Long Arm quilting by Knot and Thread
I sent this scrappy Purple Lucky Log Cabins quilt off to Knot and Thread for quilting. She chose this fun modern pantograph. I love how you can see the design so clearly on the backing.
Shannon Cuddle Minky Backing
Speaking of the backing… this scrappy Lucky Log Cabins quilt is backed in a super soft minky backing. I'm currently obsessed with minky quilt backings and have been using them a lot. Stick with a quality minky like the Shannon Cuddle minky.
I also stick with the wide Minky backings so no piecing is required! This purple minky backing is a Shannon Cuddle wide in the color Woodrose.
I wrote all about using minky as a quilt backing in this post here. Find all of the minky tips and tricks (including wash care) in that post.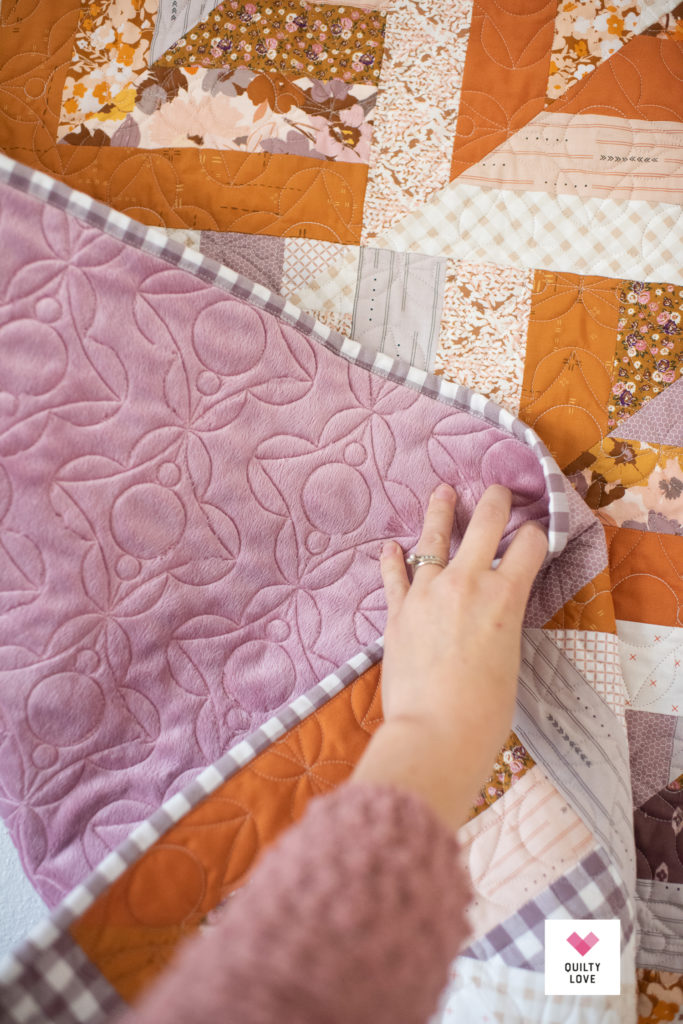 This quilt turned out so cute and so soft. It really was a fun one to sew up. I made it for my sister in law for our Christmas gift exchange.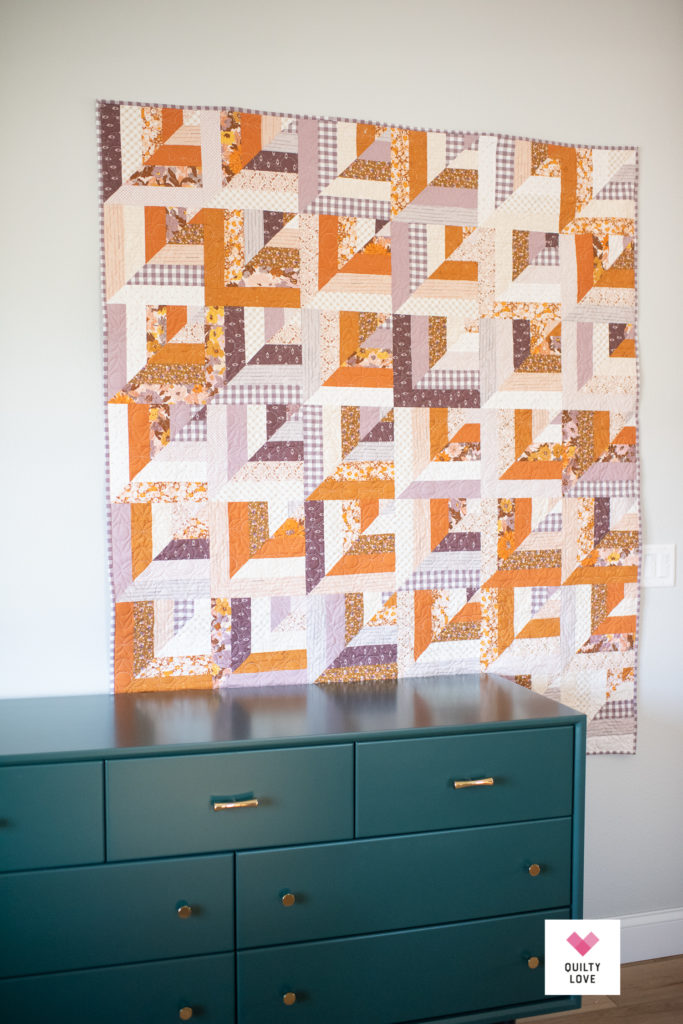 Scrappy Purple Lucky Log Cabins quilt materials used:
Quilt Pattern: Lucky Log Cabins quilt pattern by Quilty Love
Fabrics: Custom fat quarter bundle by Morgan Kelly quilts
Backing: Shannon Cuddle Minky in Woodrose
Pieced on my Janome MC6700p
Long Arm Quilted by Knot and Thread