Warp and Weft Patchwork Flying Geese Quilt
Today I'm sharing the Warp and Weft Patchwork Flying Geese quilt! This soft and drapey quilt is already being used in this house and I'm pretty sure it will be the new favorite.
Patchwork Flying Geese is the most recent Quilty Love pattern and it's a fun stash buster! Use a fat quarter bundle from your stash for this flying geese quilt. This flying geese quilt uses the no waste four at a time flying geese method for fast construction.
I sewed up this Warp and Weft Patchwork Flying geese quilt during the quilt along a few months back. Warp and Weft Wovens is a Ruby Star Society fabric line and it's a good one! The colors, the textures…. so good! It was hard to find this Warp and Weft fabric line for a while but I believe Moda is reprinting it.
Warp and Weft is a wovens fabric line. So it's not your usual quilting cotton. The wovens are a little thinner and take a little extra care to quilt with but the end result is a soft and drapey quilt!
Scroll on down for quilting tips when using minky as a quilt backing. I also talk about pre-washing fabrics. Should you, or shouldn't you pre-wash.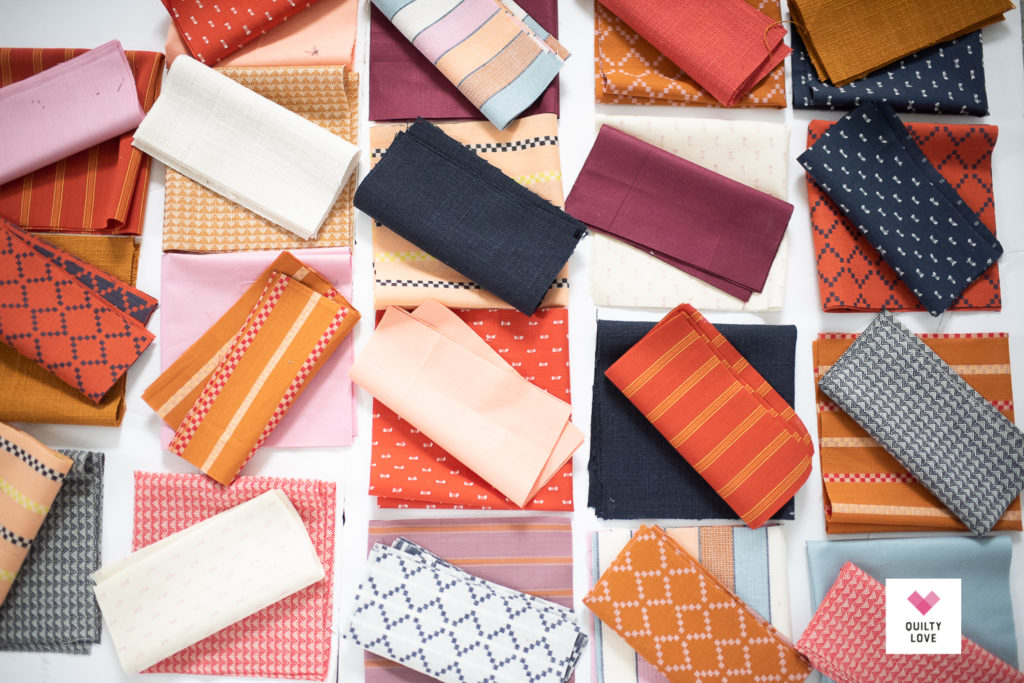 Warp and Weft Wovens Fabric by Ruby Star Society
I missed the first release of the Ruby Star Society Warp and Weft fabric line and couldn't find it in stock anywhere. This line is a beautiful mix of colors and textures. I love working with texture in my quilts so a line like this is super fun for me to quilt with.
Lucky for me, someone on Instagram sent me to a small online fabric shop that had Warp and Weft in stock and I was able to grab a fat quarter bundle. I believe Moda Fabrics is doing a reprint that should start showing up in shops soon! There are some bundles available on Etsy.
Ruby Star is also releasing additional lines in the Warp and Weft family. So there will be plenty of opportunities to quilt with these wovens. I must say, I'm not one to push fabrics on quilters but if you haven't made a wovens + minky quilt yet, you should! I'm so smitten with this Warp and Weft Patchwork Flying Geese quilt…lol.
Warp and Weft Patchwork Flying Geese Quilt
I was excited to make a Patchwork Flying Geese quilt with this Warp and Weft fabric line because it doesn't require any background fabric. This flying geese quilt pattern uses fat quarters only so the mix of lights and darks in this Warp and Weft Wovens line was the perfect fit.
Warp and Weft are wovens so they are a little more delicate to quilt with. I don't shy away from any substrates in my quilting so I didn't mind using these at all. Because they are wovens I tried to handle them carefully so I didn't stretch them out and I also used a smaller stitch length to really help secure the seams on theses looser weave fabrics.
If you are wondering how these wovens compare to Essex linens they are much lighter and much thinner. They end up a little softer and drapier than an essex linen does. I'm a fan of quilting with both but these wovens make a softer quilt.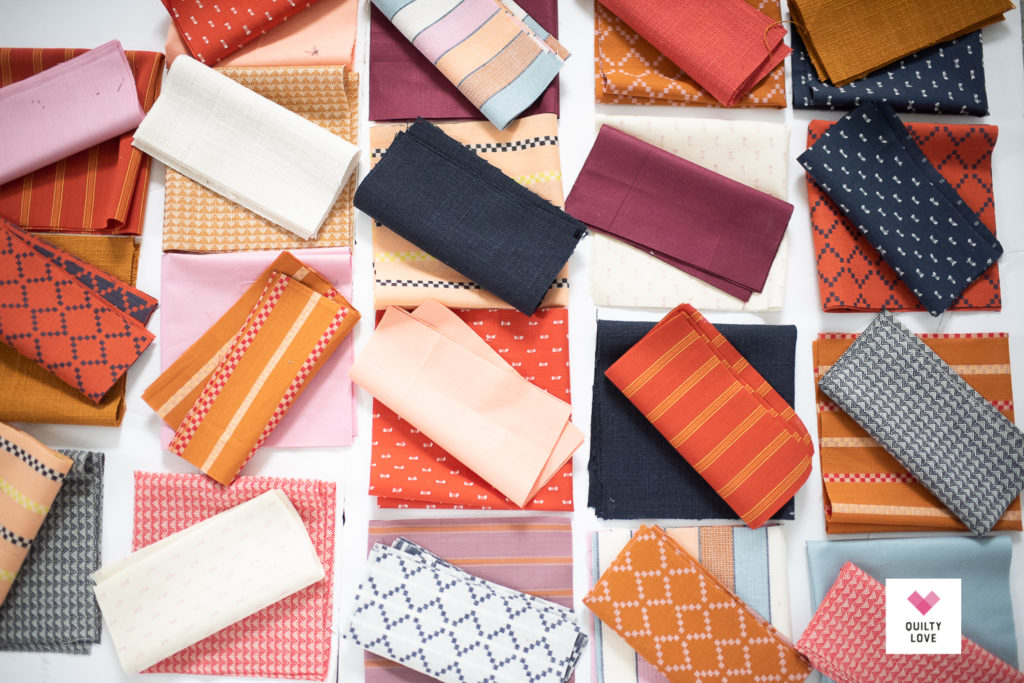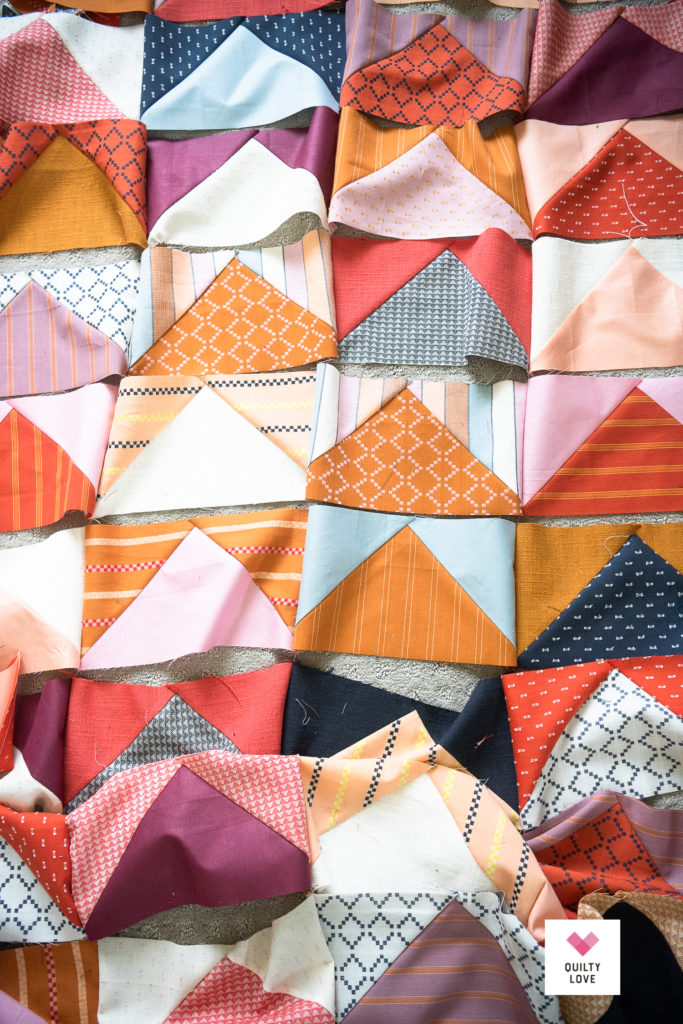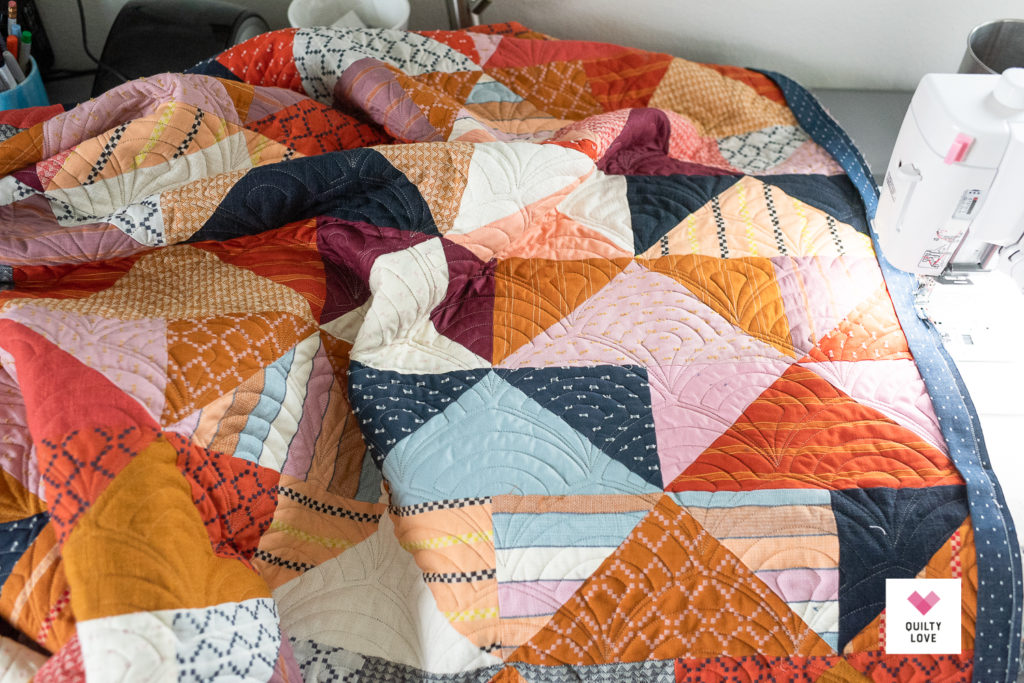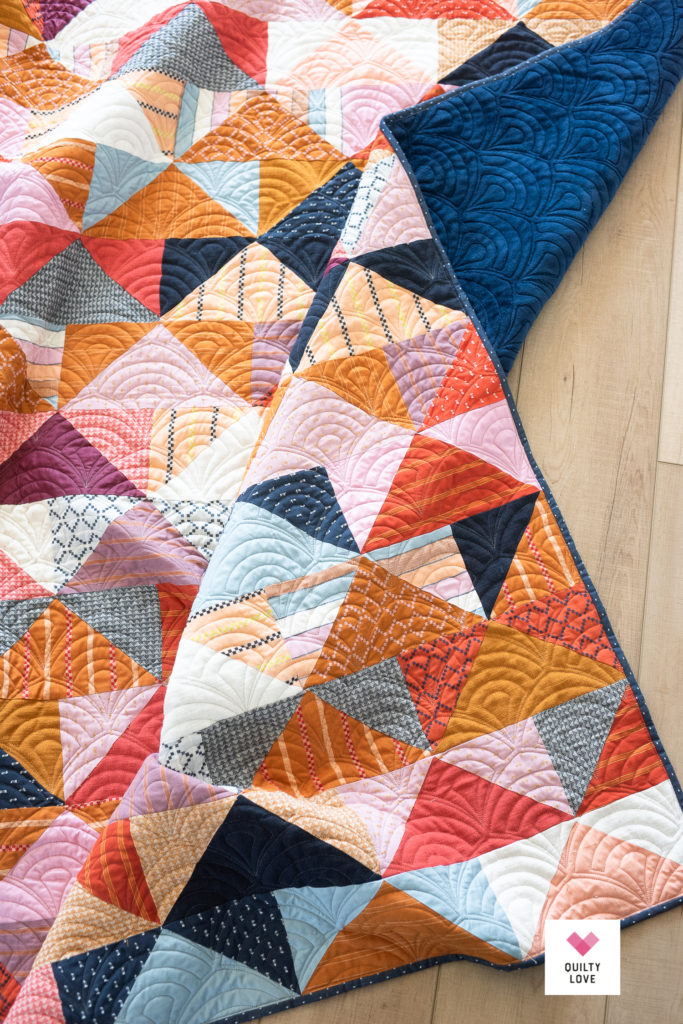 Using Minky as a quilt backing
Let me tell you about this quilt backing! So this is the first time using minky on a quilt. Actually it's the second time, but we haven't really used the first quilt yet…haha.
Let me just say that I will be using minky on every single quilt from here on out…ha. Ok, maybe not. But there is a 99.9% chance I'll be using it on every quilt we actually plan to use. It is soft!!! And it is warm!!
I did not pre-wash my minky and it washed up just fine with the first quilt wash.
One of the best things about minky is that it comes in wide sizes! You know I love wide backs so I'm thrilled that Minky comes in 90″ widths. Also, did you know minky doesn't wrinkle so the quilt back prep is virtually non-existent.
I will warn you that minky is messy. The raw edges shed really badly when first cut. I don't think they continue to shed but it will leave fibers all over the place when you first cut it. I haven't found that to be a big problem, but consider yourself warned…haha.
Using Minky – tips, tricks and care
I shared this quilt on Instagram and the quilters over there were full of really great tips when it comes to minky. I want to pass these tips along for anyone considering using minky in their quilts. Minky is a polyester meaning it is probably made with plastics.
First up, it's going to be best to stick with better brands of Minky like Shannon Cuddle Minky. Here's why. Minky can actually melt if it's overheated in the dryer! Yikes! This sounds like it's been more of a problem on cheaper minky fabrics. So it's always going to be a good idea to dry minky on a lower heat setting or even line dry.
Skip the fabric softeners when washing your minky. Apparently they will coat the minky over time and leave it crunchy.
As far as batting goes when using minky… most quilters prefer it! Most long arm quilters require it. The minky needs the batting as a stabilizer when on the long arm. Also, sometimes the minky fibers will start popping through the front of the quilt if there is no batting. Overall, it really sounds like most quilters like their minky backed quilts to also have batting.
Use a lower loft batting to keep it nice and drapey. My quilter used 80 cotton/ 20 poly and I really like the thickness and drape of this quilt.
---
MINKY TIPS AND TRICKS
Stick with good quality minky fabrics.
Dry with care! Use a lower heat setting to avoid melting.
Skip the fabric softeners.
Don't skip the batting. Use a lightweight batting or other batting replacement like muslin or flannel or something.
---
Pre-washing fabrics for quilting
One of the most common questions newer quilters have is should I prewash my fabrics.
The one thing I have found over the years is that pre-washing quilting fabrics is a personal preference. And personally I skip the pre-washing. I think I've pre-washed fabrics maybe twice.
Mostly I'm too impatient to wait for it to go through the wash but I also prefer working with fabric when it's still nice and crisp. Plus, I use a lot of precuts. Those smaller cuts become a little trickier to pre-wash.
I will say that it is never a bad idea to pre-wash! Pre-washing will pre-shrink the fabric and probably help prevent fabrics bleeding in the quilt when it's already sewn together. Certain colors are more prone to bleeding like reds and dark blues.
You might consider pre-washing when you are mixing substrates in a quilt. For example if you are using linens + quilting cottons or flannels + quilting cottons. Those different substrates will shrink at different rates and could cause problems as the quilt is washed in the future. For the record, I've made both and never pre-washed and so far haven't had issues. But… I also haven't washed or used those quilts a ton.
So I was curious when writing this blog post and went ahead and put this quilt through the wash. It washed up beautifully! I always use color catchers with the first wash or two just in case the fabrics bleed. But the color catchers were still completely white after this wash. That's some impressive fabric!!
I was most curious to see what would happen with the wovens vs the minky backing. I was afraid the wovens would shrink but the minky would not. If they did shrink, it certainly wasn't noticeable! This Warp and Weft Patchwork Flying Geese quilt came out of the wash even softer than it went in.
The two photos below are post wash. (Every other photo in this blog post is before this quilt was washed) I was actually surprised at how little it crinkled up. That means these wovens really didn't shrink much in the wash.
Warp and Weft Patchwork Flying Geese quilt
Back to my favorite quilt ever… haha. Since I make so many quilts, very few of them get put into the rotation and actually used. I've heard about how soft and cozy quilts with wovens are so as I was making this Warp and Weft Patchwork Flying Geese quilt, I decided it was going to actually get used.
Plus, I absolutely love the colors in this fabric line. Every quilt I've seen that uses it is just gorgeous. Since I knew we would end up using this one so I backed it in the minky fabric.
This is the large throw size Patchwork Flying Geese quilt. It's a nice generous size throw.
Patchwork Flying Geese Quilt Pattern
Patchwork Flying Geese is the latest in the Quilty Love Stashbuster series. It's a fast and fun flying geese quilt that will have you sewing through your stash. It uses fat quarters (or yardage) only. No background fabrics needed.
The quilt pattern uses the four at a time, no waste flying geese method. The flying geese are made to the exact size which can be a little tricky. This blog post is full of tips and tricks for making flying geese four at a time.
The Patchwork Flying Geese quilt pattern includes instructions for tons of sizes!
Baby size
Small throw size
Medium throw size
Large throw size
Twin size bed quilt
Full size bed quilt
Queen size bed quilt
King size bed quilt
The quilt pattern also includes cutting diagrams for fat quarters, half yards, 2/3 yards or 1 yard cuts.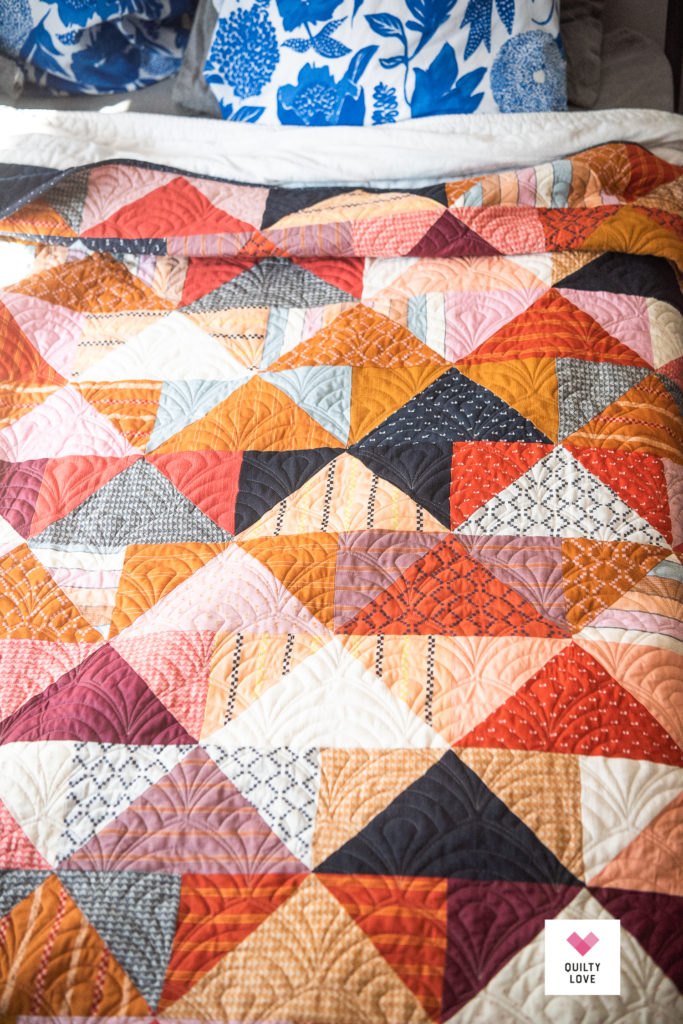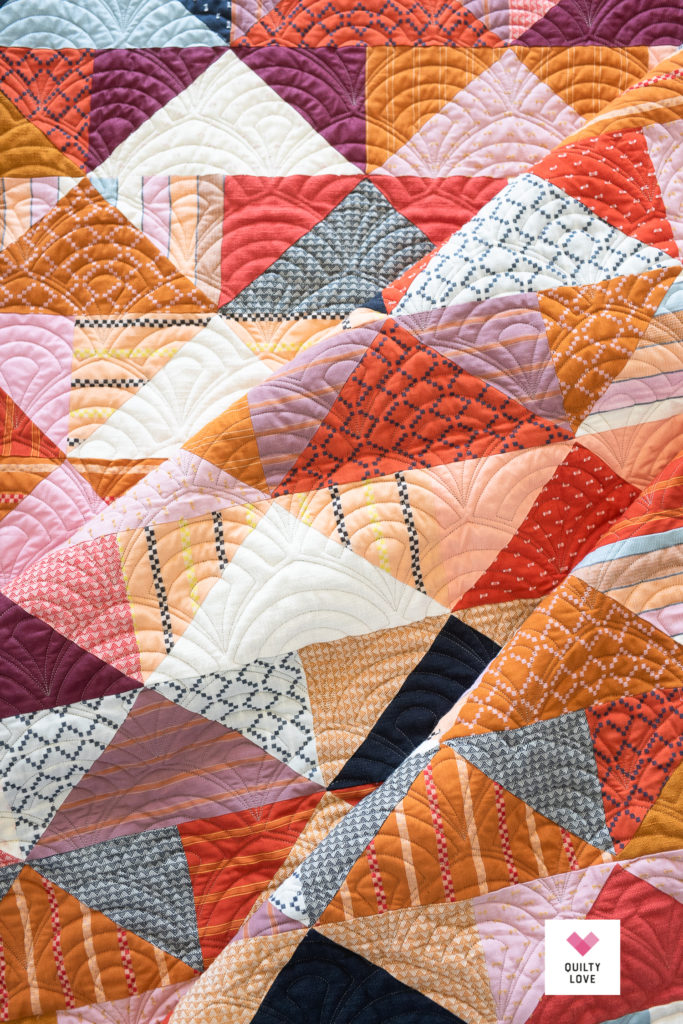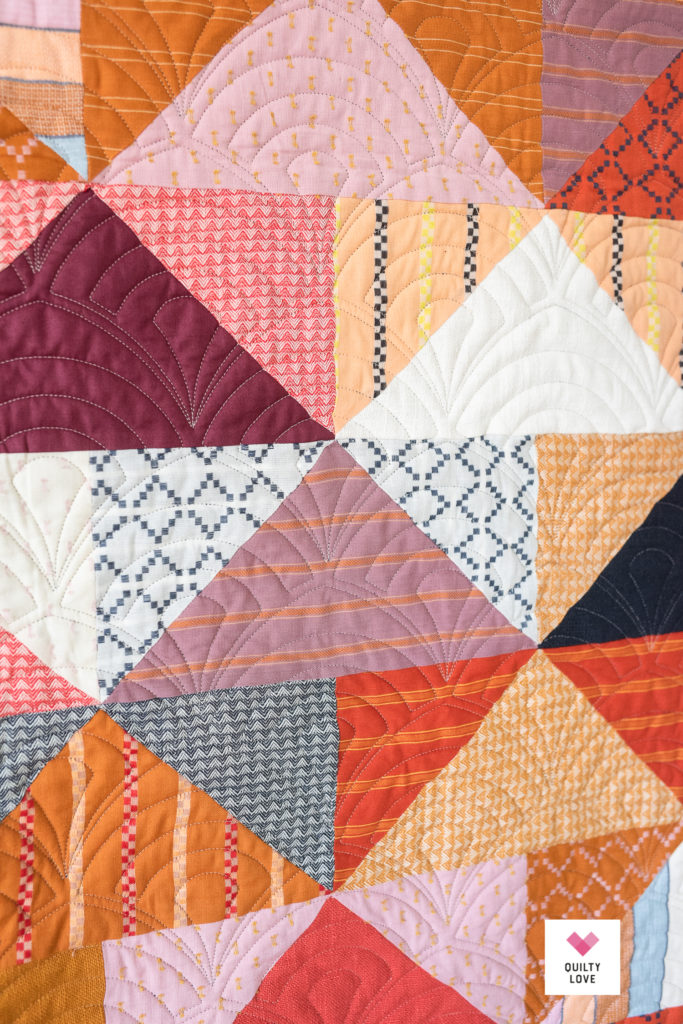 Long Arm Quilting
I sent this Warp and Weft Patchwork Flying Geese quilt to Knot and Thread for quilting. She chose this beautiful quilting pantograph. I'm not sure what it's called. I really wanted this one quilted by a long armer since we will be using it.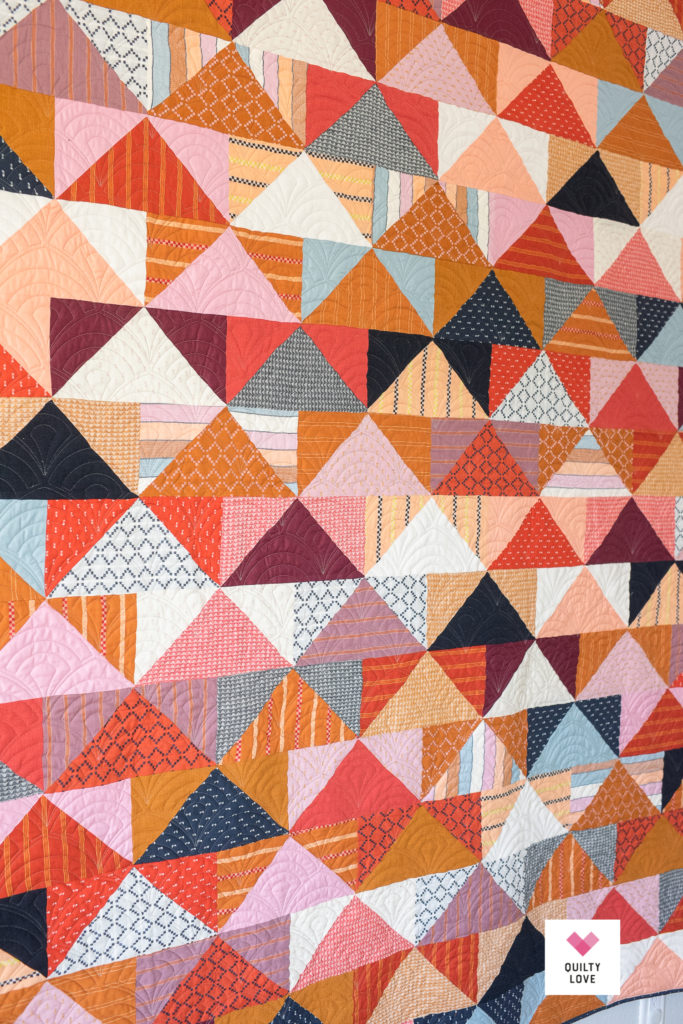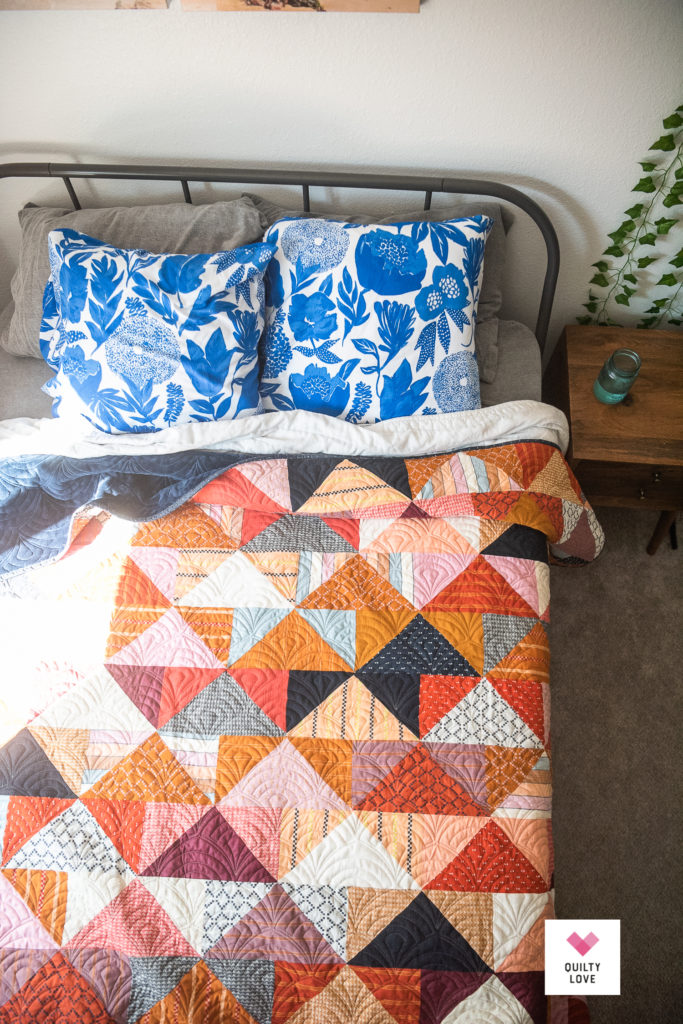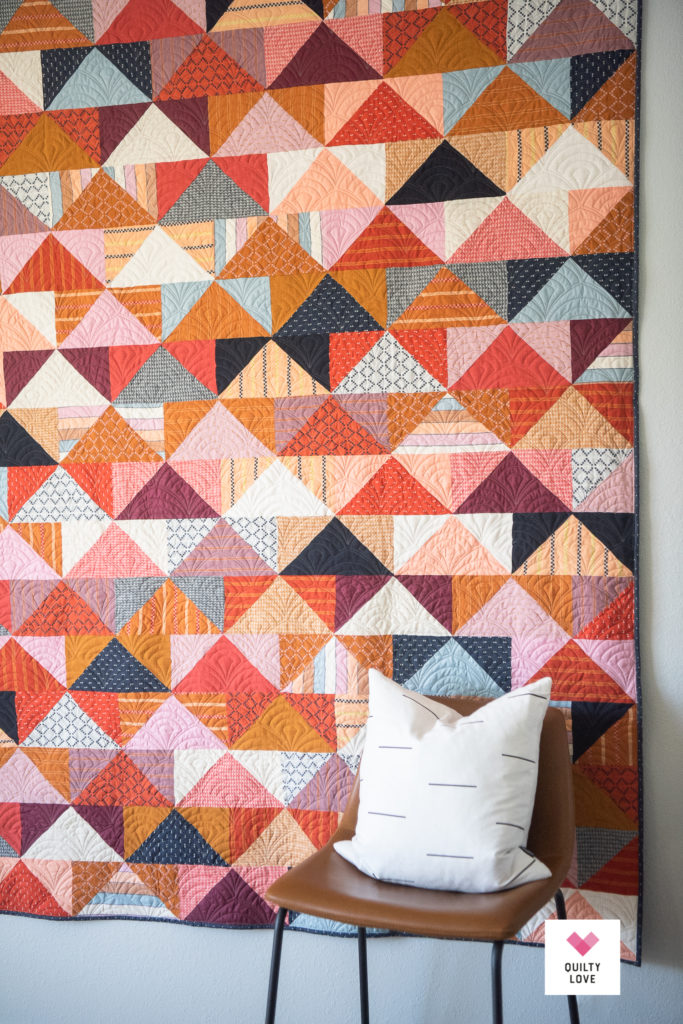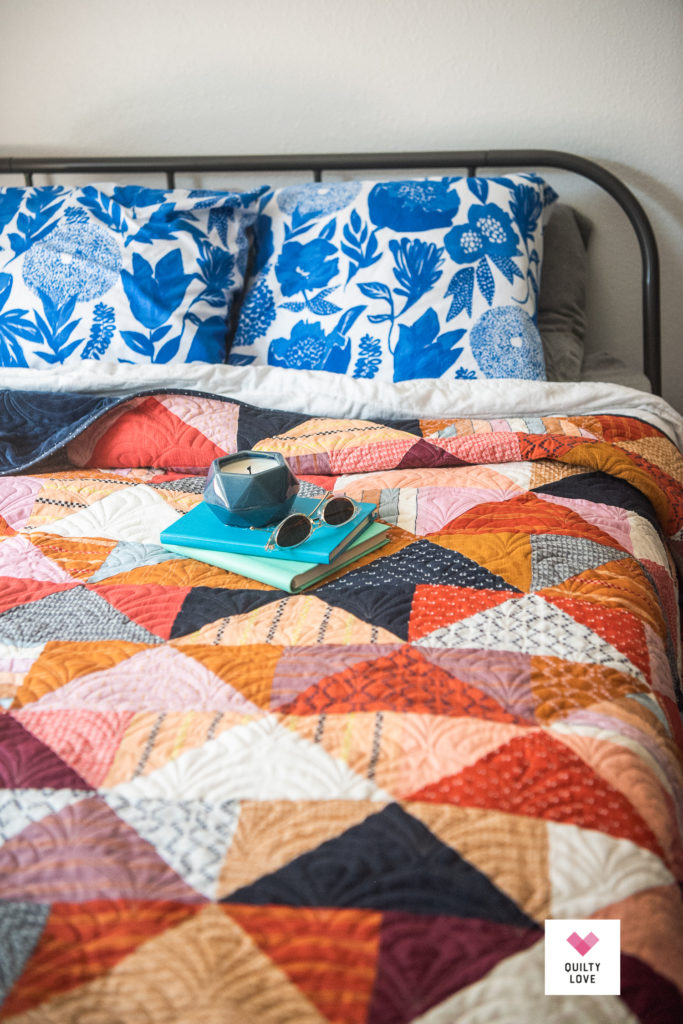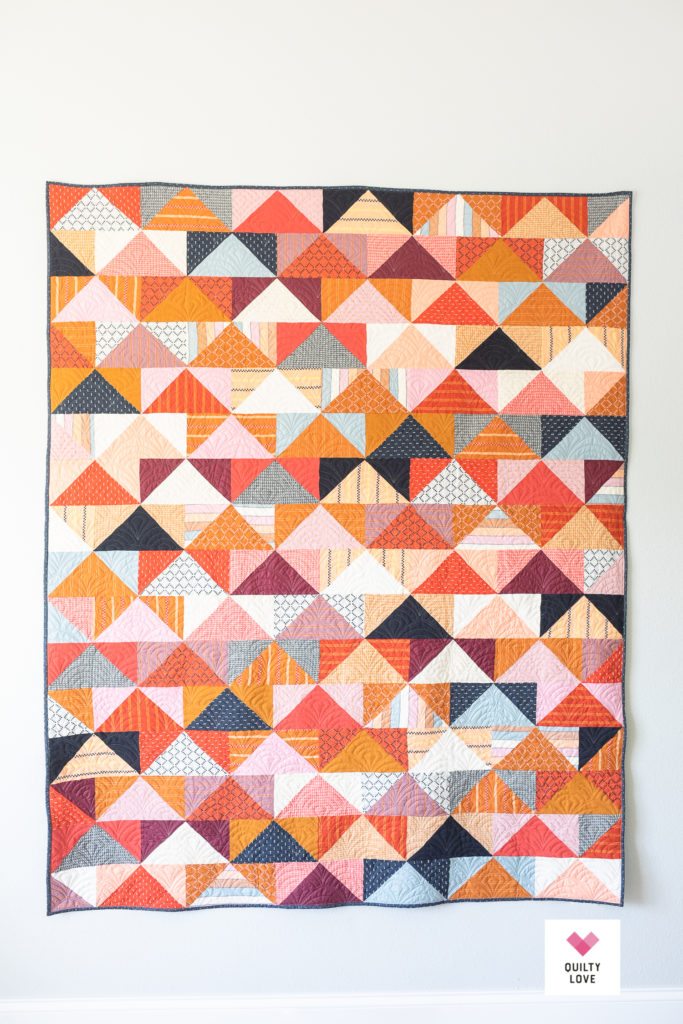 Materials Used:
Quilt Pattern: Patchwork Flying Geese by Quilty Love
Fabrics: Warp and Weft Wovens by Ruby Star Society
Backing: Shannon Cuddle Minky
Pieced on my Janome MC6700p
Long Arm quilted by Knot and Thread