The Duval Log Cabin Stars Quilt
I have another Log Cabin Stars quilt sample to share today! This Log Cabin Stars quilt is sewn up using the brand new Duval fabric line by Suzy Quilts for Art Gallery Fabrics.
Log Cabin Stars is the newest stash friendly, fat quarter friendly quilt pattern in the Quilty Love Shop. Log Cabin Stars is a fun one to sew up. Grab a fat quarter bundle from your stash and sew up your own version.
The Log Cabin Stars quilt pattern is now available in the Quilty Love pattern shop.
Log Cabin Stars Quilt Pattern
The Log Cabin Stars quilt pattern is just that… log cabins mixed with stars. Log Cabin Stars is written with your stash in mind. Use fat eighths, fat quarters or your scrap stash for this fun and modern log cabin quilt.
The quilt pattern offers the option to use yardage for the stars or you can keep it scrappy by using the fat quarters for the stars. In this Duval version I used the fat quarters for a scrappy look.
The Log Cabin Stars quilt pattern includes instructions for lots of quilt sizes! The pattern includes a baby/lap size, a small throw size, a large throw size, a twin bed size, a full bed size and a queen bed size.
This Duval Log Cabins Stars quilt is the small throw size.
Duval Fabric by Suzy Quilts for Art Gallery Fabrics
This brand new Duval fabric line by Suzy Quilts is so pretty and feels very fall. I was thrilled to get some of this gorgeous fabric in my hands for this quilt. The Duval fabric line has 18 different prints. The small throw size needs 17 total fat quarters so it was the perfect fit.
Four at a time flying geese
The pattern includes making these cute little flying geese four at a time. I really love the four at a time method because there is no fabric waste. They can be a little challenging to get perfect though. So I do include exact sizing in the quilt pattern and upsizing so you can trim perfectly to size.
You can always use a regular ruler to trim flying geese but I love and recommend the Wing Clipper ruler for this task. I really do try to limit the extra gadgets and rulers I add in but this one has proven to be very helpful and useful.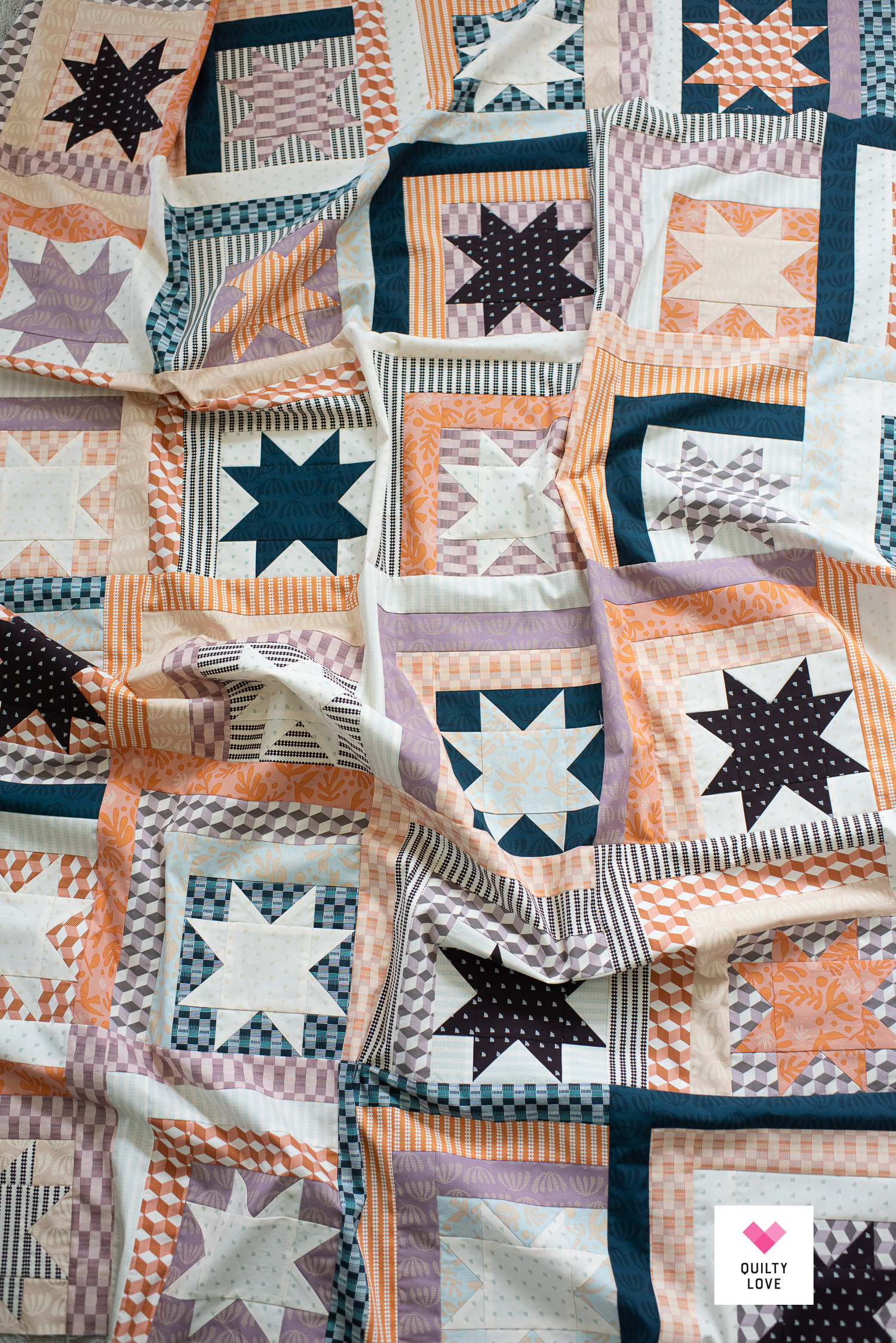 Wavy Stitch quilting
The Log Cabins Stars quilt pattern release kind of snuck up on me and I ran out of time to get some of the samples long arm quilted. But I can't say I was too disappointed because that meant I had to make time to quilt them myself.
I really do enjoy the quilting process so it was relaxing and satisfying to quilt this one up using my favorite wavy stitch method on my Janome MC6700p.
A lot of machines with various stitches will have this wavy stitch option. The machine makes the waves and all you have to do is quilt straight lines using your walking foot.
I like to space my wavy stitch lines 3/4 inch apart. But first I'll do 3 inch spaced lines and then go back and fill in between those lines.
Pin Basting success
And guess what…! I feel like this is the first quilt I have successfully PIN BASTED! Let me tell you, I have struggled with pin basting. I just never get the smooth results I can get from spray basting. But somehow this one worked out!
What I did differently this time was to skip the tape. I didn't tape the backing down to the floor like I normally do. Instead, I layered everything up and then smoothed out the back, then the front, then the back again, then the front again, etc… I kept flipping and smoothing many times until it was nice and flat. Then I added the pins. So maybe that's the secret…???
There are a few reasons I'm trying to switch over to pin basting. One is to avoid the spray and the mess that comes with it. The other is the cost. You can reuse pins over and over. And in this case I was kind of forced to pin baste because I was out of spray baste.
Spray basting is way faster and I'm sure I won't give it up completely but I'm thrilled to be getting better results with pins.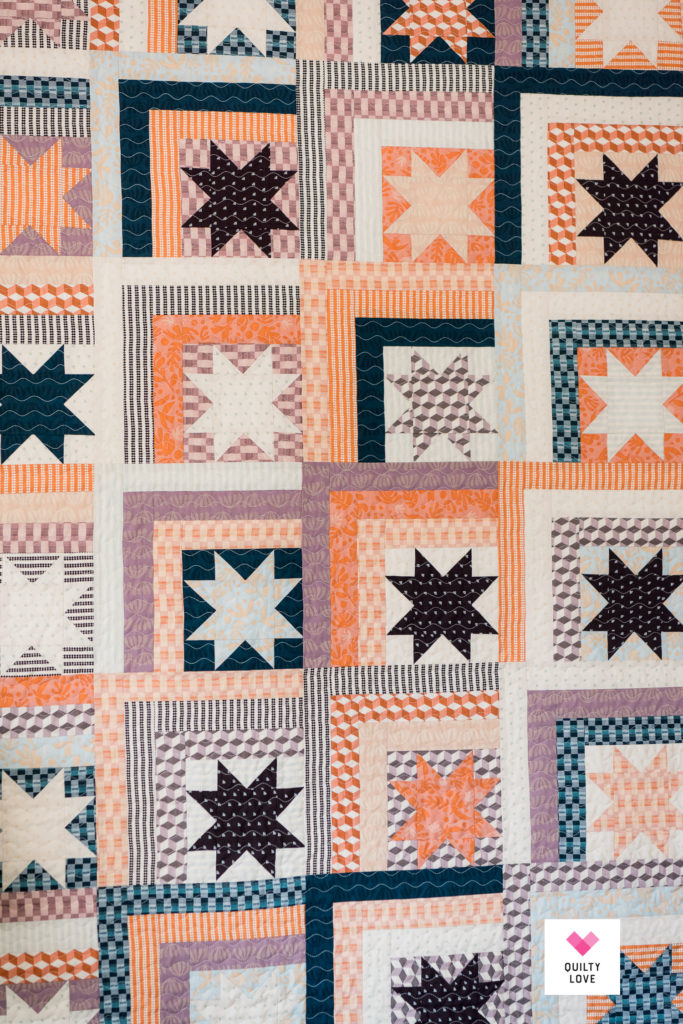 Quilt Backing
I kept this Duval Log Cabins Stars quilt backing nice and neutral. The backing is a really light and subtle Ruby Star Society fabric. It has a tone on tone print on it.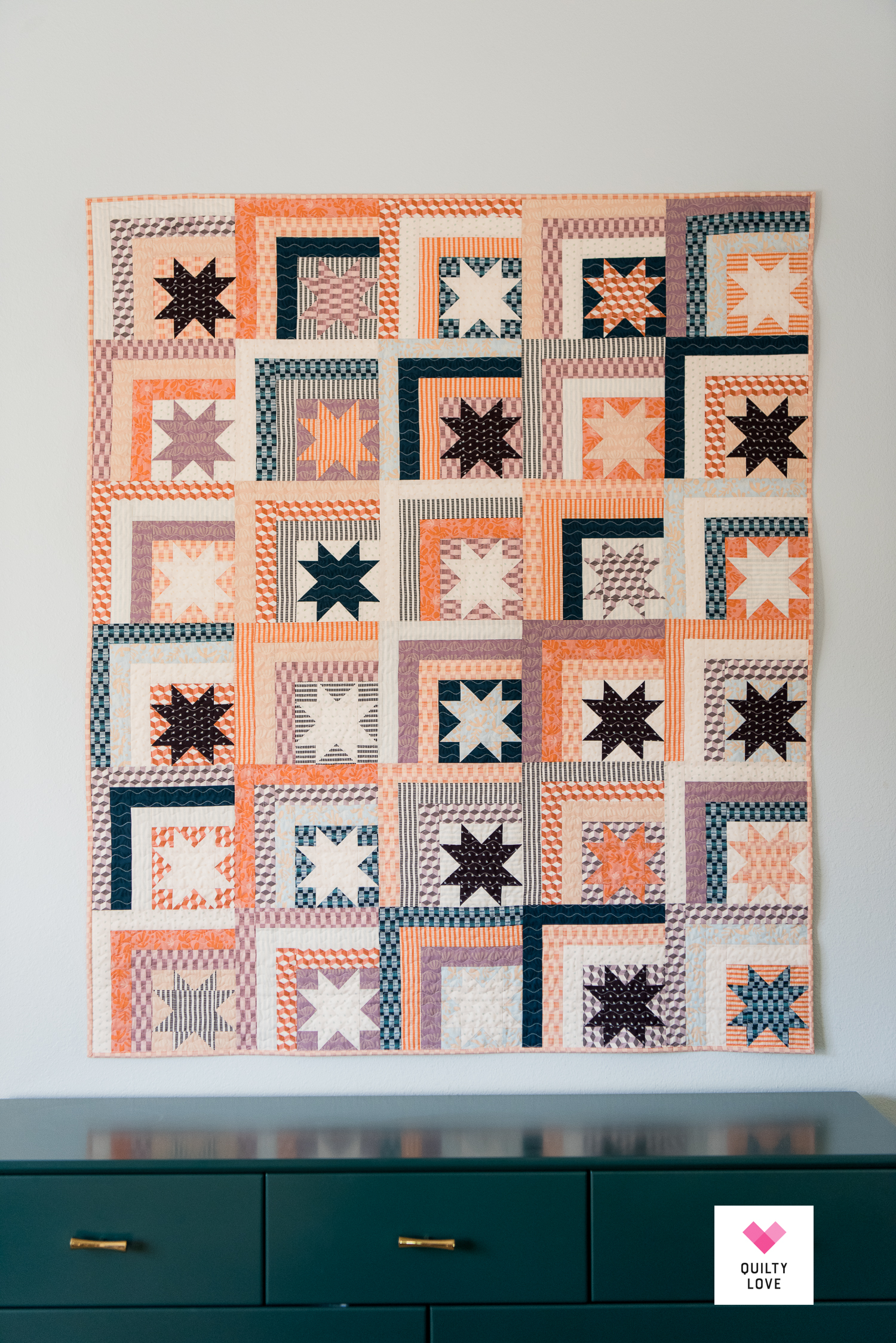 Duval Log Cabin Star Supplies
Quilt Pattern: Log Cabin Stars by Quilty Love
Fabrics: Duval by Suzy quilts for Art Gallery Fabrics
Backing: A Ruby Star Society neutral print
Piecing: Juki 2010q
Quilting: Janome MC6700P